Desktop speaker grouptest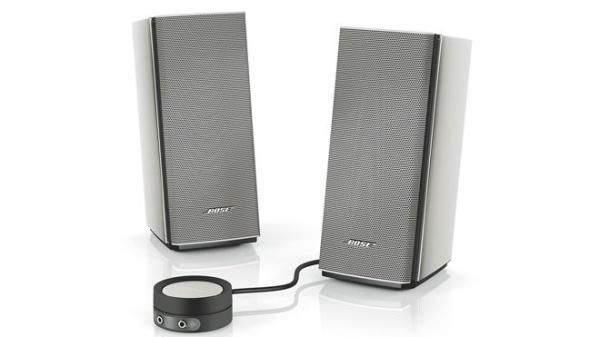 With PCs playing a key role in our viewing habits, why make do with their lifeless integrated speakers?
My desktop computer costs over £1,000 (yes, I'm one of the mugs who can't break out of Apple's clutches) and has superb picture quality. It's good enough to watch hi-def movies from Netflix and programmes from BBC iPlayer, and I'm not averse to enjoying the odd tune or two whilst I bash away at the keyboard. But my iMac, like most computers, has sonics that are weedier than a wild meadow. Therefore, investing in a decent set of desktop speakers is essential for transforming your aural enjoyment for those times when you're stuck in (or have escaped to) the study.
Configuration options are diverse, with 5.1, 2.1, stereo and wireless speaker docks all available, some for as low as £20. Here, we've rounded up four pairs of stereo speakers priced between £200 and £400, each of which should have enough low-end grunt to render a separate sub unnecessary and provide sufficient quality to deliver the kind of sonic accompaniment HCC readers expect.
Testing times
For my auditions, I used the speakers with a host of movies and dramas, including Iron Man 2 on Netflix and Ice Age Giants on the BBC iPlayer, and scores of songs via my iTunes library and CD collection, including The Killers and Benjamin Britten. Which brand comes out on top? Read on...
---
Bose Companion 20
Affordable, quirky and nicely potent
A combination of plastic body and metallic grille, the 22cm high and 9cm wide Bose speakers have a substantial presence on your desktop, but the slight tilt gives a touch of class to their otherwise brash appearance.
Bose is always sketchy on the tech specs of its kit, but will reveal that each speaker has one 2.75in driver. As with all these models, it's the right speaker that takes on connection duties, here including a 12V input, 3.5mm line-in and left speaker output. There is no digital input offered, but there is a socket for connection to what's called a control pod, which is Bose's alternative to onboard buttons and a remote control.
The circular pod's top surface provides a touch-sensitive means of muting the Companion 20 and for disengaging the auto standby function. The rim is a beautifully engineered volume dial that only requires a light touch and goes from min to max in just 180 degrees. On the front is a headphone jack and 3.5mm aux input, which mixes with the computer audio and means you can hear music from an MP3 player without muting computer alerts.
Beefy sound
The Companion 20s have an incredibly beefy sound with a bass output that on occasion is too dominant. The mid-range of The Killers' Losing Touch is a bit on the muddy side but overall these produce an incredible amount of power for their size; with Britten's Young Person's Guide to the Orchestra some of the finer details get lost but Ice Age Giants' vocal commentary is tight and listenable. Furthermore, the Bose speakers deliver movie soundtracks with superb impact, enhanced by their terrific energy.
So: no Bluetooth here, but beyond that these are a decent, well-priced, offering.
---
HCC VERDICT
Bose Companion 20
Price: £20 Approx
www.bose.co.uk
Overall: 4.5/5
---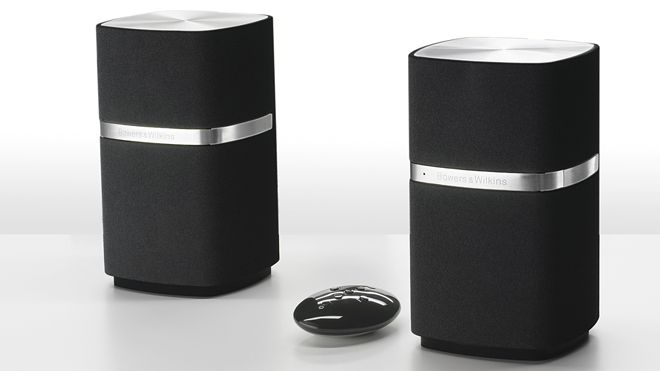 Bowers & Wilkins MM-1
These elderly speakers still cut the mustard
The MM-1 has been kicking around for a few years now but Bowers & Wilkins seems to have little cause to retire it. The question is, is it really worth the £400 premium it commands? In terms of looks, it has that definitive, classy and minimalist B&W design, along with the smallest footprint (10cm x 10cm) in this group. Each speaker has two 18W amps driving a 3in woofer and a 1in tweeter, the latter of which is derived from B&W's renowned Nautilus speaker. As usual, left is slave to right, and eschewing the analogue 3.5mm line-in, the preferred computer connection is by proprietary USB cable, which delivers digitally to the MM-1 and allows volume and transport control of iTunes using the slick pebble of a remote.
A single LED on the right speaker glows different colours according to its status, whilst a headphone jack also features on the rear of this speaker. Controls on the metallic central band for power and volume are the only operational flaw, as they just push the speaker over unless you grab it with your other hand. The right speaker also runs hot enough to fry an egg on its top. Probably.
Convincing clarity
Performance is excellent with the highest level of clarity and most convincing tonal balance in this roundup. The Killers' Losing Touch feels smooth with vocals, percussion and guitars all working in effortless harmony, the bass in OMD's Maid of Orleans is nice and full, and Britten's classical work builds unfalteringly to its crescendo. Meanwhile, the dialogue in Iron Man 2 comes through warm and doesn't screech or clip – indeed, these pricey speakers can go loud without losing control.
---
HCC VERDICT
Bowers & Wilkins MM-1
Price: £400 Approx
www.bowers-wilkins.co.uk
Overall: 4.5/5
---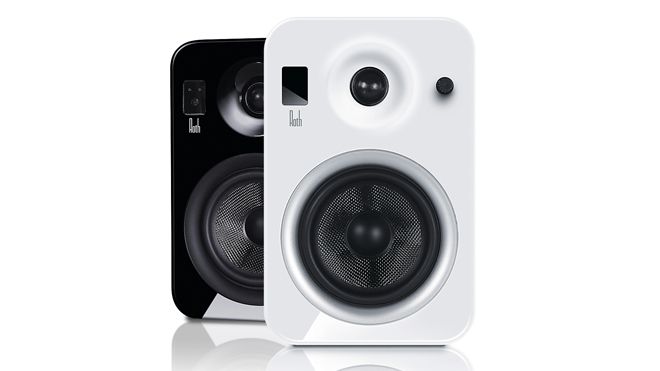 Roth OLi POWA-5
We're gonna need a bigger desk…
It would take a sizeable desk to accommodate a pair of the 20cm-deep POWA-5s, which are actually bookshelf speakers. But placement flexibility, thanks to some peerless connectivity and a 3m speaker cable, is the reason for their inclusion. The right speaker also has a wireless Bluetooth option, complemented by two optical inputs, stereo phonos, a 3.5mm line input, subwoofer output and dual USB inputs, both of which can charge an iPod or similar. Inside is an 80W Class D amp; both speakers have one 5in woofer and a 1in tweeter. The front of the right model has a plastic volume control knob, with a remote control also provided for more complex duties including source selection and bass and treble management.
In use, the OLi POWA-5 proves that size isn't everything, surprisingly failing to outperform any of the more diminutive rivals in terms of power and impact. Yes, there's a real punchiness to things but it lacks a bit of polish and subtlety, with bass overbearing during Losing Touch and a shortfall in terms of clarity to both Brandon Flowers' vocals and Alice Roberts's commentary in Ice Age Giants.
Quality improves greatly if you switch to a hi-fi source such as a CD transport or Blu-ray deck and connect using the stereo phonos. Higher frequencies are no longer flattened out, with the string sections in the Young Person's Guide to the Orchestra effortlessly allowed to blend with the percussion. So in this regard you may find them a better option, depending on your own setup.
As for the Roth's Bluetooth capability, this proves frustrating. Not only does it compromise audio quality through compression, it's just not as robust as some wireless systems, and I frequently experienced glitches, clicks and drop-outs. You just have to try it and see, but I'd be reluctant to use it.
---
HCC VERDICT
Roth OLi POWA-5
Price: £250 Approx
www.rothaudio.co.uk
Overall: 4/5
---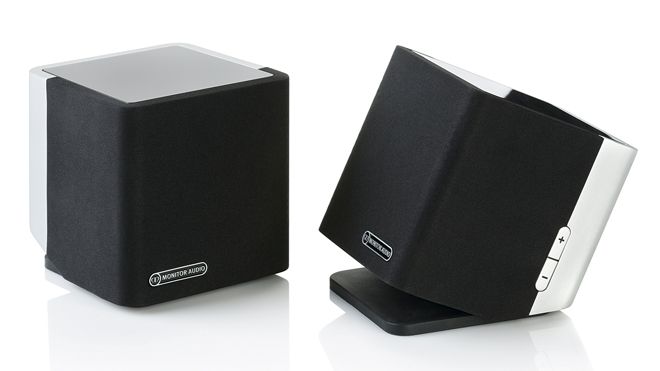 Monitor Audio WS100
Cool-running cubes with a wireless trick up their sleeve
Using mini C-CAM drivers distilled from some of Monitor Audio's hi-fi speakers, the WS100 has instant appeal to AV enthusiasts – there's some decent technology at play here. Each 5in cube has 30W of power driving a 3in bass driver and a 0.75in gold dome tweeter. The left speaker is tethered by a 1m cable to the right, which connects to your PC by 3.5mm line-in or, preferably, digitally without wires. This option uses SKAA rather than Bluetooth or AirPlay. A USB dongle is provided, which can feed up to four pairs of speakers for multiroom action (albeit meaning all speakers have to operate at the same volume).
Build quality is robust and each speaker pivots if required to optimise sound direction. Pairing is a mildly complicated but one-off procedure, that installs the dongle as an audio output option in your PC's preferences. A diddy remote is supplied.
The WS100 runs efficiently cool and is the only model here to gently fade the sound in. It also generates impressive volume for its size without distorting. However, music reveals that the bass performance doesn't match the mid-range and higher frequencies, with The Killers lacking in low-end, leaving the vocals and guitars isolated. The electronic wizardry of OMD is likewise a bit tinny. This bass-drought extends to movie and TV material; the commentary in Ice Age Giants feels harsh and the Monaco pile-up in Iron Man 2 clangs rather than envelopes. It's not an awful performance – there's no muffling or lack of clarity – but I had hoped for better.
---
HCC VERDICT
Monitor Audio WS100
Price: £250 Approx
www.monitoraudio.co.uk
Overall: 3.5/5
---
Final standings
There's no doubt that each of these four models delivers a sonic improvement over a PC's in-built speakers and their budget counterparts, yet performance varies across the quartet – and it doesn't always correlate to the price tags involved...
The Monitor Audio WS100 is as good an implementation of a wireless speaker as you'll find in terms of transmission quality and reliability – SKAA impresses here in comparison to the Bluetooth of the Roth contender. But going wireless is not top priority on a desktop – performance is – and it's the somewhat underpowered bass response that ultimately pushes the WS100 into fourth place.
In third place comes the Roth OLi POWA-5, which despite a multitude of connectivity options, classic bookshelf looks (available in black, white or red) and impressive dimensions, doesn't have the expected power or control we'd like. Switching to a genuine hi-fi source does yield greater finesse than Bluetooth or the line-in from a computer.
There's very little to choose between the Bose Companion 20 and the Bowers &Wilkins MM-1. Both are well designed and attractive with excellent performance. In terms of sound quality the MM-1 edges it, however, the Companion 20 isn't too far behind, yet retails for half the price. For this reason (especially in these austerity times), and the delightful simplicity of its hard-wired control pad, the Bose Companion 20 just manages to snatch top spot from the B&W MM-1. If money doesn't matter, though, plump for the B&W duo.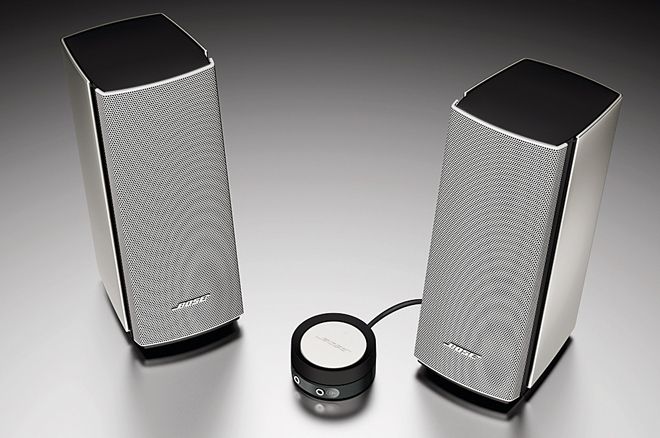 SPONSORED VIDEO

SPONSORED VIDEO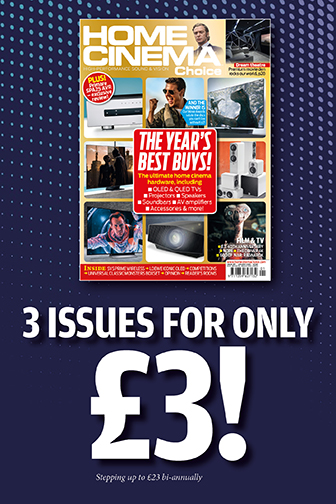 Home Cinema Choice #332

is on sale now, featuring: Samsung's 8K flagship; Anthem AVM 90 processor; B&W 800 Series Diamond; LG smart projector; Hollywood box office bombs; Hitchcock 4K; and more
Want to see your home cinema system featured in the pages of HCC? Click
here
for more info.