Denon AVR-X6300H review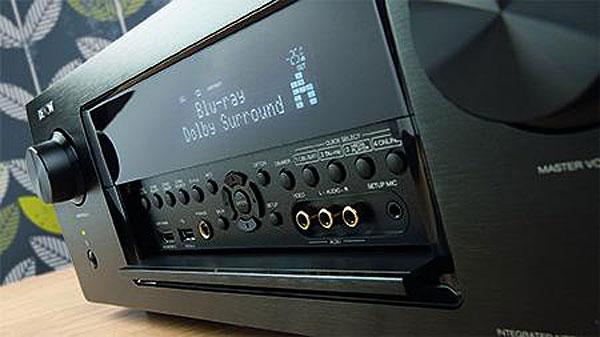 Want 11-channel Dolby Atmos and DTS:X? This AV receiver can help
Denon's AVR-X6300H comes to the home cinema receiver market with a spec sheet hotter than Megan Fox in a stolen hot tub – but the headline news is its 11 channels of onboard amplification for a largescale Dolby Atmos, DTS:X or (optionally) Auro-3D experience. That means no more fiddling about with external power amps for 7.1.4 sound.
There's no mash-up of high- and low-power amp circuits here, either. Using Denon's monolithic amplifier construction, the X6300H packs 11 identical channels built onto a single large heat-sink. That should mean the same power, the same gain with volume, the same dynamic headroom and the same sonic balance across the entire soundstage.
More channels than ever before for Denon, then, but still not technically or financially the brand's top AVR. That accolade belongs to the £2,500 nine-channel AVR-X7200WA that joined Denon's comprehensive lineup nearly two years ago. A key difference is that the older flagship model boasts Denon's monoblock construction with separated left/right amplifier blocks, as opposed to the AVR-X6300H's one big power module.
This new model offers a whole host of technical upgrades that the X7200WA can't touch, though, including full HEOS multiroom music integration, a more refined setup assistant, and new Audyssey MultEQ XT32 platform. Built-in Wi-Fi now supports dual-band 2.4GHz and 5GHz connectivity, and the built-in upscaler converts anything to 4K resolution. That put a hilarious spin on original Dad's Army repeats.
The eight-input, three-output HDMI stage was still left half-empty in my fairly complex system, so should be ample even when using some of the receiver's comprehensive three-zone multiroom features.
The X6300H is an ISF-certified AVR with ISF Day and ISF Night modes. As usual, those features are only accessible by an ISF technician, so getting the full calibration and setup is an optional extra. The same is true of the complete Audyssey setup. Or it is at the moment. While the Denon's MultEQ XT32 implementation has a spectacularly good user interface and setup procedure, you still can't access the Audyssey Pro features… Soon, we're told, Denon's Audyssey system for the X6300H will move over to an app-based setup and open the whole gamut of Audyssey Pro tools for those with the time and inclination.
While that is still an app download away, the current system packs in the usual niceties, plus Dynamic Volume, Dynamic EQ and Sub EQ, established via a supplied mic and Denon's funky cardboard tripod.
Speaking of apps, I'm impressed with how much Denon's AVR Remote app has been updated and improved since I last used it. Quick and intuitive, it includes a page that replicates the remote control's navigation keys and four main buttons. It could easily replace the standard remote in day-to-day use, which is just as well as the supplied physical item is rather mundane.
Getting back to the main plot and those 11 channels. The claimed power, if you read the marketing hype quickly, is 11 x 205W. In reality, that's one channel driving a 1kHz test tone into a low-load with 1 per cent distortion managing 205W. Into 8 ohm stereo speakers with a full-bandwidth 20Hz-20kHz signal and a more respectable 0.05 per cent distortion, Denon's figure drops down to 140W. With all channels driven, the maximum power per channel will be somewhat less again.
Microphone, stand, a well-constructed setup assistant and a minimum of three measured mic positions makes very light work of what is Audyssey's most comprehensive setup and EQ suite yet. The software features Low Frequency Containment and EQ for dual subwoofers, and works superbly well. Post setup options include Reference (with a small X-curve), Flat, Front (to bypass EQ on the main stereo speakers), and LFC level. Further tweaking, such as filter by filter adjustments, will have to wait for the new Audyssey app.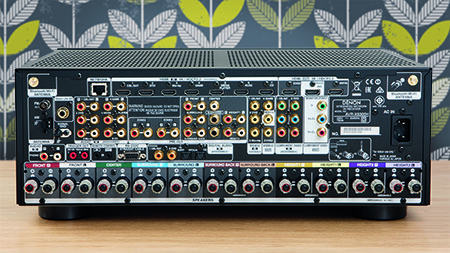 Set to stun
Star Trek Beyond might not have the massive sub-sonic LF pulses of the eponymous 11th film in the franchise but it packs in a massive-scale native Dolby Atmos mix that will test any system. The Denon does not disappoint. With the volume control set to stun, the lengthy attack sequence on the Enterprise is an 11-channel festival of sound backed by viscerally tight and well-focused bass effects. Dialogue balances nicely in the mix without overt Expendables-level boosting and the Sub EQ does wonders for keeping room-nodes from punching out your windows.
Yet with all channels blazing it seems to me there's not quite the individual separation of effects or sheer gung-ho scale of some of Denon's previous big-hitting AVRs. In quieter scenes there is a classy refinement to the sound, though, with crisp, intelligible dialogue and enveloping, believable atmospherics. Object-based effects sparkle with pin-point positioning and the size of the soundfield scales linearly with volume – up to a point.
As the Enterprise crashes into the planet (not a spoiler, as that always happens in a Star Trek film) the Denon delivers all-channel sonic maelstrom at high volume with aplomb. Yet it doesn't quite capture the massive impact of the huge ship and planet coming together through the size of the soundstage. It feels a little constrained by the dimensions of the listening room, rather than delivering the illusion of the speakers being beyond walls, and it's not quite as rich as previous Denon monster AVRs.
I wonder if this slightly less full-bodied sound is a result of the power constraints of feeding 11 amplifiers, or actually a tuning differentiation between the new X6300H and the flagship AVR-7200WA? Certainly, I can see those wanting all the bells and whistles opting for this model, and those pursuing ultimate cinema sound going with the 7200WA and adding separate amplification for overhead speakers. Coincidence or design, it justifies both models existing in Denon's range, for sure.
Running through the Audyssey EQ curves I settled on the Front setting as it brought the familiar character of my front speakers into play on most material. The Flat option was good if a little laid-back, and the Reference setting had by far the most cinematic balance of the lot. This worked well breathing life into older native Dolby Digital/DTS movies in particular, and a romp through the DVD collection ensued.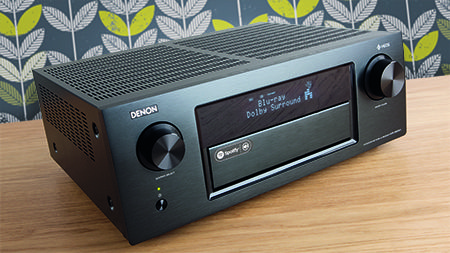 I'd forgotten the visual and sonic feast of House of Flying Daggers and the AVR-X6300H brought a thoroughly modern upgrade to this elegantly-styled 2004 Chinese martial arts classic, particularly when opting to add 11-channel DTS Neural:X processing to the native DTS 5.1 mix. While rear-back channels are brought into play with gusto, the overheads are given a far subtler and more articulate role. During the dance sequence in the Peony Pavilion, my ceiling speakers deliver gentle sounds of the background water pools and whispers from the high gallery around the stage. It is a sublime effect considering all this information is otherwise embedded in the native DTS soundtrack. It adds a gloriously three-dimensional presence to the piece.
For those worried that all this add-on multichannel processing could be a bit artificial, fear not. The Denon upgrades native 5.1 with startling precision, perhaps creating a more natural and integrated soundfield than some actual 11-channel mixes can manage. I can't think why you would not engage 11-channel Neural:X or Dolby Surround irrespective of the native mix – it really is that good.
For music fans this receiver ticks all the boxes with a host of standard and high-res music services onboard, available through the excellent HEOS app. Using Tidal via HEOS is arguably slicker than Tidal's own app, and all your saved playlists and content are available at the touch of a screen button. The Denon's upfront and articulate balance shines through stereo music, delivering detail and clarity in buckets if not backed up with much in the way of warmth.
Nils Lofgren's guitar through Keith Don't Go from Acoustic Live (via Tidal Hi-Fi) has impressive attack and an edgy sound that all but paints a picture of the instrument's steel strings. Yet in the Denon's standard music mode that balance is likely to prove an uncomfortable bedfellow for forward-sounding speakers. Thankfully the Direct and particularly Pure Direct modes work wonders, cleaning up the top end and bringing greater body and smoothness to stereo sound.
Slotting in nicely
A technical tour de force, brilliantly intuitive to use and bringing sparkling 11-channel surround sound to pretty much any movie, Denon's AVR-X6300H is proof of the Atmos/DTS:X pudding even without native 11-channel ingredients. Its crisp, layered sound is a great sonic upgrade for Dolby Digital DVDs upwards. The balance could be warmer and the soundstage larger but there is always Denon's AVR-7200WA and some add-on power amps for that. And from what's actually on offer here, this is decent value.
Specification
Dolby Atmos: Yes DTS:X: Yes THX: No Multichannel input: No. Multichannel pre-out: Yes. 11.2-channel phono outputs Multichannel output (claimed): 11 x 205W (into 8 ohms, single channel measurement) Multiroom: Yes. Three zones, plus HEOS AV inputs: 4 x digital audio inputs (2 x coaxial, 2 x optical) HDMI: Yes. 8 x inputs; 3 x outputs Component video: Yes. 2 x inputs; 1 x output Video upscaling: Yes. To 4K/60 Dimensions: 434(w) x 393(d) x 167(h)mm Weight: 15.5kg
Features: Audyssey MultEQ XT32 Platinum; AL24 processing; TuneIn 'net radio; Spotify; AirPlay; ISF calibration; dual-band Wi-Fi; Bluetooth; RS232 control; advanced GUI with setup assistant; Eco modes; Auro-3D via optional upgrade; DenonLink HD; Pure Direct mode; Denon AVR Remote and HEOS apps

SPONSORED VIDEO

SPONSORED VIDEO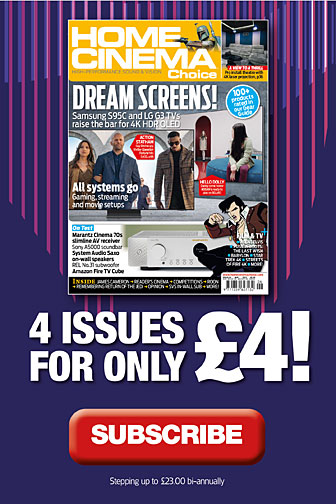 Home Cinema Choice #332

is on sale now, featuring: Samsung's 8K flagship; Anthem AVM 90 processor; B&W 800 Series Diamond; LG smart projector; Hollywood box office bombs; Hitchcock 4K; and more
Want to see your home cinema system featured in the pages of HCC? Click
here
for more info.