Denon AVR-X6200W review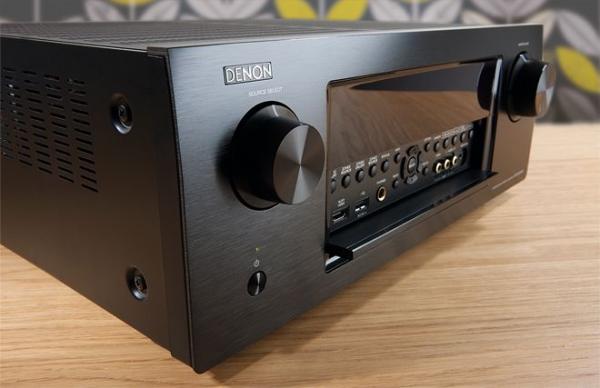 If 3D audio's your thing, then this Denon AVR is where you want to be
It's a tempting time to upgrade your AVR. With a rising tide of 4K content requiring HDCP 2.2 copy protection, UHD 2,160p displays and object-based audio formats, the stars are aligning for those eager for a movie theatre makeover. And if you're prepared to shop at a higher level, there're precious few compromises that need be made.
Consider Denon's AVR-X6200W, one of the most advanced nine-channel receivers in town. Not only does this £1,800 receiver handle 4K HDR sources and Dolby Atmos/DTS:X bitstreams, you can even upgrade it to Auro-3D, should you be a completist.
Denon AVR-X6200W – Design and Features
Despite offering nine channels of power, the AVR-X6200W is no oversized beast. Indeed, weighing 14kg, I'd rank it something of a middleweight. Beneath the lid you'll find the brand's Monolithic amplifier design with customised Denon High Current Transistors (DHCT), and quad SHARC processor DSP engine. There are no surprises in terms of design, but the finish is polished. Twin dials for volume and input selection flank a large, clear display, while a fascia drawbridge hides on-body controls and front-facing inputs, including HDMI, USB and a full-sized headphone jack.
Denon has refined the install process to sugary consistency. The AVR boots with a Setup Assistant that guides you through speaker and source connections, as well as your amp configuration for Dolby Atmos and DTS:X. It's clear and understandable. The process ends with an Audyssey MultEQ XT32 (Pro) auto calibration routine. Unfortunately, this is where the wheels fall off. I dutifully played ball with Audyssey, choosing to measure and aggregate four listening positions (from a possible eight); a fair amount of chirping followed. Once done, I popped in a Dolby Atmos test disc to see what the optimisation had given me – and was dismayed. The AVR sounded gutless. I tried the routine again, this time with fewer measurement points, and got largely the same result.
There are a variety of MultEQ XT32 playback modes: Reference rolls off at higher frequencies, for movie viewing. There's also L/R bypass, which is the same as Reference, but bypasses processing on the main stereo channels. Then there's Flat, said to be suitable for smaller rooms. There are also Dynamic EQ and Volume functions, both of which I would leave off in virtually all situations.
To be honest, I blow hot and cold with Audyssey, sometimes getting quite good results, but on the X6200W the optimisation was woeful. I had no option but to go back to square one, and recalibrate manually using an SPL meter. My measurements looked (and sounded) entirely different from what Audyssey had tried to fob me off with. The receiver was immediately less emasculated.
There are a number of speaker templates available in the Denon's Speaker/Amp Assign menu, covering most possible layouts (one day high-end amps may be able to truly map your speaker positions, but for the time being we have to use generic templates). There's 7.1 with front heights; 5.1 with two additional stereo zones for multiroom; 7.1 with bi-amped fronts, and so on. 3D audio channels can be configured with Dolby-enabled speakers placed front, middle or rear, or via ceiling-mounted speakers. I ran the amp with a conventional seven-channel speaker layout, plus two height channels.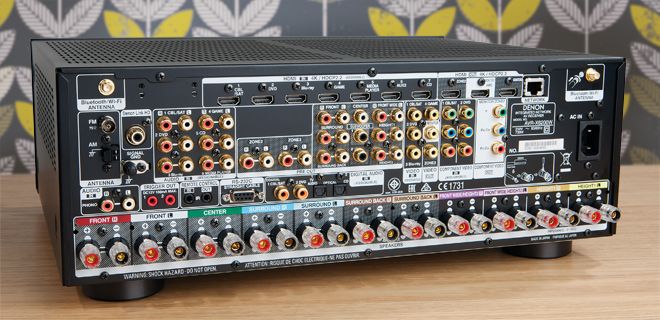 Connectivity is comprehensive. The receiver sports three HDMI outputs and eight inputs. HDCP 2.2 is supported across the board. There's also a quartet of digital audio inputs (two optical, two coaxial). Of more esoteric use are dual 12V triggers, RS232, IR remote in/out and Denon Link. Legacy users will be interested in the two component inputs and one output, plus four composite video inputs. And it may be a nine-channel design, but this AVR has the wherewithal to decode 11.2, with 13.2-channel pre-outs, with two additional zones supported. Looking at the back panel can give you a headache.
Bluetooth is onboard and there's integrated Wi-Fi with rear-mounted aerials if you don't want to use Ethernet. 4K HDCP 2.2 with 4:4:4 colour subsampling is supported across the board, along with HDMI passthrough.
Frippery is limited. Once networked, the receiver's online music section offers a bare minimum of content – just vTuner internet radio, access to any connected DLNA media players and Spotify Connect. File compatibility is good, playing all the usual fare, including DSD 2.8MHz but not double/multichannel DSD. FLAC 24-bit/192kHz will probably be enough for most hi-res music aficionados.
If you have HEOS multiroom kit, then the AVR-X6200W can be controlled with the HEOS app.
Dolby Atmos has been well documented in previous reviews, but it's worth repeating that a nine-channel layout is considerably more satisfying that a seven-channel system, in that the soundstage isn't compromised by a hole at the back of the room. I found the two Atmos upfiring speakers most effective when placed a metre or so from my listening position.
Denon AVR-X6200W – Performance
With the AVR-X6200W DTS:X-enabled now firmware has landed, I turned to this immediately. The format seems entirely happy with the aforementioned Atmos layout. Indeed, while Atmos often takes a little fiddling to get the right effect, I literally did next to nothing for DTS:X. With Crimson Peak, the creaking, eerie atmosphere of the haunted house sounded immediately on the money.
As for Auro-3D, Denon has rather helpfully come to an accommodation with Auro Technologies to allow a single Atmos speaker configuration to serve both Dolby Atmos and Auro-3D. Until now, it's only been possible to have one or the other, which means users miss the rear height information either for Atmos or Auro mixes.
The AVR is at its best when it has lots to do. John Wick (Blu-ray, Dolby Atmos) is a wonderfully visceral experience, with a huge amount of sonic detail dispensed front and rear. Guns fire with bludgeoning force, the receiver doling out retorts like a champion reigning body blows on a journeyman. The denouement, which follows some terrific car-slamming action, plays out in a rainstorm. And if there's one thing Atmos does well, it's a downpour.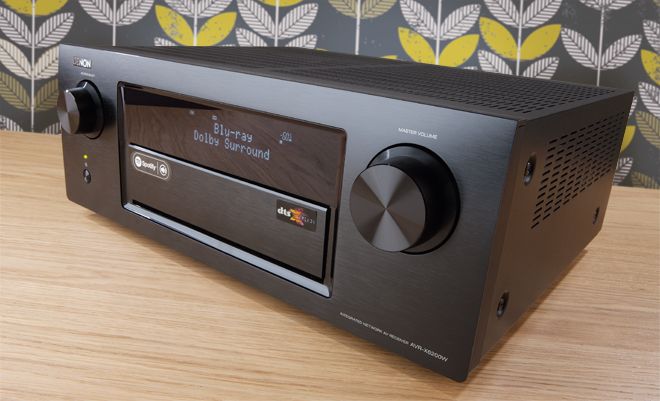 The amp is rated at 9 x 140W (8 Ohms), and exhibits no shortfall in power. It's able to deliver swinging transients. In medium-sized rooms, it'll do justice to blockbusters, but can also etch with a much finer, more precise brush.
Sometimes it's difficult to pinpoint exactly why 3D audio is so immersive – it can be small details which make a big impression. In the 'toon sequel Rio 2, when the Blue Squad fight back against developers (DTS:X demo disc), the soundstage is a riot of squawking parrots and coconut projectiles. The same sequence played back without height component immediately loses the sonic bedlam. The soundstage is flatter and a good deal less interesting.
The sheer scale of the Denon's output is showcased brilliantly by Mission Impossible: Rogue Nation. This outlandish romp uses Dolby Atmos to magnify the height and width of its stunts. The motorcycle chase is extraordinarily exhilarating, with two-wheeled racers soaring from rear to front, almost displacing air as they travel overhead. When Tom Cruise enters the underwater Taurus, the sense of immersion will have you involuntarily holding your breath, while the fisticuffs at the Vienna Opera reverberate as if within its expansive auditorium.
Of course, there's not enough DTS:X material available to come to any definitive view about the formats, but like its Dolby equivalent there's a mode (Neural X) which upscales regular audio with height information. At the conclusion of The Hunger Games: Catching Fire, when the Mockingjay is airlifted from the shattered dome, the Neural X presentation is entirely convincing, the extra sonic space pushing back the walls of my room. The collapsing structure lands with huge LFE, and the score literally soars.

Similarly, the Robocop reboot, which enjoys a delicious energetic multichannel sound design, positively relishes the faux height channels. The mayhem of the ED209 shoot-out is amplified; there's so much masonry in orbit I longed for a hard helmet. Even as something of a soundtrack purist, I felt little compunction about upscaling.
Audio sources, though, are more of an issue. Shonen Knife's punk tribute Osaka Ramones is wonderfully raw and dynamic, but run through a 3D processor, the vocals recede and the band become muffled. Multichannel Stereo is actually a lot more enjoyable.
Genuine multichannel music is another thing. An Atmos mix of the Philharmonia Baroque Orchestra, performing Haydn's Symphonies, is gorgeously evocative, with space and delineation defining the size of the orchestra.
When listening to multichannel sources, you can again apply Dolby Surround or DTS Neural X processing. Is there a difference between the two? Not overtly; they both do much the same thing. The 5.1 DVD Audio mix of Queen's The Prophet's Song perhaps moves to a wider stage when delivered with Neural X. Brian May's guitar chops and scythes, alongside the stomping drumwork.
Denon AVR-X6200W – Verdict
I'm really excited by the AVR-X6200W. This 9.2 movie machine has the tools to delight cinephiles, with a spec that should ensure uncompromised entertainment. Once rescued from its initial auto calibration it proved to be lithe, muscular and musical.
HCC Rating: 4.5/5
Denon AVR-X6200W
£1,800 approx
www.denon.co.uk

Specifications
Dolby Atmos: Yes
DTS:X: Yes
THX: No
Power output (claimed): 9 x 140W (8 Ohms)
HDMI: 8 x inputs; 3 x outputs
AV inputs: 5 x composite video; 4 x digital audio (2 x optical, 2 x coaxial); 2 x component video
Analogue Multichannel input: No
Multichannel output: 13.2-channel pre-out (with 11.2-channel processing)
Multiroom: Yes. Three zones
Video upscaling: Yes. To 2,160p
Dimensions: 434(w) x 383(d) x 167(h)mm
Weight: 14.2kg
Features: Integrated Bluetooth and Wi-Fi; ISF video calibration; Apple OS and Android control apps; Audyssey MultEQ XT32 (Pro) room EQ; DLNA media playback; Ethernet; USB; FM tuner; Spotify Connect; AirPlay; vTuner internet radio; Auro-3D upgradeable (paid update); Denon Link HD; 2 x 12V triggers; RS232; IR input; hi-res audio support including FLAC, DSD and AIFF

SPONSORED VIDEO

SPONSORED VIDEO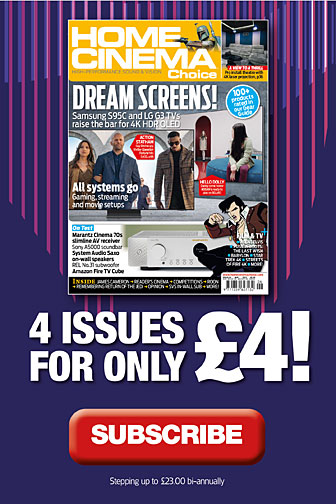 Home Cinema Choice #332

is on sale now, featuring: Samsung's 8K flagship; Anthem AVM 90 processor; B&W 800 Series Diamond; LG smart projector; Hollywood box office bombs; Hitchcock 4K; and more
Want to see your home cinema system featured in the pages of HCC? Click
here
for more info.