Bowers & Wilkins 683 Theatre review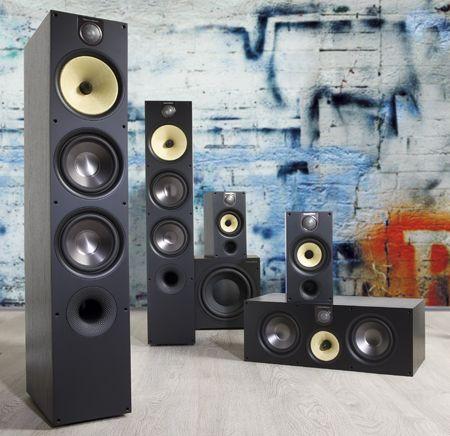 The 600 Series has been part of B&W's speaker lineup for many years now, offering movie fans a first step on the brand's floorstanding ladder below the CM Series and the 800 Series Diamond. In that regard it could be classed as 'entry-level', if it wasn't for both the price demanded and the technology used.
The 600 Series has been upgraded for 2014. B&W describes it as 'radically revamped,' with six new speaker models sporting improved designs and driver wizardry. The new products are the top-model 683 floorstander (£1,150 per pair), the smaller 684 floorstander (£800 per pair), the 685 and 686 bookshelf speakers (£500/p and £300/p respectively) and the HTM61 (£550) and HTM62 (£350) centre channel enclosures.
The £2,750 package tested here, dubbed the 683 Theatre, uses the 683s for L/R duties, 686s for surrounds and the HTM61. The three subwoofers in the 600 Series (this system uses the ASW610XP) have been carried over from before, but now sport updated finishes.
Not a curve in sight
With speakers, the cabinet is more than a mere way to ensure there is bass. It is the manufacturer's statement of its furniture-making prowess, and premium speakers tend to be made with achingly gorgeous cabinets surfaced with cost-no-object woods and fourteen-odd layers of lacquer. Not here, though. The 600 Series employs simple square-edged boxes – not a chamfer, not a curve nor a bend in sight. They're somewhat reminiscent of my ancient last-of-the-sheds Volvo, in fact.
Still, these enclosures are solid and with as small a front face as possible without interfering with the drivers. So, to allow as much cubic as necessary to get the largest sound from said drivers, they go back a fair way.
And by way of compensation for the rudimentary styling, the drivers in these boxes are a synergy of cunning. And don't just take my word for it. The top-quality performance that the 683 Theatre set offers – I'll tell you now that it's as astonishing to hear as it is unremarkable to look at – is a clear product of B&W's engineering nous.
Firstly, you get an edgeless Kevlar midband in every speaker. These are a slice of B&W legend, made to be able to sell into the original 600 Series. But completely new are the lower frequency units made from dual-layer aluminium, where the main cone is reinforced around its edge by a second layer. I know a tad about metal cone technology form my previous life as a loudspeaker production manager, and know that the advantage of this is a very high level of rigidity, to get real pistonic action.
Then there are the tweeters, specially designed for the new 600 Series. As with other B&W designs, these feature Nautilus tube rear-chamber loading, wherein the back wave is absorbed and directed off down a tapering tube rather than affecting the excursion of the dome itself. Furthermore, and good news for those of use whose lifestyles just cannot realistically include loudspeakers with vapour-deposited diamond domes (as in B&W's reference 800 series) the 600 Series introduces a Decoupled Double Dome tweeter. This comprises a pair of skinny aluminium domes, one mounted to the other, with the whole assembly then suspended (decoupled) by a cushioning gel ring. The result is the fastest, sweetest, highest-reaching, lowest-distorting tweeter I ever heard outside of über-premium leaf and electrostatic designs, or else those fabled made-out-of-diamond jobs. Simply marvellous.
I was initially sceptical of the ASW610XP subwoofer, as I run a 15in model in my usual setup. Yet its meaty 10in driver (a composite of Kevlar fibre, resin and paper pulp) is backed up a 500W Class D amplifier and rear-panel EQ switch settings. I left mine in the 'EQ A' position for greatest extension. The box itself is dressed in a nice, tactile, smooth black finish. It looks cute, but don't let that fool you....
Immediately impressive
The very moment you fire these up – even if just with one speaker wire, as they all arrive with gold-plated jumper plates joining paired binding posts – you can appreciate the speed and class of their driver complements.
I cued up Frozen on Blu-ray and was remind not only why it won its Best Animated Movie Oscar, but that it also has a delightful surround mix. It starts with a multichannel choral score, very well recorded, and with the 683 Theatre it was just delicious. Every voice all around me was distinct yet characterful – the timbre was just so real, I could hear their faces. The tinkliest crystalline sounds of magically-forming ice, and the soaring power of Idina Menzel's voice, were searing yet pure.
The midband from those distinctive yellow Kevlar drivers offers potent snap, as evidenced when Olaf the snowman belly-surfs down the mountain, yelling manically. His voice flies around the soundstage at speed as the camera follows his progress, with the B&W system showing smooth, seamless pans.
Frozen's wrought soundtrack includes both crescendoic sequences and a degree of close-miked SFX, helping to show off the B&Ws' dynamics and scale. This package can go from conversational to really, frighteningly loud without sounding strained, all the while underpinned by the ferocious ASW610XP sub.
In a 'toon mood, I dug out an old favourite with an equally amazing soundmix, WALL-E. This starts with many, many audio layers, beginning with an old show tune, zooming into Earth past the space junk debris zone, and arriving on the deserted planet and the lonely robot. As you travel into the atmosphere and the town overrun with rubbish, the music becomes background, reverberating in the imaginary canyons.
The sense of space and remote desolation created by the 683 Theatre takes a huge amount of quality, separating it from true entry-level systems. The sheer size, yet delicate overtones, of the echoes through these tweeters and lightning-fast drivers is goosebump-raising. Likewise, as the camera zooms in on the happy little bot, there's a clanky, impactful rattling sound from his breaking 'shoes'. Again, the 683s' delicacy shows through, disgorging sound designer Ben Burtt's effects with relish and clarity.
Thrilling performer
The scale of the 683 Theatre's sound and its sheer dynamism, the speed of rise time, the deeply capable musicality of the main speakers and the tremendous aplomb and power of the small 10in subwoofer, all combine to make it absurd value for money.
Certainly, it is not a look-at-me designer system – the speakers just look like, well, speakers – but it sounds superb. I'm toying with the idea of buying it myself, as I enjoyed it immensely. Put another way, no buyer of B&W's new array will be anything other than thrilled at the performance for the price. The 600 Series was definitely worth revamping.
Specification
Bowers & Wilkins 683
Drive units: 1 x 1in dome aluminium tweeter; 1 x 6in woven Kevlar FST midrange; 2 x 6.5in dual-layer aluminium cone bass drivers
Enclosure: Three-way, front-ported
Frequency response: 52Hz-22kHz
Sensitivity: 89dB
Power Handling: 200W
Dimensions: 190(w) x 985(h) x 364(d)mm
Weight: 27.2kg
Bowers & Wilkins HTM61
Drive units: 1 x 1in dome aluminium tweeter; 1 x 4in woven Kevlar midrange; 2 x 6.5in dual-layer aluminium cone bass drivers
Enclosure: Three-way, rear ported
Frequency response: 50Hz-22kHz
Sensitivity: 88dB
Power Handling: 150W
Dimensions: 590(w) x 218(h) x 304(d)mm
Weight: 17.2kg
Bowers & Wilkins 686
Drive units: 1 x 1in dome aluminium tweeter; 1 x 5in woven Kevlar midband/bass driver
Enclosure: Two-way, front-ported
Frequency response: 62Hz-22kHz
Sensitivity: 85dB
Power Handling: 100W
Dimensions: 160(w) x 315(h) x 229(d)mm
Weight: 4.6kg
ASW610XP subwoofer
Drive units: 10in long-excursion paper pulp/Kevlar fibre resin driver
Enclosure: Sealed, forward-firing
Frequency response: 25Hz-140Hz
On board power: 500W
Remote control: No
Dimensions: 325(w) x 325(h) x 375(d)mm
Weight: 34.5kg
Connections: Stereo phono inputs; stereo speaker-level inputs

SPONSORED VIDEO

SPONSORED VIDEO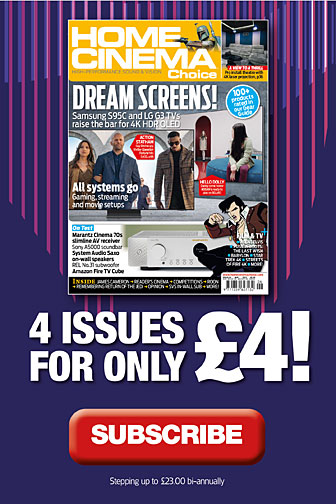 Home Cinema Choice #332

is on sale now, featuring: Samsung's 8K flagship; Anthem AVM 90 processor; B&W 800 Series Diamond; LG smart projector; Hollywood box office bombs; Hitchcock 4K; and more
Want to see your home cinema system featured in the pages of HCC? Click
here
for more info.