Audiolab 8200AP review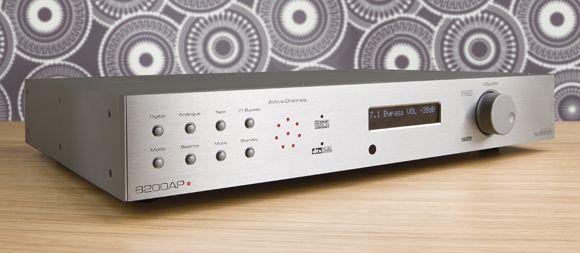 Audiophile AV processor offers a glimpse of a more straightforward approach to home cinema hardware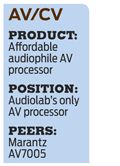 If you enjoy spending as much time fettling and tweaking your home cinema system as you do watching movies, you might want to skip this review. For what we have here is the latest version of Audiolab's stripped-down AV processor that puts almost its entire R&D spend into audiophile components rather than features. In fact, there isn't any video processing under that stylish aluminium case at all, so even the term 'AV processor' is a bit remiss. What you do get is a tuned and upgraded 8000AP, which we liked a lot, now with v1.4 HDMI pass-through switching.
Imagine, if you will, the features list of a typical, say £600, AV receiver. Well, the Audiolab hasn't got any of that. No networking, EQ, auto setup, scaling, height or width channels, GUI or multizone abilities. It doesn't even have any AV inputs outside of the four HDMI ports. Still not bothered? Well how about the 8200AP not offering Dolby TrueHD or DTS-HD MA processing on board? Audiolab says this processor eschews frivolous bells and whistles, but is that taking it a step too far?
Actually, probably not. If you are in the market for nearly £1,300 worth of AV processor then it is a pretty safe bet that you will spend a fair bit of cash on a top-spec BD player. Nearly all Blu-ray decks can decode Dolby and DTS formats to linear PCM output over HDMI, or even analogue outputs, and the best players, such as the Oppo BDP-95EU, do that very well indeed. You might regard duplicating that functionality in the processor as a waste of money.
Fed an LPCM signal over HDMI, the Audiolab routes the datastream to its high-spec Cirrus Logic dual DSPs and on to a suite of eight 24-bit/192kHz delta-sigma D-A convertors. There is a proprietary clocking system to reduce jitter on the HDMI input, which claims to do so by a factor of 30.
When given a multichannel analogue input all this digital wizardry is bypassed completely, essentially making the 8200AP an eight-channel analogue pre-amp – although you can tie the bypass analogue inputs with HDMI switching for video. Four-layer PCBs, a torroidal transformer and no less than 14 regulated power supplies are pure hi-fi territory, as is the fast/slow DAC filter settings and upsampling of basic 44kHz S/PDIF inputs. Other upgrades over the old 8000AP include 12V triggers, S/PDIF outputs from all sources and a very crisp OLED display.
There is another huge benefit to Audiolab's bare-bones approach – simplicity. Speaking as a man who spends half his life fathoming new arrays of AV features and working out how to get the best from them, simplicity has a lot of appeal. Most Saturday nights I am frantically trying to re-connect and setup my own heinously complex AV system, striving to work out why I am getting no dialogue from a height channel, while my wife sits on the sofa tapping her fingers impatiently. The Audiolab is a beautiful tonic to that.
Getting started
The setup process is a little fiddlier than sticking a mic in the listening position and wandering off for a cuppa, but it doesn't take long. You can do this via basic onscreen menus if you have a composite video connection in place – the 8200AP does not overlay the menu on the HDMI picture.
Thankfully, it is just as easy to use the front menu Q(Quick)Set function, which runs through all the basic speaker parameters and delays in sequence. You will need a dB meter to set channel levels with absolute accuracy but doing it by ear and tweaking as required during a movie is a good second choice. And note that you will need a phono connection to a display device for input renaming, setting up triggers, switching AC filters, etc.
The remote control is right out of the same simple-yet-effective school of design and works a treat, although it's a long way from the sophistication of app-based remotes.
There are other features I miss on the 8200AP, not least of which is HDMI's auto lip-sync feature. Manually getting lip-sync correct has always been a pain and the 8200AP's rather coarse 10ms incremental jumps don't help. Another niggle is that the volume control on the remote doesn't accelerate, making big volume swings a lengthy procedure. Hardly massive issues, I think you will agree.
Clean sound
I fondly remember the old 8000AP. It was a fabulously clean-sounding processor with a noise floor so low it was in the basement. Clearly the 8200AP is an evolution of that design as these very same characteristics impress from the outset. Comparing my notes, the new kid on the block seems to have developed a little more pace and richness, too, packing an even bigger and more fulsome punch that its predecessor.
With both LPCM and analogue multichannel inputs the overall performance will also depend on the player, but the same can be said of an amplifier/speaker partnership. In the spirit of investigation I tried the Cambridge Audio 751BD, Oppo BDP-95EU and Denon DVD-A1UD in both LPCM over HDMI and analogue mode, and each setup had its own strengths and very few weaknesses.
The 8200AP delivers a uniformly polished sound that is crisp and quick yet lacking nothing in sheer weight. This is the sort of performance that leaves you forgetting about the system itself and enjoying your music and movies – smooth and refined at the top end with a fabulous dynamic range that begs you to go large with the volume control.
While I would not chuck any of the aforementioned setup combinations out on a rainy night, the Oppo and Audiolab seem to work a real magic together. Running multichannel over LPCM and stereo over analogue, the 8200AP offers serious high-end fidelity at a relatively affordable price.
Yee-haw!
The opening sequence to the surprisingly watchable Cowboys & Aliens looks like a homage to Sergio Leone with hint of SF mystery, and the Audiolab paints the scene with suitably moody precision. Daniel Craig's brief but explosive fight with the three outlaws has a lightning-fast pace and each blow is delivered with a tangible sonic force.
In the movie's epic, clichéd final battle, the Audiolab unleashes the full force of the all-channel surround sound with integrity and passion. The top end never gets feisty or out of hand, even with the volume pushed hard, and there's a wonderful, enveloping cohesiveness. One glitch did rear its head, though – despite having set all channels with a dB meter during setup, the subwoofer still proved to be about 10dB too hot in reality. It's an easy adjustment using your sub's volume control but I can't help thinking there's a bug in the channel-level settings somewhere.
Switch to stereo music and the Audiolab delivers an equally rich sound that is right up there with dedicated stereo pre-amps. Its refined character is a great complement to the Oppo's slightly harder edge, resulting in a spacious and well-balanced presentation that easily passes muster as true high-fidelity. Of course, this performance will only be realised with suitably polished power amplification – Audiolab's own 7x100W 8200X7 is a neat cosmetic match that you might want to consider.
Audiophile bargain
If you are familiar with current-spec AV receivers then the 8200AP takes a little while to get your head around. The lack of features common to even the most basic AVRs, the copious quirks and even the cosmetics could put many off – until they hear it least. Married to high-quality power amplification, the Audiolab is a fabulous performer, and its refreshing simplicity is an absolute joy.
Rather like the high-end Bryston SP3, I could easily live with the 8200AP for its exceptional sound quality and an altogether less complex life. As the Audiolab achieves this heady combination at a tenth of the price of the Bryston it can only be considered an audiophile bargain.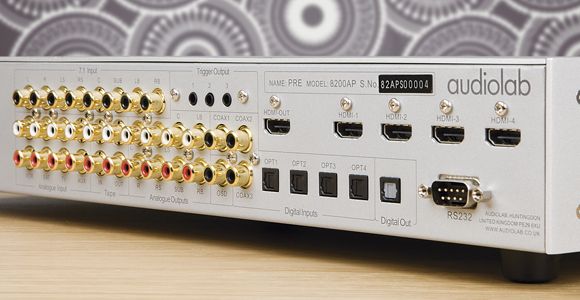 ---
HCC VERDICT
Audiolab 8200AP
Price: £1,300 Approx
Highs: Clean and rich sound; superb dynamics; simple to use; affordable
Lows: Complete dearth of features; quirky setup; needs partnering with a good power amp
Performance: 5/5
Design: 4/5
Features: 2/5
Overall: 4/5
---
Analysis
GUI: You'll need to connect the Audiolab to your display via its composite video output (labelled OSD) to see basic onscreen menus – although setup can be done via the front-panel OLED display
Killer feature: The 8200AP strips sound processing down to the bare essentials – it's astonishingly simple to get to grips with
---
Specifications
Dolby TrueHD: no shocker!
DTS-HD Master Audio: no double shocker!
Multichannel input: yes 7.1-channel
Amplification: no processor only
Multiroom: no
HDMI: yes 4-in 1-out v1.4
Additional connections: 3 x coaxial digital audio; 4 x optical digital audio; 5 x phono analogue inputs; 8 x phono analogue inputs (7.1 bypass); 1 x composite output for OSD
Dimensions: 445(w) x 335(d) x 75(h) mm
Weight: 5.75kg
Features: Audiophile-quality construction and components; 12V triggers; RS232 CI control; 10ms lip-sync adjustment; Cirrus Logic dual DSPs; eight 24-bit/192kHz delta-sigma D-A convertors; Direct Mode; jitter reduction circuit; OLED front panel display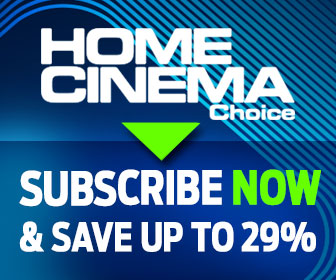 Home Cinema Choice #315 is on sale now

, featuring: Panasonic HZ2000 OLED TV; Focal Twenty5i speaker system; Sony 8K TV; Klipsch SPL-150 subwoofer; 25 fantastic fights on film; disc reviews; opinion; and more.
Want to see your home cinema system featured in the pages of HCC? Click
here
for more info.