World's best home cinemas celebrated at 2018 CEDIA Awards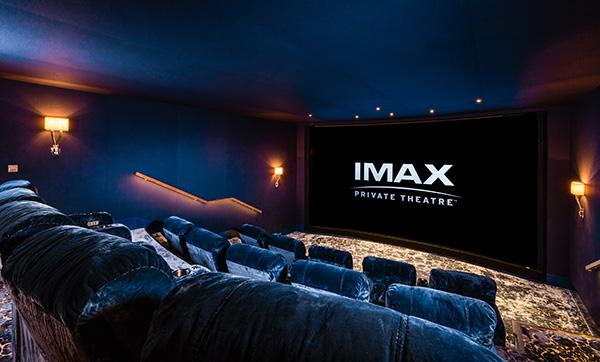 The annual CEDIA Awards present a fine opportunity to drool over stunning home cinema custom installs from the UK, Europe and beyond – and this year it's no different. Projects ranging from smallscale media rooms to cavernous cinemas and smart home installations were crowned category winners at the Awards event last night, with a number of UK outfits grabbing trophies.
London-based installer Cornflake claimed top spot in the Home Cinema £340,000 and over category, for its IMAX private theatre installation – the first domestic IMAX setup in Europe. The room, which uses dual 4K 2D/3D projectors and offers seating for 15 over three rows, was praised by the CEDIA judges as 'a residential cinema that is quite like no other'.
Another UK winner was Cyberhomes in the Home Cinema £120,000-£340,000 category for a 4K projection/Dolby Atmos setup nicknamed 'Hampshire Cinema Seduction.' This theatre room is part of a whole-house smart installation which also scored Cyberhomes a Highly Commended award.
Other UK companies claiming 2018 CEDIA Awards are TwentyTwo Integration, Intuitive Homes and Ultamation, Homeplay, SONA, Environ, M.E.G.A. AV Installations, Connected Works and Total Solutions, The Next Level and The Pyramid Group – the latter Highly Commended for its new home cinema showroom at its Plymouth HQ.
Announced at the same event were the Global CEDIA Awards that pitch the EMEA region against projects from the Americas and Asia Pacific regions. Here, the winner of the coveted Best Home Cinema prize was Indian installer Sound Sense, which triumphed with a 33-seat movie room that came in under the £40,000 mark.
Here's the full list of CEDIA 2018 Award winners:
Home Cinema £40,000 and under
Winner: Sound Sense (India) - Clinical Retreat
Home Cinema £40,000 - £120,000
Winner: Archimedia (UAE) - Polo Home Cinema
Home Cinema £120,000 - £340,000
Winner: Cyberhomes (UK) - Hampshire Cinema Seduction
Home Cinema £340,000 & Over
Winner: Cornflake (UK) - Taking it to the iMAX
Integrated Home £120,000 & Under
Winner: TwentyTwo Integration (UK) - Project 515 London
Integrated Home £120,000 - £230,000
Winner: Intuitive Homes and Ultamation (UK) - Edge Cottage
Highly Commended: Homeplay (UK) - Neo Bankside
Integrated Home £230,000 - £340,000
Winner: SONA (UK) - Religious Intent
Highly Commended: Cyberhomes (UK) - Hampshire Luxury Living
Integrated Home £340,000 & Over
Winner: Environ (UK) - High Tech Family Home
Media Room £20,000 & Under
Winner: M.E.G.A. AV Installations (UK) - Small & Mighty Media Room
Media Room £20,000 - £75,000
Winner: ConnectedWorks and Total Solutions (UK) - Monochrome Media
Multiple Dwelling Unit Design
Winner: The Next Level (UK) - Mayfair House Apartments
Showroom
Winner: Sound Sense (India) - Sound Sense Surat Highly Commended: The Pyramid Group (UK) - Home Technology and Cinema Showroom
Lighting System
Winner: Environ (UK) - The Eco-Luxe Country Estate
Best Dressed Rack
Winner: The Next Level (UK) - Mayfair House Apartments
Highly Commended: Sound Sense (India) - Sound Sense Surat
Best Documentation
Winner: The Next Level (UK) - Mayfair House Apartments
Highly Commended: Sound Sense (India) - Clinical Retreat
Best Hardware
Winner: 2N - Verso IP Intercom
Best Training Course
Winner: AWE - Whole House Integration with URC Total Control
Highly Commended: Meridian Audio - Meridian SMART Education
Best Trade Supplier
Winner: Habitech
Best Technology Feature
Winner: Chris Haslam - Grand Designs
Life Lived Best at Home
Winner: The Next Level (UK) - Mayfair House Apartments
Technology Meets Design
Winner: The Next Level (UK) - Mayfair House Apartments
Best Home Cinema – Global
Winner: Sound Sense (India) - Clinical Retreat
Best Media Room – Global
Winner: Audio Images (US) - Inside Out
Best Integrated Home – Global
Winner: Intuitive Homes and Ultamation (UK) - Edge Cottage