Wonder Woman (US Import) Blu-ray review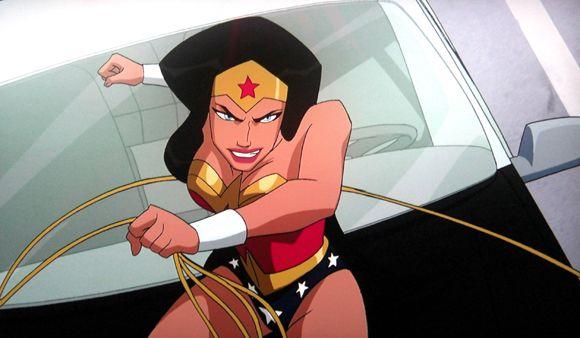 DC's latest animated superhero film is really rather wonderful
Ever since I caught the first episode of Batman: The Animated Series on ITV back in the early '90s I've been a huge fan of producer Bruce Timm. His animated incarnation of the Dark Knight quickly became my favourite screen version, capturing the essence of the character and his comics perfectly. Over the years Timm and his team have continued to wow me with the likes of Superman: The Animated Series, Justice League and DTV movies like the spell-binding adaptation of Darwyn Cooke's The New Frontier.
Despite all of this, when news first hit that their next project was a DTV animated feature about Wonder Woman, I just couldn't get excited. It's not that I don't like the character - I am actually rather partial to her, especially the version already brought to life in the Justice League cartoon. There was just something about the project that failed to get me excited and convinced me that Bruce Timm had finally got it wrong. I should have had more faith...
Birth of a legend
Wonder Woman makes it clear from the get-go that it earned its 'PG-13' certificate, opening with an epic battle between the Amazons and an army led by Ares, the Greek God of War. Within minutes axes have been driven into skulls and heads have been lopped off, all in a bloodless, but still surprisingly brutal manner. This then leads into the origin of Wonder Woman - made from clay, brought to life by the Goddess Hera, blah, blah, blah. Before long Ares is on the warpath again and Wonder Woman must leave her secluded island and venture out into the world of man. And against all of my expectations I loved every single minute of it.
The action is sensational (the best yet in any of these animated features) and surprisingly violent, the story is captivating and there's also a keen sense of humour running through the film that stops it getting too grim in places. Admittedly, not all of the voice casting works - Alfred Molina just doesn't quite work as Ares - but Keri Russell provides the ideal mix of steely determination and curious outsider needed for the title roll. However, the real standout performance comes from Nathan Fillion as American pilot and (wannabe) love interest Steve Trevor. Fillion brings to the part the same roguish charm and jokey nature he perfected in the sci-fi series Firefly, and it works just as well here as it did there. The only negative I can think of is the fact that there is no subsequent animated TV series to follow up on the film, as this film has left hankering for more adventures with the Amazonian princess and her lasso of truth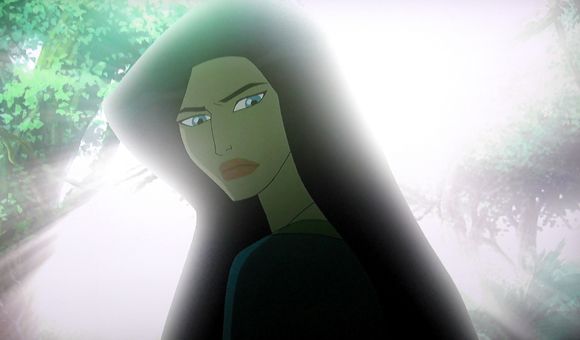 Pretty spectacular
Wonder Woman arrives on Blu-ray as a two-disc set. But before you get too excited, the second disc is just a DVD containing a Digital Copy of the film. This was my first experience of a hi-def presentation of one of these DC Comics 'toons and the results were pretty spectacular. The VC-1 1.78:1 encode is packed with vivid colours and pin-sharp edging that really emphasizes the clean lines of the animation. It's not quite perfect, as there are a couple of small instances of artefacting and banding, but it's pretty damn close. Likewise, the Dolby TrueHD 5.1 soundtrack packs a fair punch. It's not quite up there with a big-budget Hollywood blockbuster, but for a DTV movie its surprisingly active and has decent LFE presence.
I do have one little issue with the Blu-ray disc, and that's the complete lack of a Chapter Selection menu on the pop-up menu (and there's no Main Menu screen). It might seem like a minor thing, but given that the film is split up into ten chapters, it does seem a little odd that you can't just select to jump straight to a certain point in the film and instead have to Chapter Skip your way through the movie to the point you are looking for. I thought the whole point of Blu-ray was to make home entertainment more exciting and immersive than ever before - so let's hope this doesn't become a regular thing on Warner Home Video Blu-ray discs.
Tie me up, tie me down
Moving onto the extra features, there's a reasonable mix of new content and other material that will be familiar to fans of the previous DC animated series and DTV releases. The latter includes a trio of 10min previews for Warner animated DTV titles that already featured on earlier discs (From Graphic Novel to Original Animated Movie - Justice League: The New Frontier, Wonder Woman: The Amazon Princess and Batman Gotham Knight: An Anime Evolution) and four Justice League episodes that focus on Wonder Woman (Paradise Lost: Parts 1 & 2, To Another Shore and Hawk and Dove). Still, at least the latter should be of interest to those who loved this film but are unfamiliar with the Justice League cartoon.
As for the new stuff, there is some really good stuff here, kicking off with a pair of 26min documentaries. Wonder Woman: A Subversive Dream is a detailed look at the origin of the character and her comic book history (as well as the odd bondage motifs that ran through so many of her early adventures), while Wonder Woman: Daughter of Myth casts its focus on the mythic archetypes that the character draws upon. If you are looking for information on the making of the film itself there's an audio commentary featuring senior VP creative affairs, DC Comics, Gregory Noveck, producer Bruce Timm, director Lauren Montgomery and writer Michael Jelenic. It's an informative chat track that does a good job of balancing tech-talk about character design and the animation process with general chat about the character's history and continuing relevance. Finally, there's the 10min A First Look at the Animated Feature Film Green Lantern, which I have to say looks pretty damn tasty.
Warner Home Video, All-region Blu-ray (US Import), £16 (www.movietyme.com), On sale now
HCC VERDICT: 4/5

SPONSORED VIDEO

SPONSORED VIDEO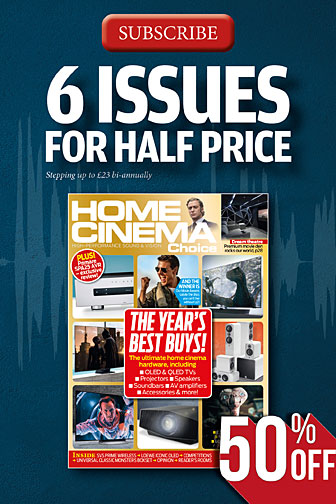 Home Cinema Choice #332

is on sale now, featuring: Samsung's 8K flagship; Anthem AVM 90 processor; B&W 800 Series Diamond; LG smart projector; Hollywood box office bombs; Hitchcock 4K; and more
Want to see your home cinema system featured in the pages of HCC? Click
here
for more info.