Velodyne EQ-Max12 review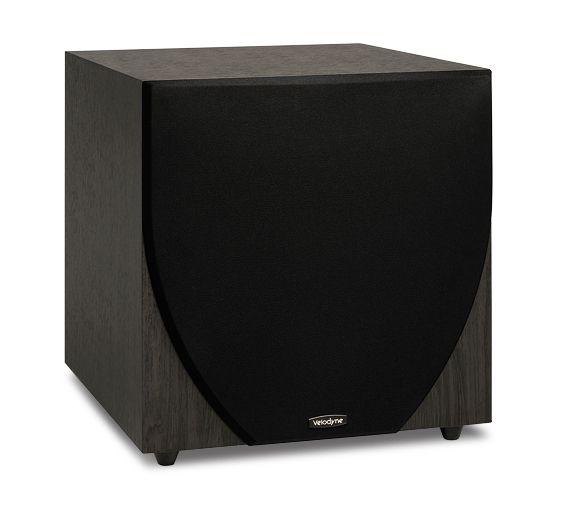 You have to love the phrase 'doing the doof-doofs'. A silly term for describing a clever technical process where a device, either a subwoofer or a system-tuning equaliser, has both voice and ears. The voice makes tone burst sounds that sweep from low to high (and go 'doof-doof') and the ears are the microphone, supplied with the Velodyne EQ-Max12 – part of a new range of mid-priced subs from the LFE brand. The Digital Signal Processor inside is a five-band parametric equaliser – and it strives to set the woofer to best suit not just your room, but exactly where you put and point it.
It's really easy to use. You plug in the mic and put it where you listen. Press the EQ button like you mean it, for three seconds. And that's it – the EQ-Max makes a dozen comedy noises, and then carries on playing bass from your source. The whole charade takes a minute or two at most, but you may find yourself forever fiddling about with your sub and then re-equalising it just for fun.
A supplied remote sets level and phase in four ninety-degree steps, as well as offering a quartet of presets: Movies, R&B/Rock, Jazz/Classical and Games. You're not told what each preset means, but Movies seems to offer some extra biff in the lower bass zone around thirty cycles, while Jazz/Classical is the flattest. Games, as far as I can tell, is a harder hitting version of Movies, and the R&B/Rock preset has a higher up hump to offer more weight without quite the madness of low extension.
The EQ Max has been made to cost a bit less than some of the brand's other woofers – the box is pretty ugly – but the 12in driver is still a serious offering. And how does it sound? Gorgeous. It did take some running in, and it didn't prove quite as super-fast and musical as the Canton Chrono CL system's sub, but was way more potent. It hit richer and deeper with more weight in the bottom frequencies.
In fact, the EQ-Max12 has all the Velodyne DNA you could wish for. This means massive output, easy control and setup, and a lovely, opulent massy character to your bass end. I'll take two, thanks.
---
HCC VERDICT
Velodyne EQ-Max12
Price: £800 Approx
Highs: Easy to set and has some really cool features; the output is rich, deep, taut and potent
Lows: So basic in design you'll want to hide it; lacks musicality
Performance: 4/5
Design: 3/5
Features: 5/5
Overall: 4/5
---
Specifications
Drive Unit: 12in reinforced fibre cone with dual-layer copper voice coil
Enclosure: Front-firing driver, twin down-firing ports
Frequency Response: 25Hz-120Hz
On-Board Power: 225W RMS Class D amplifier
Dimensions: 454(h) x 416(w) x 457(d)mm
Weight: 28Kg
Connections: Stereo LFE line in and line out; speaker level inputs and outputs; 3.5mm socket for 12V trigger and EQ microphone