The Tragedy of Macbeth (Criterion Collection) Blu-ray review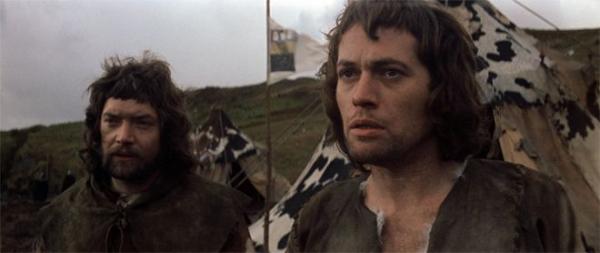 There's nothing tragic about Criterion's treatment of this medieval masterpiece on Blu-ray
One of William Shakespeare's most iconic plays, Macbeth has been catnip to filmmakers over the decades. Heck, just a few month back we were casting our eye over the Blu-ray release of Justin Kurzel's recent adaptation in the pages of Home Cinema Choice magazine. But one still reigns supreme as the definitive cinematic incarnation – Roman Polanski's The Tragedy of Macbeth (1971).
Scripted for the bigscreen by Polanski and critic Kenneth Tynan, the film recounts a familiar tale. Guided by a prophesy from three witches, Macbeth (Jon Finch in a career-best performance) conspires with his beloved wife (Francesca Annis) to take the crown of Scotland by assassinating King Duncan (Nicholas Selby) while he is visiting their castle. But when the bloody deed is done, Macbeth's happiness is tempered by guilt. And so begins a decent into madness.
While the material may be familiar, its treatment here is anything but. The instances of violence that have always lain at the dark heart of Shakespeare's play are depicted starkly and graphically. Indeed, it's difficult to believe that Polanski's approach to the violence in the source material wasn't informed by the brutal murder of his pregnant wife Sharon Tate, which had occurred only a few years prior.
Most striking of all, however, is the way that Polanski strips away the story's more theatrical trappings and makes the film feel like a genuine slice of grim and grubby medieval history. Pretty it definitely isn't, but that doesn't prevent The Tragedy of Macbeth from being an exceptional piece of moviemaking with a sense of authenticity, energy and integrity that just can't be beat.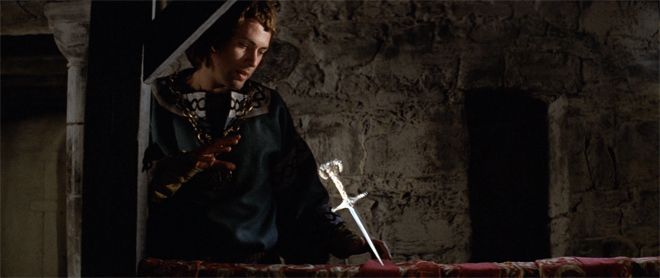 Picture: Created using a new 4K scan of the original Todd-AO 35mm camera negative and a 35mm colour reversal interpositive, the new director-approved HD master of The Tragedy of Macbeth that serves as the basis for Criterion's Blu-ray is mostly alluring. Colours are suitably drab and gloomy, while the overall image clarity ensures that there's plenty of fine object detail, particularly in close-ups.
Unfortunately, the Blu-ray's AVC 2.35:1 1080p encode has some clear problems with resolving the abundant film grain. Not only do a handful of shots suffer from wild fluctuations in grain density, several others fail to resolve it cleanly, resulting in a rather ugly, 'clumpy' appearance.
Picture rating: 4/5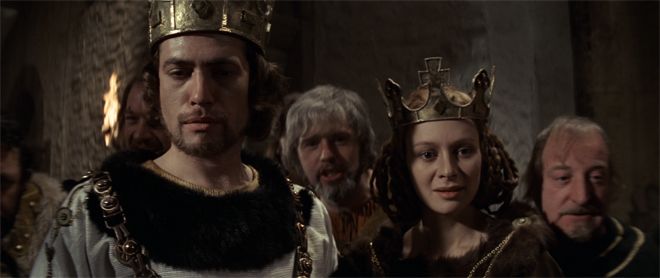 Audio: Anybody fearing a mono soundtrack will be pleasantly surprised by this Blu-ray's DTS-HD Master Audio 3.0 mix. While there are still some age-related limitations, dynamic range is better than expected and the clarity of the presentation means that the dialogue is crystal-clear at all times.
Audio rating: 4/5
Extras: Chief among the Blu-ray extras is a superb new hour-long documentary talking to most of the film's key players about its unusual production history and the different critical response that greeted it in the US and UK. Also on offer are an archival Making of… documentary (48 mins), an episode of the 1972 LWT arts series Aquarius (30 mins), a 1971 interview with co-scripter Kenneth Tynan (14 mins), and two trailers.
Extra rating: 3/5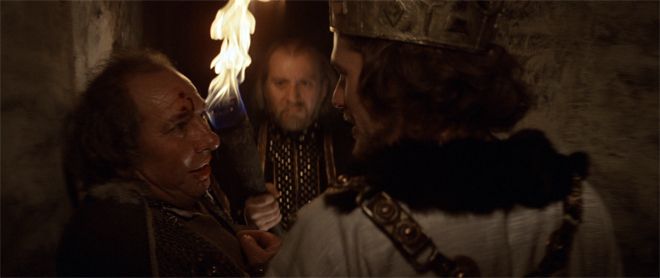 We say: Despite some image quality niggles, this is still a strong hi-def debut for Polanski's masterful Shakespeare adaptation
The Tragedy of Macbeth, Criterion Collection, Region B Blu-ray
HCC VERDICT: 4/5