Toshiba 84L9363DB review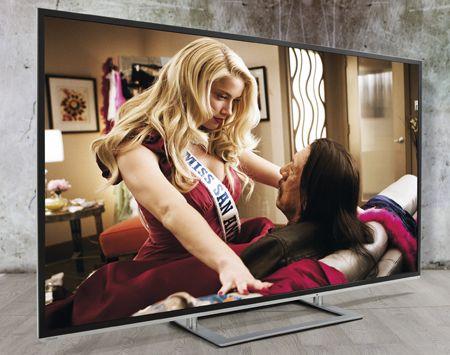 This affordable 4K TV brings you 84 inches of Ultra HD screen for just £7,000!
This year's CES electronics expo in Las Vegas was awash with rumours that the prices of mainstream 4K TVs will halve in 2014. I didn't expect, though, to find these rumours borne out so soon. But here I am, staring goggle-eyed at an 84in 4K TV that can be found selling for just £7,000 – less than half the price of any other 84in 4K TV seen to date.
This hi-res groundbreaker is Toshiba's 84L9363DB, and it really does deliver an epic amount of screen for your seven grand. Its size should prove particularly handy, of course, in demonstrating the joys we've already come to associate with 4K.
It's not the most exciting-looking TV around, though, thanks to its slightly perfunctory black surround and a build quality that seems only average – but Toshiba has to hit that £7,000 price ticket somehow, I suppose. There's a sliver of silvery metal along the bottom edge, but this doesn't alter my feeling that the 84L9363DB's design is more functional than fancy.
Connectivity is pretty good – to a point. Highlights include four HDMIs, two USBs, an SD card slot (I'd love more TVs to have these, considering how many of us own digital cameras and camcorders) and both Ethernet and integrated Wi-Fi options, with the network connections offering DLNA streaming as well as access to Toshiba's Cloud TV online platform. However, unlike the Panasonic L65WT600, the 84L9363DB's HDMIs aren't built to the HDMI 2.0 level required for playback of full-spec 4K sources at any frame rate higher than 30fps. A firmware update will allow the 84L9363DB to play 50/60Hz 4K sources, but only by reducing such source's colour resolution.
Time to smarten up
The Cloud TV online platform on the 84L9363DB is hit and miss – with the emphasis on the 'miss', sadly. In the hit camp is a pretty effective content-searching system, a handy app that lets you surf the TV's Electronic Programme Guide (EPG) on your tablet or smartphone, and an engagingly presented Avatar-based recommendations engine. This system doesn't currently track your viewing habits and adjust its recommendations accordingly, but Toshiba claims this feature will go live at some point.
The key problems with the Cloud TV portal are its rather dated-looking presentation, its bold but ultimately ill-conceived use of a big Twitter feed window in the middle of the main screen, and its lack of content compared with rival online platforms. Key video content services at the time of writing are limited to BBC iPlayer, Netflix, Blinkbox and KnowHow Movies, leaving such big hitters as LoveFilm, the ITV Player, 4OD and Demand 5 absent. You can get these services on external media streamers, of course, but integration would be greatly appreciated.
The 84L9363DB is much more comprehensive where picture adjustments are concerned. There's a full colour management system, with white balance and colour temperature fine tuning, plus there are gamma controls and lots of flexibility when it comes to brightness, contrast and noise reduction.
There are a couple of potentially useful adjustments associated with the 84L9363DB's 4K upscaling system, too. Brilliance Restoration seeks to reintroduce the brightness that's removed from sources during the digital compression process, while the Fine Texture tool adjusts the sense of sharpness present in upscaled pictures.
Sharpness is more aggressively affected, though, by Toshiba's Resolution+ processing system. And this works on native 4K material as well as HD/standard-definition! You might think that native 4K sources don't need a sharpness boost, and for the most part I'd be inclined to agree with you. But as we'll see in more detail (pun intended) later, the impact of Resolution+ on 4K is surprisingly effective…
The last bit of processing to cover is Toshiba's AMR800 system, which combines a native 100Hz panel design with backlight scanning and frame interpolation to deliver an 800Hz-like effect. I've seen even higher 'motion handling' numbers elsewhere this year, but given that arriving at such figures is something of a dark art anyway, it doesn't necessarily follow that the 84L9363DB won't be able to deliver a motion performance just as satisfying – if not more so – than those of some of the TVs that claim even larger 'motion' numbers.
All of the processing systems in the 84L9363DB are powered by Toshiba's CEVO 4K engine, derived from the brand's much-vaunted Cell PC processing. So hopefully there should be plenty of number-crunching power and speed to help the 84L9363DB go about its 4K business.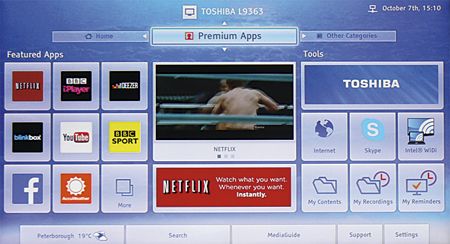 Going native
Firing up my slowly growing selection of native 4K sources (essentially demo reels from a variety of TV brands), I was initially very impressed – especially with that mind-boggling £7,000 price tag taken into account.
For starters, the set delivers a strong sense of the extra detail and pixel density that's the adorable trademark of good-quality 4K. The sheer enormity of the screen doesn't do any harm in this respect, as you'd expect, but there are other contributing factors too, including relatively little interference from LCD technology's motion blurring problems, and the canny way Resolution+ can add even more sharpness to 4K sources.
I'd only recommend using Resolution+, though, with relatively pristine 4K sources – as in, those largely free of grain or compression noise. If a 4K source is inherently noisy, Resolution+ doesn't manage to take that noise out of the equation when going about its upscaling task, resulting in pictures that can look rather gritty.
In this respect Resolution+ falls short of the more adaptable upscaling engines available on Sony and, especially, Samsung 4K TVs. Still, overall Toshiba's upscaling system works surprisingly well considering the price of the TV it's appearing on.
Another native 4K strength of the 84L9363DB is its colour handling. Colours are radiantly vibrant and heavily saturated, yet they hardly ever look unbalanced or unrealistic – especially after a little calibration work – and there's also extreme subtlety in the rendering of colour blends. In fact, the 84L9363DB gets close to Sony's Triluminos-inspired 4K colour heroics, and you can't ask for more than that.
ClearScan not so clear
The longer I watched the 84L9363DB's native 4K performance, though, the more I became aware of a couple of shortcomings. First, while motion blur is well handled, there is some judder in the set's 4K playback, and you do lose a bit of resolution clarity. Calling in Toshiba's ClearScan motion processor reduces this issue considerably, but unfortunately it also introduces problems of its own, such as a cellophaney look to really fast motion, and smeary haloes around the edges of large moving objects.
The other issue I noticed during my native 4K testing was that the 84L9363DB is nowhere near as comfortable with dark content as it is bright content, thanks to a hard-to-ignore lack of native contrast.
This manifests itself in a rather grey look to dark scenes that reduces the set's otherwise impressive colour rendition and leads to shadow details getting washed out of the picture. This latter point is particularly unfortunate considering that on a 4K TV detail is supposed to be king.
Thankfully there is a way to greatly improve the 84L9363DB's black level response: activate the set's Adaptive Backlight system. This adjusts the brightness of the edge LED lighting array in response to the content of the pictures being shown, and it delivers something much more like a true black colour from Toshiba's giant, instantly making dark scenes look more satisfying and cinematic. However, the black level boost comes at a cost.
To make this easier to describe, let's switch to an upscaled Blu-ray – Blade Runner. During the darkest sequences of Ridley Scott's science-fiction masterpiece, such as the final battle between Deckard and Batty, wherever a bright object appears against a dark backdrop I could clearly see a vertical band of light around the bright objects. These can become quite distracting, especially if you're watching something – such as Blade Runner – that's filmed using a 2.35/2.40:1 aspect ratio with the resulting black bars above and below the picture.
Looking at other aspects of the 84L9363DB's upscaled HD picture quality, the news is pretty good. The Blade Runner Blu-ray is actually a slightly noisy transfer, yet the upscaling engine handles the noise quite nicely (without Resolution+ in play, at any rate) and leaves you with a noticeably crisper, more detailed image than you'd get on a mere Full HD screen.
The upscaling boosts colour resolution too, and it delivers its picture upgrade without causing significant unwanted side effects. Sony and Samsung's upscaling engines are a little more adaptable to different sources, but for the money the 84L9363DB's upscaling engine is more than good enough.
Donning one of the four pairs of passive 3D glasses you get with the Toshiba reveals a mostly impressive 3D performance let down by a single flaw. This flaw is that without using the set's ClearScan processing there's a significant amount of judder during, say, the street party sequence in Tangled. Yet if you call in ClearScan you're distracted by conspicuous processing artefacts, most notably a smeary halo around objects crossing the screen.
In the plus camp, the 84L9363DB's 3D pictures are bright, intensely coloured, and mercifully free (so long as your vertical viewing angle is quite shallow) of the crosstalk ghosting noise that's cropped up on Toshiba's active 3D TVs this year. My Prometheus and Tangled 3D Blu-rays also look richly detailed, with the screen's native 4K resolution combatting the lower pixel density of passive tech to create a better-than-Full HD stereoscopic experience.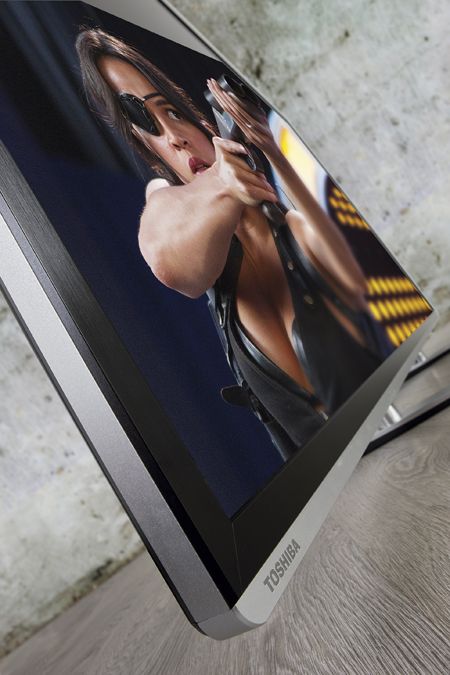 Sonically satisfying
Wrapping up my time with the 84L9363DB with its sound, I found yet another mix of good and bad. The overall quality of the audio is strong, with plenty of power and an open mid-range helping the set achieve potent volume levels and a wide soundstage without distorting or losing cohesion. There's also more bass than is commonly heard from flatscreens.
The problem is that the screen is more prone to lip-sync errors – where the sound slides slightly out of kilter with the pictures – than most TVs. Oddly, this intermittent issue seems more likely to happen while using the ClearScan motion processing.
The 84L9363DB is clearly not a perfect TV. In every performance department there's at least one flaw. However, it's impossible to ignore the fact that it offers truly gigantic 4K pictures for less than half the cost of its nearest, similarly-sized rival. In fact it's so much cheaper than other 80in-plus 4K TVs that a more realistic rival is actually Sony's awesome VW500ES 4K projector. A PJ just doesn't work for everyone's home environment, so if you fancy large 4K thrills for half the money you'd probably have expected, the 84L9363DB pretty much creates a whole new TV category. It will be interesting to see the price points that rival brands adopt for their forthcoming models.
Specification
3D: Yes. Passive
Ultra HD: Yes. 3,840 x 2,160
Tuner: Yes. Freeview HD and HD satellite (but not Freesat)
Connections: 4 x v1.4 HDMI; component video input; 2 x USB; SD card input; optical digital audio output; Ethernet; RGB Scart; RF input; composite video input; D-Sub PC port; headphone slot; RS-232
Sound: 2 x 20W RMS
Brightness (claimed): 400cd/m2
Contrast ratio (claimed): 1,600:1 (native)
Dimensions (off stand): 1,916(w) x 1,118(h) x 78(d)mm
Weight (off stand): 72kg
Features: Built-in Wi-Fi; CEVO 4K picture engine; AMR800 motion system; Resolution+ sharpening tool; Brilliance Enhancer; Cloud TV online platform; colour management system; gamma management; MPEG and normal noise reduction

SPONSORED VIDEO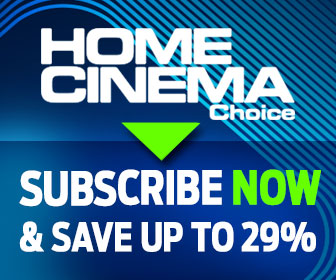 Home Cinema Choice #326

is on sale now, featuring: Sky Glass; Anthem AVM 70 processor; Sony XR-65X90J; BenQ gaming projector; Christmas gift guide; Hollywood franchises on Blu-ray; Fast 9 4K; and more
Want to see your home cinema system featured in the pages of HCC? Click
here
for more info.