Toshiba 65L9363DB review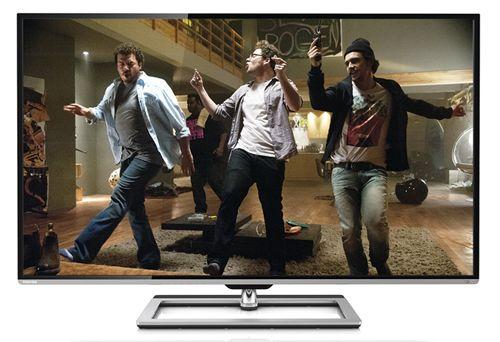 It's time to find out whether Toshiba's debut Ultra HD TV can keep up with the 4K Joneses
The latest in the new wave of UHD TVs, the Toshiba 65L9363DB, doesn't get off to the most auspicious of starts, as at £5,500, it's £500 more expensive than other 65in UHD/4K big-hitters from Samsung and Sony. And, although Panasonic's L65WT600 is also £5,500, that model sports a cutting-edge HDMI 2.0 port while the 65L9363DB does not. In other words, if it's going to justify its price, the 65L9363DB will have to perform better than its rivals – and that's quite a challenge.
Dressed for success?
The 65L9363DB loses out slightly in style terms versus rival UHD models thanks to its slightly plasticky build quality and relatively straightforward – if pleasingly slim – design. Put another way: Samsung and Sony sets, in particular, look smarter.
The TV doesn't employ any local dimming in its lighting engine, something I'm rather surprised about, considering its price. This is not necessarily the end of the world in picture quality terms, but there's no ignoring the fact that other high-end LEDs use local dimming tech to deliver a better contrast range.
There are some promising things about the 65L9363DB, though. Firstly, it carries Toshiba's brand-new UHD video processing system, driven by the company's long-renowned CEVO engine. Chief among this processing system's duties will be upscaling HD and standard-definition material to the screen's native resolution, as well as combatting LCD's perennial motion blur problems.
Secondly, in recognition of the 65L9363DB's high-end/enthusiast-baiting status, Toshiba has taken care to equip it with a fearsome roster of picture setup tools, including full colour management, gamma controls and white balance fine-tuning.
The 65L9363DB is equipped with a fine suite of connections, including four HDMIs, USBs for playback of video, photo and music multimedia files from USB storage devices, an SD card slot, and both Ethernet and integrated Wi-Fi network connections.
The HDMIs are not, as I've already said, built to the new HDMI 2.0 standard. However, Toshiba assures us that its TV can be upgraded to handle 60fps UHD sources when they become available.
Attaching the TV to your network opens the door to both streaming multimedia from networked DLNA PCs, and accessing Toshiba's Cloud TV service – and the latter is as underwhelming as the last time I checked it out. Nice-looking, but a little starved of stand-out content, and curiously slow.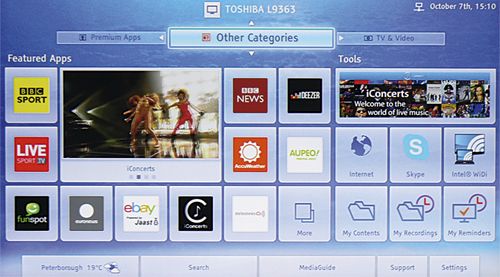 Taking centre stage
The 65L9363DB's rather B-list Smart TV offering piles even more pressure on the set's picture quality to impress. And it certainly does manage to rise to the occasion.
I kicked off my tests with a selection of native UHD content, taken from a high-spec laptop supplied by Toshiba and a Sony 4K demo server. And, as with every other time I've witnessed UHD in action, I was mesmerised by the sight before me. Pictures enjoy not just clearly more detail and resolution than you see with HD, but also a greater sense of density and depth, and these cause you to almost forget that images are being produced from a bunch of individual pixels rather than being 'real life'. Superb.
Equally gobsmacking with the HD test footage is the colour resolution the Toshiba serves up. Those extra pixels enable the screen to deliver near-flawless colour blends that further reinforce the almost 3D-like sense of solidity and depth of UHD. The extreme vibrancy of the 65L9363DB's colours, meanwhile, only fall slightly short of the ground-breaking saturations witnessed on Sony's Triluminos-sporting 65X9005A, and leave the tones of Samsung's UE55F9000 looking rather pallid by comparison.
A touch of motion blur takes the edge off UHD clarity during action footage like a football match, but while this is slightly more noticeable than it is on the rival Sony and Samsung UHD/4K TVs, I wouldn't class it as severe. You can reduce its impact by selecting the low setting of Toshiba's highly-effective motion processing engine.
As an early glimpse of the power of the CEVO 4K engine, this motion smoothing is very promising, and my admiration grows when I switch to 3D material – Titanic (easily the best 'remastered' 3D title ever) and Tron: Legacy. As Jack pushes his way through the crowds on the dock at the side of the Titanic, the 65L9363DB does a remarkable job of handling the huge amounts of motion in the frame, avoiding the judder and twitching problems I've often witnessed with 3D screens.
In fact, 3D represents arguably the 65L9363DB's finest hour. Its passive 3D approach more or less nullifies crosstalk ghosting – even over notorious sequences like the first time Sam is fitted with one of the fancy striped light suits in Tron: Legacy – and its UHD resolution means it delivers the full 1080-line resolution of 3D Blu-rays rather than a compromised resolution, as HD passive 3D TVs do. Furthermore, the use of passive tech removes active 3D's flicker issue from the equation. I'm struggling to think of any other TV that's made 3D more engaging.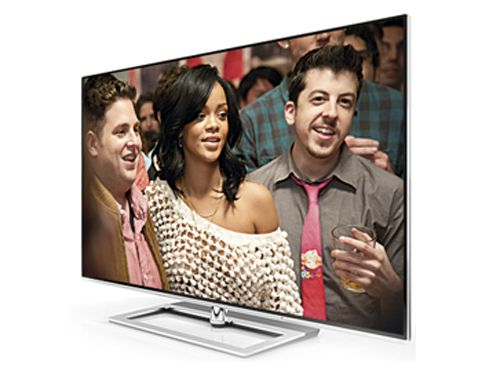 While the CEVO engine is on great form when it comes to handling motion, though, it's slightly less emphatic when upscaling standard-definition and HD sources to the screen's 3,840 x 2,160 resolution. Upscaled material certainly looks eminently watchable, especially with high-quality HD content like Oblivion on Blu-ray. But there's more softness in the presentation than you get with either Sony or Samsung's challengers.
What's more, if a non-UHD source has quite a bit of noise in it, such as all standard-def digital broadcasts and even a few HD ones, the 65L9363DB isn't as astute at reducing this noise during its upscaling process.
A final area of weakness for the 65L9363DB's pictures versus its rivals concerns black levels. Dark scenes are prone to looking somewhat greyed over, and there's a noticeable shortage of shadow detail in the darkest corners that runs counter to the TV's UHD ambitions.
No TV is an island
Considered in isolation, the 65L9363DB is another persuasive argument for adopting Ultra HD/4K technology – native content positively drips with detail and believability, and upscaled images are a clear improvement on Full HD. However, while its colour reproduction and 3D delivery is worthy of the highest praise, Toshiba's 4K set can't match its rivals in upscaling supremacy, black level performance or Smart TV talents. No TV is an island, and there's no escaping the fact that Toshiba's UHD model currently costs more than some models that are simply better.
Specification
3D: Yes. Passive
Ultra HD: Yes. 3,840 x 2,160
Tuner: Yes. Freeview HD
Connections: 4 x HDMI (v1.4, one with MHL); 2 x USB; Scart; stereo audio; component video input; Ethernet port; SD card slot
Sound: 2 x 20W
Brightness (claimed): 450cd/m2
Contrast ratio (claimed): 4,000:1 (native)
Dimensions (off stand): 1,463(w) x 849(h) x 55(d)mm
Weight (off stand): 44.7kg
Features: Native UHD playback; UHD upscaling via CEVO processing engine; Cloud TV online service including BBC iPlayer and Netflix; multimedia playback from SD card, USB port or DLNA; colour management; white balance adjustment; gamma adjustment; four pairs of 3D glasses included; built-in Wi-Fi

SPONSORED VIDEO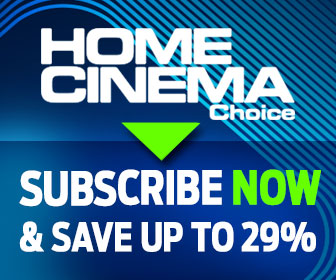 Home Cinema Choice #326

is on sale now, featuring: Sky Glass; Anthem AVM 70 processor; Sony XR-65X90J; BenQ gaming projector; Christmas gift guide; Hollywood franchises on Blu-ray; Fast 9 4K; and more
Want to see your home cinema system featured in the pages of HCC? Click
here
for more info.