Toshiba 55WL863 review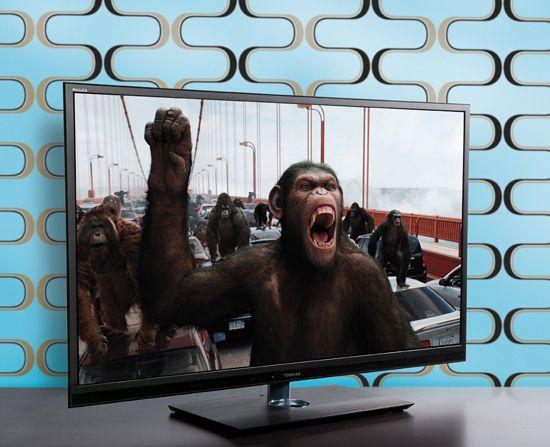 Although a certain type of AV enthusiast shudders at the very mention of 'processing' in a TV, the reality is that no decent telly can produce good pictures without using at least some processing.
From my personal experience of testing TVs of all prices and abilities, I'd argue that what's really at issue isn't so much video processing per se, but the fact that some processing systems on mainstream TVs are rather, well, pants.
This is actually understandable given the extreme and therefore expensive amounts of processing power required to handle HD video streams 'on the hoof'. But the general low quality of TV picture processing certainly means I can't help get excited when a TV arrives that is confident enough to shout about its silicon smarts from the rooftops.
CEVOlution
Toshiba's 55in 55WL863 is one such TV: the fi rst UK product to feature the brand's much-vaunted CEVO Engine. This heavy-duty processing system is designed to do everything from boosting a wide variety of picture parameters to enhancing multimedia playback, self calibration, improving 3D performance, delivering Toshiba's first 2D-to-3D upscaling, controlling an edge LED local dimming engine with more 'intelligence' than you usually get with such technologies, and making your breakfast. Probably.
If you're surprised to see Toshiba bringing us this apparently allsinging, all-dancing TV processor, then you clearly haven't heard of the brand's Japanese CELL Regza technology (see box out, p52). Of course, CELL is so powerful that the 55WL863's CEVO Engine only incorporates parts of it – but these 'parts' are still substantial enough to make the 55WL863 one of the most powerful fl atscreens around.
The home for the 55WL863's fancy new powerhouse is rather lovely. At first you might think it's just another black TV rectangle. But as well as its bezel and rear both being exceptionally thin, its all-metal build quality is superb, making it a rare example of a TV that gets more appealing the closer you get to it. Toshiba's ongoing relationship with the Jacob Jensen Design Studio has definitely paid off this time. Even the stand is worthy of praise – while other brands still feel comfortable mounting two-grand tellies on wobbly bits of lightweight plastic, Toshiba's off ering is a serious heavyweight slab that anchors the set reassuringly.
Given that the 55WL863 and its silver alternative, the 55YL863, are Toshiba's flagship TVs (until the supposedly imminent arrival of the ZL2 glasses-free 3D set), it's no surprise to find connections galore. HD and 3D duties are performed by four HDMI inputs, while multimedia options come courtesy of a D-Sub PC port, two USBs, a LAN and, excellently, built-in wi-fi.
The USBs can play plenty of photo, music and video file formats, and if you attach a suitably formatted USB HDD you can record video direct from the built-in Freeview HD tuner. The set also sports an HD satellite tuner, but this isn't contained in a Freesat 'wrapper' and so ends up tuning so much rubbish that it's ultimately pointless.
The set's LAN/wi-fi connections do the double duties I'd expect of a flagship TV these days. Namely, they let you either jack into a networked PC, or 'surf' Toshiba's new Places online system.
Work in progress
Places has arrived rather late to the Smart TV party, and is still a B-list off ering in content terms – though it is growing steadily. Now on off er are the BBC iPlayer, YouTube, and subscription services from The Cartoon Network, HiT Entertainment and Box Office 365 – but that's about it. Irritatingly the iPlayer and YouTube apps aren't properly integrated into the Places menus; selecting them throws up a message telling you to exit Places and access them separately. Hardly what I'd expect from a TV as supposedly clever as the 55WL863.
While somewhat 'unfinished' right now, though, Places has serious potential for the future thanks to its attractive interface and its efforts to personalise proceedings. Different users can set up individual accounts, configuring their own email addresses and favourite content lists, and there's even a camera in the TV that can recognise who's using it and automatically activate the right personal Places settings. The low quality of this camera led to a few identifi cation errors during my tests, but it's still a great idea for Toshiba to build on.
CEVO Engine's presence is abundantly evident throughout the 55WL863's onscreen menus, which include not only a wide variety of calibration options – including colour and gamma management – but also an auto calibration process. Get yourself Toshiba's optional TPA-1 colour meter kit and attach it to one of the TV's USB ports, and the 55WL863 can calibrate itself in accordance with the video standards preferred by professional bodies like the Imaging Science Foundation (ISF).
I ran this procedure myself, and aside from some slightly off red tones, it certainly delivered a more nuanced and 'accurate' image than any of the TV's presets. That said, I suspect most mainstream users will find the calibrated image a touch flat. Plus the TPA-1 costs a rather intimidating £250.
Just as well, then, that the CEVO Engine's eff orts ensure that the 55WL863 produces truly excellent picture quality using just the standard, built-in set up options and presets.
Particularly remarkable is the quality of the TV's upscaling, not just of standard-definition sources but also fodder streamed from the internet. The CEVOpowered Resolution+ system does a sterling job of adding detail and sharpness without causing the picture to fall prey to extra noise or fuzzing. Toshiba has long been the King of video upscaling (remember the XD-E500 DVD player?) and it shows no signs of letting that crown slip.
Back in black
The CEVO Engine also seems to play a part in the 55WL863's contrast performance. Provided you don't leave the backlight set higher than '60', it's immediately and gratifyingly obvious that the serious backlight consistency issues that have affl icted many of Toshiba's edge LED TVs this year are here more or less completely conquered – by, presumably, the more sophisticated nature of the set's local dimming system.
The quality of the local dimming also means you see only the tiniest traces of the 'light blocking' phenomenon around bright objects often seen with other locally-dimmed edge LED sets. The result is rich, deep blacks sitting right alongside really punchy, dynamic colours and whites.
Actually, slightly off -kilter reds aside, the 55WL863's colours are nothing short of outstanding. Vibrant saturations combine beautifully with seemingly immaculate blends and a very wide colour range.
Enhancing the 55WL863's high-end credentials still further is its excellent fine detail prowess. Pictures thus look crisp, full of texture and more three-dimensional – even when watching 2D! – than your average TV. The sense of sharpness persists, moreover, when the picture contains motion, even if you don't employ the set's optional motion processing. Again, I suspect CEVO's power is at least partly responsible for the screen's apparently lightning response time.
Turning from the 55WL863's hugely impressive 2D pictures to its 3D ones, at fi rst everything is positive. Immediately I was startled by how bright and colourful images still looked through Toshiba's active shutter 3D glasses (none of which are included free with the TV, sadly). Certainly, 3D pictures seem markedly brighter than they do on Sony and Panasonic 3D sets, with only Samsung's top-end LED models and LG's passive 3D TVs serving up similar levels of dynamism.
Activate the CEVO-powered version of Toshiba's Resolution+ system while watching full HD 3D Blu-rays, meanwhile, and you'll fi nd yourself watching what for my money are comfortably the sharpest, most detailed 3D pictures yet seen on a flatscreen. Stunning.
However, the 55WL863 falls prey to a single but irritating flaw: crosstalk noise. This double ghosting phenomenon aff ects almost all 3D TVs to some extent, but it's slightly worse than average on the 55WL863 – especially when watching Sky's 3D broadcasts. This is galling, as the CEVO engine is supposed to beaver away and eliminate this type of picture flaw. If you plan on watching a lot of 3D content, get a demo and see if it bothers you before you buy.
On the audio side, the 55WL863 doesn't sound bad at all, with good treble detailing and a mid-range open enough to avoid sounding harsh during action scenes. More bass would have been nice, but such is skinny TV life.
Raising the standard
With the CEVO Engine at the reins, the 55WL863 is an outstanding TV – easily Toshiba's best flatscreen yet. It does some pretty spectacular things with 3D when crosstalk isn't getting in the way, and with 2D it's never less than a joy to watch. And the build quality and usability are second to none. CEVO, we salute you.
HCC VERDICT
Highs: Beautiful build quality; exemplary 2D pictures; mostly very good 3D; well-presented online portal and GUI
Lows: Noticeable crosstalk on 3D; Places needs more content
Performance: 5/5
Design: 5/5
Features: 5/5
Overall: 5/5
Specifications
3D: YES
Full HD: YES 1080p24
Tuner: YES Freeview HD, satellite
Component video: YES 1 x input
HDMI: YES 4 x v1.4
PC input: YES 1 x D-Sub
Resolution: 1920 x 1080
Sound: 2 x 10W RMS
Brightness: 450cd/m2
Contrast ratio: 7,000,000:1
Dimensions (off stand): 1265(w) x 760(h) x 27.5(d)mm
Weight: 25.5kg
Also featuring: Active 3D playback (no glasses included); PRO-LED local dimming; USB media playback; noise reduction system; DLNA streaming; Places Smart TV online service; selfcalibration option; extensive set up controls including colour management; 400Hz processing; 2D to 3D upscaling; built-in wi-fi; camera with face detection and human sensor

SPONSORED VIDEO

SPONSORED VIDEO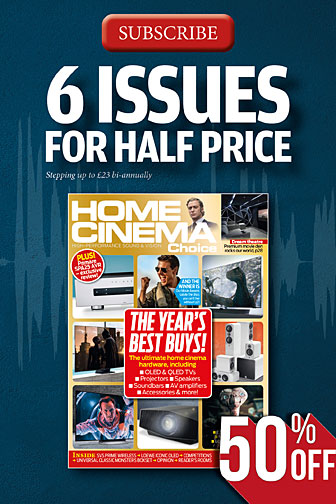 Home Cinema Choice #332

is on sale now, featuring: Samsung's 8K flagship; Anthem AVM 90 processor; B&W 800 Series Diamond; LG smart projector; Hollywood box office bombs; Hitchcock 4K; and more
Want to see your home cinema system featured in the pages of HCC? Click
here
for more info.