Toshiba 46YL863 review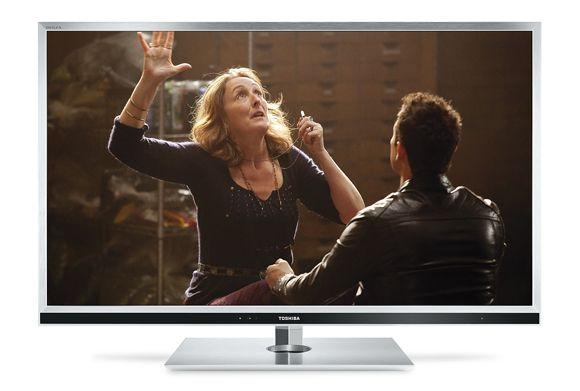 This affordable 46in TV concentrates on the basics - and gets most of them just right
The 46YL863 is a fine-looking TV, although its heavy-duty stand lacks the coolness of the gorgeous brushed aluminium bezel and designer remote control. It is not, however, a TV for the impatient, taking a good 30 seconds for the blank screen to spring to life after pressing the on button. The interminable wait is possibly the most frustrating aspect of owning this screen as it otherwise generally acquits itself well and shows the importance of Toshiba's CEVO engine and Active Vision M800HD processing when it comes to delivering HD images.
It helps that light leakage from the 46YL863's hybrid back and edge-lit LED panel is negligible whilst local dimming is well-executed. Strong black levels are not achieved at the expense of shadow detail. There are numerous enthusiast level controls in the Expert sub-menu (including a test pattern, white balance, RGB filters and colour decoding options) but once Auto Brightness is disengaged (it darkens the screen terribly) it's simply a case of choosing the most suitable preset viewing mode. Ignore Hollywood Pro unless you have a TPA-1 colour analyser and want access to the Colour Calibration menu.
Digging out the detail
Compared with an HDMI feed of BBC News on Sky there is a sliver more detail in the TV's own Freeview tuner. Otherwise, watching standard-definition has little to recommend it, as anything with movement can become a mush fest or fleetingly reveal hatched lines.
More positively, the 46YL863 is reassuringly adept with HD, so that image adjustment is more a case of personal taste rather than absolute necessity. Snooker on BBC HD looks immaculate. Static images are sensationally crisp and punchy. Fast-moving sports on Sky HD show that the screen looses resolution as pock-marked football pitches become less decipherable but there is no jarring caused by camera pans. Engaging Active Vision's standard setting does a nice job of smoothing the action without introducing unwanted artefacts. Colour fidelity and contrast hold up nicely.
It's a similar story with Blu-rays. The 46YL863 passes the No Country For Old Men motion test with flying colours. Josh Brolin's exploration in the desert is just a tad jerky but is more than acceptable and there is no haloing or loss of filmic character. Again, colours and detail are excellent, but that old Toshiba problem of MPEG noise with large monochrome patches (such as the clouds of the vast desert skies) is sadly prevalent. Despite being an IPS LCD panel, off-axis viewing suffers with a loss of contrast and there is bad news for 3D fans, with crosstalk treading into almost double vision proportions.
The 46YL863's media player notably has the clearest layout around, with full file description, but it refused to recognise some of my usually reliable .MPG and .M4V files. And, while Toshiba's online Places portal scores top marks for its easy-on-the-eye and simple to navigate layout, it seriously needs a boost content-wise in the video- and audio-on-demand sections.
That said, this an appetising screen considering its price point.
---
HCC VERDICT
Toshiba 46YL863
Price: £1,000 Approx
Highs: Adept at handling HD; needs little adjustment
Lows: Slow in use; excessive MPEG noise on Blu-rays
Performance: 4/5
Design: 3/5
Features: 4/5
Overall: 4/5
---
Specifications
3D: yes Active shutter
Full HD: yes 1,920 x 1,080
Tuner: yes Freeview HD, CI slot
Connections: 4 x HDMI; 2 x USB; Ethernet; component; composite; optical digital audio out; D-Sub PC in; Scart
Sound: 2 x 10W, plus 10W sub
Brightness: 450 cd/m2
Contrast ratio: 7,000,000:1
Dimensions (off stand): 1,067(w) x 654(h) x 29(d)mm
Weight (off stand): 12kg
Features: Network Resolution+; 3D Resolution+; Standard/Smooth 24p Mode; MPEG NR; Digital NR; Auto Backlight Control; Ambient Light Sensor; 3D colour management; Exact Scan mode; Hollywood Mode 1 & 2 (Day/Night Mode); greyscale settings; gamma; RGB Filter; integrated test pattern; Audyssey EQ; Dolby Digital Plus; Dolby Volume; SoundNavi; PVR Record (to external USB storage device); Wireless (built-in); DLNA; Toshiba Media Controller compatible; Toshiba Places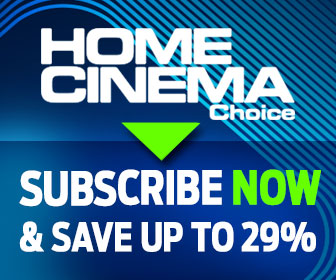 Home Cinema Choice #323

is on sale now, featuring: Panasonic JZ2000 4K OLED TV; LG SP11RA Dolby Atmos soundbar; Philips 806 OLED TV; Neill Blomkamp interview; hi-fi meets home cinema install; and more
Want to see your home cinema system featured in the pages of HCC? Click
here
for more info.