Toshiba 40RL858 TV review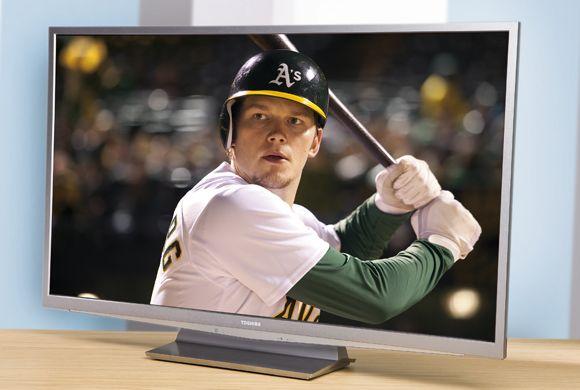 Get connected for less as Toshiba sets out to slash the cost of Smart TV with its 40in LED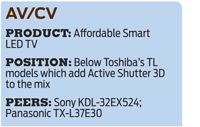 We're increasingly living in a connected world. Last year, 400 of the world's 600 million broadband homes deployed home networking technology. By 2015, upwards of 700 million homes will be running local networks. Small wonder then that TV makers have put the pedal to the metal when it comes to making Smart TVs.
Now IPTV services are fast becoming ubiquitous and even budget flatscreens offer a modicum of DLNA glue. It seems connectability has become the most persuasive upgrade carrot in the TV manufacturer's arsenal.
Toshiba's 40RL858 is proof you no longer have to pay a premium to take home a network-savvy set. This 40in LED LCD typically sells for less than £500.
It may be 2D only, but the set offers access to the brand's online portal Toshiba Places as well as network media streaming (caveats apply). It shares DNA with the brand's more expensive TL models, which add Active Shutter 3D to the feature specification.
Home thinema
The 40RL858 is slim and presentable. Rather unusually, this TV is finished in a light greyish silver rather than uniform gloss black. The bezel is also extremely thin, at just 11mm. Closer inspection confirms a fairly lightweight plastic chassis though. The remote control is similarly insubstantial, and has all the ergonomic appeal of a partially built Airfix kit.
Connectivity includes three HDMIs (one of which is side-mounted), Scart, component video with stereo audio, Ethernet, PC VGA, optical digital audio and USB. There's also a CI slot and headphone jack. An optional Wi-Fi dongle is available if you're unable to run cable in your viewing room.
The screen is easy enough to navigate. While the user interface is largely utilitarian, there's some graphical icing to jazz things up. Keeping things convenient, a secondary Quick Menu groups the most common controls together. It's this that you'll find yourself using the most.
Crisp pictures

While this RL model doesn't offer Toshiba's lauded Resolution+ picture processing circuitry, it's a capable enough performer. The Full HD panel does the job with Blu-rays and external HD sources such as Sky+HD and VirginMedia TiVo. Images from the set's integrated Freeview HD tuner, while not quite as clear, look considerably better than regulation SD Freeview.
The TV offers a comprehensive variety of aspect ratios, including Dot by Dot (for PC) and Native or multiple stretches (for video); all are accessed via a graphical button on the remote control. This is worth noting, as out of the box only the Game preset doesn't overscan.
Predictably, straight from the box, the set's defaults fail to flatter. The TV requires intervention to look its best. For starters, sharpness should be dialed back to around -35 on the provided sliding scale, to prevent unnatural edge-emphasis. It's worth noting that even after calibration, this screen looks a good deal less crisp than the brand's impressive UL models.
Contrast is good. While the set crushes blacks in order to improve dynamics, which in turn robs some images of fine shadow detail, noise is low. The use of edge LEDs results in some uneven backlighting, but light pooling in the corners is only really noticeable when viewing 'scope ratio movies.
Motion picture resolution is rated at around 800 lines. An absence of high frame-rate processing means there're no intrusive motion artefacts (typically image ringing and blur) in its pictures; the result is a cinematic looking presentation with discs and TV shows alike.
Unfortunately, absolute colour fidelity eludes this set. Edging back from the zero position default is a move in the right direction. Test footage of a shiny red kimono never quite convinces, developing pinkish, purple hues when correction is applied. That said, a sequence of glinting brass instruments, often difficult to do justice to, looks very convincing.
If the screen does have an obvious shortcoming, it's with its audio performance. Reflecting the physical constraints of the set, the 40RL858's sound system is all top and no bottom. There are various presets available, including voice enhancement and dynamic bass boost, but these don't offer any significant improvement. This is a screen you'll want to marry to an external sound system sooner rather than later. The TV does feature Stable Sound though, Toshiba's version of Dolby Volume, designed to maintain a constant level when changing channels.
Maddening media
Pay content outnumbers free when it comes to IPTV on the 40RL858, but at least YouTube and BBC iPlayer are available directly from the Quick menu. For other streaming services, you'll need to log onto Toshiba's Places portal. It's here you'll find the likes of Acetrax, Viewster, DailyMotion, Box Office 365, Woomi, Cartoon Network and HiT Entertainment. For music fans there's iConcerts and the music service AUPEO! The Places portal also has a social side, reflected by clients for Facebook and Flickr.
Unfortunately, media streaming proves maddening. In Network Media Player mode, this TV doesn't stream popular video file containers, such as MKV and AVI. Across a LAN it prefers to restrict itself to MPEGs. It also has a tendency to hang, becoming unresponsive if it doesn't like the look of your NAS device. When this happens you either have to sit and wait for it to come out of its stupor or reboot by pulling the plug – not something I'd want to do to a telly with any great regularity.
Media compliancy from USB is much better. If you have MP4, AVI, WMV, MKV and MOV files on a stick, they'll play. There's also music support for MP3s, although album art isn't rendered. The USB media player hasn't been completely thought through though; it uses an icon based interface, which lacks the room for full file names – and they don't scroll.
Sheer value
The 40RL858 undoubtedly delivers when it comes to sheer value for money. It's slim, offers an acceptable picture for the price and delivers decent streaming IPTV. If you want a big-ish screen with catch-up from the Beeb and YouTube, it's worth investigating. However, if network media playback is important to you, or higher visual acuity, you should look elsewhere.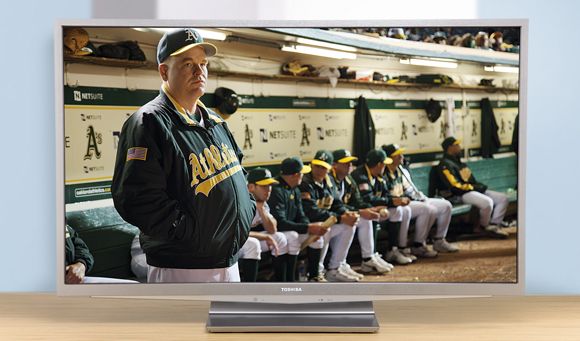 ---
HCC VERDICT
Toshiba 40RL858
Price: £500 Approx
Highs: Slim design; Freeview HD; BBC iPlayer; USB media playback
Lows: Average build quality; limited media support across a LAN; thin audio; lacklustre Smart portal
Performance: 3/5
Design: 3/5
Features: 4/5
Overall: 3/5
---
Analysis
GUI: The Places portal opts for a stripped down design – and is therefore a doddle to navigate
Power consumption: We measured an average consumption of 64W during movie playback, which is very efficient
Killer feature: The most appealing aspect of Toshiba's 40RL858 is its £500 price tag – this is serious value of money
---
Specifications
3D: no
HD Ready: yes 1080p/24
Tuner: yes Freeview HD, analogue
Connections: 3 x HDMI; 1 x component; 1 x Ethernet; 1 x Scart; 1 x PC input; 1 x optical digital audio; 1 x headphone; 1 x composite video; 1 x USB
Resolution: 1,920 x 1,080
Sound: 20w (2 x 10W)
Brightness: 400 cd/m2
Contrast ratio: 3,000,000:1 (dynamic)
Dimensions: 620(w) x 920 (h) x 190(d)mm
Weight: 12.5kg
Features: Edge-LED backlight; USB for media playback; Toshiba Places net portal; YouTube, BBC iPlayer & Flickr; Stable Sound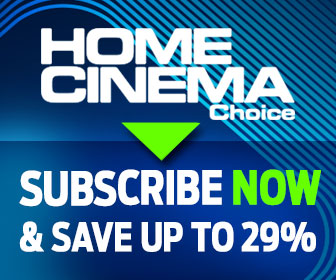 Home Cinema Choice #323

is on sale now, featuring: Panasonic JZ2000 4K OLED TV; LG SP11RA Dolby Atmos soundbar; Philips 806 OLED TV; Neill Blomkamp interview; hi-fi meets home cinema install; and more
Want to see your home cinema system featured in the pages of HCC? Click
here
for more info.