Tannoy Mercury V loudspeaker review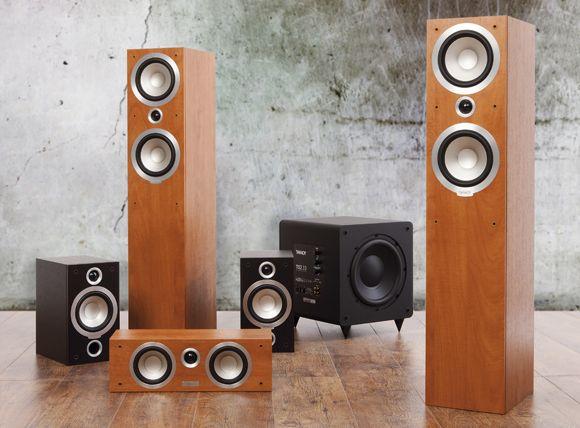 Fifth-generation speakers will prove more than a match for any Blu-ray collection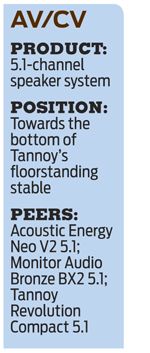 Anyone who's seen Rocky 5 or A Nightmare on Elm Street 5: The Dream Child can attest that the fifth in a series rarely lives up to the original. But hopefully Mercury V – the fifth generation of Tannoy's budget hi-fi and AV speaker series – won't fall into that trap.
It's aimed at those who want a ferocious, full-fat floorstander setup without paying the often astronomical prices of high-end systems. As such, the £1,100 price tag looks rather appealing, especially once you start hauling the speakers out of their boxes and seeing just how much you get for your money.
Playing it safe
Taking centre stage is a pair of Mercury V4 floorstanders, whose bulky cabinets stand almost a metre high and boast the sort of muscular build quality that wouldn't be out of place at a higher price point. Okay, the clinically straight lines see Tannoy playing it safe and there's no plinth to provide extra stability at the base, but it's not likely to offend anyone.
Unplugging the detachable grilles reveals the drivers in all their glory, which is worth doing if only to expose the lovely brushed aluminium trim surrounding them. The V4s can be bi-wired using the two pairs of gold-plated binding posts on their rears.
On centre channel duty is the Mercury VC, with a pair of V1 standmount speakers serving up surround effects. But if floor space is precious then Tannoy also sells wall-mountable Mercury VR rears. These are housed in shallower cabinets that lose some of the V1's deeper bass output but make them ideal for wall-mounting.
Naturally all of these speakers are styled to match the floorstanders, whether it's the Sugar Maple or alternative Dark Walnut finish (which, for reasons only Tannoy can know, both of which we were supplied with). Again, the V1 and VC are constructed within conservative-looking but bulky boxes, so be prepared for them to dominate your living room landscape.
Mercury V's big talking point is the inclusion of the brand new TS2.10 subwoofer with its dual-driver design. Regular HCC readers will know that until the TS1201 came along in 2010 we hadn't always seen eye to eye with Tannoy's subwoofers, but this 300W bass box is looking to continue the company's recent good work – and shake similarly-priced rivals to their very foundations.
With two 10in drivers lurking inside – a main driver and auxiliary bass radiator – Tannoy reckons the TS2.10 boasts the greatest cone surface area of any sub at its £430 price, equivalent to that of a single-driver sub with a 15in cone. The radiator also quells the cabinet vibration that can blight single-driver bass bins.
Its contemporary design is incongruous with the other speakers, but it's an attractive subwoofer that comes in a choice of dark grey satin, high-gloss black and high-gloss white. It's compact too, making it easier to place than some of the beasts I'm used to wrestling with.
The sub is braced for the impact of those dual drivers with a cabinet fashioned from 25mm MDF, as opposed to the usual 18mm. Inside is a 300W Class D amplifier, with some natty DSP that controls crossover, phase and gain in the digital domain – all tweaked by dials on the rear panel. There are also stereo line input and output to stick your cables into.
As an evolution of Tannoy's Mercury F Custom range, the V4s are kitted out with tech from Tannoy's high-end designs, including all-new drivers. There are two 6in mid/bass cones and a 1in soft dome tweeter, arranged in the D'Appolito configuration like previous Mercury models. Tannoy says these ultra-light mid/bass cones are the fastest Mercury has ever seen, and, combined with an upgraded crossover, potentially give Mercury V a leg-up over its predecessors.
Ready for battle
The VC and V1s also benefit from these technological tweaks, sharing the same drivers to ensure tonal consistency across the system, and in the field of battle, the whole array turns in a heroic performance. It's authoritative yet nuanced, shaping every sound with poise and control whether the scale is epic or intimate. There aren't many systems that provide such a mix of potency and polish for just over a grand.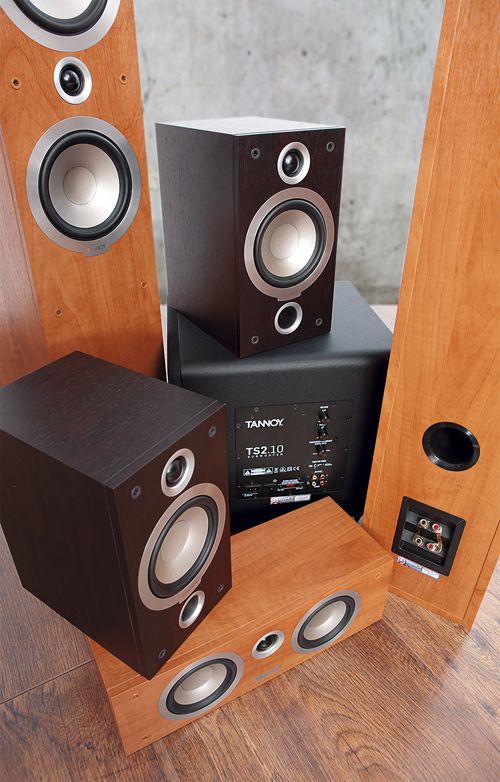 Mercury V hammers out Thor's DTS-HD Master Audio soundtrack with the sort of speed and thrust that a blockbuster movie like this lives or dies by. Take the scene in which Thor and friends misguidedly confront the Frost Giants on Yodenheim – Mercury lends an undulating sense of menace to the opening talkie bits, weaving an eerie, atmospheric backdrop behind the clearly-voiced dialogue.
But when Thor's temper gets the better of him, it handles the sudden dynamic shift with alacrity, raining thunder from every channel in the blink of an eye. It's electrifying stuff, whether you're listening to the forceful crack of a Frost Giant smacking against a rock face or the garbled roar of a massive alien beast.
The V4s have a natural, open character, easily articulating the subtlest top-end detail. Crank up the volume and they don't strain either. The V1s are blessed with similar traits, giving the impression of a wide, airy soundstage with expansive projection and smooth steering.
It's all skillfully underpinned by the TS2.10 subwoofer, which might just be the star of the show. It packs an impressive amount of grunt for its size, summoning beefy bass notes that lock tight to the other speakers in neat acoustic harmony. It's mega powerful, but the dual drivers work efficiently to sidestep booming and distortion, which prevents scenes with a constant LFE presence from becoming overpowering.
Mercury is also adept with dialogue. Thor's pseudo-Shakespearean claptrap is lent an added veneer of plausibility purely by the VC's clean, vigorous delivery of the lines, and when King Laufey speaks his ultra-deep voice is conveyed in a rich, chocolatey tone.
In fact, I really can't find a bad word to say about the Mercury V's performance, which makes it a shrewd purchase at just over a grand. Its power, cohesion and sense of scale are impressive, yet its poise and smoothness makes it an easy listen, even at anti-social volumes. And with a new sub on the block anchoring the sound with taut, potent bass, you get the feeling that this is a system punching well above its weight. I just wished it looked a bit sexier...
---
HCC VERDICT
Tannoy Mercury V
Price: £1,100 Approx
Highs: Powerful yet polished sound; build quality; impressive subwoofer; appealing price
Lows: Safe looks; bulky boxes; subwoofer is styled differently
Performance: 5/5
Design: 3/5
Features: 3/5
Overall: 4/5
---
Specifications
V4 fronts
Drive units: 2 x 6in multi-fibre coated pulped paper cone low-frequency drivers; 1 x 1in nitro-urethane layer dampened woven polyesterdome tweeter
Enclosure type: Rear reflex
Frequency response: 32Hz-25kHz
Sensitivity: 91dB
Power handling: 100W (continuous); 200W (peak)
Dimensions: 204(w) x 970(h) x 281(d)mm
Weight: 14.2kg
V1 rears
Drive units: 1 x 5in multi-fibre coated pulped paper cone low-frequency driver; 1 x 1in nitro-urethane layer dampened woven polyesterdome tweeter
Enclosure: Front reflex
Frequency response: 45Hz-5kHz
Sensitivity: 86dB
Power handling: 50W (continuous); 100W (peak)
Dimensions: 170(w) x 300(h) x 254.5(d)mm
Weight: 4.5kg
VC centre
Drive units: 2 x 4in multi-fibre coated pulped paper cone low-frequency drivers; 1 x 1in nitro-urethane layer dampened woven polyesterdome tweeter
Enclosure: Twin rear reflex
Frequency response: 67Hz-25kHz
Sensitivity: 90dB
Power handling: 70W (continuous); 140W (peak)
Dimensions: 430(w) x 140(h) x 170(d)mm Weight: 4.9kg
TS2.10 subwoofer
Drive units: 1 x 10in active; 1 x passive auxiliary bass radiator (ABR)
Enclosure: Sealed
Frequency response: From 24Hz
On board power: 300W
Dimensions: 380(w) x 390(h) x 328(d)mm Weight: 14.5kg
Connections: Line level stereo phono input and output

SPONSORED VIDEO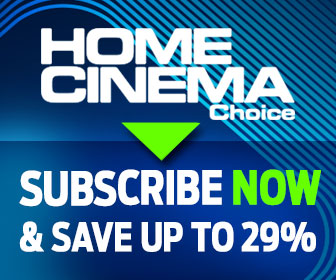 Home Cinema Choice #326

is on sale now, featuring: Sky Glass; Anthem AVM 70 processor; Sony XR-65X90J; BenQ gaming projector; Christmas gift guide; Hollywood franchises on Blu-ray; Fast 9 4K; and more
Want to see your home cinema system featured in the pages of HCC? Click
here
for more info.