Sony VPL-VW550ES review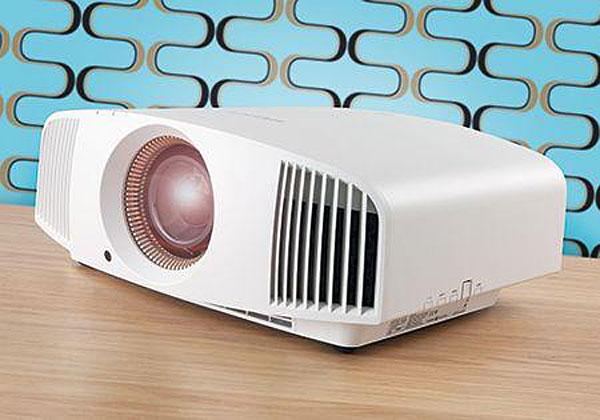 Sony's 4K HDR projector is as good as it gets for under £10,000. But is that good enough?
While other brands have finally got their act together, for a long time Sony was the only game in town if you wanted a genuine 4K home cinema projector. The VW550ES is its latest 4K model, and its £9,000 price tag immediately reminds us that native 4K projection doesn't yet come cheap. In fact, the projector hits the market with a ticket higher than its well-received VW520ES predecessor.
Before you start questioning whether a 4K pixel count is enough to justify spending thousands of pounds more than you'd need for a high-quality Full HD projector, the VW550ES has another trick up its sleeve: high dynamic range (HDR) support.
It's not the only HDR-capable model around – relatively cheap projectors like the £4,000 JVC DLA-X5000 and even the £2,200 Epson EH-TW7300 claim to play HDR, too.
However, this Sony takes its HDR duties particularly seriously thanks to its support for the new broadcast-friendly HLG HDR format, and a new HDR Contrast adjustment tool.
Sony claims that this latter option has been introduced in response to feedback regarding the VW520ES, and essentially it allows the user to sacrifice some dynamic range when watching HDR content in return for raising the image's overall brightness floor.
The choice is yours
Some die-hard AV fans may take umbrage at Sony letting people muck about so easily with the way HDR material looks. For me, though, it's just common sense. The thing is, no remotely affordable projector – by which I mean models that cost under £30,000 – can currently get bright enough to show pure, unadulterated HDR convincingly. Instead, such projectors have ended up presenting you with images that can look disappointingly dull, lacking in detail in both the brightest and darkest areas, and too biased towards black colours. Sony's decision to let you raise the foundation light level of HDR gives you at least the chance to solve some of these problems.
It has to be said that the VW550ES's claimed maximum brightness of 1,800 Luens doesn't look on paper to be particularly HDR friendly. Epson's much cheaper TW7300 boasts 2,300 Lumens by comparison. However, Sony claims a 20 per cent improvement in dynamic contrast over its earlier HDR model, aiming for a sense of expanded contrast with HDR content even if the projector can't hit the sort of peak brightness you might expect.
Other key features of the projector are Sony's Reality Creation processing; 3D playback; an input lag reduction setting that brings the time the projector takes to render images down to below 30ms; and a fully-motorised lens system that provides enough optical zoom and image shift to adapt to almost any room.
The unit looks practically identical to previous Sony 4K projectors, much to the annoyance of the HCC photographer. It's big, features a squat shape with curved upper edges, and carries a large lens at the centre of its front edge highlighted by a fringe of metallic gold stripes. It's kinda pretty.
At first glance the connections seem much the same as those of its predecessor. There are two HDMIs, Ethernet and USB ports for service updates, plus RS-232C, IR port and 12V trigger outputs to aid integration into a wider home control system. It turns out, though, that the VW550ES's HDMIs improve on those of the VW520ES by supporting 10-bit 4K images at 60 rather than just 30 frames-per-second – a tweak that should prove handy now that HLG HDR broadcasts are getting close that will likely use frame rates higher than 30fps.
Time for Tim
I began my auditions with Tim Burton's Miss Peregrine's Home For Peculiar Children on Ultra HD Blu-ray, and immediately found the projector's new HDR Contrast feature a useful tool. Stick with the most accurate HDR picture settings and you're left with an image that looks relatively dull and muted, even during scenes such as those in a sun-lit garden, which I've seen look explosively bright and drenched in expanded colour on HDR TVs.
Dark scenes such as those in the 'time portal' cave also suffer with noticeable silhouetting, where dark objects lack shadow detail versus the lighter material around them.
And while colours look richer than they do in SDR, they lack the sort of volume they'd enjoy if the image's base brightness level was higher.
Turning to the HDR Contrast feature to improve the situation pays dividends. Pushing it up beyond its 70 setting results in a much more satisfying image containing more all-round brightness, better detailing in dark areas, and a more natural feel to the UHD Blu-ray's expanded colour spectrum. The interior footage from Miss Peregrine's home now looks much more lush and vibrant than it does if you stick to the supposedly neutral presentation.
It is true that with the HDR Contrast setting increased you aren't seeing such an extreme luminance range between dark and bright. But the adjusted HDR image actually feels like less of a compromise than the 'native' one, confirming that Sony is being smart in allowing you to adapt content to the capabilities of its projector, rather than trying to force the projector to doggedly track demanding HDR requirements that it's really not equipped for.
Certainly I'd far rather watch the HDR Contrast-adjusted images of the VW550ES to any 'native' HDR images on either JVC's DLA-X5000 or Epson's EH-TW7300 – even though the Sony projector isn't actually as bright as the Epson.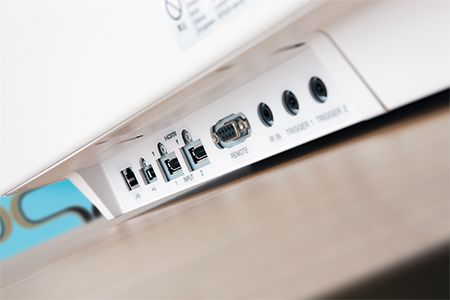 Native 4K attraction
The VW550ES is the first time with a projector where I've not ended up turning off HDR on my Panasonic DMP-UB900 Ultra HD Blu-ray player so that I could enjoy the resolution of Ultra HD Blu-rays without having to
worry about HDR. That's not to say, though, that the VW550ES isn't still brilliant with standard dynamic range footage. Native 4K SDR looks imperiously detailed and clean, clearly outperforming the resolution performance of the up-rezzed 4K efforts of both JVC and Epson, despite those 4K systems actually being very impressive at what they do. There are details in clothing and faces – including Eva Green's disturbingly huge eyes – in Miss Peregrine's Home For Peculiar Children that you don't get from the pseudo 4K machines. Or any Full HD projector, of course. And there's a gorgeous extra directness to the Sony's presentation, thanks to its native 4K pixel mapping suffering with none of the noise that accompanies rival models.
While a strong and fast-growing pot of 4K content with which to feed this projector means buyers won't be short of high-end thrills, there's also much more 1080p material around. It's therefore a relief (although an expected one) to find Sony's movie maestro almost supernaturally good at upscaling HD Blu-rays and TV shows.
With the Blu-ray of The BFG, for instance, the VW550ES delivers details in the picture – especially during scenes inside the BFG's cluttered abode – that go missing in the HD source. And the colours of Buckingham Palace's gardens and interiors contain more subtle blends and tonal shifts thanks to the accuracy with which the projector calculates the extra pixels needed.
Processing noise or motion lag associated with these upscaling enhancements are minimal. The image holds up well to close scrutiny on my 90in reference projection screen.
A further performance feature of the VW550ES is its active 3D playback. Miss Peregrine's Home For Peculiar Children has some stand-out, aggressively rendered 3D moments – particularly one sequence where a bomb is about to explode – and Sony's projector handles them well, displaying a stable, believable image. The excellent contrast performance works to create an expansive sense of 3D space and depth, while pictures are remarkably bright despite the need to don Sony's active shutter glasses. Detail levels are exceptionally high, motion is handled cleanly, and there's hardly any 3D crosstalk ghosting noise. It's an impressive 3D experience.
With its extreme contrast, gorgeous colour performance and low input lag also making the VW550ES a fun gaming display with both HD and 4K consoles, there's really nothing it can't make look awesome.
A minor sting in the tail
But is it perfect? Has Sony hit a home cinema home run? Not quite. Once concern, inevitably, is its HDR performance. As well as only making HDR look good when you compromise its dynamic range – and still sometimes leaving relatively dark objects looking hollow when they appear against bright backdrops – the projector doesn't automatically switch into its high lamp output mode when it detects HDR. This is odd as watching HDR in any less powerful lamp mode is borderline pointless.
The VW550ES runs markedly more noisily in high lamp mode too, meaning you'll need to try and situate it as far away as possible from your seating position if you're expecting to watch a lot of HDR movies, or you're running the projector brightly enough to counter ambient light.
These issues are annoyances rather than anything remotely close to deal breakers. They do little to prevent the VW550ES from making its £9,000 price tag look reasonable.
But a final word of caution regards the picture size you're after. If you can live with a 'mere' 75in or 78in 4K HDR image, then you could save yourself a few thousand quid and get a more full-blooded HDR experience by buying one of Sony's ZD9 or Samsung's KS9500 models instead. If anything less than 90 inches just won't cut it, though, then the VW550ES is as good as it gets for under £10,000.
Specification
3D: Yes. Active shutter 4K: Yes. 4,096 x 2,160 HDR: Yes. HDR 10/HLG Connections: 2 x HDMI inputs; IR jack; RS-232C; 2 x 12V trigger outputs; Ethernet and USB service ports Brightness (claimed): 1,800 Lumens Contrast (claimed): 350,000:1 Zoom: x2.06 Dimensions: 495.6(w) x 195.3(h) x 463.6(d)mm Weight: 14kg
Features: SXRD projector system; Sony Reality Creation processing; low input lag gaming mode; 26dB claimed running noise; 6,000-hour claimed lamp life in low lamp output mode; HDR Contrast tool; powered zoom, focus and lens shift (+85%/-80% vertical; +/-31% horizontal); HDCP 2.2 on both HDMI inputs; 4K at 60p (4:2:0 10-bit/12-bit)

SPONSORED VIDEO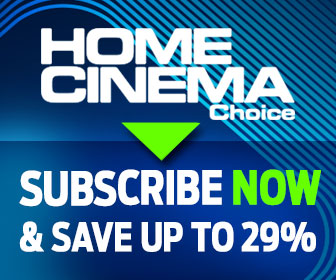 Home Cinema Choice #332

is on sale now, featuring: Samsung's 8K flagship; Anthem AVM 90 processor; B&W 800 Series Diamond; LG smart projector; Hollywood box office bombs; Hitchcock 4K; and more
Want to see your home cinema system featured in the pages of HCC? Click
here
for more info.