Sony VPL-VW300ES review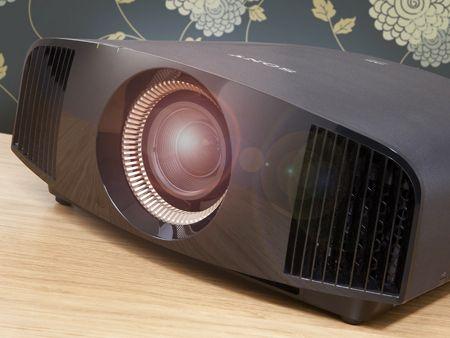 Bigscreen Ultra HD is made even more attainable by this sub-£6,000 4K superhero
Not unlike Tony Curtis in The Boston Strangler, Sony continues to tighten its grip on the premium end of the home cinema projection market. Suave, good-looking and surprisingly cheap (in an admittedly expensive way), the VPL-VW300ES is the brand's fourth 4K/Ultra HD SXRD, and arguably it's most compelling.
If you're looking to upgrade to the latest theatrical standards, then this projector appears a mad bargain – bigscreen home cinema doesn't get much more exciting than this.
Strategically priced below £6,000, there are only a few differences between the VPL-VW300ES and its more expensive VPL-VW500ES stablemate. The pair share the same Triluminos colour and image processing engines beneath their matching bonnets, as well as identical optics and up to 4,096 x 2,160 resolution content support.
So exactly what corners have been cut to hit the lower price point? If you buy a VPL-VW300ES you'll sacrifice the dynamic iris control of the VW500 and have slightly less brightness to bathe in (the VW300 is rated at 1,500 Lumens colour light output, rather than 1,700). As it happens, these omissions aren't particularly painful. Also missing is the lens memory function of its step-up brother, used when switching between CinemaScope and 1.85:1 sources. This will probably only be an issue if you've had such luxury in the past.
Good-lookin' light-cannon
The VPL-VW300ES is a well-appointed projector, and not imposingly large. The familiar SXRD matt finish is complemented by Sony's characteristic centre placed gold-rimmed lens. Connectivity includes dual HDMI 2.0 inputs with support for HDCP 2.2 on the second HDMI.
There's also a USB port and two 12V triggers for automated control of drop-down screens and similar system integration. All these inputs are ranged along the side rather than at the back, as is Sony's wont. There are no updates to the VPL-VW300ES' menu and setup routines. The interface remains unfussy and business-like, with easy to navigate tabs.
Room installation is made relatively straightforward by the projector's 2.06x zoom and accommodating lens shift range (31 per cent horizontal, 80/85 per cent vertical). Electronic zoom and focus control are available directly from the wand-like remote control. Simply punch the Pattern button and a wireframe grid pops up, allowing you to manipulate throw and focus.
You'll not have to spend overlong on calibration either, because it looks good straight from the box. There's a broad selection of pre-calibrated settings, labelled Reference, Cinema Film 1 and 2, Photo, Game, Bright Cinema, Bright TV and User. The two Bright settings significantly boost luminosity and make the projector usable in a moderately well-lit media room. Even with low levels of ambient light, colours remain strong and there's enough contrast to preserve serviceable image depth. These Bright modes do, of course, also cause a corresponding increase in fan noise. So much so, that it's a positive relief to flip back to the default (and well-behaved) Reference mode.
At times I found myself watching this Sony in slack-jawed amazement. The copious detail in the image, luxuriant colours and deep black level are mesmerising, even with Full HD upscaled content. With the Tom Cruise sci-fi actioner Edge of Tomorrow, the bewildering clarity of the opening 'Live. Die. Repeat' beach invasion is nothing less than extraordinary. Sony's 4K upscaler adds weight and authenticity to the battle armour and Dropships, yet skin tones and textures are never overwrought. The Mimic slaughter is brilliantly delineated.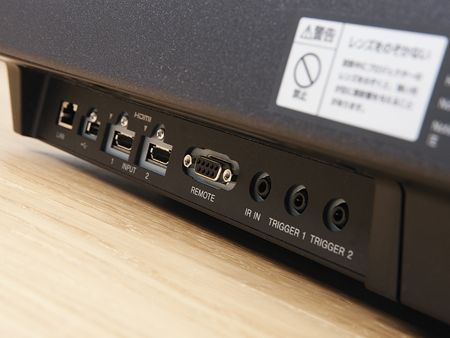 Image processing proves to be a major strength of the VPL-VW300ES. With Reality Creation, Sony has mastered the trick of boosting subjective clarity and resolution, even with native 4K images, without creating unwanted side effects. While there's an option to turn Reality Creation off, there's no reason to do so. It plays a major role in crafting the sumptuous detail of the image.
In Godzilla, sequences of a devastated Honolulu after a spectacular monster showdown exhibit extraordinary finesse. Reality Creation does sterling work here. When it's switched off, the image almost defocuses; however, when engaged, fine details pop. You can really appreciate the wrecked news helicopter, its tail section broken off, and the shattered apartment buildings, smoke billowing, and the populace meandering through the rubble. It's all too easy to believe that you're watching pukka 4K.
Motion handling can also be considered above average. Motionflow modes comprise Smooth High and Smooth Low settings, plus Impulse, Combination and True Cinema. The Impulse setting is particularly impressive. Moving images are clean with no obvious artefacting, while horizontal pans are rendered smooth, with only mild loss of detail. It's extremely filmic. True Cinema is similarly watchable. Conversely, Smooth High is best avoided as it exhibits clear motion artefacts (a sort of smudgy halo), even though it retains plenty of detail. For sports presentations, I would probably opt for Smooth Low or Combination, both of which reduce artefacts.
To evaluate the projector with native 4K content, I fed it a selection of sequences shot on a Sony FDR-AX100 4K camcorder, at 3,840 x 2,160/30fps: exteriors, parklands, everyday fare. With this, the VPL-VW300ES really shone. As good as the upscaling technology beneath the lid is, the raw detail in an 8-megapixel image is something else again. 4K, it must be stressed, is perfect for largescreen projection. I ran the Sony at 120in across and stuck my nose up to the screen. The image scales with no visible pixel structure. It's positively photographic.
Gaming has obvious appeal on such a beast, too. When hooking up a next-gen console, opt for the low-latency Game mode (a new addition on the VW300ES) which claims a response time of just 0.5ms. Destiny on the PlayStation 4 proved to be an incredibly bold and exciting experience.
What's on the menu?
While this isn't a projector that demands much in terms of calibration, there are a variety of tweaks and nudges in the menus which can make a big difference to the onscreen image. The three-level Contrast Enhancer is a case in point. Cueing up Bryan Cranston's face in Godzilla is particularly revealing. Freeze-frame the actor's craggy visage, as it's held half in shadow, and you'll be surprised just how much extra visual snap can be created by notching the Enhancer up from off to its Low setting. However, while Middle and High appear to enhance definition even further there is a trade-off in cinematic quality, so show restraint. A little goes a long way.
There are options for D93, D75 and D65 colour standards, with room to customise if required. The former gives a cold, crisp white much appreciated in Japanese broadcasting that I rather like. It works particularly well with HD studio content. D65 is much warmer and should be your go-to for movie playback.
The projector may lack a dynamic iris but there's no sense of compromise. The image dynamics remain pronounced and the black level generally impressive. Performance is very similar to the VPL-VW500ES. Abe's wetsuit in Hellboy 2 is as black as squid ink, while the steam-powered automatons of the Golden Army have an inner core that glows a fiery orange.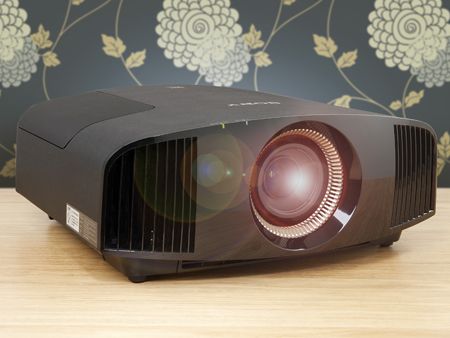 Another area where the VPL-VW300ES excels, perhaps surprisingly, is with 3D. The projector, which is Active Shutter compatible, is capable of excellent depth; there's little to be concerned about when it comes to double imaging. In many ways 4K upscaling injects fresh life into 3D content, bequeathing welcome solidity to the image.
That infamous 3D torture test, more commonly known as the menu to Disney's Tangled, is a good example. The floating lanterns are tightly portrayed with little obvious crosstalk. When we get to Flynn Rider's POV as he holds onto the tree branch, hooves pounding down to dislodge him, there's a dizzying sense of depth and scale to the sequence. The stereography is consistently bright and lush, making even the most disposable of animations a visual delight. Any fears that 3D might suffer from a lack of brightness prove unfounded. In a full dark room, the projector remains defiantly theatrical.
There's no dongle to worry about either. 3D syncing is achieved via a built-in RF 3D transmitter. I auditioned this projector with the brand's own TDG-BT500A Active Shutter RF glasses, which are comfortable enough and sync automatically. Theoretically, the projector is compatible with the universal RF 3D glasses standard, opening up a choice in dimensional goggles. However, for some reason this Sony categorically refused to acknowledge RF standard glasses made by Epson (I happened to have a pair around to try at the time), so wider standards compliance can't be guaranteed. Best stick with Sony-branded specs for certain compatibility.
Seductive Sony
The VPL-VW300ES is an almost irresistible proposition for home theatre fans. Its ability to deliver stunning 2,160p images, with deep blacks and wide gamut colour, is unceasingly seductive. And with 60fps support and HDCP 2.2 it's fully prepped for the next generation of native 4K content, be it from souped-up Blu-ray discs or internet delivery.
There are minor caveats, of course. You'll find quieter projectors from rivals. Operating noise is high without being symphonic. Mounted too close to a seating position and you'll most certainly know that it's there. The RF glasses incompatibility is a minor annoyance as well.
Yet these are easy bugbears to live with. Overall, Sony's VPL-VW300ES is remarkable. Living with anything else just seems so… unnecessary. Owning one will be like having exclusive access to the best multiplex in town.
Specification
3D: Yes. Active Shutter
4K: Yes. 4,096 x 2,160
Connections: 2 x HDMI; Ethernet; USB; 2 x 12V triggers; RS232
Brightness (claimed): 1,500 Lumens
Contrast (claimed): N/A
Dimensions: 496(w) x 195(h) x 464(d)mm
Weight: 14kg
Features: SXRD technology; 230W Ultra High-pressure lamp; 26dB fan noise (claimed); 2.06x motorized zoom; Motionflow; Contrast Enhancer; 60in to 300in screen size; Triluminos colour; HDCP 2.2 support; 9 x picture modes; 11 x gamma modes; lens shift (-80%/+85% vertical; +/- 31% horizontal)

SPONSORED VIDEO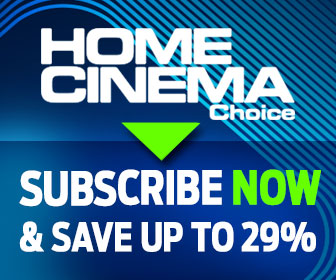 Home Cinema Choice #332

is on sale now, featuring: Samsung's 8K flagship; Anthem AVM 90 processor; B&W 800 Series Diamond; LG smart projector; Hollywood box office bombs; Hitchcock 4K; and more
Want to see your home cinema system featured in the pages of HCC? Click
here
for more info.