Sony VPL-VW1000ES review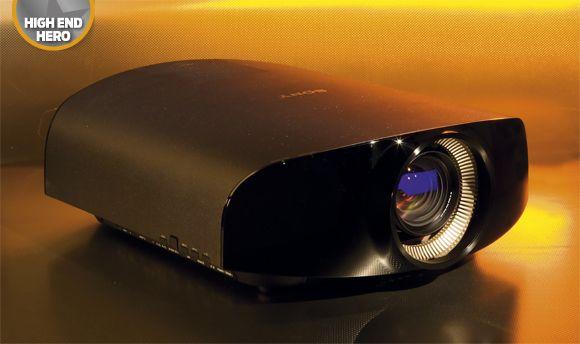 This groundbreaking 4k projector sets a new standard for home cinema performance...
Those seeking the visual equivalent of fine-dining are traditionally best served at a 4K digital cinema. An eight-million pixel image, spread large and bristling with detail, is a feast for the eyes befitting the planet's premiere cinemas. But now cineasts have another choice – they can invest in the first consumer 4K projector and have a Quad HD cinema all their own. Yet, without access to a 4K video source, is there any point in shelling out the best part of £17,000 to own one?
In the home entertainment world, the VPL-VW1000ES is a lonely pioneer. It shouldn't be confused with JVC's much cheaper DLA-X90 and X70 D-ILA models, which also fly the 4K flag, albeit as part of their marketing spiel. This is actually a reference to e-Shift optical jiggery-pokery rather than actual resolution; their output is still very much Full HD. By contrast, this Sony model dispenses genuine Quad HD.
While small compared to a commercial 4K light cannon, the VPL-VW1000ES is a fair size in the context of domestic cinema. Some 520mm wide and 640mm deep, and tipping the scales at a not inconsiderable 20kg, it requires no small effort to ceiling mount.
The thing looks beautiful, though, with a matt crackle black finish and gloss fascia; the centrally positioned lens, with its distinctive ribbed collar, is protected by an automatic motorised shutter.
The ARC-F (All-Range Crisp Focus) lens within has been developed specifically for this model, in order to maintain focus and combat aberrations right to its edge. Having optics able to serve Quad HD is a key (and expensive) difference between this model and Full HD contenders. After all, there's no point trying to deliver a 4K image to the screen if it doesn't make it through the lens unscathed.
The exhaust vents are located on the rear, sucking cool air in on one side and expelling it hot on the other. Inputs and control interfaces are aligned down the lower left-hand side.
Ingress can be via two HDMI inputs, component and PC VGA. Controls options include RS-232C and a pair of 12V triggers; there's also an RJ45 to add an additional 3D sync blaster to cover larger venues (should the one built into the lens assembly fail to reach all viewers), plus an IR In minijack and Ethernet LAN. The latter is provided not for content delivery but to provide access to the projector's control interface via a networked web browser.
Custom installers will have no problem incorporating this model into CI projects, as it's compliant with AMX, Control 4 and Crestron systems; there are also memories for both 16:9 and Cinemascope aspect ratios – good news for those running a variable aspect-ratio screen.
The projector ships with a functional, backlit zapper that offers direct access to the various viewing presets and calibration modes. Remote access of focus, shift and the 2.1 zoom make the projector a relative snap to align. There's considerable vertical and horizontal latitude.
Should you want on-body controls, then physical input, menu, lens cover and navigation buttons are discreetly provided.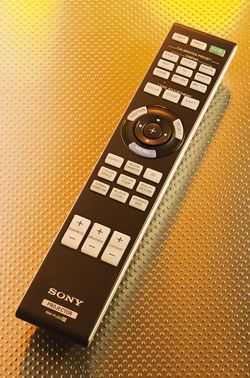 Powered up
The VPL-VW1000ES surprises by just how quietly it runs, at least when the lamp is on its most economic setting. At 22dB it's easily cloaked by even a modest audio system.
At 2,000 ANSI lumens the projector is bright, making it suitable for large-ish cinema spaces and those with screens up to 300in.
It's also usable in a partially-lit room. Illumination comes via a 330W Ultra High Pressure lamp.
Sony's Iris3 technology, which adjusts the aperture opening depending on content, can be run in Full Auto and Auto Limited modes, or left to manual; I found the Auto Limited mode worked well enough and didn't prove distracting. Dynamic contrast is rated at 1,000,000:1.
Delve into the menus and you'll discover a raft of user adjustments. However, a comprehensive selection of presets makes it possible to match pretty much any content source with a sympathetic setting.
This projector does not make you work overly hard straight from the box.
Fabulous performer
There are multiple elements that contribute to the VPL-VW1000ES's overall visual performance, but the bottom line is that this is a fabulous performer. If you've got £17,000 burning a hole in your pocket, stop reading now and go slap down a deposit. You won't be disappointed.
Resolution, contrast and colour fidelity are all Michelin-starred. The VPL-VW1000ES offers multiple colour space choices, principally BT.709 (for HDTV), DCI (Digital Cinema specification) and Adobe RGB, while motion clarity is outstanding. The projector sports a simplified version of Sony's proprietary Motionflow system, offering just two options: Film Projection and Motion Enhancer.
Blu-ray test footage presented as native 2K confirms the best part of 1,000 lines delivered at 6.5ppf (pixels per frame), regardless of whether Film Projection was Off and Motion Enhancer was set Low, or when Film Projection was On and Motion Enhancer High. Naturally, with the Enhancer Off, fine details become indistinct, although arguably the key difference between all these settings is the motion artefacting they introduce. Low contributes minimal smudgy ripples around moving objects, whereas High has more overt artefacting. When viewing actual 4K footage Motion Enhancer is not used.
To view native 4K content, I partnered the VPL-VW1000 with a PC running a selection of test footage and trailers. Output was via an AMD Radeon HD7970, currently the only graphics card able to squirt 4096 x 2160 video at 24fps over HDMI.
My test material comprised time-lapse video shot on Canon 5D and 60D DSLRs and an animation, both in .rv format, and trailers for the Total Recall and The Girl with the Dragon Tattoo remakes.
It's stunning just how deep you can look into a 4K image. Unencumbered by a visible pixel grid, it's possible to peer at astonishingly small objects and see detail and nuance. The Quad HD animation sequence reveals gradations of skin tone and wispy hair detail that seem almost hyper-real.
The two Hollywood trailers provide a slightly different viewing experience, as film stock and grain ultimately conspire to be a barrier to the kind of mega-detail found in the Canon footage. That said, what made it onscreen was literally all that was there to be seen in the clips.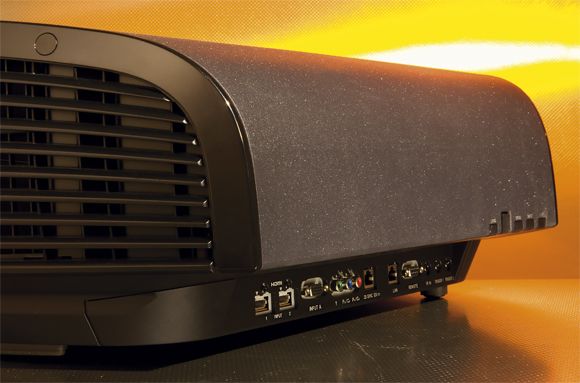 Quantity or quality?
Quad HD content, be it 4096 x 2160/24 or 3840 x 2160/24/25/30 is played as native. Of course, most of the time this PJ will be used with Full HD BDs and other high-res broadcast sources from the likes of Sky and Virgin Media. The key to upscaling all these is the VPL-VW1000ES's Reality Creation tool. When engaged, all incoming sources are upscaled to 4096 x 2160/24, and that includes standard-def DVDs.
The good news is that upscaled HD content looks crisp and cinematic. While the projector is obviously not adding detail to what's encoded on a Blu-ray disc, the increased pixel density and the projector's post-processing smarts do bring benefits (perhaps it's better to think of it as 'enhanced' high-def rather than 'upscaled').
For example, the opening sequence of acclaimed action thriller Drive features a slow pan across a map of downtown Los Angeles. Played unaltered at 2K, with Motion Enhancer switched Off, detail and typography in this map lacks bite; with the Motion Enhancer on Low (but the content still played through at 2K), there is clear visual improvement.
However, engage the Reality Creation 4K hyperdrive, and text really begins to pop. Ryan Gosling's eyes twinkle more, too.
The movie's opening tree logo for Oddlot Entertainment also provides graphic evidence of the effectiveness of the projector's picture processor. Viewed in extreme close up, the foliage on the tree at the centre of the logo can be seen to enjoy better delineation, with enhanced contrast and smoother gradation. When this refinement is applied across the entirety of the image you have a subtle but appreciable gain in perceived detail. And, of course, the picture appears silky smooth. Compared to Full HD SXRD, the pixels in these 4K SXRD panels have been reduced from 7micrometre to 4micrometre; Sony also claims greater smoothness and better light reflection.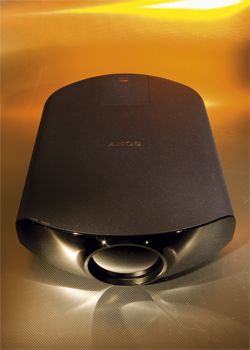 Early samples of the VPL-VW1000ES were notable for image blur on fast motion from upscaled BDs. That issue now seems to have been put to bed. When Gosling puts pedal to metal, there's no unnatural smooshing in the image.
The VPL-VW1000ES behaves a little differently when given the task of scaling DVD. Playing the HQV test disc native from a DVD player elicits an interesting quirk. Fed the standard jaggies test, the projector takes a surprisingly long time before deciding just how to best deinterlace the image. Once processed though, it does a remarkably clean job.
The other big revelation is the projector's 3D performance, which I hesitantly describe as excellent. While there was no 4K 3D content available for my test, a selection of Blu-ray 3D favourites enjoyed a 4K makeover. The resulting images appear cleaver deep.
The VPL-VW1000ES maintains an acceptable level of brightness when viewed through 3D glasses and crosstalk is negligible to the point of irrelevance. Well-authored platters, such as Avatar, look spectacular, combining pronounced depth with nuanced colour and texture; hideously authored discs, such as Monsters Vs Aliens, are also unsettlingly clean. I also ran a selection of stereoscopic 720p documentary material, which again impressed with its clarity.
The VPL-VW1000ES is certain to provoke debate amongst cinephiles about the value of 4K in the home. After all, resolution is as much about viewing distance as fine detail, and some might sensibly argue you need a screen approaching 300in to really appreciate the benefits. For this audition, I was watching an image only just over a third of that. That said, I did give it some inspection from close quarters.
The content conundrum can't be ignored either. To drive this beast took a PC with a sub-atomic graphics card, and there's no reason to think that situation will change anytime soon. Delivering 4K video requires serious computational grunt and there's no HDMI interface standard for CE gear equal to the task. And there's no sign that Hollywood is looking to commercialise Quad HD movies for the home anytime soon.
But perhaps none of that matters. We could become the source of tomorrow's 4K content ourselves thanks to advances in camcorder technology. There are also tangible benefits for photographers. The PlayStation3 is awaiting a firmware update that will give it the ability to output 4K still images.
Conclusion
With the VPL-VW1000ES, Sony has put an ultra-high resolution cat amongst the SD pigeons perched at the higher-end of the projector market. Well engineered, with cutting-edge optics and electronics, it's a statement piece that rewrites the projection rule book. Sure there's a content deficit, but would you seriously buy another product at this rarefied level that wasn't 4K future-proofed?
With the VPL-VW1000ES Sony has produced quite simply the most exciting home theatre projector in the world.
---
HCC VERDICT

Sony VPL-VW1000ES
Price: £16,800 approx
Highs: Astounding resolution; 4K upscaling for Blu-ray and other sources; stylish design; low operating noise; high quality optics
Lows: No source of commercial 4K video content; expensive when viewed primarily as a 2K projector
Performance: 5/5
Design: 5/5
Features: 5/5
Overall: 5/5
---
Specifications
3D: yes Active Shutter
Full HD: yes and beyond – 4,096 x 2,160 resolution
Component video: yes one set of inputs
HDMI: yes 2 v1.4
PC input: yes D-Sub
12V trigger: yes two
Brightness (claimed): 2,000 ANSI Lumens
Contrast ratio (claimed): 100,000:1 (dynamic)
Dimensions: 520(w) x 208(h) x 640(d)mm
Weight: 20kg
Features: 4K SXRD panels; 3D compatible (frame sequential/side by side/ top and bottom); backlit remote control; Motionflow; Reality Creation 4K upscaling; ARC-F (All-Range Crisp Focus) lens; remote focus, shift and zoom; Iris3 technology

SPONSORED VIDEO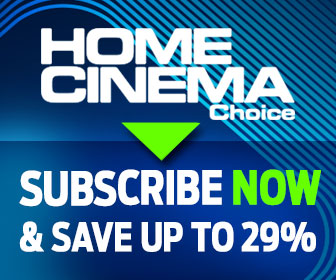 Home Cinema Choice #332

is on sale now, featuring: Samsung's 8K flagship; Anthem AVM 90 processor; B&W 800 Series Diamond; LG smart projector; Hollywood box office bombs; Hitchcock 4K; and more
Want to see your home cinema system featured in the pages of HCC? Click
here
for more info.