Sony VPL-HW50ES review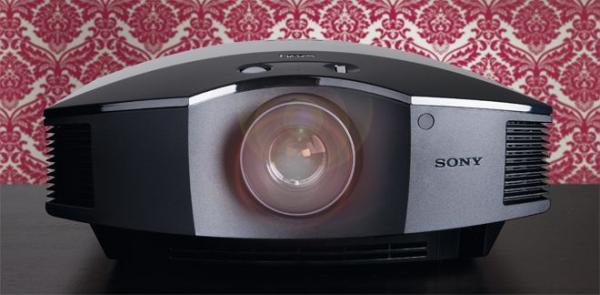 Thanks to its cutting-edge picture processing, the VPL-HW50ES is a mid-range projector made for movies
It's been quite a year for Sony. The Japanese brand has set new standards in the TV world, and introduced a whole new product category with its 4K TVs and projectors. And now it's continuing this return to form with its latest mid-range projector, the VPL-HW50ES.
With a £3,000 price point, the HW50 slots into Sony's projector range just above the impressive HW30 and a couple of grand below the superb VW95, making it ideally positioned to be Sony's best-value projector for discerning home cinema fans.
A cruise through the HW50's specifications seems to confirm this potential. For starters, it's 3D-capable, shipping with two pairs of Active 3D glasses. It also claims a 100,000:1 contrast ratio and a brightness output of 1700 ANSI Lumens – the latter being a 30 per cent increase on the HW30.
Sony reckons it's reduced ghosting interference in 3D mode via enhanced crosstalk reduction technology, too. It says that every year, though.
The single most exciting thing about the HW50 as far as picture processing is concerned is its Reality Creation (RC) system. RC was developed initially for Sony's flagship VPL-VW1000ES 4K projector, with the intention of trying to recreate picture information – details and colour subtleties in particular – that may have gone AWOL when a film was compressed into a Blu-ray or DVD data file. And having seen RC work superbly on the VW1000ES, I'm stoked to see what it might do on the HW50.
Solid socketry
The HW50's connections are solid. Two v1.4 HDMIs will provide the 3D and HD inputs for most users, though there's also the (pointlessly?) obligatory component video input, a D-Sub PC port, a 12V trigger port (that also doubles as a connector for an optional external 3D transmitter should the internal one not prove powerful enough for your room) and an IR input.
Setting up the HW50 is reasonably straightforward, thanks to a respectable 1.6x level of optical zoom, simple zoom and focus rings around the lens, and two wheels on the projector's top edge that allow you to shift the image optically left, right, up or down.
There is space for improvement here, though. For instance, Panasonic's AT6000E offers a greater x2 zoom, as well as an excellent motorised zoom and focus system that's easier to use than the slightly stiff rings around the Sony's lens. Panasonic's model also offers a lens memory function to help people with 21:9 ratio screens adapt to different movie aspect ratios, whereas the HW50 does not.
Having said all that, the HW50 presented me with no real problems while trying to get its pictures correctly positioned.
Trooping the colour
The HW50's onscreen menus aren't glamorous to look at, but they're reasonably easy to follow. Among the most important features lurking here are settings for Sony's MotionFlow processing, various adjustments for the Reality Creation system (including tweaks to the sharpness and degree of noise filtering the processing applies), and a thorough, if initially confusing, colour management system.
The reason for the confusion is that Sony has used its own 'Real Colour Processing' (RCP) system rather than a more typical type of colour management suite. However, once you've got your head around how RCP works, it's not a bad interface at all - especially as it cunningly takes out of the picture all colour elements bar the specific one(s) you're trying to correct.
One last point about the HW50 - it's very attractive, with a centrally-mounted lens and boldly curved top plate. And, while unusually big for its price point, that extra size seems to help it run more quietly. Finally, it's available in white or black finishes.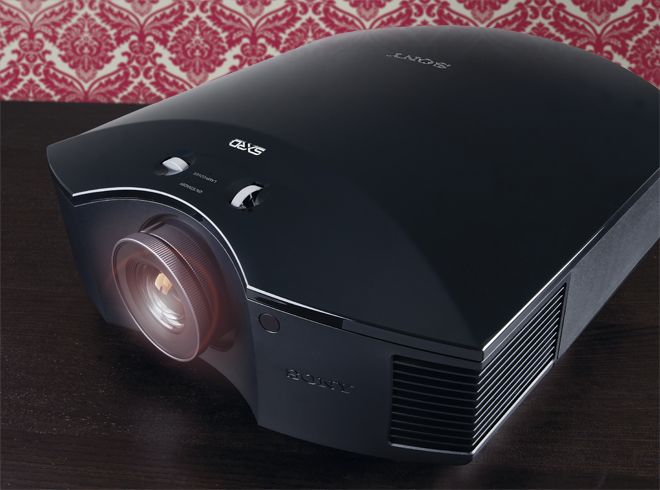 I used the HW50 as my main video device for a full week, taking in everything from standard-def video to HD video games and pristine Full HD 3D Blu-rays. And, no matter what I threw at it, Sony's latest mid-range star never failed to rise to the occasion.
Getting into more detail, it's immediately apparent just what a step forward the HW50 is from the HW30 when it comes to brightness. Light, colourful 2D footage enjoys a superb degree of 'pop', even when using the relatively restrained but most lifelike Cinema Film 1 picture preset mode.
The brightness boost is at its most pleasingly obvious, though, when watching 3D. Using either of the two brightest options available in the '3D Glasses Brightness' menu, you're rewarded with pictures that are startlingly punchy by Active 3D projection standards. Brightness and colour saturation levels with the 3D version of ultra-vibrant animated hit Rio are comfortably beyond those of both the Sony HW30 and Panasonic's AT6000E.
Using the very brightest glasses setting (level four in the menus) does cause both a bit of crosstalk and a distracting whining sound to emerge from somewhere inside the HW50's chassis. So I tended to stick with brightness setting three. But this still delivers impressively little luminance loss versus 2D viewing.
The HW50's contrast performance is also far better than that of the HW30. During the scenes in the treasure-filled cave towards the end of the first Pirates of The Caribbean, black levels look deep while sitting side-by-side with some superbly dynamic golden tones and glinting, crisp whites. What's more, Sony's latest dynamic contrast/iris processing system does a better job of managing the projector's shifting lighting levels – the distracting brightness shifts that used to be apparent with Sony projectors are less of an issue here.
Another outstanding aspect of the HW50's contrast performance is the amount of shadow detail reproduced in dark scenes. In fact, shadow detailing becomes the best I've seen on a projector at the HW50's price point if you call into play the Reality Creation system.
Somehow this processing brings out such things as extra stain the background of Prometheus's space scenes or extra 'goo' detail in the darkest alien-infested areas of Aliens that you just don't see on other video-chuckers at the same price point.
The reality of Reality Creation
This sense of extra detail isn't restricted to dark sequences either, as RC also manages to make brighter HD scenes appear denser with detail, despite the fact that you're watching an HD source on a standard 1,920 x 1,080 native resolution projector. What's more, the RC processing achieves its subtle detail boost without compromising the image's innate black level quality or, in most cases, exaggerating source noise.
I qualified that last point because I did occasionally come across a film where Reality Creation didn't work too well, at least using its default settings. These titles – such as 300 and Harry Potter and the Deathly Hallows: Part II – tend to feature either lots of grain or lots of noise reduction (or both), issues which trip Reality Creation up to the extent that pictures can start to look processed and unnatural.
You can improve things here by reducing the extent of the RC sharpness setting, or by adjusting its 'noise filter' element. But to be honest the best response for grainy films is probably to just turn RC off completely. Just try to remember to put it back on again afterwards.
Sony's system also pays dividends with standard-definition sources. Clearly, I'd never recommend watching standard-def on a high-quality projector, but if you do occasionally have to do it, then you'll be pleasantly surprised by how well the HW50 manages to add detail and sharpness without exaggerating noise.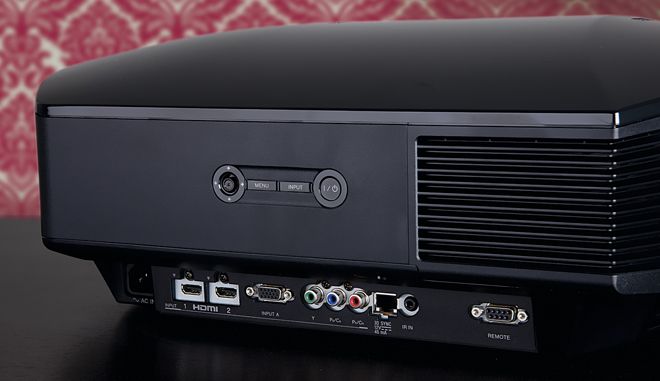 Punch and vibrancy
I mentioned earlier the HW50's credible 3D colour reproduction – rest assured its colour palette with 2D is pretty spiffy, too, delivering spectacular amounts of punch and vibrancy, yet crucially never forgetting that the true secret to a successful colourscape is being able to render all the tiny little colour shifts that make an image look real rather than cartoonish.
One of the toughest colour tests for any projector is skin tones, yet the HW50 handled them all pretty much impeccably during my tests. Just occasionally a very pallid complexion, such as those rife throughout Prometheus, especially when showing the Engineers, could look marginally yellow. The HW50's portrayal of black colours is slightly cool/blue too. But neither of these issues stops the HW50 from being an outstanding colour performer for its price.
The last performance area to cover with the HW50 is motion. In 2D mode, Sony's projector works well, leaving blur pretty much invisible and judder to a minimum. With 3D, things aren't quite as secure; some of the camera pans and tracking shots in the recent Titanic 3D re-issue look a bit jerky and indistinct.
Thankfully, if this becomes bothersome, the provided MotionFlow system set to 'Low' reduces the judder greatly without making the picture look too unnatural. In an ideal world Sony would have provided us with more MotionFlow adjustments than the simple off, Low and High settings, especially given that such processing tools are anathema to many serious AV enthusiasts. But overall, the 3D motion issues are easily overwhelmed by the projector's considerable 3D strengths.
In fact, pretty much all the negative stuff I've managed to come up with scarcely amounts to a hill of beans in the context of a) the HW50's £3,000 price and b) the huge amount of stuff it gets absolutely bang on. The bottom line is that this is yet another hugely compelling example of Sony's rediscovered obsession with quality, and as such it's a model that nobody in the market for a mid-range projector can possibly afford to ignore.
---
HCC VERDICT
Sony VPL-HW50ES
Price: £3,000 Approx
www.sony.co.uk
Highs: 2D and 3D HD movies look fantastic; great price for what's on offer; attractive design
Lows: 3D motion could be better; whining noise with some 3D glasses settings; no lens memory; Reality Creation can stumble with certain sources
Performance: 4.5/5
Design: 4.5/5
Features: 4.5/5
Overall: 4.5/5

SPONSORED VIDEO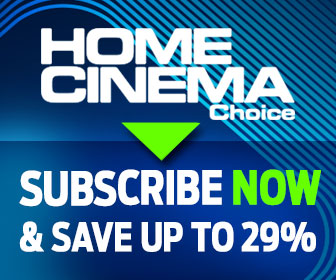 Home Cinema Choice #332

is on sale now, featuring: Samsung's 8K flagship; Anthem AVM 90 processor; B&W 800 Series Diamond; LG smart projector; Hollywood box office bombs; Hitchcock 4K; and more
Want to see your home cinema system featured in the pages of HCC? Click
here
for more info.