Sony KDL-55HX853 review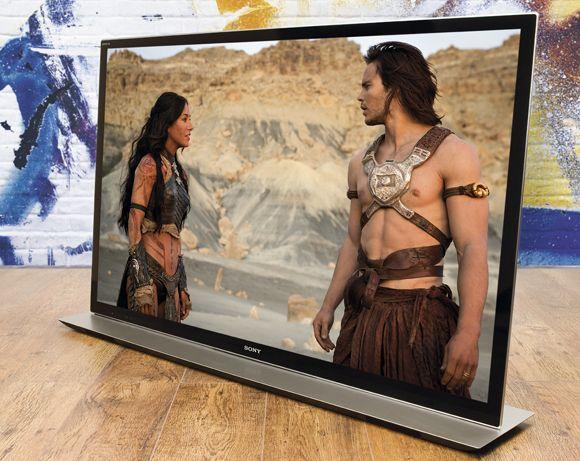 Flagship flatscreen is poetry in motion thanks to the technical wizardry of X Reality Pro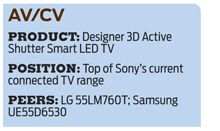 It's no exaggeration to say that Sony enjoyed a bumpy 2011. Quite apart from its well documented financial ills, the brand's sprawling TV range was wildly inconsistent, with not even top-flight models escaping criticism.
So the company has rationalised its range and thrown renewed vigour into image engineering. The first consequence of this redirection is the 55in KDL-HX853. It effectively represents a new high-ground for the iconic marque, at least until a replacement for the KDL-HX923 is unveiled; it even comes with an agreeable £1,800 price ticket.
The set is elegant in the extreme, reclining back on its base, ostensibly for positioning on a low stand. This balancing act is quite a dramatic design element, as the pedestal appears wafer thin. Even more surprisingly, the set's main sound system is squashed within. Two forward-firing speakers powered by 10W of amplification have been shoehorned inside. Should owners choose to wall-mount, downward-firing speakers in the screen cabinet come into play. A third, rear-facing mid-range driver is used both on stand and off, bringing the total audio output to 30W.
Redefining what's Smart
Sony has also splashed a fresh coat of paint across its online portal. Now known as the Sony Entertainment Network (or SEN), it touts a fresh, blocky user interface which corrals content into handy groups, labelled apps, movies and music. The former includes a comprehensive selection of catch-up and scrap, including BBC iPlayer, BBC News, Sky News, YouTube, Demand 5, LOVEFiLM, Netflix, Skype, Mubi and Muzi. There are other services with equally silly names, but many of these are little more than archival vaults. The never-changing Sony Television Network is still trumpeting the same episodes of Diff'rent Strokes and I Dream of Jeanie offered years ago.
Once you get beyond the re-skinned UI, though, there's little change to the actual content presentation, and problems with Search remain. Hopefully this will be addressed in the coming months, when a new content-rich programme EPG with contextual search arrives via firmware update.
This Bravia set also introduces the Opera TV store. Historically, apps have never really played a big role in Sony's Smart ensemble, but that's beginning to change. A deal with the browser barons at Opera means it can now offer a supply of casual games (Chess, Backgammon, Solitaire), plus streaming music services such as Aupeo!.
One aspect of this set that's identical to last year is multimedia file compatibility; and unfortunately it's an area where Sony continues to lag behind rivals Samsung and LG. While AVI, MOV and MP4 all play there's still no friendly embrace for MKV, either from USB or across a LAN from a NAS.
By way of compensation, Sony offers Homestream, a free download for Windows and Mac which performs on-the-fly file conversion to any connected device that it holds a rendering profile for. Of course, this does require you keep a PC on at all times if you want a fully-integrated networked home theatre.
A more welcome development is the Wi-Fi Direct mode. This supports exclusive communication between the TV and a local device, without any need to burden your main Wi-Fi network. I paired the HX853 with Sony's Tablet S and was able to share content by literally sliding it from the tablet to the main screen. Sony calls this DLNA sleight of hand 'Catch and throw.' It could catch on.
Picture perfect

If the boffins at Sony's Tokyo HQ plan on rebuilding their reputation as purveyors of fine imagery, they're off to a cracking start with this model. Picture quality is outstanding, not only in terms of depth and detail, but motion clarity. Plenty of tellies offer speedy frame-rate processing, but very few can manage it with barely a sniff of smudgy artefacting.
The Motionflow XR800 system employed here utilises a trio of techniques to minimise predictive artefacts: frame insertion, backlight blinking and image blur reduction. These are offered up in a variety of modes which mix and match to various effect. You can choose from Clear, Clear Plus, Smooth, Standard and Impulse.
With 50Hz broadcasts, the Motionflow processor interpolates three new intermediate images between each pair of original frames, giving what Sony describe as a 'quad' frame rate. On 24fps movies from Blu-ray, seven intermediate images are inserted between each pair of original frames.
A key part of the panel's success with motion can be attributed to line blinking technology, which selectively darkens horizontal strips of the panel's backlight, from top to bottom, synchronised with the video image, thereby eliminating LCD's distinctive afterimage.
After much experimentation, I decided that Clear gave me the best option for generic TV and sports coverage, mixing interpolation with backlight blinking and backlight control. Test footage of a passing train kept passengers sitting at windows in sharp relief, while a cantering horse, usually ringed by predictive artefacts, appeared clean and sharp.
Perhaps the strangest option is Motionflow Impulse. Sony deems it particularly effective for sport, but as it appears to combine flicker with icy smoothness, I suspect this combination could well prove headache-inducing. With movie material delivered at 24fps from Blu-ray, Impulse repeats each frame twice, and the result is rather more agreeable. The Chronicles of Narnia: Prince Caspian avoided the tell-tale 'soap opera effect', yet was sharp enough to highlight the shonky CGI.
Backlight uniformity from this edge-lit set is reasonably good given the size of the panel. Yet localised dimming can be seen working behind some dimly-lit scenes.
Of course, what most buyers will notice is the detail, which is astoundingly good (I was going to say it reminded me of 4K footage seen on Toshiba's ZL2 über-screen, but decided against that as you'd think me foolish). Shadow detail is also enticingly deep. Make sure, though, that you ease brightness back from the default and take the gas off the sharpness pedal.
Extra clarity can also be seen in the set's stereoscopy, courtesy of the brand's 3D Super Resolution image processing tech. However, this doesn't resolve basic issues with crosstalk, which remain apparent. Sony's optional shuttering glasses prove to be very susceptible to colour shift and ghosting, depending on how you angle your head. Doze off during The Smurfs and you might awaken to find that the TV appears to have inexplicably split in two.
This Bravia only really fumbles the ball when it comes to audio. That swish stand may look the biz, but the noise it makes is far from pretty. There's a thin, nasal tone to the output which will have you short-listing sound systems in no time.
Conclusion
While there are still areas for improvement (principally multimedia file compatibility, 3D performance and sound), the KDL-55HX853 can be considered a winner when it comes to IPTV provision and raw picture quality. Indeed, it leads the field in motion clarity and if sport is a paramount interest, you'll be hard pressed to find a better team player. The fact that it retails for a surprisingly affordable £1,800 is another feather in its cap.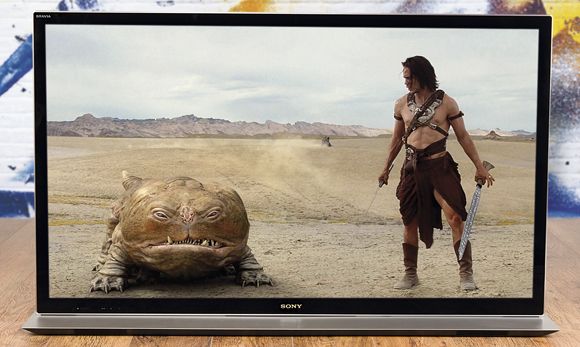 ---
HCC VERDICT
Sony KDL-55HX853
Price: £1,800 Approx
Highs: Outstanding image processing; artefact-free frame-rate frippery; stylish Monolith design; content-packed entertainment portal
Lows: Crosstalk still an issue with 3D content; thin, nasal sonics; no support for MKV
Performance: 5/5
Design: 4/5
Features: 5/5
Overall: 5/5
---
Analysis
GUI: The Sony Entertainment Network interface majors on big icons, and groups 'net content into apps, movies and music
Power consumption: We measured an average of 85W, with 12W in active standby mode
Killer feature: The KDL-55HX853 offers best-in-class motion clarity, with artefacting kept to a minimum and resolution retained
---
Specifications
3D: yes Active shutter (glasses are optional)
Full HD: yes 1,920 x 1,080
Tuner: yes Freeview HD
Smart TV: yes Sony Entertainment Network
Connections: 4 x HDMI; 1 x component; 1 x D-Sub PC input; 1 x USB; 1 x Ethernet
Sound: 3 x 10W
Brightness: N/A
Contrast ratio: N/A
Dimensions (off stand): 1,294(w) x 772(h) x 29(d)mm
Weight (off stand): 21.7kg
Features: LED edge backlighting; USB media playback; Sony Entertainment Network smart portal, featuring BBC iPlayer, Netflix, YouTube, Dailymotion, Acetrax, LOVEFiLM, BBC News, Sky News, Facebook Twitter & more; Motionflow XR800 frame-rate tech; 3D Super Resolution; leanback stand; Wi-Fi Direct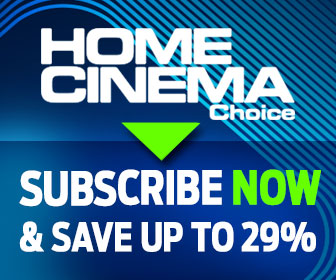 Home Cinema Choice #323

is on sale now, featuring: Panasonic JZ2000 4K OLED TV; LG SP11RA Dolby Atmos soundbar; Philips 806 OLED TV; Neill Blomkamp interview; hi-fi meets home cinema install; and more
Want to see your home cinema system featured in the pages of HCC? Click
here
for more info.