Sony KD-65S8505C review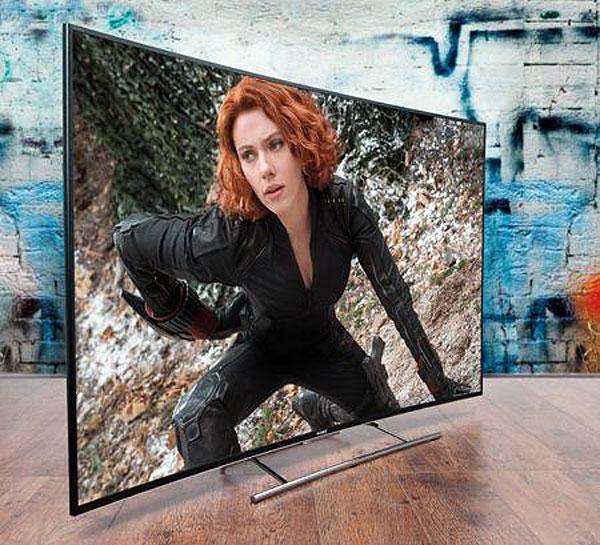 Enjoy razor-sharp visuals with Sony's Android-powered 65in curved 4K/Ultra HD TV

While some love the look of curved TVs, others worry about the impact curved screens can have on the viewing experience in the form of issues like viewing angles, onscreen reflections and distorted geometry. Cue the Sony KD-65S8505C: a 65in TV that tries to balance curved aesthetics with less controversial picture characteristics by using a markedly shallower curve than rival screens.
Does this gentler approach really make Sony's second-generation curved TV the solution we've all been waiting for, or does it mean the 65S8505C just falls between two stools?
The screen doesn't make as much of a design statement as Sony's debut curved TV, the 65S9005B, and its centrally-mounted desktop stand looks a bit spindly. However, it's undoubtedly still a good-looking TV with its slim and robust black frame, and the silver trim around the bezel adds a welcome hint of shiny opulence.
The use of a slimmer frame than the 65S9005B makes it less of an imposition on your precious living room space too – although it also means the 65S8505C has had to ditch the innovative multi-angle sound system built into its forebear.
The reasonably trim rear houses a solid collection of connections, including four HDMIs and three USBs. Sony's set also carries in-built Wi-Fi, Bluetooth and NFC support, with the facility to both stream multimedia content from networked external devices or go online with Sony's latest smart TV system.
This smart engine is dominated by Google's latest Android TV platform – and, as we've said before, it's not entirely successful. Turning to Android certainly gives Sony a leg up when it comes to content (the 4K versions of Amazon Prime and Netflix are both present and correct, for starters) as well as providing enhanced compatibility with other Android devices. However, the interface is cluttered and dictatorial, with little to no potential for customisation. Its Android focus might have die-hard Apple fans running for the hills, too.
Sony is going to be adding YouView functionality to the 65S8505C via an update at some point – and that's not the only major feature it's set to receive via firmware update either; it will also receive HDR support before the year's out. And we expect some changes to be made to the Android interface to streamline usability.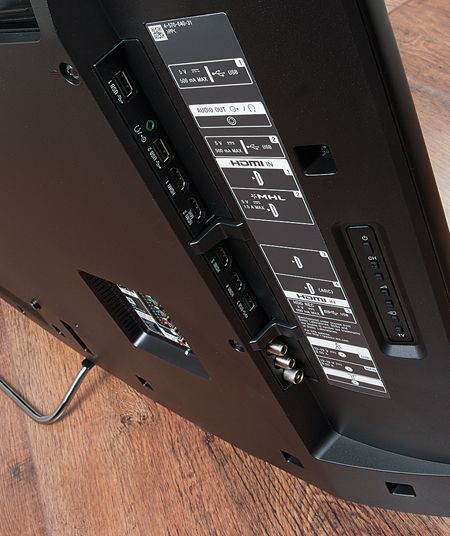 X1-rated images
As for picture features already present on the 65S8505C, many of them are powered by Sony's X1 4K-optimised video processing chippery. This introduces image optimisation routines for streamed 4K content as well as numerous enhancements for almost every facet of picture quality. For instance, it combines with Sony's wide colour gamut Triluminos technology to deliver a claimed 150 times the colour adjustment range of Sony's 2014 4K TVs. There's also a retooled intelligent noise reduction system capable of adjusting its performance locally to suit different parts of an image.
Upscaling of non-4K content to the TV's native 4K resolution should also benefit from the X1 processor – especially thanks to Sony's new Self-Similarity Super Resolution engine [sounds like something from a Marvel comic – Ed], which ensures upscaled thin lines don't put weight on, as they can do during the upscaling process.
For motion, the 65S8505C sports a 1,200Hz-emulating version of Sony's usually impressive MotionFlow engine to clean up judder and blur issues. There are new algorithms to boost black level response and detail reproduction from the screen's edge LED light engine, too; this mid-ranger doesn't pack the direct LED lighting with 'X-Tended Dynamic Range' local dimming system that elevates Sony's X9305/X9405 sets.
Sony provides a healthy array of picture calibration tools, enabling dedicated tweakers or professional installers to optimise pictures to pretty much any standard, taste or living room environment. You can even tweak the potency of Sony's upscaling system.
Wrapping up the 65S8505C's features is its 3D playback, which uses the active system. You don't get any free 3D glasses, though. Boo.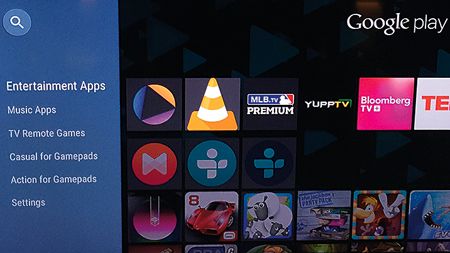 Work to be done
Imagery usually appears nothing short of spectacular. However, unlike many of Sony's other recent screens, getting the 65S8505C's pictures looking their best does require some effort. So before I can finish on the high note Sony's curved TV ultimately deserves, let's deal with its flaws first.
For starters, out of the box the TV tends to over-sharpen upscaled content, resulting in some distracting noise at times. I can only surmise that this is down to some kinks in Sony's new local noise reduction system. Dealing with this niggle involves nothing more than ramping down the Resolution element of the TV's Reality Creation suite to around its 30-35 setting.
I also found the TV's light sensor default setting prone to taking too much brightness out of images during dark-room viewing. In addition, the dynamic contrast system in use here has a nasty flaring habit. During extremely dark scenes, or following fade-to-blacks, the TV's backlight tends to turn off completely to bolster black response. This means the backlight needs to switch back on again when light re-enters the image. When this happens there's a pronounced and distracting flash from Sony's backlight engine.
This issue can, of course, be removed if you turn off the set's dynamic contrast features. However, this results in contrast taking a significant hit, with greyer-looking black tones and reduced shadow detail. I chose to leave the dynamic contrast tools left on at their weakest power level, since the flaring issue doesn't come up all that often while the reduced black levels witnessed with the contrast tools off affected almost any low-light sequence. Still, the flaring problem remains a strangely clumsy error from Sony given that the brand has previously run demonstrations dissing similar backlight on/off systems in rival TVs...
The 65S8505C's screen is rather reflective of light sources, and the curve can distort these reflections across more of the screen's area than would be the case with a flat TV. It is true, though, that the relatively subdued bend of this 4K bigscreen does reduce the impact of curved screens' negatives (I guess it also reduces the potency of its positives).
Now it's time for the good stuff. Particularly brilliant versus its rivals is colour rendition. The combination of Sony's Triluminos technology and its new processing enables the 65S8505C to render a stellar combination of colours – they're dynamic and rich but also nuanced. It shifts gears effortlessly between the muted grey palette of Jen Yu and Yu Shu's fight in Crouching Tiger, Hidden Dragon and the vibrant greens of the treetop fight between Li Mu Bai and Jen Yu, or the subtle oranges and yellows of the film's desert sequences.
No matter what content you feed it, in fact, this screen always makes it look sumptuous.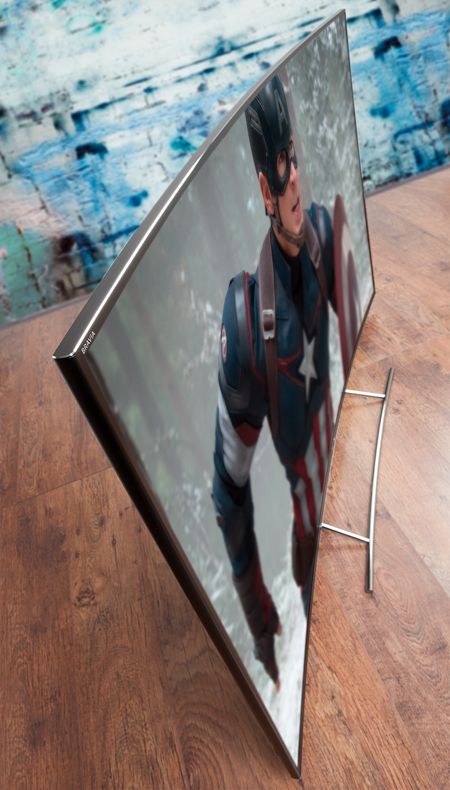 Challenging beasts
Crouching Tiger, Hidden Dragon was upscaled to the 65S8505C's native 4K resolution from an HD Blu-ray. It's quite a challenging film to remap thanks to its mixture of stylised and natural lighting, fast motion and occasional grainy moments. And initially its variety did cause the upscaling issues with noise, along the lines discussed earlier. But once I'd reined in the Reality Creation's Resolution setting things went from not great to brilliant; the 65S8505C served up oodles of extra detail and sharpness without much accompanying noise. And it's noticeable that the up-rezzing engine is effective at calculating and adding colour subtlety to upscaled sources, which contributes to the image's sense of detail and '4Kness'.
That said, this 'Droid TV is inevitably at its very best when fed native 4K. Sequences of After Earth and 60p footage from the football World Cup look detailed, crisp and clean, practically slapping 4K naysayers in the face with the obviousness of the step up from regular HD.
Scenes in the desert cave in Crouching Tiger, Hidden Dragon reveal that Sony's X1 processing is adept at delivering subtle low-lit details. There's a depth to the image that's still challenging to most of the LCD TV world. Colour tones don't falter in dark areas either, and with the dynamic contrast system active you generally don't have to worry about a grey shroud hanging over the black areas of the image, or backlight clouding.
4K clarity is further bolstered by excellent motion processing. There's only minimal reduction in the image detail during both my native 4K World Cup material and the insanely fast fighting sequences in Crouching Tiger, Hidden Dragon.
I'd hoped that the 65S8505C's exceptional 4K detailing might also elevate its 3D experience to a truly immersive level. But the upscaling of pristine 3D Blu-rays like Avengers: Age Of Ultron doesn't hit quite the same level of sharpness witnessed with 2D, plus there's a little crosstalk ghosting noise around. My test sample additionally exhibited a strange, hopefully sample-specific purplish infusion over the bottom third or so of its 3D images. Odd.
Without the multi-angle speaker system found in Sony's previous curved set, the soundstage here lacks width and power. However, it still sounds better than many of today's skinny TVs. Sony's speakers deliver enough scale and drive to provide a suitably large-scale accompaniment to the 65in images. There's plenty of subtlety in the set's handling of Crouching Tiger...'s surprisingly detailed soundmix, but also a decent amount of bombast with …Age of Ultron's cartoonish audio – notwithstanding the fact that bass depth is fairly limited unless you add one of Sony's optional (but certainly worthwhile) wireless subwoofers.
Welcome to the curved club
The 65S8505C is expensive relative to Sony's similarly-specc'd flat TVs (though its upcoming HDR support softens the price blow), and some clumsiness in its dynamic contrast system and initially over-enthusiastic upscaling undermines its otherwise excellent picture quality. But it really can look amazing for much of the time, and its shallower curve option certainly makes it a worthwhile addition to the curved screen scene.
Specification
3D: Yes. Active
4K: Yes. 3,840 x 2,160
Tuner: Yes. Freeview HD
Connections: 4 x HDMI; 3 x USB; RF input; CI slot; component video input; headphone jack; Scart; Ethernet
Sound: 2 x 10W
Brightness (claimed): N/A
Contrast ratio (claimed): N/A
Dimensions (off stand): 1,452(w) x 845(h) x 108(d)mm
Weight (off stand): 30.1kg
Features: Built-in Wi-Fi; USB multimedia playback; Bluetooth and NFC connectivity; Triluminos colour system; X1 video processing; Android TV smart system; YouView support in-bound; HDR support in-bound

SPONSORED VIDEO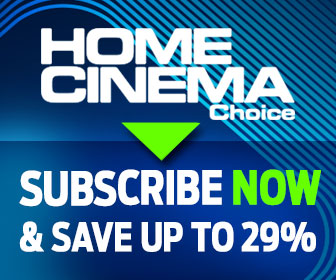 Home Cinema Choice #326

is on sale now, featuring: Sky Glass; Anthem AVM 70 processor; Sony XR-65X90J; BenQ gaming projector; Christmas gift guide; Hollywood franchises on Blu-ray; Fast 9 4K; and more
Want to see your home cinema system featured in the pages of HCC? Click
here
for more info.