Sonos Play:1 & Play:3 review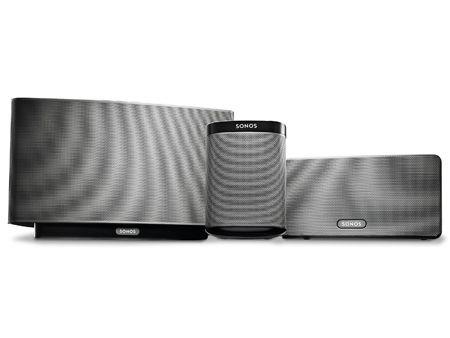 When many people think 'multiroom audio', they think 'Sonos' - and there's a good reason

When it comes to wireless audio streaming Sonos sets the benchmark. The company has been the top multiroom dog for over a decade thanks to its consistently good products and ease of use. But there are some aspects of the Sonos system that warrant improvement, including a lack of DLNA support.
Recently Sonos had to catch up with the likes of Pure by allowing you to connect to a wireless home network without the use of a hub – although a hub is still a more robust option for multiroom setups. There are two hubs, the Bridge and the Boost, and both create a dedicated wireless mesh network. The Boost is recommended for larger systems as it extends coverage by 50 per cent.
The Sonos ecosystem includes a soundbar, subwoofer, the larger Play:5 speaker (above left) and amps that integrate with legacy hi-fi gear. The Playbar soundbar and Sub can be used with Play speakers to form a 5.1 system. Of more immediate concern to audiophiles thinking of taking the Sonos route for wireless audio is the lack of support for hi-res. Tracks with a sample rate higher than 48kHz simply won't play, which can lead to trouble for anyone with a mixture of unidentifiable standard and hi-res files in their collection.
The Sonos app does make it easy to build playlists, mixing multiple sources such as iTunes on a PC or Mac with songs from an online streaming service, but it can't filter out hi-res files until it tries to play them. On a more positive note, Sonos does support standard-res uncompressed files such as FLAC, ALAC, WAV and AIFF, and will also soon be compatible with the excellent new Tidal CD-quality streaming service.
Sonos easily leads the way in terms of streaming service support and its control app is fully integrated with scores of platforms including Amazon Cloud Player, Napster, Deezer, Google Play Music, Qobuz, TuneIn, Rdio and of course, Spotify Premium. That integration is key because other systems, such as Samsung's Shape and Pure Jongo, force you to exit their own app and launch Spotify separately, streaming it by using Bluetooth.
Much like the Samsung Shape series, Sonos's system of speakers comprises three models, named the Play:1, Play:3 and Play:5. The entry-level models are mono, but can be paired to take on stereo duties, while the larger speakers can be used alone or as stereo pairs. My test array featured two Play:1s (originally reviewed, here) and a Play:3, plus the Bridge.
Build quality of all models is class-leading with impenetrable cheese-grater grilles that should deter curious infant fingers. The only socket is a single Ethernet for connecting to a router or hub (during setup at least). On top are controls for volume adjustment and a play/pause button, which controls all speakers in the same group (not always a good thing) and allows you to leave the house and instantly resume playing the same track even if it's after a two-week holiday. Double pressing the button advances the playlist to the next track.
A decent user guide makes setting up a Sonos system fairly simple, and there's plenty of online support and a rich seam of knowledge in the user forum. The Sonos mobile app is a triumph, listing all sources and playlists and providing quick access to the playlist manager. You can rapidly group or ungroup speakers and ping out different sources to each room. The desktop version, though, needs an overhaul; its small white font on a dark background almost calls for a magnifying glass (or am I getting old?).
The Play:1 pairing is phenomenally powerful for its size, and it serves up a dynamic and well-balanced soundstage. The Play:3, meanwhile, is punchy enough to be used solo in a room. The bass on Martin Garrix's Animals is tight and impactful, whilst higher frequencies have plenty of zest and energy. Everything meshes together with military precision and in terms of volume, the system feels like it has heaps in reserve. An AAC version of Wicked Game doesn't have the fluidity of the hi-res original and betrays the Sonos speakers' somewhat clinical delivery.
A hugely enjoyable system, particularly in a multiroom context, but with a few flaws
Specification
Play:1
Drivers: 1 x tweeter and 1 x 3.5in midbass driver
Onboard power: Not specified
Dimensions: 161(h) x 120(w) x 120(d)mm
Weight: 1.8kg
Features: Ethernet port; works on Wi-Fi home network or SonosNet mesh network; Amazon Cloud Player, Rdio, Spotify Premium, Qobuz, Deezer, Google Play Music (and more) streaming service support; app controller; FLAC, ALAC, WAV, AIFF, MP3, AAC, WMA; soundbar and subwoofer options
---
Play:3
Drivers: 1 x tweeter, 2 x midbass drivers and 1 x bass driver
Onboard power: Not specified
Dimensions: 132(h) x 268(w) x 160(d)mm
Weight: 2.6kg
Features: Ethernet port; works on Wi-Fi home network or SonosNet mesh network; Amazon Cloud Player, Rdio, Spotify Premium, Qobuz, Deezer, Google Play Music (and more) streaming service support; app controller; FLAC, ALAC, WAV, AIFF, MP3, AAC, WMA; soundbar and subwoofer options