SIM2 Super Lumis review
Extraordinary range-topping three-chip DLP projector transports us to home cinema heaven
I know what you're thinking: how in the name of Citizen Kane can any home cinema 'toy' like the SIM2 Super Lumis justify a price of £37,000? Well, I'm going to tell you. And if I do my job right, by the end the only question you'll be asking will be 'Where can I get my hands on 37 grand?'.
First, though, a bit of contextualisation. The thing is, despite its price, the Super Lumis triple-chip DLP projector is not a 4K model; its DarkChip 4 Texas Instruments optical system delivers a normal Full HD 1,920 x 1,080 image. Which is the same resolution as the one on your fancy new smartphone.
This may seem disturbing in light of Sony release of an £8,500 4K projector, following the £16,000 VPL-VW1000ES outed in 2012. But SIM2 has a pretty sound defence. First, a deal between Texas Instruments and commercial DLP cinema brands means no home theatre 4K DLP products can launch until 2015. Second, even if a SIM2 4K DLP home cinema projector was possible, it would cost vastly more than the Super Lumis tested here.
Lastly, resolution is only one part of the projector picture quality story. Contrast, brightness, lamp quality/handling and the optical quality of the lens are also crucial. And SIM2 contends that because the Super Lumis is superior in these other areas it will produce pictures so impressive you won't give the lack of 4K a second thought.
Gorgeous Giorgio
Your love affair with the Super Lumis will begin as soon as you look at it. As with all Lumis projectors it sports the sensational Giorgio Revoldini design, featuring a beautiful combination of bold curves and a high-gloss gun-metal grey finish. Yet the projector is also remarkably compact considering the amount of light power tucked inside.
Connections, meanwhile, include two v1.4 HDMIs, a trio of 12V trigger ports to aid system integration, a D-Sub PC port, a component video input, an RS-232 control port, and a 3D Sync Output for attaching the supplied external 3D transmitter.
As its name and price suggest, the Super Lumis delivers substantial improvements over SIM2's already rather delightful Lumis series. Beyond a revamped version of its ALPHAPATH light delivery technology, and enhancements to many of the brand's mechanical and optical components, the key change is the inclusion of a 350W lamp versus the 280W one in the Lumis 3D-S, resulting in a huge increase in brightness output from 3,000 to 5,000 ANSI Lumens.
In fact, there's so much brightness to play with from the Super Lumis that SIM2 offers a choice of lens types: either high brightness (HB) lenses that make full use of the lamp's huge output, or Extended Contrast (EC) lenses that limit the maximum light output to 3,800 Lumens but deliver a high (considering how bright the image is) 30,000:1 contrast ratio. You can also choose from three different lens throw options: the short-throw T1, the medium-throw T2, and the long-throw T3. Such lens flexibility is all part of the brand's high-end ethos.
Note that the T1 is incompatible with SIM2's Perfect Fit lens memory feature, which allows the PJ to store multiple zoom and focus settings to suit different aspect ratios when using a 21:9 screen – thus saving you having to bother with an external anamorphic lens.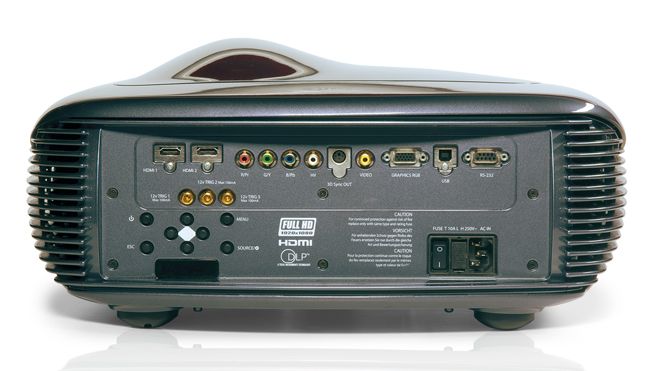 Comprehensive configuration
Buy a Super Lumis and it will inevitably be installed for you. However, if you do like to tinker with hardware yourself you'll probably adore the well-calibrated zoom, focus, and vertical/horizontal shift mechanisms and be dazzled by the almost limitless colour flexibility of the supplied Live Colours 2.0 Calibration software. I was.
Fire the SIM2 up and you'll find your viewing room has become a commercial-grade cinema. This is, of course, the ambition of any home cinema projector, but I've not tested any other (besides, perhaps, the £140,000 Meridian 810) that has achieved the effect so successfully. The job of the rest of this review is to explain exactly why the Super Lumis works so brilliantly.
Let's start with the massive impact of its monstrous brightness. Not only does this enable the SIM2 to produce much larger pictures than most projectors – and craft remarkably natural and punchy images even with ambient light in your room – it also helps the projector eke out every last bit of picture information during even the darkest or most starkly contrasted scenes, like those in the halls of the Goblin King in The Hobbit: An Unexpected Journey.
Images consistently achieve a sense of depth, texture, density, light/colour balance and simple naturalism that makes it hard to believe you're not watching celluloid. The brightness of the Super Lumis also feeds into its colour reproduction, enabling it to give fuller, more vibrant expression to a Blu-ray's colour palette.
I wouldn't be saying any of this if the Super Lumis's luminance power wasn't joined by an excellent contrast performance. Here, the quality of its triple-chip DarkChip 4 system, light path and lens arrangement delivers a brilliant black level despite its radiant brightness. Projector heavyweight JVC gets blacker still with its DLA-X75 and DLA-X95 models, perhaps, but only while delivering a fraction of the SIM2's brightness and its attendant advantages.
Having tested multiple 4K products, including Sony's VPL-VW1000ES projector, I'm impressed by how pristine the bigscreen visuals look on this Full HD model. The sense of pixel density, texture and detail in the images is gorgeous, seemingly proving the argument that lens flair and other picture factors are at least as important as native resolution.
3D delivery is exquisite. Texas Instruments' 144Hz Triple Flash active shutter system (you get four free pairs of spex) works in conjunction with the Super Lumis's potent lamp to showcase the incredibly rich detailing possible with quality Full HD 3D Blu-rays like The Hobbit... and Avatar. With its brightness and boosted contrast comes an accurate, deep and natural sense of depth in the 3D frame, adding scale to massive environments like Tolkien's subterranean caverns. And this is all achieved despite a reduction in brightness, caused by the glasses that is so considerable I suspect it could put some people off watching 3D. That would be a shame, as this is the most impressive 3D imaging device I've yet had in my demo room.
Not a fan of fan noise
The Super Lumis isn't completely perfect, however. All that lamp power can lead to some fairly potent fan noise if you're using it at full tilt. SIM2 lets you adjust the output in 10W stages, though, so unless your room is cavernous or infiltrated by ambient light, you should consider dropping the output to its 310W or 320W level for 2D. This also helps disguise some faint dithering noise over fast-moving skin tones, and a slight tendency to draw attention to 24p judder when using the very highest brightness settings.
I also wasn't blown away by the Super Lumis's motion processing, which looks rather unnatural and artefacty even on its lowest power setting. But then most serious film fans wouldn't dream of enabling such trickery anyway.
And then there's the price. On paper, the arrival of 4K should make the £37,000 ticket of this Full HD model a tough sell. Some will turn their nose up at it as they rush out to audition Sony's new VPL-VW500ES.
Yet the reality is that if you're the sort of person for whom spending £37,000 on anything other than a mortgage is possible, the SIM2 Super Lumis is about as close as you can get to a commercial cinema experience without actually buying a commercial cinema projector. Or a commercial cinema, for that matter. High price, high-performance and highly impressive.
---
HCC VERDICT

SIM2 Super Lumis
Price: £37,000 Approx
www.sim2.co.uk
Highs: Jaw-dropping picture quality with both 2D and 3D images; beautiful design; superb setup flexibility
Lows: It runs noisily in high lamp modes; motion processing is best avoided; most of us will never be able to afford one; it's not 4K
Performance: 5/5
Design: 5/5
Features: 5/5
Overall: 5/5

SPONSORED VIDEO

SPONSORED VIDEO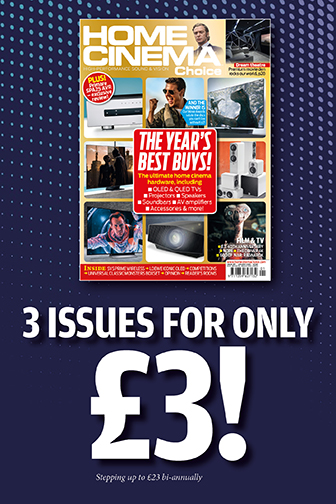 Home Cinema Choice #332

is on sale now, featuring: Samsung's 8K flagship; Anthem AVM 90 processor; B&W 800 Series Diamond; LG smart projector; Hollywood box office bombs; Hitchcock 4K; and more
Want to see your home cinema system featured in the pages of HCC? Click
here
for more info.