SIM2 Nero 3D-1 review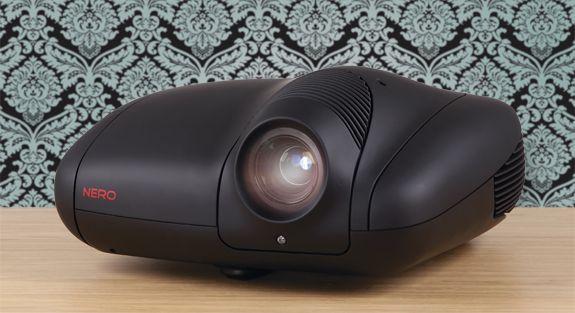 High-end AV specialist conjures up a 3D projector so good that it's still a bargain at £13,000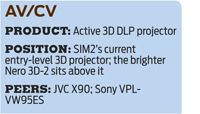 So far as I'm concerned, only one home cinema product to date has really and truly nailed the 3D movie experience in the home. SIM2's Lumis 3D-S was essentially perfect, delivering a rich, sharp, detailed, colourful and completely crosstalk-free 3D experience on just the sort of silly-sized, vision-filling screens that seem to be 3D video's natural home.
There was one little problem with the Lumis 3D-S, though: it cost around £30,000. Yikes. You can understand, then, why I'm more than a little flustered today by the arrival in our test rooms of the SIM2 Nero 3D-1: another luxurious SIM2 3D offering, but one which costs 'just' £13,000. Clearly this is still a fair whack above what most of us will be able to afford, but, well, at least it's within aspirational touching distance, right?
Curved bodywork
Despite its relative affordability, the Nero 3D-1 remains a very pretty projector. It lacks the high gloss polished finish of the Lumis, but its slightly rubbery matt black finish is still stylish in its own way. And in all other respects its bodywork is the same as that of the Lumis, meaning you get the same remarkably compact (considering what's inside) chassis and the same Giorgio Revoldini-created curved lines.
Connections are identical, too, with the seemingly obligatory (in the projection world) twin HDMIs being joined by a trio of 12V trigger ports, an RS-232 and a USB for integrating the projector into a home control system.
It's not until you delve deeper into the Nero 3D-1's specifications that it becomes obvious why it's so much cheaper than its Lumis sibling. For while the Lumis is a three-chip DLP model, the Nero is a single-chip model. This means that the projector has to use a spinning colour wheel to produce its colours rather than 'constructing' them from dedicated red, green and blue chips like the Lumis.
This will inevitably cause a deterioration in motion reproduction and video noise, and also raises the potential for stripes of pure red, green and blue to flicker over bright parts of the picture, or when you move your eyes over the image (also known as the rainbow effect). So the main purpose of this review will be to assess just how much of a negative difference these colour-wheel issues make.
Not using a three-chip DLP implementation has a further potentially negative knock on effect, since it prevents the Nero 3D-1 from using the Triple Flash technology that so impressed with the Lumis 3D-S. Triple Flash essentially delivered a 144Hz refresh rate (72Hz to each eye) so that it was pretty much scientifically impossible for 3D images to suffer crosstalk.
Before anyone gets too despondent, though, the Nero still manages 120Hz, which certainly should be fast enough to keep crosstalk under pretty tight control.
Bright star
Elsewhere there are plenty of other good specifications to keep home cinema fans smiling. For instance, the Nero 3D-1's brightness is quoted at 1600 ANSI Lumens – enough, hopefully, for very bright, punchy 3D images. (Although it's worth recalling that the Lumis 3D-S can pump out a phenomenal 3000 ANSI Lumens, providing another very good reason for the Nero 3D-1's much cheaper price).
SIM2 quotes the Nero 3D-1's contrast ratio at more than 10,000:1. On paper I guess this figure doesn't look very exciting when Sony's VW95ES boasts 150,000:1. But actually, I've generally found the measured contrast ratios of DLP projectors to be oddly conservative versus the all-important experience of watching them in action.
Furthermore, since the Nero 3D-1 doesn't employ an auto iris like many more affordable projectors (including the Sony VPL-VW95ES), its images will look more stable, as their light level will be constant. It's a pity, perhaps, that you also can't adjust the iris manually like you can on the Lumis, as this would have given you more control over how the Nero 3D-1's pictures look. But including an iris adjustment in an optical array as sophisticated as that used in SIM2's projectors is understandably a tricky business, so if doing without one helps the price stay lower, so be it.
And anyway, it's hardly as if the Nero 3D-1 isn't flexible when it comes to calibration. It can be colour tuned using the same phenomenally comprehensive and accurate Live Colours Calibration 2.0 PC software that the Lumis uses, and so essentially your installer should be able to tune the picture to within a whisker of colour perfection.
One last feature worth mentioning before checking out how the Nero 3D-1 performs is its ALPHAPATH technology. This proprietary optical path is what enables SIM2 to deliver so much brightness from such compact devices, and is also responsible for improving the uniformity of the image's illumination.
It's been emotional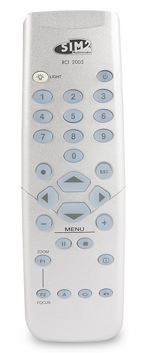 No amount of 'dry' talk about the Nero 3D-1's mechanics, though, can prepare you for the emotional response you'll likely to have to its brilliant pictures. Especially if you haven't ever previously seen the mind-blowing Lumis 3D-S in action...
For instance, anyone who's found themselves doubting the worth of the Active shutter, Full HD 3D approach given the more relaxing experience delivered by Passive 3D will need just a few minutes with 3D Blu-rays like Resident Evil: Afterlife, Tangled, Avatar and Tron: Legacy on the Nero 3D-1 to see what the fuss is about. For the immaculate high-end optical engine inside the Nero, together with its higher-than-normal brightness and an almost complete absence of crosstalk ghosting noise, makes HD 3D images look sensationally detailed, crisp and rich. Seeing so much precision in 3D images on a truly enormous screen – mine is 100in, but the Nero 3D-1 can drive something much bigger – is a simply stunning experience. So much so that it should instantly convert all but the most stubborn of detractors to the 3D cause.
More good news finds the Nero 3D-1 looking flicker-free when watching 3D – so long, at least, as you're doing the sensible thing and watching the projector in a nicely blacked out room.
The precision noted a moment ago doesn't just extend to pixel detailing. Colours also appear with a much wider dynamic range than you get with more affordable projectors, meaning they appear more natural during stereoscopic viewing than is usually the case. It helps, too, that SIM2 has included a system on the projector that automatically adjusts the colour settings – with great precision – to compensate for the colour shifting introduced by SIM2's 3D glasses.
There appears to be nearly infinite subtlety in the reproduction of colour blends, and dark areas revel in the sort of subtle greyscale detail that you just don't get with less bright, less optically efficient – and obviously, less expensive! – projectors. This is critical, as it allows dark scenes to retain the same sense of depth and space as their brighter counterparts, making the viewing experience more consistent and thus convincing.
2D dazzler
Switching to 2D viewing, the Nero 3D-1 continues to shine. The punch and vibrancy of its pictures shift up another few gears, as removing the dimming effect of the shutter glasses allows you to appreciate even more the intensity, dynamism, clarity and richness of the Nero 3D-1's performance.
Without your brain having to take in depth perception, it's also easier in 2D to appreciate how natural the Nero 3D-1's motion handling is compared with almost every other single-chip DLP projector you care to mention.
For the most part, any issues I can raise about the Nero 3D-1 are restricted to ways that it doesn't match up to the Lumis, rather than being 'real' issues given the 3D-1's much lower price point. For instance, 3D images aren't nearly as bright on the 3D-1 as they are on the Lumis, meaning they're less impactful and don't look quite as detailed. Also, while motion is excellent by single-chip DLP standards, it's not as crisp and judder-free as that of its flagship stablemate. Feel free to experiment with the provided PureMovie and PureMotion processing systems in this regard, but personally I didn't particularly like what they did, at least while watching films.
I only have three 'fair' complaints about the Nero 3D-1. Firstly, it runs a touch noisily – although there's nothing that a good installer shouldn't be able to work around; secondly – and this is quite galling, considering how much the PJ costs – the necessary 3D glasses and transmitter aren't included as standard and cost from £750 for a four-glasses/transmitter pack; and that occasionally you can see small traces of the rainbow effect.
Going into more detail on the latter point, black and white footage or shots that contain extremes of contrast can reveal subtle hints of the RGB striping. But it really does only appear under very rare circumstances, and even when it does, it's so low-level that it's almost subliminal.
Scrimp and save
The past few months have seen an explosion in startlingly good and remarkably affordable 3D projectors. But while some of these models – Panasonic's AT5000E, Optoma's HD33, Epson's TW9000 – are undoubtedly brilliant for their money, if you really want to realise the full potential of 3D for the home, it's probably time to dig deeper for a Nero 3D-1. I believe it would be £13,000 very well spent.
---
HCC VERDICT
SIM2 Nero 3D-1
Price: £13,000 Approx
Highs: Delicious chassis design; 2D and 3D picture quality is awesome; good set of calibration tools
Lows: Rare and subtle appearances of the rainbow effect; runs a tad noisy; UI isn't very intuitive
Performance: 5/5
Design: 5/5
Features: 5/5
Overall: 5/5
---
Analysis
GUI: The setup menus are very detailed and not particularly intuitive
Power consumption: We measured an average consumption of 184W over a two-minute period, with a peak of 200W – this uses more power than other PJs
Killer feature: The Nero 3D-1's 3D performance is simply sublime – free from crosstalk and utterly absorbing
---
Specifications
3D: yes Active shutter
Full HD: yes 1080p24
Connections: 2 x HDMI; 1 x component; 1 x D-Sub PC input; 3 x 12V trigger; 1 x USB; 1 x RS-232; 1 x composite video
Resolution: 1,920 x 1080
Brightness: 1600 Lumens
Contrast ratio: 10,000:1
Dimensions (off stand): 458(w) x210(h) x 455(d)mm
Weight (off stand): 11kg
Features: Live Colour calibration software compatible; '2.5-flash' technology giving 120HZ 3D refresh rate; single-chip DLP implementation; ALPHAPATH optical technology; PureMovie and PureMotion technology; three lens options available; external transmitter and 3D glasses are an optional extra

SPONSORED VIDEO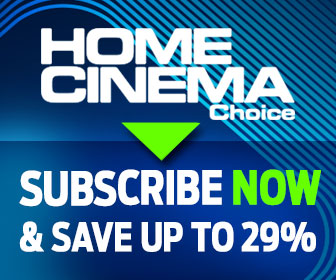 Home Cinema Choice #332

is on sale now, featuring: Samsung's 8K flagship; Anthem AVM 90 processor; B&W 800 Series Diamond; LG smart projector; Hollywood box office bombs; Hitchcock 4K; and more
Want to see your home cinema system featured in the pages of HCC? Click
here
for more info.