Sharp LC-60LE925E review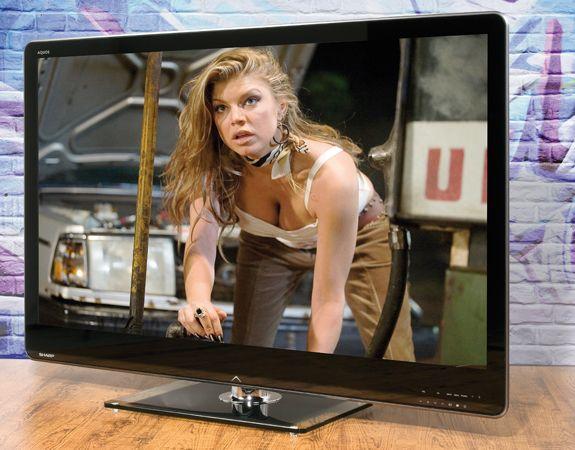 Yellow fever breaks out
Sharp's new 60in TV with its fourth sub-pixel almost gets John Archer's 3D spine tingling
Sharp's Quattron technology greatly impressed me when it made its debut back in May. The only problem was that it appeared at the time when most other brands were busy launching headline-grabbing 3D sets, so that the brand's additional yellow sub-pixel got rather crowded out.
The company hopes to redress this situation with its first 3D TV, which also just so happens to be packing Quattron technology. First impressions are good, as Sharp's bigscreen has a seriously, er, sharp design. The set uses edge LED lighting to deliver a very slender physique, while the single-layer fascia looks stylish and commanding. The illuminated Sharp 'swish' logo in the bottom edge is a particularly nice touch.
The 60LE925E impresses with its connections, too. Four HDMIs should be enough to cope with all but the most extreme home cinema source needs, for instance. But things really get interesting with its multimedia jacks, especially its USB and Ethernet ports. For the first time with a Sharp TV, these jacks enable you to go online, either via a LAN cable or wi-fi USB dongle that ships as standard with the set.
Online alliance
Sharp announced at the IFA show that it was joining forces with Philips and German brand Loewe where online features were concerned, and the 60LE925E is, in fact, the early fruit of this union. Given that Philips' NetTV engine will be at the heart of the joint online approach, it's no surprise to find Sharp's 'AquosNet' debutante combining both a section of 'ring-fenced' content plus access to the entire internet via a handy Opera browser.
The ring-fenced content features a similar – if, tellingly, reduced – set of service providers to those found on Philips' latest online TVs, including the FunSpot gaming portal, Myalbum photo storage site and DailyMotion. Oddly, there was no YouTube portal at the time of writing.
Meanwhile, the USB port isn't just for making the TV wi-fi ready. It can also play various multimedia codecs, such as DivX HD, from USB drives.
The only real disappointment to emerge from my exploration of the 60LE925E's connections is that it doesn't have a Freeview HD tuner. Such tuners will be included in the TV's smaller siblings when they appear next year, but Sharp was apparently desperate to get a 3D model out before Christmas, and figured the model that could most live without a Freeview HD tuner was the 60in range topper, since anyone buying it would likely have an external HD receiver of some sort.
Inner strength
Sharp has built its 3D transmitter into the 60LE925E's body, and a single pair of the brand's rather attractive (and comfortable) active shutter glasses ships with the TV. Extra glasses cost about £100 each. The Quattron technology, in case you've not come across it before, essentially involves the introduction of a fourth sub-pixel to the usual red, green and blue triumvirate, adding yellow to the primary colour 'pot'. This should benefit the reproduction of yellow and gold tones, but could also result in smoother transitions between adjacent colours.
Sharp also makes some interesting claims about the set's eco-friendliness, based around the fact that yellow transmits more light than the other primary colours, and so should need less power to produce high brightness.
The 60LE925E's picture quality should benefit, too, from the addition of a scanning backlight that works in tandem with a 100Hz engine to allow Sharp to claim 200Hz for the TV.
After a comprehensive bout of calibration via such tools as colour and gamma management systems and some superb onscreen menus, I headed for the 3D pictures like children in a sweet shop. And I momentarily found myself agog at the quality on offer.
For a start, the screen's sheer scale combines with excellent clarity and sharpness to produce one of the most detailed Full HD 3D pictures I've seen. Even better are the colours of 3D pictures, which are both superbly natural and remarkably vibrant for a technology renowned for reducing brightness and colour saturations. It's pretty easy to think that the Quattron system is playing a big part in this excellent state of affairs.
The 60LE925E also handles motion well in 3D mode, reproducing the 'flying shoes' sequence of Monsters Vs Aliens with good clarity. It improves greatly on the first Quattron sets in the contrast department, too, delivering dark 3D sequences with plenty of genuine blackness, yet plenty of shadow detail, also. All in all, them, very impressive 3D images... except that Sharp's stereoscopic images suffer with some pretty obvious crosstalk.
While watching 3D on this TV, my eyes were routinely distracted by crosstalk issues from any source, be it Sky's new 3D channel, the Avatar 3D game or 3D Blu-rays. I find this much harder to bear than the reduced sharpness and brightness compromises demanded by Panasonic's plasma 3D models. Viewing in 3D becomes more tiring far quicker and, at times, markedly reduces the very clarity the full HD 3D system was designed to deliver.
Able and stable
Less controversial is the set's 2D performance. In fact, with HD sources it's really pretty sensational, putting the combination of its Quattron colour talents and new-found black level quality to superb use in HD images that look sharp, dynamic, rich, stable and entirely convincing. It's particularly great to see that, unlike many of its edge LED rivals, its backlight is consistently bright from one corner to the other.
Compared with its HD heroics, it's disappointing to find quite a bit of noise seeping into the 60LE925E's standard-def pictures. A 60in screen will obviously always be unforgiving of source weaknesses, but there are definitely other large screens out there that are better at adding sharpness, while reducing noise when upscaling to full HD resolution.
The 60LE925E just about has the audio power to do its mostly superb images justice. There's a predictable shortage of bass during action scenes, but the mid-range is decently clear and powerful, and the set picks out subtle soundstage details well.
With much of the material I tested the 60LE925E was seriously impressive. The Quattron system really shines and this TV's better black level response helps to deliver some terrific HD images. It produces very good 3D pictures on a grand scale, too, when proceedings are free of crosstalk. It's up against some tough competition at this size, of course, but its aggressive price and styling should help it find buyers.
Highs: Quattron tech produces outstanding colours; good contrast; classy, curved design
Lows: 3D images blighted by crosstalk noise; SD broadcasts look a bit rough
Performance: 4/5
Design: 5/5
Features: 4/5
Overall: 4/5
Specifications
Full HD: Yes including 1080p/24
Tuner: Yes Freeview (not HD) and analogue
Component video: Yes one input (rear, via VGA adapter)
HDMI/DVI: Yes 4 v1.4 HDMI inputs (one side)
PC input: Yes 1 D-Sub Resolution: 1,920 x 1,080
Sound: 2x10W
Brightness: N/A; Contrast ratio: 'Mega'
Dimensions (off stand): 1439(w) x 913(h) x 40(d)mm
Weight: 55.5kg
Also featuring: 200Hz (100Hz plus scanning backlight); AquosNet online service; USB media playback; built-in HDD recording; Quattron four sub-pixel technology; active 3D playback; Film Mode; edge LED lighting

SPONSORED VIDEO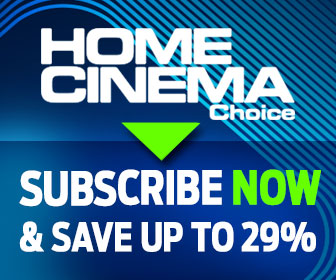 Home Cinema Choice #326

is on sale now, featuring: Sky Glass; Anthem AVM 70 processor; Sony XR-65X90J; BenQ gaming projector; Christmas gift guide; Hollywood franchises on Blu-ray; Fast 9 4K; and more
Want to see your home cinema system featured in the pages of HCC? Click
here
for more info.