Samsung UE85S9 review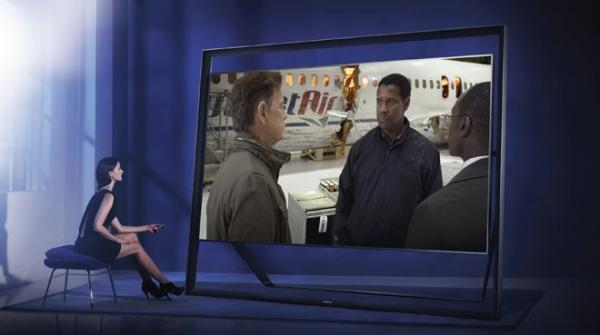 Can this whopping 85in Ultra HD TV really justify its equally mammoth £35,000 price tag?
When I was first told I would be doing an exclusive test of Samsung's UE85S9 TV, I suspected my review would be built around just one thing: the jaw-dropping £35,000 price tag.
Having now spent many hours with the UE85S9 I'm no longer obsessing about its price. Instead the only thing my movie-loving brain is buzzing with is the unbelievable AV experience it offers. The UE85S9 can produce the single best picture quality I've ever seen from any TV – including rival Ultra HD delights such as Sony's X9 models and LG's 84LM960V.
Cynics will already be shaking their heads at such wanton hyperbole. But I've tested over a thousand TVs and there have been none I've wanted in my own home as much as the UE85S9. I'd better start explaining why...
First, some numbers: 8,294,400, 85 and 240. The 8,294,400 figure is the pixel resolution of the UE85S9's screen, indicating that it's Samsung's first Ultra HD set. The 85 figure refers to the screen's size in inches, making the UE85S9 the biggest Ultra HD TV we've tested. And, finally, the 240 figure refers to the number of local zones supported by the UE85S9's direct LED lighting engine.
The last point is important, as it makes the UE85S9 the first UHD TV with a direct LED lighting array, where the LEDs sit behind the screen. An expensive approach vs edge LED, but it makes sense on a display as large as this. After all, as I've discovered in the past, illuminating a huge screen from the sides can cause difficulties with backlight uniformity.
Having lights directly behind the screen makes brightness uniformity easier to achieve, and – in conjunction with local dimming, where clusters of the LEDs can have their brightness levels set individually – makes it easier to deliver levels of contrast not possible with edge LED technology. By using such a high number of dimmable zones, the UE85S9 should also deliver its boosted contrast more accurately.
The Samsung's size matters too. While the Sony 65X9005A reviewed on p44 proves that Ultra HD can deliver stunning advantages at a relatively normal screen size, the format's appeal grows as TVs get bigger. The UE85S9 wears its enormous size spectacularly well, thanks to the easel-style outer frame within which the screen literally hangs. Some may not welcome a design which exaggerates the TV's already massive dimensions, but I think it's an inspired decision.
There are practical benefits to the easel-like stand, too. First, it lets you tilt the screen with one hand. Second, tucked away within the frame is a 120W, 14-speaker array.
The UE85S9 shares two key features with more mainstream sets in Samsung's current TV range, including the brand's Smart TV engine and Evolution Kit technology, whereby you can upgrade the TV with future chipsets. The Evolution Kit is significant, since it makes the UE85S9 the only current Ultra HD TV that could be upgraded to support the supposedly-forthcoming HDMI 2.0 standard.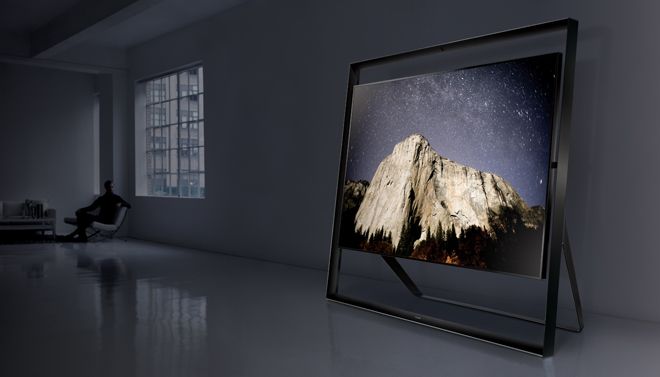 Eye-popping pictures
For all its cutting-edge specs and features, though, the biggest justification of the UE85S9's price is the eye-popping, unprecedented quality of its pictures.
Its impact practically punches you in the face. The native Ultra HD showreel of stunning tourist locations and beautiful food dishes Samsung provided (Why food? Who knows) looked like nothing I've seen before – not just because of the incredible amounts of detail, clarity and pixel density, but because of the supremely fine colour gradations and beautifully clean motion. It's hardly detrimental that these images are reproduced on an 85in screen – at this elevated level, the quality of UHD is enough to make your head spin.
Joining the extraordinary resolution and colour finesse is a superb contrast performance. Dark shots on the showreel revel in near pitch-perfect blacks that are achieved, moreover, without sacrificing shadow detail or the intense brightness and colour saturations of light elements of predominantly dark sequences. This sort of punch is exactly what I'd hope to see from a direct LED TV.
With native Ultra HD content currently rare, I was hoping for a strong upscaling performance. And that's exactly what I got. Blu-rays in particular look stunning, if anything exhibiting even more clarity and texture than they do on Sony's brilliant 65X9005A.
With The Dark Knight, for instance, there's an impressive amount of extra detail evident in buildings and vehicles during the sequence where Batman tips up The Joker's truck. Yet this detail is added without leaving the darkest areas looking noisy.
While upscaled 2D HD looks brilliant, upscaled 3D is nothing short of revolutionary. The other Ultra HD TVs we've tested employ the Passive 3D format to good effect, but Samsung's premium model is the first we've seen to go down the Active route, delivering its maximum resolution to each eye.
The results are incredible. During the When Will My Life Begin song in Tangled, the presentation of Rapunzel's colourful room is stunning, with the extra definition to the picture helping delineate a sense of space and depth beyond anything I've yet seen on a 3D TV. And with Prometheus the outdoor sequence where the crew approaches the alien structure for the first time becomes incredibly intense, thanks to the detail in the planet's surface and the more palpable sense of the enormity of the locations.
This 3D experience is being achieved via upscaling, of course; no native Ultra HD 3D sources are on Samsung's demo reel. The thought of what bona fide Ultra HD 3D might look like has got me excited by 3D again in a way I haven't been since, well, ever.
For all their general majesty, I did spot some flaws with the UE85S9's pictures: a faint glowing blue artefact occasionally visible round areas of fine detail, especially if they're moving (such as The Sandman's bag mask in The Dark Knight), and a light haloing around very bright objects when they appear against dark backgrounds – even the 240 zones of local dimming don't deliver light on quite a local enough level. But to some extent both these minor niggles are only noticeable because there's so much quality on show elsewhere.
And what of the TV's sonics? Well, the UE85S9's extensive speaker array ensures films are accompanied with a level of power, clarity, dynamic range and sheer, unadulterated massiveness – complete with expansive bass rumbles from the two onboard woofers – that never fails to impress.
Prepare to drool
Obviously, most of use have zero chance of ever owning a UE85S9, but this doesn't make Samsung's flagship TV any less relevant. It shows the benefits of what direct LED and Active 3D can bring to the UHD party, and sets us drooling at the prospect of what Samsung's upcoming smaller Ultra HD TVs might offer.
---
HCC VERDICT

Samsung UE85S9
Price: £35,000 approx
www.samsung.co.uk
Highs: Ultra HD pictures look magical; impressive upscaling; sound quality is insanely good; the design is a work of art
Lows: Marginal haloing during dark scenes; occasional bluish noise over fine details; I can't afford one
Performance: 5/5
Design: 5/5
Features: 5/5
Overall: 5/5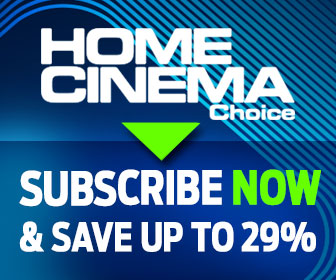 Home Cinema Choice #323

is on sale now, featuring: Panasonic JZ2000 4K OLED TV; LG SP11RA Dolby Atmos soundbar; Philips 806 OLED TV; Neill Blomkamp interview; hi-fi meets home cinema install; and more
Want to see your home cinema system featured in the pages of HCC? Click
here
for more info.