Samsung UE75ES9000 review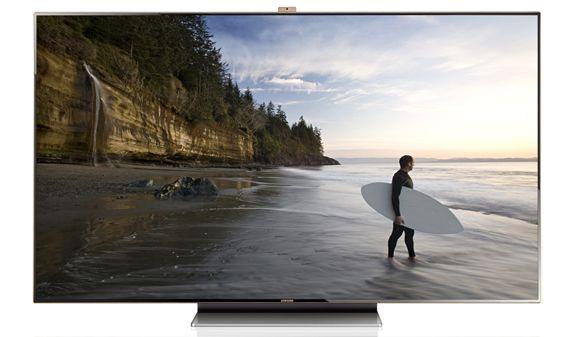 Samsung's 75in show-stopper is the largest, smartest TV it's ever made. Big really is better!
Televisions are like shoes. They get comfortable real quick. Buyers tend to agonise over which screen size best suits their room, debating endlessly the merits of 42in versus 46in panels, but the simple fact is that in 97.3* per cent of all cases (*actual figure may vary) they buy a telly they'll conclude is too small within days.
Thanks to this 75in monster, I've had an epiphany: there's no such thing as 'too big' (of course, 'too expensive' is an altogether different debate). If the thing squeezes through the front door, in my book it'll be just fine. Sharp has been making a similar case for at least a year, and I suspect the notion will gain amplitude with other manufacturers when 4K takes off.
When this new Samsung turned up in a shipping carton the size of a Welsh dresser, there was the inevitable sharp intake of breath, but 24 hours after installing it in a perfectly ordinary British living room, it didn't seem excessive or ostentatious at all – even with that rosey gold metallic bezel.
James Drummie, product manager at custom install distributor AWE, confirms that there's a growing appetite for such super-size sets. When buyers are given the choice of a 65in model or this 75incher, he says they opt to go large every time. 'The impact is just unbeatable,' he told HCC.
With a metal trim of just 7.9mm, the UE75ES9000 is pretty-much all glass. Understandably the set features the same Smart Interaction seen elsewhere in Samsung's TV range, but here the camera is built into the frame itself, popping up when required (a happy consequence of the chassis being a little deeper than its ES8000 stablemate). When retracted neither motion nor voice control functions are available.
Smarter connectability
The screen is usefully equipped. There are three HDMIs, one of which is ARC compliant while another supports MHL (the Mobile High Definition Link used by certain smartphones). There're also component and Scart (via adaptor) inputs, an optical audio out plus three USBs. You can take the set online via Ethernet or integrated Wi-Fi, but there's no PC D-Sub port. With an eye on the future, the TV also offers a Smart Evolution upgrade port. Should Samsung shift from dual-core to quad-core picture processors next season, you'll be able to keep up.
There are two tuners onboard, a generic DVB-S satellite option and Freeview HD. 

Smart Interaction makes for good marketing, but in use it's a little flaky. Voice control has potential, although a requirement to shout loudly at the TV is not conducive to late-night viewing. The set theoretically works happily when ambient room noise is less than 40dB, but even in my generally quiet domicile it often cocked a deaf 'un, throwing up quizzical speech bubbles. Ultimately, its main function proved to be changing channels while I ate my evening dinner off a lap tray – such is the fate of high technology.
Motion control is less satisfying. I've long considered waving frantically at a TV to attract its attention to be foolhardy, and the ES9000 hasn't changed my opinion.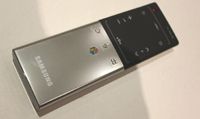 Two remotes are supplied: a generic clicker and a Smart Touch Bluetooth controller with silky touch pad, which needs to be paired to a separate IR blaster. The Smart Toucher can double as a universal remote and features an integrated microphone which allows you to address the TV without raising your voice – of course, this is when Smart Interaction becomes nonsensical. If you have a remote in your hand, why not just press a button and be done with it?
More conventional televisual smugness is to be applauded. We've written much about the depth and breadth of Samsung's online portal, and it continues to impress here. All the key services are available, including Netflix, BBC iPlayer and YouTube, joined more recently by Angry Birds and Spotify.
The implementation of media streaming is a little wonky, though. While the ES9000 offers excellent codec and format compatibility, its operating logic often seems eccentric. One of my NAS boxes would appear and disappear from its source listings as if by whim, while files in a 'Recently Played' shortcut within the AllShare menu would be declared unplayable, despite having already been unspooled.
Picture performance 


Visually, the set is undeniably impressive. Even the mundane becomes fascinating when the screen offers than 60 per cent more glass than a titchy 55incher: newsreaders appear life-sized, incidental back-ground detail in every show is easily inspected. And for home cinema the size is just mesmerising. When the Great White first lunges out of the sea at Roy Scheider, in the remastered Jaws Blu-ray, those pearly gnashers appear the size of kitchen knives.
The set does require quite a bit of taming though. Out of the box, it's just far too bright; luminosity levels that may work well on a sub 50in TV become difficult to endure here. Everything needs to be dialed back. Of the presets, the Cinema setting provides the best starting point.
The set can deliver reasonable blacks and offers considerable shadow nuance, provided you're in the sweet spot. The screen proves quite intolerant of off-angle viewing, with pronounced drops in contrast and colour intensity. What appears genuinely black viewed square-on is most definitely grey when seen from the side. Motion resolution apes that seen on the Samsung ES8000 models – it's fine as long as you stick to the Custom Motion Plus setting.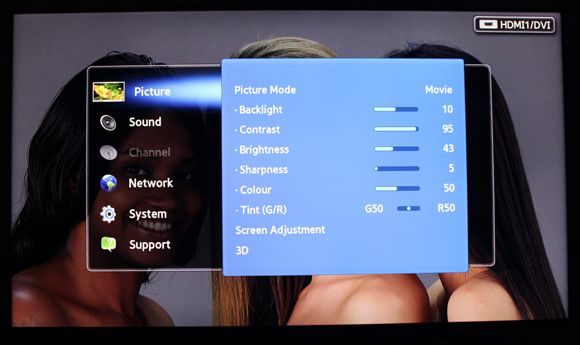 While off-air HD looks good, it's with Blu-ray that the TV really scores. When Thor and Loki face-off on a hillside in Marvel's Avengers Assemble, the lighting is dark and challenging, but this bigscreen maintains a very coherent image and it's easy to follow the action. Watched from a distance of about 1.5m, resolution looks terrific; pixel structure is not evident.
That said, I did note a slight shadow that creeps vertically up the edges of the screen left and right. It looks much like the notorious effect seen on Sony's KDL-55HX923, and appears to be a consequence of the manufacturing process. Regular viewing is unaffected, but once you've spotted the shadowy strip you do start to look out for it.
The set's 3D performance is extremely good. There is some crosstalk if you insist on looking for it, but it's largely minimal. More impressive is the general brightness of the stereoscopic pictures and their unrestricted resolution. Disney's Tangled proves an absolute 3D joy, even when those Chinese lanterns are deployed in force. Four pairs of lightweight shuttering glasses are included in the box.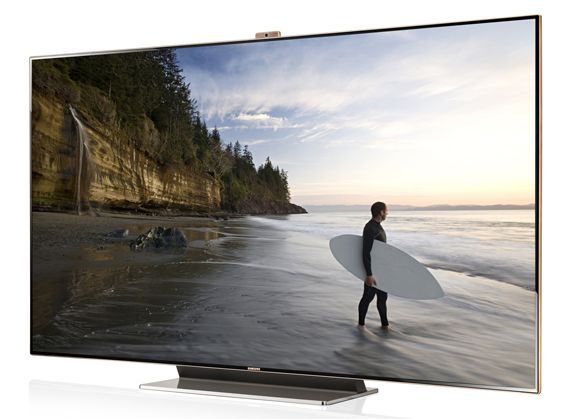 The audio quality of the TV is crowd-pleasing. While it doesn't go terrifically loud (it's rated at 2 x 15W), the downward firing speakers make a convincingly fulsome noise. Unlike rival screens which utilise rear-firing woofers, there's no sense that the audio is emanating from behind the panel. For general viewing the result is really quite acceptable.
Conclusion
It's difficult not to fall just a little bit in love with the UE75ES9000. The sheer excitement created by its over-sized images is certain to win over any home cinema fan, and the overall build quality is high. While I have some reservations about certain aspects of the picture and general usability, they certainly don't dampen my enthusiasm for this Brobdingnagian bigscreen.
---
HCC VERDICT
Samsung UE75ES9000
Price: £8,000 Approx
Highs: High-impact HD TV pictures; entertainment-packed Smart Portal; effective stereo sound; bright, immersive 3D
Lows: Smart Interaction modes not completely compelling; off-axis viewing limitations; vertical shadow line down the extreme left/right edges of the picture
Performance: 4/5
Design: 4.5/5
Features: 4.5/5
Overall: 4/5
---
Specifications
3D: yes Active Shutter (four pairs of AS glasses provided)
Full HD: yes 1,920 x 1,080
Connections: HDMI x 3, Scart via adaptor; component; audio minijack input; phono stereo, optical digital output; 3 x USB; Ethernet
Brightness (claimed): N/A
Contrast ratio (claimed): N/A
Dimensions (off stand): 1678(w) x 976.5(h) x 36.2(d)mm
Weight (off stand): 44kg
Features: Integrated Wi-Fi with Wi-Fi Direct; USB multimedia playback; Dual-core picture processor; Smart Evolution GPU upgrade slot; integrated camera; Smart Interaction functionality; Smart Touch Bluetooth secondary remote, with IR blaster; USB timeshifting; Face recognition; Smart Hub portal featuring BBC iPlayer, YouTube, LOVEFiLM, Spotify, Angry Birds, Curzon on Demand and more

SPONSORED VIDEO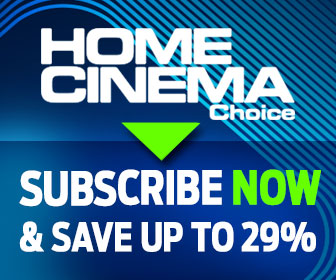 Home Cinema Choice #332

is on sale now, featuring: Samsung's 8K flagship; Anthem AVM 90 processor; B&W 800 Series Diamond; LG smart projector; Hollywood box office bombs; Hitchcock 4K; and more
Want to see your home cinema system featured in the pages of HCC? Click
here
for more info.