Samsung UE65HU8500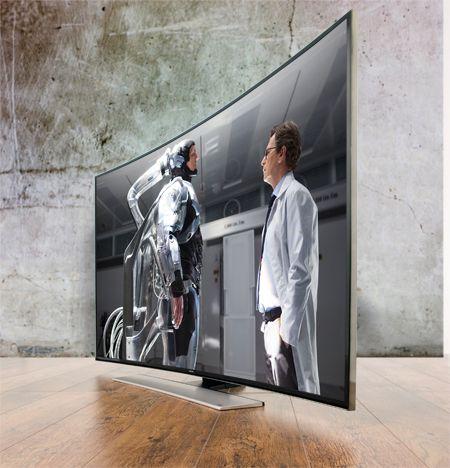 'Ooh, I really want a curved TV!' said nobody ever. But today I find myself testing one anyway, thanks to Samsung's conviction that the future of TV isn't flat. In fact, so sure is the Korean screen king that bent is best that it currently only offers its top-tier TV technology in a curved flagship model: the 65in UE65HU8500. Is this a case of knowing what's good for us before we do, or just trying to be different for the sake of it?
The curve isn't the UE65HU8500's only 'headline' attraction, of course. It's also got a native 4K/UHD resolution of 3,840 x 2,160 pixels. Now this really is something people – including us – are clamouring for, despite the fact that more than a year after the launch of the first 4K TVs, native 4K sources are still in painfully short supply.
And whatever impact the curved screen ends up having, there's no denying that it makes for a striking-looking TV. It's got 'how do they do that' geek appeal too, since you can't help but wonder how Samsung has got the light from its edge-mounted LED array to seemingly travel around a corner to illuminate the whole screen.
People thinking of wall-hanging the UE65HU8500 should be wary, though. While Samsung has developed a handily straightforward mounting kit for, the TV's edges do inevitably curl away from the wall in a slightly awkward way.
Getting connected
As with its first 4K TVs, last year's F9000 series, Samsung ships the UE65HU8500 with an external connections box, here equipped with 4K-friendly HDMI 2.0 ports.
Actually, the connection box is much more than just that – it also contains the new Quad Core Plus processing engine that drives Samsung's flagship beast. So as well as only having to suffer a single video cable going into your TV, Samsung's external brain box means you should be able to simply swap it for a future replacement box (whenever they become available), letting your TV take advantage of new features and connections. This sort of upgradability feels incredibly comforting, and as proof that it really works owners of last year's F9000 UHD Samsung TVs can buy the new external box and benefit from almost all of this new TV's features.
The shift to a 1.8GHz 'Plus' Quad Core system versus last year's 1.2GHz iteration should both boost picture processing speeds and ensure Samsung's ever-more complex Smart TV service works slickly. The extra picture processing power could benefit Samsung's UHD upscaling engine (a tasty prospect given how well this engine worked last year), and is also used, we're told, to drive a new depth-enhancement processing system developed to optimise images for curved screen playback.
Samsung's onscreen menus and Smart TV features don't at first glance look substantially different to those found on its 2013 models. Picture setup options still include a huge range of calibration tools, while the Smart TV menus are still based around five separate content hubs.
There are some key changes to the Smart TV system if you seek them out, though. One is that last year's 'Social' hub has been replaced – sensibly – by a game one, with the social media stuff now being included on the previously under-used DLNA/USB hub. Samsung has also developed a new tablet/smartphone control app that brings everything – including second-screen viewing – into one place rather than confusingly requiring you to use multiple apps.
Control has been improved, too. The latest built-in camera is sensitive enough to support finger-based rather than whole-hand gesture controls, and there's a new point-and-click style remote. This zapper also carries a small touchpad and normal navigation buttons in a bid to be all things to all men – even though this does leave the heart of the handset feeling rather congested.
Stellar performance
Squirting my UHD test footage compilation into the UE65HU8500, two things become immediately clear. First, its picture quality is absolutely stellar. And second, the curve isn't the horror show I'd feared it might be. In fact, maybe it actually does improve picture quality in some ways…
Starting out with the general picture qualities that make the UE65HU8500 so delicious to watch, its contrast is exceptional. After some basic work to rein in the excessive contrast and backlight settings Samsung always seems to favour with its presets, the dark cityscape that Colin Farrell looks out over from his balcony in Total Recall is presented with a gorgeous combination of inky black depths and bright vehicle lights, with a dynamic range that I wasn't expecting from an edge LED lighting array. There's practically no backlight clouding either, putting to bed a particular fear I'd had about curved screen edge LED technology.
My After Earth and Total Recall 4K film clips – plus some stunning footage of the Rio carnival – also show a mesmerising touch from the UE65HU8500 with those most important UHD qualities, detail and sharpness. This screen presents every minute detail in the image with utmost precision, and without its impact being reduced by any sort of noise whatsoever. Even better, the sense of extra resolution is hugely boosted versus last year's F9000 sets by more advanced colour handling. A new tech, dubbed PurColour, has been introduced to the HU8500 series that shortens the colour processing 'path' and works with 192 colour adjustment points compared to just 27 last year. And it works brilliantly well, delivering levels of colour subtlety perfectly suited to 4K's extra resolution – much like the results witnessed last year from Sony's bespoke Triluminos technology.
In fact, I'd suggest the impact Samsung's improved colour handling has on the image is a handy reminder – with numerous ultra-cheap 4K sets looming on the horizon – that you need more than mere pixels to deliver the maximum 4K effect…
Poetry in motion
The UE65HU8500 shows significant steps forward for Samsung with its motion handling. I found that the extra processing power means you can now leave Samsung's motion handling processing active – at least on its least powerful setting – to enjoy crisper motion resolution without the picture exhibiting many unwanted side effects.
Picture depth is delightful. The panel's ability to resolve smaller details lets it keep images looking sharp much further into the virtual distance. And on the Samsung this great advantage of 4K is given extra impact by the curved screen.
Yes, you read that right. I really did suggest that the screen's gentle curve has a beneficial impact on picture quality. Deal with it.
Now that I'm discussing the curve, there's another plus to report: it can help you feel more immersed in what you're watching, as the extremities of the image curl gently into your peripheral vision. And there's still more, for I also found that contrast and colour suffered much less 'drop off' when viewing the screen off-axis than happens with Samsung's flat TVs. This is not to suggest that the curve is an unmitigated success, though. There are two issues with it. First, the curve causes stretched and/or doubled reflections of any bright objects opposite the screen. Second, if your viewing angle gets wider than 35-40 degrees off-axis, the image geometry starts to look uncomfortable and can become tiring as your brain tries to compensate.
Both of these issues are, of course, manageable – you just need to have your room set up properly. Granted, that may not apply to every consumer, but anyone spending £4,000 on a TV ought to want to get the best out of it.
So while I'm not yet convinced that some day all TVs will be concave, I've decided that curving the screen isn't the pointless, distracting waste of time I'd frankly anticipated it would be.
Dragging myself away reluctantly from native 4K content to upscaled HD – both the gorgeously detailed Captain Phillips Blu-ray and the infamously noisy final Harry Potter disc – the UE65HU8500 soon puts the smile back on my face courtesy of the best upscaling engine I've seen to date. The way it uses its beefed-up processing power to first remove noise and then add extra, accurate pixels of picture information to HD sources is genuinely remarkable.
You can still see the difference between native hi-res and upscaled HD content, of course. But Samsung's upscaling is an incredible effort and certainly makes the wait for more 4K content (which the brand itself should be introducing via its forthcoming HDD-based movie download platform) more bearable.
Active ambitions
If you're still keeping faith with 3D, the UE65HU8500 continues to thrill. Samsung's active approach means it upscales 3D Blu-rays to Ultra Hi-Def, a move that helps make the 3D world feel denser and thus more tangible and immersive. Again the curve doesn't do any harm in this regard either, enhancing, for instance, the sense of depth and spatial relativity with the intensely complex 3D sequences on show when the debris first hits the space shuttle in Gravity.
The 3D preset is rather overcooked, causing some backlight clouding, over-egged detailing and stressy looking edges. You'll need to tame the backlight and sharpness settings for both issues to become less distracting.
Sealing what's already a mouthwatering AV deal – surprisingly given Samsung's previous fallibility in this area – is an excellent audio performance. A duct system on the TV's rear gives the 60W speaker array enough space to deliver far more bass and a much more open mid-range than you will hear from many less-premium 'flat' TVs. The system can go seriously loud without distorting or causing cabinet rattle too, making it one of the most movie-friendly performances I've heard from a down-firing speaker system.
So Samsung has undoubtedly achieved greatness with its new range-topping TV. As well as delivering considerable improvements to its 4K picture quality and audio performance, it's knocked a full grand off the price of last year's equivalent models and has even managed to just about sell me on the curve design. Some will no doubt want a regular flatscreen – but those who do invest in the UE65HU8500 can rest assured that there's more to it than its styling.
Specification
3D: Yes. Active (with two pairs of glasses)
4K: Yes. 3,840 x 2,160 resolution
Tuner: Yes. Freesat HD and Freeview HD
Connections: 4 x HDMI 2.0; Ethernet; component video input; 2 x composite video inputs; 3 x USB
Sound: 60W
Brightness (claimed): N/A
Contrast ratio (claimed): N/A
Dimensions (off stand): 1,451(w) x 848(h) x 111(d)mm
Weight (off stand): 26.8kg
Features: Curved screen; extensive Smart features including Netflix, LoveFilm/Amazon Prime and the four key UK catchup TV services; built-in Wi-Fi; colour and gamma management; Depth Enhancement processing; 1,200Hz motion processing; multimedia playback via DLNA or USB

SPONSORED VIDEO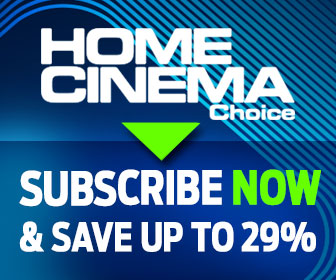 Home Cinema Choice #326

is on sale now, featuring: Sky Glass; Anthem AVM 70 processor; Sony XR-65X90J; BenQ gaming projector; Christmas gift guide; Hollywood franchises on Blu-ray; Fast 9 4K; and more
Want to see your home cinema system featured in the pages of HCC? Click
here
for more info.