Samsung UE55KS9000 review
Dazzling, dynamic 55in Ultra HD TV set takes HDR to the edge...
While high dynamic range (HDR) technology isn't completely new, 2016 is the year where the AV industry is getting really serious about it. Amazon and Netflix are unleashing HDR streams, and crucially for HCC readers
Ultra HD Blu-ray has finally launched
, offering a hopefully consistently brilliant way of enjoying the extra brightness range and colour richness that HDR brings to the table.
Where TV hardware is concerned, we're seeing a relative wealth of new sets designed to capitalise on HDR's charms. In fact, we even have a sort of blueprint for what a high-performance HDR TV should look like in the form of the Ultra HD Premium specification recommendations described recently by the AV industry's Ultra HD Alliance (UHDA).
Given that Samsung is a member of the UHDA, and pretty much kickstarted the whole HDR TV scene last year with its debut 'SUHD' models, it's no surprise to find the 55in UE55KS9000 gunning for HDR glory by ticking all the Ultra HD Premium spec boxes. I'll look at what this means in more detail later, but I'll say now that achieving Ultra HD Premium certification from an LED screen using edge rather than direct lighting seems a fairly considerable technical achievement.
All aboard the next-gen video train
The Samsung's HDR skills are joined by a native 4K resolution (3,840 x 2,160) and up-to-the-minute connectivity including a quartet of HDMIs built to the v2.0a standard. As with previous top-end tellies from the brand, an external connection box (the One Connect Mini) is used to manage inputs. Media file playback comes via USB and DLNA. The TV features dual Freeview HD and satellite tuners.
Ethernet/Wi-Fi options get you access to a prodigious library of online apps and streaming services. Samsung has revamped its sharp-looking Tizen-based smart interface for 2016, with the most significant development being the addition of a second tier of icons on its home screen. These can show links to content related to – or accessed via – the service/feature you've selected on the bottom tier, and the impact this has on streamlining access to content and making the whole system more intuitive can't be overstated. Content options include (or will, soon) all the key UK catchup TV services, as well as 4K versions of Netflix and Amazon Video. The Amazon Video app also supports HDR streams, though at the time of writing the Netflix app was still waiting for its HDR makeover.
The home for all the TV's envelope-pushing technology is suitably glamorous. Samsung has returned to an ultra-thin frame after its 2015 flirtation with relatively chunky chamfered designs, and the screen is mounted on a very striking 'boomerang' stand that fastens to the centre of the TV's rear via an acutely angled chrome arm. A sliver of chrome extends across the TV's rear from the stand's attachment point, contrasting with a smooth, rivet-free rear panel to give the UE55KS9000 a true 360-degree design. Assuming you care about such stuff.
Samsung's love-in with curved screens continues here, but with the addition of a new 'moth eye' filter that greatly reduces onscreen reflections. Handy, as this has long been the biggest issue for me with curved TVs.
The secondary smart remote that the TV ships with alongside its standard handset has been overhauled, too. It features just a handful of vital buttons and does away with the slightly fiddly point and click option found on last year's model. There's still a small but effective touchpad, surrounded by straightforward up/down/left/right navigation keys.
This new remote can take control of your source equipment thanks to a system that enables the TV to automatically identify the brand and type of pretty much any device you connect to it. Also handy.
Before finding out if the UE55KS9000 delivers on its HDR promise, I should return to its Ultra HD Premium certification. To earn this badge of HDR honour, the screen delivers at least 1,000 nits of peak brightness; uses a 10-bit panel; can reproduce around 96 per cent of the DCI-P3 colour spectrum used in many commercial cinemas; can deliver a black level response of 0.05 nits; and can support the SMPTE ST2084 HDR Electro Optical Transfer Function (EOTF).
What it doesn't do, however, is support the Dolby Vision HDR system. And – cue wails of anguish from a small slice of AV-hedz – it doesn't support 3D either.
To achieve that 96 per cent of the DCI-P3 colour spectrum Samsung has moved back to a proprietary version of quantum dot technology after experimenting in 2015 with a 'nano crystal' variant. In layman's terms. Quantum dot displays work on the principle that different-sized tiny particles can produce different colours, and while quantum dot screens are traditionally more expensive to produce than those which use other systems, they also consistently deliver the widest colour ranges.
Handsome HDR
The R&D cash that Samsung has invested into making an edge LED TV meet the Ultra HD Premium recommendations pays off handsomely, up to a point. Most obviously, the luminance range the screen can deliver really is immense. With the Exodus: Gods and Kings Ultra HD Blu-ray – which contains arguably the most consistently extreme luminance range of any UHD BD so far – there are searing, ultra-profound brightness peaks sharing curvy screen space with intense black colours. There's contrast here to lose yourself in.
It's not just in the outliers of its luminance range that the UE55KS9000 excels, though. Samsung has also done a superb job (considering we're still in HDR's early days) of 'filling in' the luminance spaces between image extremes. Exodus...'s vistas, such as shots of the priestess surveying the red Nile outside the Pharaoh's palace, mix subtlety and detail with eye-catching vibrancy. It makes for a cracking advertisement of the quality leap over SDR Blu-ray.
Managing to hit peaks of 1,000 nits lets the Samsung avoid issues that I've witnessed with less bright HDR screens, including clipping (lost detail) in very bright areas, and crushing of the tiniest shadow details in very dark areas. And the KS9000 retains light detailing and greyscale information when a relatively dark subject appears against a very bright backdrop, such as when Moses is assaulted by two assassins in the desert in the Ridley Scott epic.
And what of colour performance? Well, the quantum dot system implemented here improves upon last year's Samsung SUHD models when it comes to delivering the wider colour gamuts associated with HDR content. The hues of the royal court's outfits in the Exodus Ultra HD Blu-ray are spectacular, the red of the blood-filled Nile looks dazzling, the blues of Egyptian skies appear deep and rich… in fact, there's scarcely a frame of the movie that doesn't showcase the UE55KS9000's nuanced HDR colour potential.
So this TV proves masterful at handling the light and colour components of HDR sources, and this knocks on, too, into the sharpness of its pictures. We're told that HDR is all about 'making better pixels', and that's the case here. The sharp impact of the screen's native 4K resolution is in full effect, drawing on HDR benefits to paint pictures of often incredible clarity and texture.
Charge of the light brigade
While the set's HDR pictures often look incredible, there is a catch. During shots containing an extreme mixture of darkness and light – the whole of the sequence in Chapter 7 of Exodus where Moses meets with Nun in a torch-lit hut is a good example – I couldn't help but notice vertical bars of light running down the picture around the brightest highlights.
The problem is particularly apparent if you're watching a film that appears with black bars above and below the image, and if you're watching in a darkened room – a situation many of us often find ourselves in.
You can reduce the intensity of this light banding by reducing the UE55KS9000's backlight settings from the defaults the TV selects when it first detects an HDR source. Yet doing so reduces the HDR impact and, crucially, stops the set from matching the 1,000-nit peak luminance level used during the mastering of many Ultra HD discs.
The issue can be made to disappear pretty much completely when you switch to standard dynamic range (SDR) images. This is because you can – and should – reduce the backlight to as low as 30-40 per cent of its maximum value for SDR, at which point you're left with even, stable black levels that are as good as any I've seen from an edge LED TV.
In other areas, the UE55KS9000 looks routinely excellent with SDR images. Colours enjoy fluid blends, and that pixel-packed detail remains regardless of whether you're watching a native UHD source or (thanks to Samsung's efficient upscaling engine) an HD one. Strangely, I felt more aware with SDR of how well the screen handles motion, making sure that hardly any image clarity is lost during fast-moving sequences. The set ships with stripped down motion-smoothing options, though, offering just an on-or-off Auto mode in addition to user-definable judder and blur menus.
SDR images do seem rather flat after you've viewed HDR, but that's not this screen's fault. And, as your viewing diet will continue to feature a mixture of both formats, it's something you'll have to live with. The SDR performance here is rock-solid for an edge LED screen.
The UE55KS9000 rounds out its mostly impressive performance with a gaming-friendly input lag measurement of just 25ms, and a powerful, well-rounded audio performance that makes the addition of an external sound system much less necessary than I'd expected.
Serious contender
In the end the UE55KS9000 does a good enough job of showing off 4K HDR's potential to deserve serious consideration, especially with its reasonable £2,100 price taken into account. Gentle overhauls to design and usability are also very successful. But the backlight flaws revealed by HDR content – particularly 'Scope ratio material that's framed by black bars – mean it's not always an unqualified success. And from a technological viewpoint, it raise questions as to whether edge LED TVs will ever handle HDR as effectively as OLED screens or those with direct backlights. A fine TV, but not quite perfect.
Specification
3D: No 4K: Yes. 3,840 x 2,160 HDR: Yes. UHD Premium Tuner: 2 x Freeview HD; 2 x satellite Connections: 4 x HDMI inputs; 3 x USB; RS-232 port; optical digital audio output; built-in Wi-Fi; Ethernet Sound: 60W (4.1-channel) Brightness (claimed): 1,000 Nits peak Contrast ratio (claimed): N/A Dimensions (off stand): 1,226(w) x 713.2(h) x 52(d)mm Weight (off stand): 17.9kg
Features: USB multimedia playback; DLNA multimedia playback; automatic learning universal remote; Tizen-based smart interface; HDCP 2.2 on all HDMI inputs; Quantum Dot colour; Precision Black local dimming; Bluetooth headset support; screen mirroring; Game mode; colour management

SPONSORED VIDEO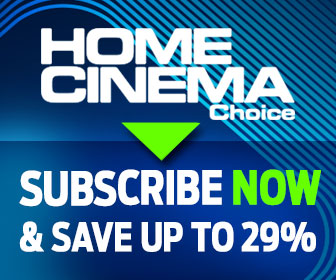 Home Cinema Choice #326

is on sale now, featuring: Sky Glass; Anthem AVM 70 processor; Sony XR-65X90J; BenQ gaming projector; Christmas gift guide; Hollywood franchises on Blu-ray; Fast 9 4K; and more
Want to see your home cinema system featured in the pages of HCC? Click
here
for more info.