Samsung UE55F9000 review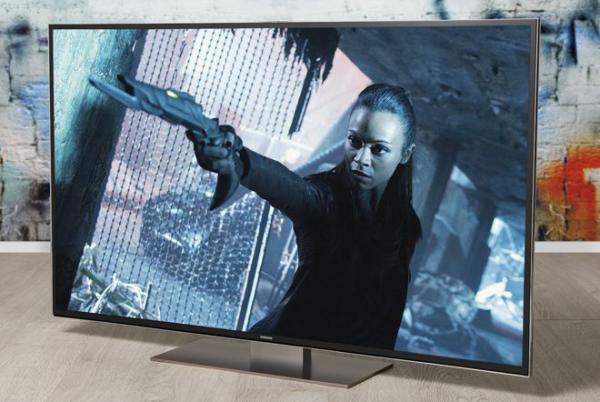 Superb 55in LED TV makes Ultra HD tech more manageably sized and affordable than ever
Samsung may have been beaten to the 4K/UHD drop by Sony, but it's not about to let its Japanese rival hoover up all the early-adopter UHD action. Not long after Sony's 65X9005A lit up our test benches, Samsung's debut 'mass market' UHD set, the UE55F9000, is here. And while it is in many ways quite different to Sony's groundbreaker,
it still makes a potent case for the benefits of embracing UHD for your next TV.
UHD/4K TVs, should you not know what I'm talking about, are a new breed of sets that provide four times as many pixels as normal Full HD TVs – 3,840 across by 2,160 down. And as Sony's 65X9005A proved, the impact all those extra pixels can have on picture quality is extraordinary.
Some argue, though, that this impact requires very large screens to make itself felt. It's going to be up to the relatively diminutive 55in UE55F9000 to debunk this common conception.
Samsung's set will also need to prove itself a tantalising alternative to Sony's rival screen – a job it sets about immediately with a markedly lower £3,300 price tag and a much slimmer, less controversial design than Sony's startlingly large, jet-black head-turner.
The smaller bezel denies the UE55F9000 room to stick a speaker array of anything like the size of the magnetic fluid system fitted into Sony's set. But the Samsung's svelteness certainly makes it easier to accommodate in a standard living room.
Connectivity on the UE55F9000 features four HDMIs, built-in Wi-Fi and USB sockets as the chief highlights. The majority of its inputs aren't built into the main TV body, however. Instead, most are on a slinky little external connections box that connects to the TV via a single cable. This is, of course, a neat approach for people thinking of wall-hanging the TV, but it also potentially permits Samsung to upgrade the set's connectivity with future external switch boxes and chipsets – similar to the way you can upgrade the brand's F7000 and F8000 TVs with 'Evolution Kits'.
The UHD native resolution is far from the only eye-catching feature on the UE55F9000. Particularly interesting is its 3D engine, since this is the first Active 3D UHD TV we've seen and will thus deliver a Full UHD-resolution 3D picture to each eye. The UE55F9000 also sports Samsung's powerful Smart TV system, with its attractive if occasionally slightly confusing multi-hub interface, plus masses of apps and video streaming services.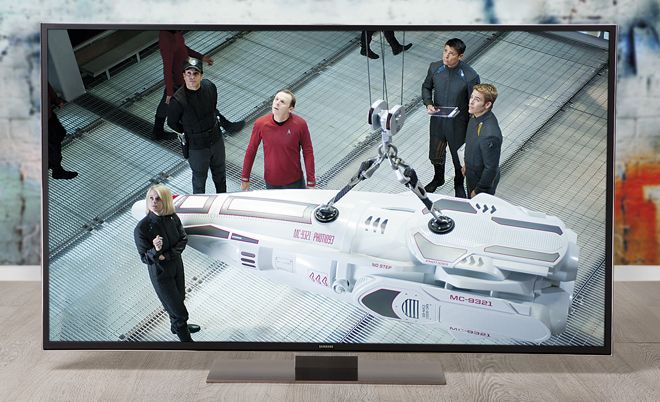 Deeply impressive
Playing back Samsung and Sony UHD-content showreels, it's immediately obvious that UHD technology still has a significant impact at 55in – even without sitting closer to the screen than you normally would.
Views across New York on the Samsung showreel enjoy a sense of depth you just don't get on normal HD TVs, as the extra resolution avoids the flattening loss of detail and focus apparent with long-distance shots. Those extra pixels improve colour blends, too, making objects appear more solid. And with jagged edges a thing of the past, the resulting image looks so much closer to the way you experience 'retina resolution' in the real world.
With native 4K content still hard to find, owners of the UE55F9000 will initially be largely restricted to watching HD material upscaled to the screen's higher pixel count. Adding so many extra 'made up' pixels is obviously a major processing challenge, but this TV rises to it well, adding obvious extra detail and sharpness without generating any serious unwanted side effects. Even during sequences with lots of motion, such as ...Return of the King's final climactic battle, the picture still looks super-detailed and free of motion blur.
Compared to the upscaled images of its Sony rival, Samsung's look crisper. However, Sony's Triluminos technology does provide more nuanced colours.
The UE55F9000's picture quality isn't solely down to resolution. It also enjoys a natural colour palette, while its black level performance – delivered by a local dimming edge LED lighting array – is excellent, offering similar black level depth and slightly more black uniformity than Sony's X9005A.
You should avoid the Dynamic and Natural picture presets where possible, as both these modes push sharpness too hard; edges become stressed and noise levels extreme.
Last on my test list is 3D, and in some ways it's the most impressive part of the UE55F9000's whole performance. Samsung's persistence with active, full-resolution technology for 3D means my The Hobbit: An Unexpected Journey 3D and Tangled 3D Blu-rays are upscaled to UHD 3D – and the effect is spectacular. The images ooze pixel depth and detail. Largescale sequences like the dwarves' escape from the underground goblin kingdom in The Hobbit... prove astonishingly immersive.
It's not perfect, though. There's a small amount of crosstalk noise, and the huge strain put on Samsung's processing by upscaling 3D can lead to increased motion judder. Nor can you watch 3D in bright light either, because of the flickering of the active shutter glasses. These three issues might tip some people toward the Sony 65X9005A's less high-resolution but more relaxing Passive 3D approach. For me, though, the impact of UHD 3D is irresistible.
The Samsung's built-in speakers serve up only a fair-to-middling performance, scoring okay on treble detail and mid-range openness, but lacking attack and power during explosive moments; there's no comparison to the thunderous efforts of Sony's 65X9005A. This shouldn't be a deal breaker, though – a high-end display like this deserves to be married to a dedicated speaker setup.
Edging ahead
Samsung's UE55F9000 delivers a spectacular UHD picture performance that shouts 'next-generation' with every last miniscule pixel of its being. I rate it slightly more impressive than Sony's equivalent – and it's a few hundred quid cheaper, too.
---
HCC VERDICT
Samsung UE55F9000
Price: £3,300 Approx
www.samsung.co.uk
Highs: Spectacular UHD picture quality; upscaled 2D and 3D looks awesome; slim-line design and aggressive price
Lows: Dynamic and Natural presets look noisy; some aspects of the Smart TV interface are confusing; minor judder with 3D
Performance: 5/5
Design: 4.5/5
Features: 5/5
Overall: 5/5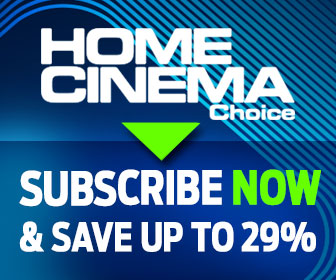 Home Cinema Choice #323

is on sale now, featuring: Panasonic JZ2000 4K OLED TV; LG SP11RA Dolby Atmos soundbar; Philips 806 OLED TV; Neill Blomkamp interview; hi-fi meets home cinema install; and more
Want to see your home cinema system featured in the pages of HCC? Click
here
for more info.