Samsung UE46F7000 LED TV review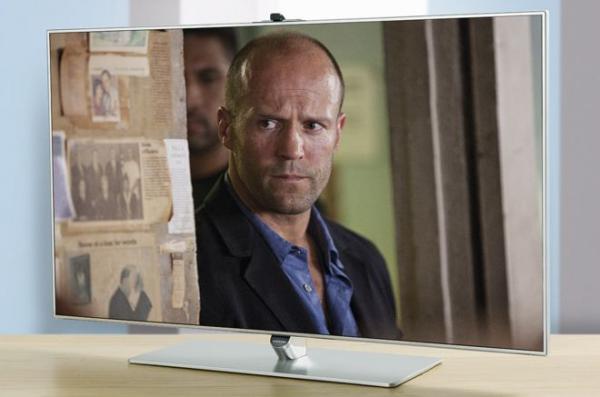 Tech brand's 'step-down' F7000 series LED TV isn't that much of a step down after all
Samsung's UE46F8000 is a frighteningly hard act to follow. Recalling that set's combination of an astonishingly sophisticated Smart TV engine and ground-breaking LED picture quality still puts a big stupid geeky grin on our faces.
So it is that I find myself feeling a weird mixture of anticipation and nervousness when presented with Samsung's step-down model, the UE46F7000. Will it retain enough of the UE46F8000's prowess to still rock our world, or will it just feel like a let-down against its illustrious sibling?
It certainly doesn't look like any kind of poor relation. In fact, many people might prefer the silvery finish applied to its absurdly slender bezel to the darker hues of the UE46F8000, and the less in-yer-face desktop stand (the F8000 arrives with a pedestal large enough to sleep on). Connectivity on the UE46F7000 is strong, too. The combination of four HDMIs, three USB ports and both LAN and built-in Wi-Fi options should satisfy even the most demanding AV user. And then there's the unusual slot labelled 'Evolution Kit'. This is where you can attach, next year, one of the annual chipset upgrade 'evolution' cards Samsung is developing, so you can essentially turn your 2013 Samsung TV into a 2014 one for just £250 or so.
Firing the UE46F7000 up immediately introduces Samsung's new multi-hub Smart TV interface, with its canny division of content into five separate categories, first-class graphical presentation, and unprecedentedly clever (for a TV) learning capabilities, whereby the set monitors your viewing habits and recommends content to you based on your 'history'.
The set also sports the gesture and voice control options Samsung is so fond of. I've tended to be rather less keen on these approaches, on account of their fiddliness, proneness to mistakes and my general resistance to relating to a TV in such 'personal' ways. However, recent firmware updates have undeniably made them much more worthwhile, with gesture control now a viable option if you can't find your remote, and the voice control system now offering genuine shortcuts to content – once you've invested time into learning its preferred forms of banter.
You might be wondering at this point why anyone would consider spending £300 more to secure the UE46F8000 over the UE46F7000. But if you look hard enough, there are a few areas where the UE46F7000's features fall short. The most important of these finds the UE46F7000 analysing less zones of incoming images when calculating the optimal settings for its picture parameters, likely resulting in slightly less finely judged results.
Also potentially major if you're not adding the UE46F7000 to a separate audio system is its use of a much less powerful speaker setup. Essentially you don't get the flagship set's woofers, presumably leading to a hefty reduction in bass.
A big slice of Pi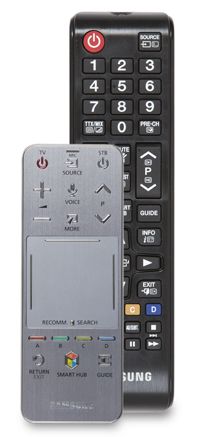 My testing Blu-ray du jour is The Life of Pi (2D and 3D). And I'm pleased to report that the UE46F7000 left me drooling in admiration throughout both versions of Ang Lee's visual feast.
The night-time shots on the mysterious 'carnivorous' island, for instance, reveal both an excellent black level response and an almost complete dearth of the sort of backlight inconsistencies that have been the single significant flaw of Samsung's previous LED TV generations.
This is especially true if you employ the new Cinema Black feature, which can deactivate the LEDs that correspond to the sections of picture occupied by the black bars you get above and below the image when watching CinemaScope/2.35:1-ratio films.
Despite the intensity and consistency of the UE46F7000's black levels, pictures containing a mix of bright and dark content – such as the underwater shots during Life of Pi's boat-sinking sequence – still look punchy and contrasty, while bright scenes like Pi's daytime tussles with the tiger invariably appear superbly intense and rich.
Intense experience
The picture presets on Samsung TVs tend to be rather obsessed with 'impact' in their out-of-the-box state. This means that as well as the intense contrast and colours, sharpness levels are extremely high. So much so that Life of Pi's often very simple backdrops can sometimes look a bit fizzy. Don't worry, though. For, as usual with recent Samsung TVs, the UE46F7000 carries more than enough picture calibration aids to ensure you can rein such issues in, with simple downward tweaks of the provided sharpness, backlight and contrast controls offering a good quick fix.
For more confident users, the set also has enough tools at its disposal to support a full and impressively accurate REC 709 calibration if you like.
Motion is handled well by the UE46F7000. Even if you don't want to employ the provided motion processing systems, only aggressive pans cause a noticeable lessening in resolution. Switching over to the 3D version of Life of Pi reveals it to be a superlative performer in the third dimension, too. Its 3D combination of sharpness, clarity, detail, colour vibrancy and contrast is for me unmatched by any other TV brand to date – especially as Samsung has finally cracked its old Active 3D nemesis of crosstalk noise, so that even shots from Pi's raft, showing objects in the extreme distance, tend to remain untroubled by crosstalk's ghosting issues.
Spectacular though they are in 2D and 3D mode, the UE46F7000's images don't hit quite the same heights as those of the step-up UE46F8000. The contrast range is narrower, and colours are slightly less rich and nuanced. Sonically, meanwhile, it falls short of its posher kin by some margin, sounding thinner and proving more prone to compression and even distortion when driven hard. Still, while these issues make saving up for the UE46F8000 worthwhile if you can, they don't stop the UE46F7000 from being another scarily strong contender when pitched against its similarly-priced peers.
---
HCC VERDICT
Samsung UE46F7000
Price: £1,600 Approx
www.samsung.co.uk
Highs: Exceptional 2D and 3D picture quality; gorgeous, space-saving design; remarkably clever smart system
Lows: Pictures not as punchy as those of the F8000 range; sound is only average; Smart interface can confuse at times
Performance: 4.5/5
Design: 5/5
Features: 5/5
Overall: 4.5/5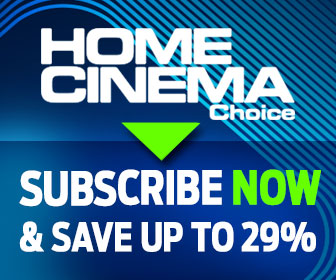 Home Cinema Choice #323

is on sale now, featuring: Panasonic JZ2000 4K OLED TV; LG SP11RA Dolby Atmos soundbar; Philips 806 OLED TV; Neill Blomkamp interview; hi-fi meets home cinema install; and more
Want to see your home cinema system featured in the pages of HCC? Click
here
for more info.