Samsung UE40EH5300 review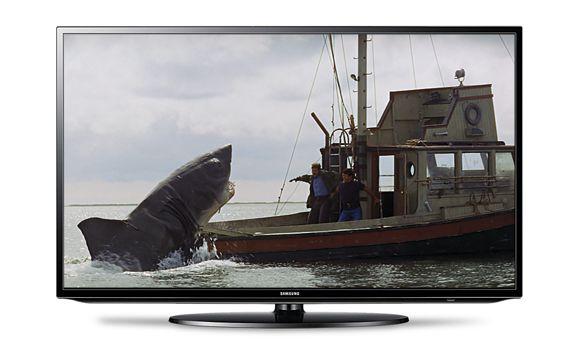 Not fussed about funny spex? This 2D screen from Samsung might be just right for you
Despite the evangelical barking of the movie industry, 3D hasn't exactly taken off in the home. The technology has improved, but this year has seen high-profile 
3D channels being either shuttered (CanalPlus) or scaled back (DirecTV), with stereoscopy polling low as a reason to buy a new set.
The good news is that if you're prepared to forgo the funny glasses, there are some great 2DTV bargains to be had. This 40in, 'net-enabled Samsung being a case in point.
The UE40EH5300 may lack the waif-like dimensions of high-end LED screens, but at 94.3mm it isn't overly deep. The design is regulation gloss black, with a fashionably thin bezel, and connectivity is fine, including three HDMIs and twin USBs.
A smarter portal
The big attraction is Samsung's burgeoning Smart TV portal. Here you'll find an improbable number of downloadable apps (of which about seven hold interest), and a wide selection of catch-up and VOD, including BBC iPlayer, LOVEFiLM, Netflix and YouTube. Indeed, the only noticeable absentee is ITVPlayer.
Browsing this lot is made easy by a bright and breezy user interface, which blends online access with local features, such as the set's AllShare DLNA functionality. This transpires to be first class, making this TV a fine choice for those with files a-plenty. There's also an integrated web browser, but navigating it via the supplied remote control is awkward at best. On the plus side, you get a PiP TV window to entertain you while you struggle.
One consequence of this panel's discounted price tag is that it doesn't have access to the sophisticated MotionPlus processing found further up the Samsung chain. The set's motion resolution is capped at around 800 lines as a result. There's an LED MotionPlus mode, designed to reduce blur, but it doesn't fundamentally improve motion clarity and penalises viewing with 
a drop in brightness. It's best left off.
So while maybe not ideal for sport, the UE406EH5300 works well as a home theatre display. The lack of tricksy picture processing means there's no slippery, video sheen to its images. Ryan Reynold's Green Lantern doesn't look like he's making an ill-advised cameo on EastEnders.
Image quality attributes include slap-in-the-face dynamics and colour vibrancy. Bright peak whites give the screen a punchy, high-contrast look. Reds tend to be a tad orangey, but the screen does a good job depicting difficult golds and rich wood hues. Blacks are sufficiently deep, and smoothness is a real asset. For best results, ease the backlight down from its default, and avoid setting Sharpness above 10 on the provided scale. And to ensure you're getting the entire picture from HD sources, be sure to select the Screenfit aspect ratio option.
Backlight uniformity is good for 
an edge-lit LED screen, but off-axis viewing isn't recommended. Colour and contrast take a dive when viewed from the side. The audio performance is a cut-above the norm, presumably because of the slightly deeper cabinet.
So, not cutting-edge, but still terrific bang for your buck – an agreeable blend of cinematic images and tasty extra features.
---
HCC VERDICT
Samsung UE40EH5300
Price: £600 approx
www.samsung.co.uk
Highs: High-impact picture quality; well-populated online Smart TV portal; excellent file support
Lows: No high-speed MotionPlus picture processing; deeper cabinet than best-in-breed LEDs
Performance: 4/5
Design: 3/5
Features: 3/5
Overall: 3/5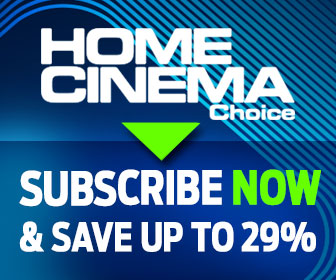 Home Cinema Choice #323

is on sale now, featuring: Panasonic JZ2000 4K OLED TV; LG SP11RA Dolby Atmos soundbar; Philips 806 OLED TV; Neill Blomkamp interview; hi-fi meets home cinema install; and more
Want to see your home cinema system featured in the pages of HCC? Click
here
for more info.