Samsung QE65Q80R 4K HDR QLED TV review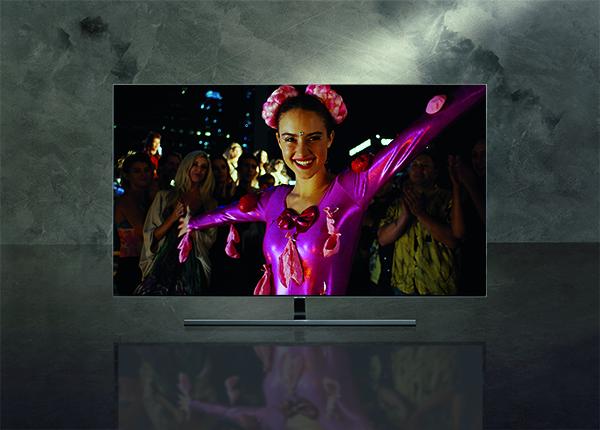 Samsung has left nothing to chance for its 2019 QLED range. It's placed models at every strategic price point, to ensure buyers consider at least one of its offerings, no matter what their budget. This probably makes perfect sense as a marketing plan – but it's muddling if you're a punter trying to shortlist the sets in front of you.
The Q80R screen reviewed here (the 65in QE65Q80R) sits one 
rung down from the Q85R [reviewed here], which differs slightly from 
the lookalike flagship Q90R [reviewed here], but is several steps up from 
the Q70R. All share much the same tech, including a 
4K iteration of Samsung's AI Quantum image processor, and all (bar the entry-level Q60R) boast a full LED 
array backlight. But it doesn't have as many backlit dimming zones as the models ranged above it. Confused? You should be.
The TV's provision of FALD (Full Array Local Dimming) backlight technology is a key attraction, because even 
in this stripped-back implementation it should (and does) offer more precise HDR control and better contrast than edge-lit models. Of course, one upshot is that the TV 
is physically bigger than edge LED rivals, with a panel 
depth of 62mm. It's Endgame Thor compared to OLED's Ragnarok Thor.
Build quality is a little less refined than its upmarket stablemates, but the Q80R still looks nice. The T-stand 
is easy to accommodate on regular furniture if you don't intend to wall-mount.
Connectivity comprises four HDMI v2.0 inputs (which support ALLM and VRR game features); two USB ports; Ethernet to support integrated Wi-Fi; a digital optical 
audio out; and dual satellite and terrestrial tuner inputs. The TV is supplied with two remote controls: the usual IR pointer, and a small, largely button-free, Bluetooth remote... which in all likelihood no one will ever use.
When it comes to smart connectivity, the 65Q80R is 
well served. The latest iteration of Samsung's Tizen OS comes with a Bixby Intelligent Assistant, which supports voice search through Samsung's Universal Guide, its curated content portal. It also works with Amazon Alexa and Google Assistant, and the set is compatible with Apple AirPlay 2. Tizen's two-tier layout proves intuitive to use and doesn't hog the screen. A customisable bar contains all the usual streaming apps, while the other shills movies from RakutenTV.
One ongoing irritation is that Samsung doesn't support Freeview Play (making it the only big TV brand not to offer the hybrid terrestrial/IP-delivered service), but it does have all the main catch-up TV channels, along with Netflix, Amazon Prime Video and YouTube.
In addition there's the iTunes Movies and TV Shows app, which allows viewers to access their iTunes library and stream from Apple's TV channel bouquet (which at the time of writing only offered the Smithsonian Channel and Starz Play).
Samsung QE65Q80R performance
Picture-wise, the 65Q80R is a real head-turner. Regular HD SDR material benefits from a high APL (Average Picture level) with candy colours and excellent upscaling. The set's ability to scale 1080p without adverse consequence can be seen to great effect on Snowpiercer (Netflix HD), which benefits from the improved pixel density and Quantum upscaler. It smooths out jaggies, while still delineating texture and detail in the often densely packed, dark scenes aboard the rattling ark.
Of the provided image modes, Standard and Natural are an alternative to Movie, and a better bet for daytime/TV viewing, with Natural distinguished by a more contrasty approach that sacrifices some low-level black detail. Helpfully, there's an Intelligent Mode, with adaptive brightness and sound, which can be left to manage 
screen settings quite efficiently.
Colour vibrancy and saturation is high, a Samsung trait which I rather like, delivering gorgeous noise-free primaries. The almost Technicolor presentation of Russian Doll (Netflix 4K HDR) gives the 65Q80R's metal-doped QLED technology something to work with. The show's deep reds, lush greens and neon hues would be a challenge for lesser screens, but this TV makes them a real showcase.
That FALD backlight also ekes out a black level performance that might surprise die-hard OLED enthusiasts. When watching a widescreen movie, letterbox bars are reliably solid and dark, helped in part by the TV's skilful Moth Eye anti-glare filter. Yet backlight blooming and haloing is more noticeable than on the step-up models, a consequence of fewer backlight dimming 
zones in play.
HDR support covers HLG, regular HDR10 and HDR10+, the dynamic metadata standard Samsung helped create and now used by Amazon Prime Video, and – to a lesser extent – 4K Blu-ray. Helpfully, this screen will even tell you when it's receiving HDR10+ content from Amazon (many rival sets don't).
Yet there's no compatibility with Dolby Vision, and with Dolby Vision now effectively the de facto standard for dynamic HDR, this politicking isn't in the interests of 
home theatre fans.
In Samsung parlance, the 65Q80R's HDR performance 
is rated HDR 1500. I measured its peak brightness performance at 1,200 nits, using a 10 per cent HDR window. This is more than enough to deliver shiny, specular details with minimal tone mapping on most HDR content. Off-axis viewing is similarly good, thanks to the brand's contrast- and colour-retaining Ultra Viewing Angle technology.
The 65Q80R does a workmanlike job with its downward-firing speakers, but you'll still want to add an exterior sound system, be it a soundbar or AV receiver, and the lack of support and passthrough for Dolby Atmos is another demerit. Samsung convincingly flexes its silicon muscle when 
it comes to image interpolation, though. For sports and studio-based TV content, the Auto setting looks fine, 
but you may want to finesse this for movies, manually configuring blur and judder reduction.
To help judge the appropriate Auto Motion Plus settings, I skipped to around five minutes into The Dark Tower 
(Ultra HD Blu-ray) and focused on the head motion of 
boy protagonist Jake. Without Auto Motion Plus active, there's overt judder. However, manipulation can smooth this without creating distracting interpolation effects, although what works for 24fps movies often doesn't for 50Hz TV. And ignore Samsung's black frame insertion LED Clear Motion mode, as this makes the image far too dark to be enjoyable.
Samsung QE65Q80R verdict
The 65Q80R is unquestionably an impressive example of just how far Samsung has pushed QLED technology. The use of a direct LED backlight pays dividends when it comes to HDR management, and black level performance is impressive for a backlit screen.
But there's no sidestepping the fact that the absence 
of Dolby Vision (and to a lesser extent Dolby Atmos passthrough from OTT apps) rather undermines its premium status. But if that's not a disincentive, treat yourself to an audition.
HCC Verdict
Samsung QE65Q80R
Price: £2,000 
www.samsung.com/uk
We say: Excellent colour fidelity and bright, effective HDR make this screen a winner. But the lack of Dolby Vision and Dolby Atmos audio are difficult pills to swallow.
Performance: 4.5/5
Design: 4/5
Features: 4/5
Overall: 4/5

Specification
3D: No
4K: Yes. 3,840 x 2,160 resolution
HDR: HLG; HDR10; HDR10+
Tuner: Yes. Freeview HD; satellite HD
Connections: 4 x HDMI inputs; 2 x USB; Ethernet; digital optical audio output
Sound (claimed): N/A
Brightness (claimed): N/A
Contrast ratio (claimed): N/A
Dimensions (off stand): 1,449(w) x 831(h) x 62(d)mm
Weight (off stand): 25.2kg
Features: 4K Quantum processor; Moth Eye anti-glare screen filter; Direct Full Array Plus backlight; built-in Wi-Fi; USB multimedia playback; Ambient Mode; Tizen Smart OS; ALLM; VRR; AI Upscale; SmartThings app support; works with Google Assistant/Alexa; Ultra Viewing Angle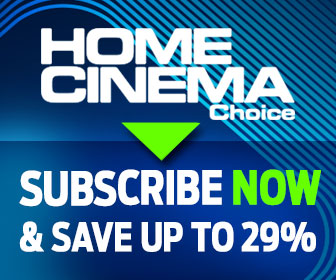 Home Cinema Choice #323

is on sale now, featuring: Panasonic JZ2000 4K OLED TV; LG SP11RA Dolby Atmos soundbar; Philips 806 OLED TV; Neill Blomkamp interview; hi-fi meets home cinema install; and more
Want to see your home cinema system featured in the pages of HCC? Click
here
for more info.