Samsung PS64D8000 review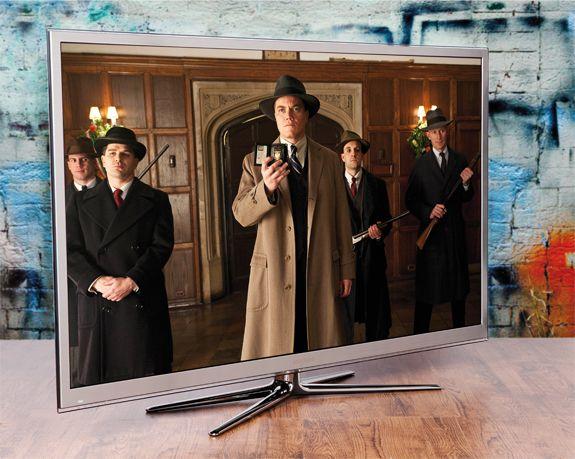 Samsung's wonderwall
Those looking for a monster flatscreen TV that's more BFI than TOWIE should audition this affordable over-achiever, suggests Steve May
For a cinematic, bigscreen viewing experience a giant plasma is hard to beat. The technology has always had its fans, not least because it's simply more cinematic than LED LCD TVs. But if you're on the hunt for a big PDP, one brand that might not spring immediately to mind is Samsung. This isn't exactly surprising. The LCD market leader tends to treat the technology like the proverbial evil twin locked in the attic. This is undoubtedly a shame.
On the evidence of this 64in monster, Samsung's plasma screens deserve much wider appreciation. Straight from the box, the PS64D8000 dazzles. It's thin and very shiny, much like the brand's designer LED line. Just 37mm thin, the panel balances (not entirely convincingly) on a chrome X-wing pedestal. Clear Image technology all but eliminates the shadow image seen on earlier plasma screens, when viewed from an angle.
Around the back is a cookie-cutter jack pack. There are four HDMI inputs (one with ARC), component and Scart inputs via adaptors, PC D-Sub, Ethernet LAN, two USBs, plus an optical digital audio output. Wi-Fi is integrated and supports WPS push button routers.
In addition to Freeview HD, the set has a DVB-S2 satellite tuner. While not as neat as a curated Freesat environment, hooking it up to a Sky dish will give you a flood of channels. Not that you're restricted to Astra. There's support for a dish positioner too, with precise step-size control and USALS (Universal Satellite Automatic Location System)/DiSEqC 1.2 motor control.
The set's user interface is familiar enough. Samsung screens are easy to navigate and come with a snazzy-looking hi-res program guide. The TV also supports USB recording to an external hard drive. Using a Schedule Manager, you can programme recordings directly from the Guide – helpful if you need to nip out and buy a copy HCC. Remember, the set only has one tuner, so you can't record one channel and watch another. This isn't a replacement for a PVR, more an emergency back-up. Recordings made to a hard drive are locked to the TV; you can't view them on another screen.
Top of the pops
Image quality is top notch. The D8000's pictures have the kind of peaky pop most commonly associated with LED. But there are additional benefits to be had with just a little fine tuning. Sharpness, in particular, should be pulled right back from the default (go higher than 18 on the scale and objects glow with edge enhancement), contrast similarly needs to be calmed down. Even then, the picture still seems significantly brighter than Panasonic's VT30 models.
Colour fidelity is terrific. Reds have a rosy authenticity that only plasma really seems able to nail. If you seek additional lustre, there's the ability to dig deep and adjust quite precisely RGB gain and darkness levels. Black levels are deep and smooth, with excellent greyscale tracking. You can find blacker blacks elsewhere, but the balance here is perfectly acceptable.
Motion resolution is fine, too. I clocked the screen at nigh on 1080 lines. Although a 600Hz subfield drive is listed amongst the specs, this is not to be confused with the MotionPlus framerate tech used on the company's LED LCD screens. There are several plus points to not having to rely on accelerated refresh rates. One is that full motion clarity does not come with smudgy motion artefacts. The other is that the set retains a wonderfully filmic quality.
The screen offers a wide selection of interesting and advanced picture adjustments: there's variable Cell Light pixel brightness, Black Tone, Dynamic Contrast, gamma, edge enhancement and Motion Lighting – the latter is actually an Eco mode. Use them carefully. Dynamic Contrast and Black Tone make it easy to overstress blacks, and this doesn't necessarily enhance the image.
Of course, if you don't want to poke around in the settings right off the bat, there're the standard presets: Standard, Dynamic, Movie and Relax. Frankly, I'd liked to have seen a THX movie preset included too, but as it is the Standard setting with certain adjustments does a fine job.
On the debit side, I did note both vertical and horizontal judder. Bizarrely, this was more evident on 1080p24 material. The Cinema Smooth mode, only active with 1080p24 material, did little to solve the sporadic problem.
The set's 3D performance is equally praiseworthy. There's precious little crosstalk double imaging evident, and this stereoscopic clarity really came into its own playing Arkham City on the Xbox 360 in 3D. Gamers can take comfort from the fact that buried in the menus are a selection of screenburn protection measures. You can choose either a screensaver (which will prove irritating when it pops up during an end-of-level boss) or more subtle pixel shifting.
Naturally, the PS64D8000 has a full complement of 'net connectivity. Samsung's Smart Hub portal continues to set the pace when it comes to downloadable apps. While the appeal of Facebook and Twitter on a TV is limited, Skype video calling is a winner.
You just need to add Samsung's USB HD Skype-cam. Meanwhile, the quality of the various streaming media services (the rosters includes LOVEFiLM, Muzu.TV, BBC iPlayer and Blinkbox) can be surprisingly good, with many looking comparable to SD channels from Freeview.
The set also incorporates a fully-functional browser based on the WebKit layout engine. The fact that it supports Flash (but not ActiveX) makes it far more usable than the stripped-down browsers available on rival sets.
Engaging mega-screen
The PS64D8000 is a wonderfully engaging mega-screen, priced extremely competitively. Its 3D performance is bright and convincing, while Full HD 2D is grandly cinematic. Throw in the content-rich Smart Hub portal and designer looks and you'll find this monster panel surprisingly agreeable to live with.
---
HCC VERDICT
Samsung PS64D8000
Price: £2,400 Approx
Highs: Crisp, dynamic Full HD images; vibrant 3D; expansive Smart Hub proposition; beautiful to look at; good screen burn provision
Lows: Horizontal and vertical image judder; Social Media apps require separate Samsung account
Performance: 4/5
Design: 4/5
Features: 5/5
Overall: 4/5
---
Specifications
3D: yes Active shutter (no glasses supplied, though)
Full HD: yes 1,920 x 1,080
Tuner: yes Freeview HD; analogue; DVB-S2
Connections: 4 x HDMI; 1 x component (via adaptor); 1 x Scart (via adaptor); 1 x D-Sub PC input; 1 x optical digital audio; 2 x USB; 1 x Ethernet
Sound: 2 x 15W
Dimensions (off stand): 1,488(w) x 889(h) x 37(d)mm
Weight (off stand): 35kg
Features: 600Hz sub-field drive; USB media playback (JPEG, MP3, AVI, MKV, VOB, WMV support); integrated Wi-Fi; Smart Hub featuring BBC iPlayer, YouTube, LOVEFiLM, Daily Motion, Vimeo, Facebook, Twitter and more; Acetrax video streaming service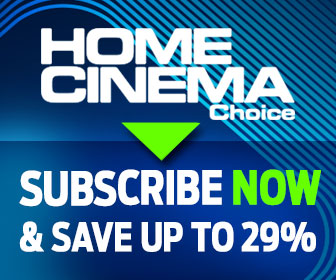 Home Cinema Choice #323

is on sale now, featuring: Panasonic JZ2000 4K OLED TV; LG SP11RA Dolby Atmos soundbar; Philips 806 OLED TV; Neill Blomkamp interview; hi-fi meets home cinema install; and more
Want to see your home cinema system featured in the pages of HCC? Click
here
for more info.