Samsung PS51ES8000 review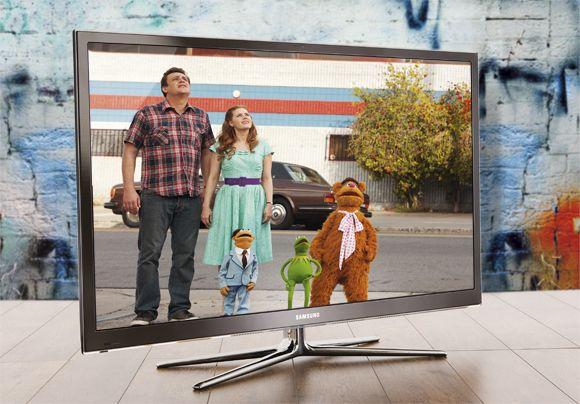 Range-topping 51-inch TV proves that there's still plenty of life left in Active 3D
It's almost impossible to start a plasma TV review without first mentioning the L word. In other words, the seemingly relentless march of LED into the showrooms and living rooms of the nation. If plasma was only just being invented it probably wouldn't reach production, but thankfully for discerning AV enthusiasts, Samsung, LG and Panasonic have long-established factories that continue to keep cooking on gas.
So, up against rival-brand plasmas and Samsung's own LEDs, does the Samsung PS51ES8000 deliver the home cinema goods?
Catwalk catchup
The set's design is hardly fashion-forward, ironically reminding me of the sort of thing Panasonic was doing a couple of years ago with an inch-wide grey bezel. But it's inoffensive, even managing to camouflage its built-in Skype camera along the top edge of the frame. The Black Pro panel itself is nice and dark with fairly low reflectivity, but the connections are below standard – it lacks a headphone jack and has an HDMI count of three, rather than four.
In terms of tech the PS51ES8000 isn't the most revolutionary of screens, but it does share the dual-core processor of the brand's upmarket LED sets. This should facilitate quicker operation and deliver superior images. Certainly, the cursor absolutely whizzes around the attractive Freeview EPG.

Samsung gives buyers every opportunity of extracting the best possible pictures from the PS51ES8000. Diverse calibration options include monotone and colour expert patterns that allow you to optimise the panel. Nearly every aspect of the picture can be fine-tuned but it's a pity you can't save any presets to the picture mode options to suit different sources or viewing times. The list of default presets is comprised of just four modes – Standard, Dynamic, Movie and the curious-sounding Relax (unavailable during 3D viewing).
The set comes with two pairs of Active 3D specs. They're almost a match for Passive 3D glasses in terms of simplicity and comfort, and, of course, deliver an improved visual experience. Pixel-freaks will appreciate the Full HD resolution with 3D Blu-rays, and there's very little crosstalk (and definitely less than found on the brand's LED sets). Monsters Vs Aliens in 3D feels punchy and vibrant, with just about no noise, and a real sense of depth to scenes that sometimes feel flat. I would suggest, however, considering the PS51ES8000's Dynamic viewing mode when watching 3D, albeit in a trade-off for less shadow detail. Changing the 3D perspective is also an option, but I couldn't get it to improve the 3D effect at all – it just introduced more crosstalk. Avoid.
The PS51ES8000's picture strengths remain consistent when watching 2D Blu-rays. Some will argue that there's never been a screen to hold a candle to the memory of Pioneer's Kuro but the deep, uniform black levels on this Samsung plasma and zero backlight leakage are enough to make an LED screen weep.
A lack of brightness does mean the clarity of Avatar on Blu-ray isn't quite as impactful as on a similar-sized LED screen, but what you have here is a more natural viewing experience. Of course, if you want impact you can select the Dynamic mode. If you're mad.
No Country For Old Men on BD proves the suitability of Movie mode for daytime viewing, after a slight boost to both brightness and sharpness. I found best results also came when setting the dynamic contrast to medium, black tone to darkest and gamma to -2. In other words, you do need to tinker in order to get the most from this display. Colours are accurate and flesh tones realistic, with minimal blotchiness and banding.
Another vital area in which the screen excels is its handling of movement, thanks to the excellent implementation of 600Hz sub-field processing. As the helicopter in Avatar flies over Pandora, past flocks of strange birds, there's a wonderful smoothness to the action. Likewise, the desert scenes of No Country... are delightfully engrossing because of an absence of judder. This also applies to watching fast-moving sport on Sky in HD. Don't expect a belted football to retain a perfect spherical shape but do enjoy an image unhindered by jerkiness. Motion resolution is also pretty decent, with the amorphous green space of a football pitch holding up better in a fast camera pan than on many current LED sets.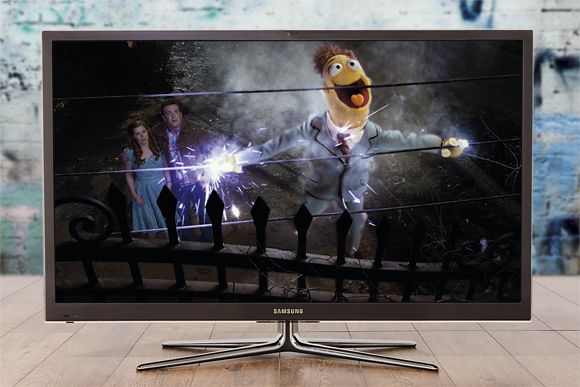 Voice control
In addition to a nicely designed everyday remote, Samsung bundles its TouchPad for web browsing and issuing voice commands thanks to a built-in microphone. You can also set up the TV to respond to gestures for changing channels and powering up. It's impressive when it works but we think most users will tire of a function that can randomly mute the screen because you've scratched your head.
Still, the default remote control works excellently in tandem with a slick and attractive user interface that keeps Samsung on top in the ease of use stakes – with one caveat. Personally, I think the Smart Hub is a bit of a mess. Yes, you can see connected TV options, the live Freeview/Freesat feed and external sources all in one place, but the folder types and placing of certain apps is rather random. There's no BBC iPlayer, either. Odd.
Yet the PS51ES8000's operational foibles are forgivable given how successfully it manages to conjure up great 2D images and amazingly good 3D pics. It's not as accomplished or desirable as Panasonic's TX-P55VT50 (see p52) but it's nowhere near as expensive. Worthy of an audition.
---
HCC VERDICT
Samsung PS51E8000
Price: £1,700 Approx
Highs: Very good 3D and 2D hi-def pics; plenty of calibration tools
Lows: Dated design; lack of brightness; no iPlayer; no user-definable picture presets
Performance: 5/5
Design: 3/5
Features: 4/5
Overall: 4/5
---
Analysis
GUI: Making picture tweaks is helped by neatly styled calibration menus, but the Smart Hub could benefit from a spring clean
Killer feature: While the PS51ES8000's 2D images are hard to fault, it's the largescale Full HD 3D visuals that really impress
---
Specifications
3D: yes Active Shutter
Full HD: yes 1,920 x 1,080
Tuner: Freeview HD, Freesat HD, CI slot
Smart TV: yes Samsung Smart TV
Connections: 3 x HDMI; 3 x USB; component; composite; Scart; DVI audio in (mini jack); digital optical audio out; Ethernet
Sound: 2 x 10W
Brightness: N/A
Contrast ratio: N/A
Dimensions (off stand): 1,193(w) x 713(h) x 48.1(d)mm
Weight (off stand): 21.3kg
Features: Built-in Wi-Fi; Real Black Pro panel; 600Hz Subfield Motion image processing; PiP; web browser; PVR via USB; Smart Hub interface; USB and DLNA Allshare multimedia playback; secondary touchpad remote; voice and gesture control; image calibration tools including dynamic contrast, black tone, flesh tone, RGB-only mode, dual Expert Patterns, Gamma, white balance, and 10p white balance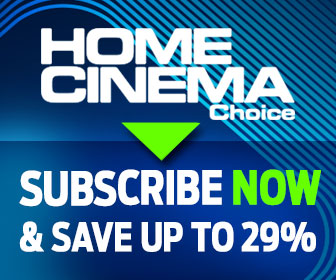 Home Cinema Choice #323

is on sale now, featuring: Panasonic JZ2000 4K OLED TV; LG SP11RA Dolby Atmos soundbar; Philips 806 OLED TV; Neill Blomkamp interview; hi-fi meets home cinema install; and more
Want to see your home cinema system featured in the pages of HCC? Click
here
for more info.