Reader's cinema: self-built basement picture palace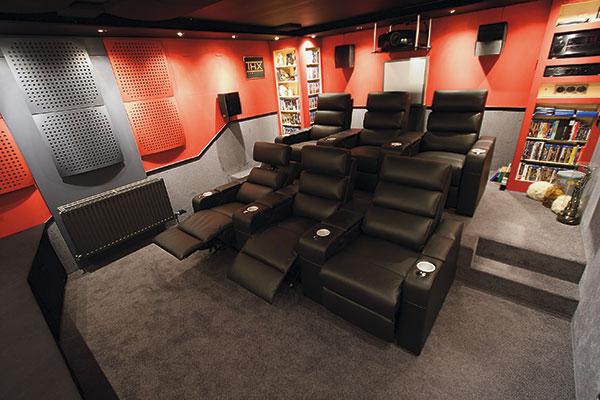 Welcome to the AV-Holic Hall of Fame! Introduce yourself…
My name is Stefan, and I am from Germany. I am member of a regional home cinema club (HDRGB – Homecinema Dreams ReGensBurg), which does a 'tour' each year to various regions in (so far) Germany and Austria, visiting other home cinema owners and their movie rooms. We'd love to come to the UK – check out our
website!
How long have you been into home cinema, and what was the first setup you had?
My first setup must have been in 2001 or 2002, with a Sony VPL-HS1 projector in our living room, combined with a Bose Acoustimass 5 Series speaker system, Sony DVD player and a Technics AV receiver which already featured DTS – unfortunately I don't remember the model numbers anymore!
Later the projector changed to a Panasonic PT-AE700, but still all in our living room, projecting on to a mobile screen – it was 180cm wide, in a kind of suitcase that was easy to hide behind the sofa when not in use.
When did you decide to set up your current cinema room?
When we started planning the layout of our own house in 2006 we already planned a separate room in the 4m x 5m basement, ensuring it was built to a regular room height (2.5m) so we could have a second seating row on a raised platform.
Of course our architect didn't believe a single word when we told her to name that one room 'cinema' – at least until one evening when we had the screen already set up and not hidden. We could literally see her jaw drop, probably thinking: 'Damn, they are serious about this.'
Originally the plan was to simply take our existing AV system and set this up down there only with two rows of seating, but luckily the first year after we moved in we had to do many other things around the house and garden, and so I had plenty of time to browse through internet forums and see so many other nice cinema rooms. Quickly the idea came to 'do it right', and I started planning the room first in my mind and then using CorelDRAW software.
Around January 2008 my wife and I started building the room, with a lot of help from our then nine-year-old daughter, and last but not least my father, who helped cutting wood parts for the platform under the second seating row.
Overall it took us about one year, until January 2009, when we screened our first movie, Wanted, on I think four Saturdays in a row, because we wanted to show off the result to all our friends and the eight seats we had back then were simply not enough.
The hardware at that time was a Teufel System 6 THX speaker array (7.1), Panasonic Blu-ray player, Pioneer SC-LX50 receiver and Panasonic PT-AE2000 beamer.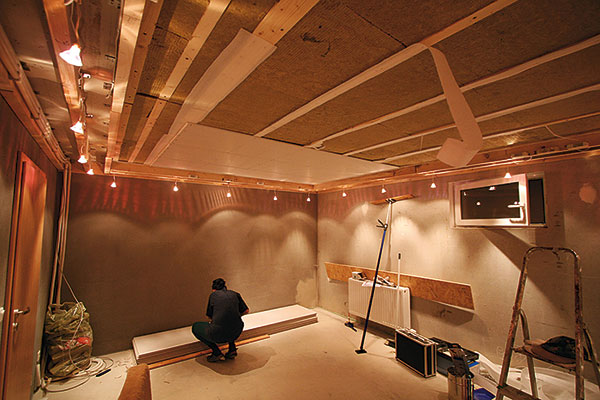 Did you get help from professionals to do the build?
Just for installing the A/C system and plastering the walls and the ceiling – basically because I simply don't have the tools for this.
What's in your system now?
I made the projector screen myself. It's 3.1m wide, 21:9 ratio using acoustically transparent material, with manual masking for 2.40:1, 2:1; 1.85:1 and 1.78:1 ratios. My projector now is a Sony VPL-VW550ES 4K HDR model.
The receiver is a nine-channel Pioneer SC-LX89, used with active Genelec 1032B speakers (front channels), four Teufel System 6 M620Ds (surrounds), four Sonance VP66R TLs for the Atmos/DTS:X ceiling speakers, and two SVS SB13-Ultra subwoofers, in a 7.2.4 setup.
For movies and TV I have an Oppo UDP-203 4K Blu-ray player, Mede8er 600 (for streaming), an Apple TV 4K and a Technisat TechniStar S1 satellite receiver.
I control the system with a Logitech Harmony 895 remote. I also have LG Art Cool Harmony air-conditioning, and Vicoustic acoustic optimisation to tackle side-wall and ceiling reflections.
The cinema room has changed a lot since 2008, as have the acoustics. Initially no special measurements were taken – this all came over the years, with growing experience.
What's your verdict on the room's performance?
I am really happy with the setup for music (stereo or multichannel), as well as the picture of the 4K projector and the movie sound up to quite high volume levels.
The Genelec front speakers and the SVS subwoofers, combined with the room acoustic work I did, ensure a really good performance.
Having visited around 50 other home cinema installations since this was built,I would rate it in the 'upper quarter'. Of course, there is always room for improvement, but the only thing I have in mind right now – Genelec 1237 Series models for the front L/C/R, and Genelec AIW26s and AIC25s for the surround and ceiling channels – would be extremely pricey.
What was the last bit of kit you added to the setup?
When it comes to AV hardware, the ceiling speakers are the latest addition, but the new seats are in fact the last item changed in the room. Before we had traditional red cinema seats; the new models are large leather recliners with movable leg, back and head rests.
What's your favourite bit of hardware and why?
Tough question – in the end the sum of all of it is what counts. However, I still think one of the most amazing pieces is the Oppo UDP-203. It's able to flawlessly play everything, be it Super Audio CD, DVD-Audio, Blu-ray, UHD, or whatever files I have. It's a shame Oppo has discontinued its product development.
Do you have your eyes on any hardware upgrades?
As said earlier, maybe a speaker upgrade, but nothing is planned at the moment.
How often does the cinema room get used?
I myself am in there almost every evening, with the whole family probably twice per week. About every three weeks or so we have friends over here for an 'event' – meaning a full house – or simply have another couple over for a nice dinner and a movie. When we have friends here for a movie I play a short starter trailer with my logo and a few other trailers. Then the lights dim up a little and my wife/daughter come in with a vendor's tray and ask if anyone wants ice cream or sweets! Then the lights go off again and the real movie of the day starts. Guests don't see any disc menus or anything; I prepare everything in advance. The result is the real cinema experience – just at home. And better.
Last but not least, there is also a webpage (self-programmed) with a database behind it showing all the movies I have, and a 'ticketing system' (all just for fun – tickets can only be reserved by friends and are, of course, absolutely free).
What discs do you use to show off the system?
I have a collection of scenes – some are just trailers, especially from The Dark Knight Rises, with its DTS-HD MA 5.1 soundtrack really shaking the walls.
Others are the fuel station scene from Terminator: Salvation; the intro sequence from Dredd; the final battle from Ender's Game; and the deep bass sound at the beginning of Edge of Tomorrow.
Then there are music Blu-rays including Beyoncé, Alicia Keys: VH1 Storytellers and Kraftwerk: 3D The Catalogue.
For Ultra HD and Dolby Atmos material, The Matrix and Blade Runner 2049 are amazing in both picture and sound. For 3D I'd recommend Everest (also a very nice Atmos track) or The Walk.
And what are your top 5 favourite films?
Back to the Future (all three, I see these as one movie); Dune; Star Wars: The Empire Strikes Back; War Games and The Crow.
Do you stream movies/TV from Netflix, Amazon, Sky, etc?
I do, from Netflix as well as Amazon Prime, but mostly TV (Netflix originals or similar from Amazon). I rarely stream movies.
What do friends and family think of the cinema room?
My wife, daughter and I all love it and are proud of it. I have many friends who also have their own similar rooms, so it is not too freaky for them, but I guess most 'normal' people think we are a bit crazy. Still, everyone we have shown the room to, even if not for a full movie, is fascinated by it.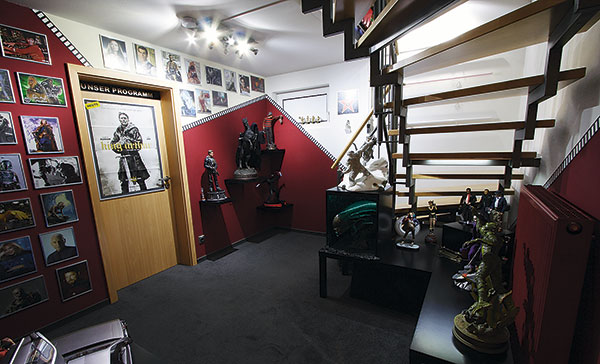 SPONSORED VIDEO

SPONSORED VIDEO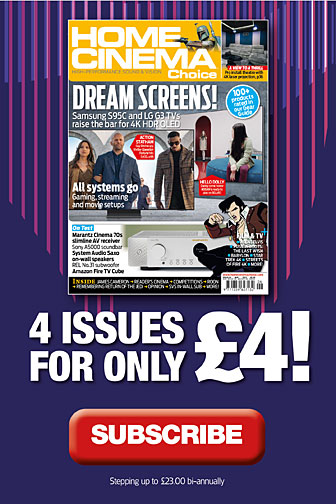 Home Cinema Choice #332

is on sale now, featuring: Samsung's 8K flagship; Anthem AVM 90 processor; B&W 800 Series Diamond; LG smart projector; Hollywood box office bombs; Hitchcock 4K; and more
Want to see your home cinema system featured in the pages of HCC? Click
here
for more info.