QNAP HS-251 review
This slim-line NAS from comes with some attractive extras - including HDMI connectivity!
If you've been put off buying a NAS (Network Attached Storage) device, the HS-251 from QNAP might change your mind. It's capable of the stuff a typical modern NAS can do – acting as a repository for all of your files (among them movies, TV programmes and music) that can be accessed by every networked gadget in your home – but it goes further. The appearance suggests this; the HS-251 looks more like AV equipment than something you'll tuck away out of sight.
And in a sense it is a piece of AV gear; this is a NAS you can connect to your TV. Around the back you'll find an HDMI port (actually, there are two but one hasn't yet been enabled). You can also use this display capability to monitor the various NAS functions, or browse the web with Google Chrome, on your TV. And thanks to a free package called Hybrid DeskStation, the HS-251 can run a version of XBMC/Kodi. It can thus play locally any of the multimedia goodies you store on its hard disk drives. Analogue AV connections are entirely absent.
No conventional handset is supplied, but a Qremote app (Android or iOS) that does the job is free. You can also plug a keyboard and/or mouse into the USB ports – the HS-251 (like any NAS) is a specialised computer after all. It even has an operating system (QTS) that's similar to the DiskStation one you'll find in NAS products from arch-rival Synology, and has a huge variety of functions, among them surveillance (with networked or USB cameras), data backup, downloading (several BitTorrent clients are available) and multi-platform file synchronisation. Naturally, there's a DLNA-compliant media server – for ease of streaming your video collection to Blu-ray players and Smart TVs – and configurable network file access to help you upload them to the HS-251 in the first place.
Transcoding, which sidesteps the thorny issue of certain networked players being unable to understand specific files, is supported too. You can add even more functions as free apps.
Another interesting NAS-related feature is the presence of not one but two Ethernet sockets. If your networking hardware supports it, you can combine their data rates using a tech called 'port trunking'. Great for streaming several Full HD videos at once.
The HS-251 has no cooling fans, thanks to the design's thermal management, and so can run quieter than most, if a little warm. Two 2.5in or 3.5in SATA hard drives can be accommodated. QNAP recommends SSDs (Solid-State Drives) or Western Digital Red HDDs. I didn't have either of these to hand, but the HS-251 worked reliably (and quietly) with a 3TB Seagate Barracuda.
As a NAS, the HS-251 performed flawlessly. Responsive to drive, it never failed to serve what was requested to a number of devices ranging from a A.C. Ryan media streamer to a Cambridge Audio Blu-ray player – among the content was JPEG images, FLAC audio files, ISO DVD images and TV transport streams. The onboard media player is also excellent.
I missed the feel of a conventional remote, but an optional one is available. The only downside is that transcoded video can suffer from obvious deterioration. Stick with media players able to handle your material 'natively', though, and you'll be fine. This is a NAS made with home cinemas in mind.
Specification
HDD: None included, so you fit your own (SATA; 2.5in./3.5in; drives of up to 6TB currently)
Audio format support: DTS/DD/HD multichannel (via passthrough); MP3; MP2; WAV (up to 192kHz/24-bit); FLAC (up to 192kHz/24-bit); OGG; AAC; WMA
Video format support: DVD VIDEO_TS; MPEG-1/2; MKV; MP4; DivX; XviD; WMV (plus still images)
Connections: 2 x HDMI (one not yet enabled); 2 x Ethernet; 2 x USB 2.0; 2 x USB 3.0
Dimensions: 302(w) x 41.3(h) x 220(d)mm
Weight: 1.6kg
Features: 2 x drive bays; fanless design; QTS operating system; 1GB DDR3 RAM (2GB optional); RAID support; HDMI audio passthrough (for multichannel audio); MyQnapCloud; transcoding; AirPlay support; DLNA media server; HDStation (with XBMC/Kodi and Chrome browser); IR receiver; AppCenter (add new functionality); download centre (BitTorrent/eMule/FTP/HTTP)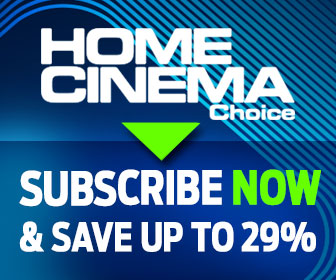 Home Cinema Choice #316 is on sale now

, featuring: Sony VPL-VW790ES 4K laser projector; B&W 600 S2 Series speakers; CEDIA home cinema awards; Humax Aura PVR; tech tips; disc reviews; opinion; and more.
Want to see your home cinema system featured in the pages of HCC? Click
here
for more info.