Philips 65PUS7601 review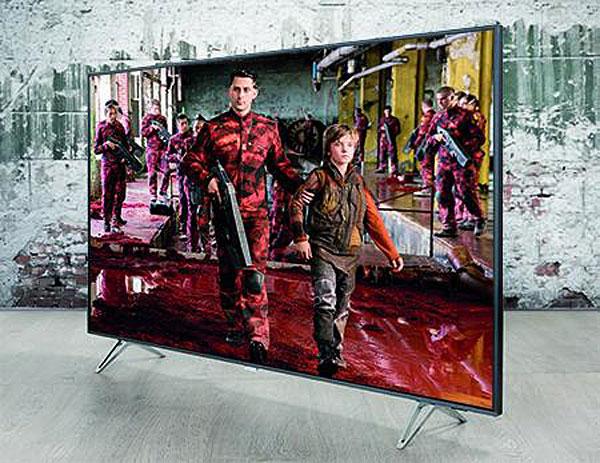 This well-priced direct-lit 4K/HDR set wants to bring next-gen pictures to the masses
The more high dynamic range (HDR) displays I've seen, the more convinced I've become that the only type of LCD TV that can comfortably handle HDR's extreme light demands are those that use direct rather than edge lighting – ideally in conjunction with some degree of 'local dimming', whereby clusters of LEDs have their light output adjusted independently.
Unfortunately there's a problem with the direct LED lighting/local dimming HDR combo: it's expensive to produce. Or, at least, I thought it was until the Philips 65PUS7601 showed up.
This new 65in flatscreen boasts plenty of good stuff – HDR playback, native UHD resolution, direct LED lighting with local dimming across an impressively high number (128) of zones – for a £2,400 price that undercuts rival, similarly specified TVs. The Panasonic TX-65DX902, for instance, costs nearly £3,000, while Samsung's UE65KS9500 will set you back no less than £3,800.
There are compromises associated with the 65PUS7601's price, however. Most notably, it only delivers a claimed peak 700 nits of brightness versus the 1,000 nits demanded by the industry's Ultra HD Premium recommendations. Furthermore, Philips' panel can only reach 76 per cent of the DCI-P3 colour space. UHD Premium specifications mandate 90 per cent.
I've long suspected, though, that a TV could potentially deliver a sort of 'HDR Light' experience that still looked enticing for a fraction of the price being asked for the full Ultra HD Premium monty. And I'm happy to report that the 65PUS7601 proves my suspicions right.
Giving it a leg up
The set impresses right out of the box thanks to a striking design. Its large display sits on a pair of low-profile – but still stable – silver legs, while its daintily trim metallic frame belies the actually pretty hefty build quality.
This being a high-end Philips model, the aesthetic impact enters a new, eye-opening dimension when you turn the TV on and experience the Ambilight effect erupting from three of its sides. With its mission to track image content in terms of the intensity, colour tone and colour location of the light 'aura' around the TV, Ambilight sounds gimmicky. But it's a feature that's both fun and can add to your involvement in what you're watching. You might find it suits some content better than others, though.
Of the 65PUS7601's four HDMI inputs, two are equipped with 4K/HDR support, which is probably enough for most setups. These are joined by three USBs and the now de rigueur wireless/wired network options.
Handling the smart side of things is Philips' iteration of Android TV. As I've noted previouslu in ofHCC, this runs more stably and speedily than the version found on Sony's Android models. Also, as previously noted, I'm not its biggest fan. While the UI is pretty enough, it's quite a rigid experience, and seemingly overloaded with apps.
The 65PUS7601's images are driven by powerful processing. It gets the top-line Perfect Pixel Ultra HD system, which, from experience, delivers significant improvements over the step-down Pixel Precise Ultra HD engine.
Careful setup is required with some aspects of the screen's processing, though. Particularly key is 'Perfect Contrast'. If you want the TV to default to the industry HDR EOTF standards, you need to turn this feature off to reduce brightness but ensure clipping (detail loss) doesn't set in. Turn the Perfect Contrast feature on and pictures will enjoy more light but may start to blow out in bright areas.
Philips argues that setting Perfect Contrast on should give the best results, given that most real-world HDR content is mastered at 1,000 nits rather than 4,000 nits, so there's less potential picture info to be lost, but I'd suggest experimenting with each setting until you find the one you like best.
Other user options include various levels for Perfect Natural Motion and Clear Motion, MPEG noise reduction, and Ultra Resolution. These should all be approached with a degree of caution, as they do more harm than good to your beloved content on their highest levels.
Engaging and immersive
Once I'd tweaked the 65PUS7601's settings, it delivered exactly what I'd hoped for: a slightly tamed but still engaging and immersive HDR experience. When it comes to HDR's luminance, the set manages a surprisingly good sense of it for a 700-nit peak LCD panel. It adopts a slightly darker baseline brightness value for HDR than it uses for SDR content. This give it more 'space' to deliver a sense of HDR's brightness peaks. Crucially, though, this reduction in baseline brightness doesn't go so far that it leads to the silhouetting problems and light/dark imbalances I've seen on other sub-1,000 nit HDR displays.
And thanks to Philips' assured direct backlight handling, HDR images suffer little with clouding issues – and less so than with much more expensive and brighter HDR TVs available. With the Perfect Contrast feature deactivated I saw hardly any light 'halos' at all, even around the candles and flickering torches that make Chapter 7 of the Exodus: Gods & Kings Ultra HD Blu-ray such a hard test for HDR displays. Put this direct-lit TV head-to-head with an edge LED competitor and you'll likely notice the difference.
Setting Perfect Contrast to Minimum introduced only the faintest hint of clouding during the Exodus sequence, alongside a palpable uplift in the overall sense of dynamism. The black levels on show remained outstandingly deep and rich for an LCD TV, a benefit of Philips in this instance using a VA panel in favour of an IPS design (confusingly, the step-down 7101 models use IPS panels for the 49in and 55in size, but VA at 65in).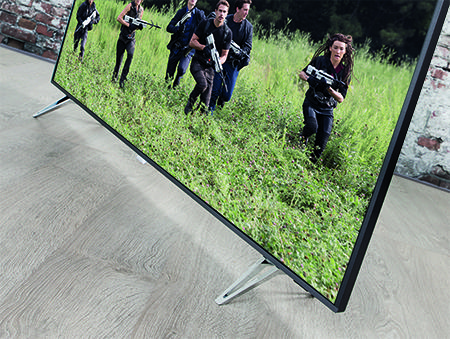 I wouldn't push the Perfect Contrast feature any higher than its minimum setting. Clouding then becomes a distraction at the expense of only slightly extra brightness. But the bottom line is that here's a screen with HDR impact that doesn't force you to tolerate significant clouding problems. And that's enough in itself in the context of 2016's TVs to make the 65PUS7601 a serious hit for its money.
The TV isn't quite as successful with the wide colour gamuts associated with most HDR sources, however. Despite Philips having colour enhancement processing at its disposal, the 65PUS7601 doesn't have the native colour gamut to deliver the same ultra-rich saturations and finely nuanced tones witnessed on the very best 2016 displays. I also spotted traces of colour striping from time to time.
That said, with the exception of one or two low-lit skin tones, colours seldom look at all unnatural, and no tones appear to stand out starkly against the rest, leading to an often beautifully balanced and nuanced image.
And there's enough colour finesse, combined with the impressive light management, to let you soak up the beauty of the screen's 3,840 x 2,160 resolution. Premium UHD footage, such as the deer hunting scenes at the start of The Revenant, exhibit excellent clarity and detail. Motion blur and judder does, slightly, dampen the effect, and it's here that I'd recommend using the lowest setting of Philips' Perfect Natural Motion tool.
So, while this screen's handling of HDR 4K sources isn't as explosive or colour-infused accurate as the images witnessed on other challengers, it's very watchable, and I appreciated having less picture distractions – especially backlight-related – to detract during movie night.
Away from 4K
Of course, not everything we watch is in 4K or HDR. So it's good to find that the 65PUS7601 also cuts the mustard with ordinary HD, non-HDR Blu-rays and HD TV broadcasts.
When tasked with upscaling HD content to its native 4K resolution, it does a respectable job, adding detail and definition. Source noise doesn't appear greatly exaggerated, although I found material with a lot of image grain benefitted from the TV's onboard noise reduction system (on its lowest setting). Colours retain their integrity on their journey through the upscaling software, too.
Much less convincing is Philips' HDR Upscaling tool. This is designed to introduce a flavour of HDR to SDR sources, not an approach undertaken by all rival brands.
On the upside it doesn't try too hard, only adding a moderate expansion of brightness and colour. There are times when it really does work well. However, colours after HDR Upscaling are a bit hit and miss. Subtle greens, warm oranges, reds and low-lit skin tones tend to appear a little off, and there's a slightly yellow undertone that's hard to shift. On balance, I'd suggest taking a purist's view and leaving HDR Upscaling out of the equation.
With no 3D playback to detain us (like Samsung, Philips has abandoned the third dimension this year), I can move straight on to how the 65PUS7601 sounds. Pushed hard with a couple of jumbo-sized fight scenes in Pacific Rim, it does fairly well. I could reach a decent volume without crackling speakers or distorted audio; dialogue stands proud of the mix (though deep male voices can sound a bit 'hummy'); and the woofer on the TV's rear proves capable of introducing a respectable level of bass. The only significant issue is that trebles can over-dominate.
The 65PUS7601 is a very handy gaming monitor, too. When using the Game setting, and turning off a few extra video processing systems, I measured the time it takes to render images at only around 30ms – a low enough result to have minimal impact on gaming performance.
Bigscreen bargain
This is undoubtedly one of the best-performing flatscreens I've seen from Philips for a long time. Some video purists may take against it, I guess, because it doesn't play the HDR 'numbers game' and cannot claim to be a true wide colour gamut display. It also needs care with setup to drag the best out of it. Yet provided you put the initial legwork in, the simple reality of watching movies on this 65-incher is that they are big, balanced and immersive – with HDR and SDR sources alike. That £2,400 price therefore looks like something of a steal.
Specification
3D: No. 4K: Yes. 3,840 x 2,160 resolution HDR: Yes. HDR 10 Tuner: Yes. Freeview HD Connections: 4 x HDMI inputs; 3 x USBs; optical digital audio output; headphone jack; Scart; CI slot; Ethernet Sound: 30W Brightness (claimed): 700 nits peak Contrast ratio (claimed): N/A Dimensions (off stand): 1,449(w) x 835(h) x 67(d)mm Weight (off stand): 26.3kg
Features: Three-sided Ambilight; Perfect Pixel Ultra HD processing engine; HDR Upscaling system; built-in Wi-Fi; USB multimedia playback; DLNA multimedia playback; Android TV smart engine; direct LED lighting; local dimming over 128 zones; Perfect Natural Motion; Ultra Resolution

SPONSORED VIDEO

SPONSORED VIDEO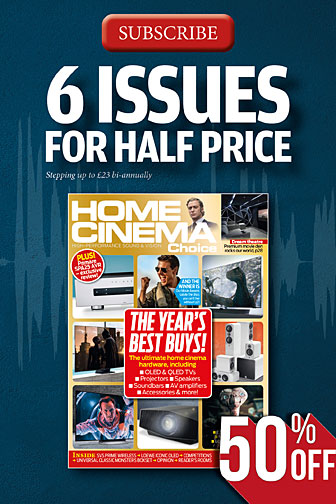 Home Cinema Choice #332

is on sale now, featuring: Samsung's 8K flagship; Anthem AVM 90 processor; B&W 800 Series Diamond; LG smart projector; Hollywood box office bombs; Hitchcock 4K; and more
Want to see your home cinema system featured in the pages of HCC? Click
here
for more info.