Philips 65OLED984 65in 4K HDR OLED TV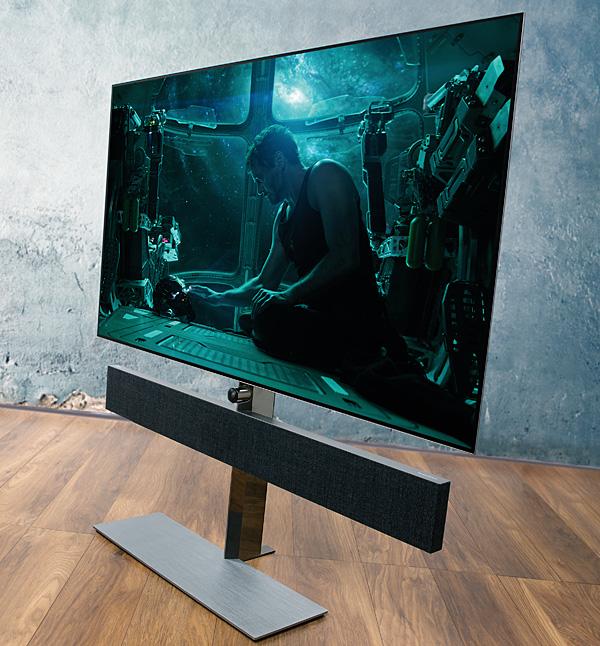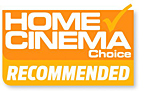 This Philips OLED wants to put an end to the notion of mediocre TV audio. Mark Craven reports
Last year, Philips collaborated with Bowers & Wilkins on its OLED903 series, roping in the sound specialist to boost the audio appeal of its 4K display. But it turns out that was merely an aperitif; its new OLED984 is the main course. This time around, B&W has been involved from the very beginning of the project, resulting in a TV that's somewhat different to the rest of the flatscreen market. In a good way.
The OLED984 is currently a one-off model, only available in a 65in guise, for a price of £4,500. In terms of panel and processing, it's identical to the step-down OLED804/854 models (see HCC #301).
So what's different about it? Well, you wouldn't buy this set to partner with an external sound system. It's designed to be the complete package – something you'll realise as soon as you set eyes on its soundbar speaker.
Philips' OLED panel stands on an eye-catching stand. At the base, an aluminium rectangle plate provides support for a weighty angular, central pole, which supports both soundbar and TV. Put together (which is a two-person job), it makes for a striking design.
Once assembled, that 65in screen is raised about two feet off the floor. The bar 'floats' below it, almost – not quite – reaching the full width of the display. A bespoke connector at the back links the 'bar to the TV.
The soundbar specs are premium. A three-channel (left/centre/right) design, each channel is given separate high-frequency and midbass drivers (the latter being 4in units derived from B&W's M1 speakers), in isolated, braced and reinforced enclosures. Flowport technology aims to reduce unwanted port noise. Power is rated at 3 x 20W.
The tweeters for the L/R channels are decoupled from the enclosure and mounted at the extreme edges for a wide soundstage and reduced cabinet diffraction. The tweeter for the centre channel is a bit different. Located externally, it borrows the tweeter-on-top ethos from B&W's 700 Series and 800 Series Diamond speakers, placing a titanium dome within a solid metal housing, protected by a grille design pilfered from the 800 Series models. It catches the eye, and Philips claims it helps track dialogue to the centre of the screen.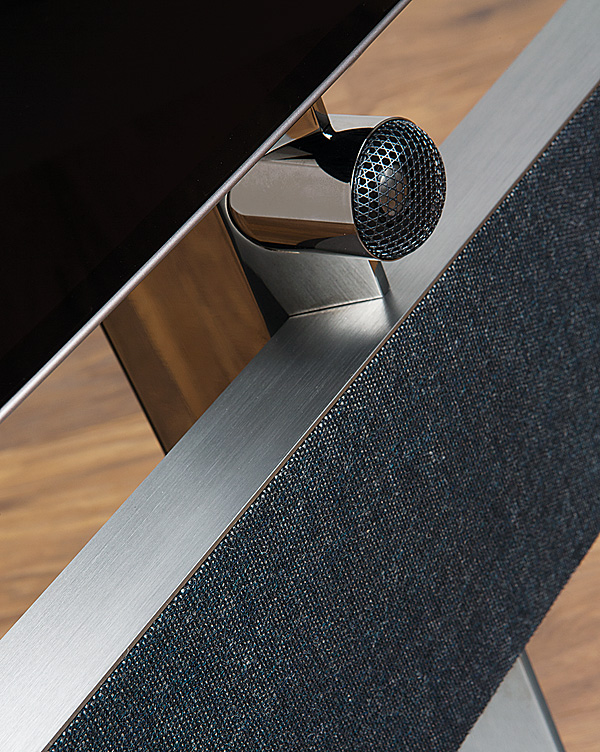 The brand believes a TV speaker isolated from the TV itself is an obvious progression. 'First, it allows for larger drive units to be accommodated more easily, and second, it means the acoustic system can be driven harder.'
Ears Wide Open
The question is, does this unusual soundbar integration make the right impression? Yes, it does.
The TV's audio performance is unlike anything you've likely heard from a TV, bar some of Sony's more out-there designs (such as the 2014-era X9005) or far pricier Bang & Olfusen models.
Firstly, there's a fine, wide presentation to its soundstage that begs you to grab the prime central viewing seat. Isolating the 'bar from the TV, and the drivers themselves, results in a clarity and separation not normally heard from TV sonics. It sounds like, well... a premium soundbar.
It does subtlety well. The opening to The Revenant (Ultra HD), with its quiet, native American monologue and whistling wind, is spine-tingling in its detail and clean feel. The sound of running water finishes the scene, all light and delicate, with individual drops easily picked out. Bird song then fades in, filling in the soundstage, and it grows bigger and richer, with these ambient details spreading out across the LCR as Alejandro González Iñárritu's narrative begins to unfold.
Leonardo DiCaprio's bear trapper sloshes into view. There's a click as he preps his rifle, the sound of a deer snorting in the distance, and then 'crack!' – the gun discharges with a crisp shot and resonant echo, betraying some impressive dynamics. Bird's fly off overhead, with a nice sense of soundstage height.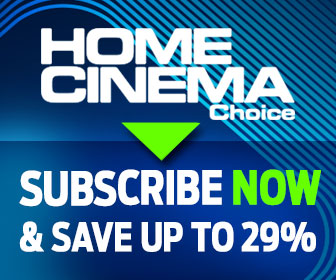 Home Cinema Choice #323

is on sale now, featuring: Panasonic JZ2000 4K OLED TV; LG SP11RA Dolby Atmos soundbar; Philips 806 OLED TV; Neill Blomkamp interview; hi-fi meets home cinema install; and more
Want to see your home cinema system featured in the pages of HCC? Click
here
for more info.