Philips 58PFL9955H review
A bit of a stretch
Philips takes John Archer's home cinema tastes to breaking point – in a good way – with its latest 21:9-ratio TV
Just as Spinal Tap's amps go to 11, then Philips' 58PFL9955H goes to 21. Or 21:9, to be precise. This is the much-anticipated sequel to the brand's original, ground-breaking and seriously movie-friendly Cinema 21:9 – a TV which laughed in the piffling face of your usual 16:9-ratio TVs and stretched to embrace the extra girth of the ultra-wide CinemaScope aspect ratio still used on the majority of cinematically released films.
Or to put it in more prosaic terms, it's a really wide telly that can show even 2.35:1 CinemaScope films without those bloody annoying black bars to top and bottom. Huzzah!
What's more, its ultra-wide shape is really just one among a whole host of attractions of the 58PFL9955H. For starters, the set is 2in bigger than the original 21:9. This doesn't sound much, but it actually looks like more, such is the dominating impact the screen has on your field of view.
The set's new design is a definite improvement, too, eschewing the slightly plasticky finish of the original model with a much more opulent and 'touchable' brushed aluminium bezel. Even more flair comes from the inevitable implementation of Philips' Ambilight system, which pumps out coloured light sympathetic to the image content.
Some people might find Ambilight a bit much, I guess, and as we'll see, its effectiveness with 3D material is debatable. But if you don't like it, then hey – you can always turn it off.
Yes, that's right, I did say 3D back there. The 58PFL9955H is the first TV to bring the new full HD 3D system to an ultra-wide screen – a prospect that's got us pretty excited given that 3D depends on creating a sense of immersion to work well. It's good to note that you get two pairs of active shutter glasses free when you buy the TV, and the IR emitter is integrated into the TV's bezel.
You don't get a 2D-3D conversion system, however. But while some members of the HCC team will disagree with me, I actually consider this a positive rather than a negative, given how prone to unpleasantness such converters tend to be.
No dead zones
For serious picture quality fans, the 58PFL9955H's most important feature might well be its use of a direct (rear-mounted) LED lighting system, complete with local dimming, and with around 30 per cent more controllable LED segments than the 224 found inside Philips' excellent 16:9-ratio PFL9705 models.
This immediately allays fears of potential 'dead zones' that might have occurred if Philips had just put more space between the 224 LED segments, and leaves the set claiming the same 10,000,000:1 contrast ratio as its 16:9 siblings.
The direct LED engine is driven by the very latest version of Philips' Perfect Pixel HD video processor: a system with so much horsepower it makes the processing efforts of many rivals look like they're running on a ZX Spectrum. The downside to all this processing might is that it needs effort to get the best out of it. Nearly every part of the processing engine can be manipulated individually. This is great on one level, but does require experimentation so that you become used to what the different settings for all the options do with different source types.
The last big trick up the 58PFL9955H's big old sleeves is its multimedia support. This runs to playback of a vast wealth of video/photo/music multimedia formats from USB devices or DLNA PCs; the ability to reproduce and manipulate your PC's screen interface on the TV; and a solid online service that includes open internet browsing. The only common feature the 55PFL9955H lacks is an integrated Freeview HD receiver. But then a set of this stature will likely be used with an external HD tuner, most likely a Sky HD or Virgin HD box. Especially given the 3D material these boxes can also provide.
Unable to resist, I kicked off my testing of the 58PFL9955H's ultrawide pictures with some 3D content – namely Call of Duty: Black Ops in 3D, and a clip of Avatar.
And in many ways, the experience was hugely enjoyable. For a start, the sheer width of the screen has a startling beneficial impact on 3D's immersive properties. It just seems to fit that much more comfortably into your natural field of vision than normal 16:9 TVs. Also extremely striking is how bright, colourful and detailed 3D HD sources look, as the set manages a level of dynamism with 3D that none of our preferred 3D plasma TVs can match.
On one level the TV even does well with 3D's crosstalk noise interference, toning it down compared with any other LCD TV – bar Philips' own 46PFL9705H. The crosstalk is there, but it looks fainter and thus less distracting.
However, while the 58PFL9955H suppresses crosstalk very well by LCD standards, it still leaves more of it on show than you get with 3D plasma TVs, especially those from Panasonic.
I also didn't like Ambilight with 3D material. It just didn't look natural – possibly because it's essentially a 2D device being applied to a 3D image. Turning to the 55PFL9955H's 2D pictures – provided you are conservative regarding contrast and brightness levels, and have set the processing options to sensible levels – they're a wonder to behold.
Again the sheer size and width of the picture when watching a Blu-ray CinemaScope film makes a massive instant impact. It's difficult to overestimate just how good it is not to have those unnatural black bars to the top and bottom of the picture. But the 58PFL9955H is also sensational in the colour and contrast departments, as fantastically exuberant colours and punchy whites sit side by side with inky black levels that are a revelation for an LCD screen. There isn't even any sign of the sort of 'haloing' issue that we usually associate with very dynamic direct LED TVs unless you have to watch from an angle.
Colours also look natural despite their dynamism, and sharpness and detail levels with HD footage are extreme even without the set's rather noise-inducing Advanced Sharpness tool in play. So potent is the Philips' video processing, meanwhile, that it makes standard definition pictures look sharp, colourful and – if your processing settings are right – noiseless.
Even LCD's age-old issue of motion blur is but a tiny irritant on the 58PFL9955H. In fact, the set's HD Natural Motion system can almost completely eradicate it, as well as judder. This system won't be to everyone's tastes, and it certainly must be handled with care, but it's still a worthy addition to the picture toolset.
In fact, aside from again having to stress that it takes effort to get the best out of them, I am struggling to find anything negative to say about the 55PFL9955H's pictures.
It remains a shame, I guess, that nobody is yet making native 2.35:1 Blu-ray transfers; instead the black bars around CinemaScope films continue to be added during mastering, meaning the 55PFL9955H has to use processing to 'expand' pictures and push the bars off the screen. But this processing is so good you'll forget it's even going on.
Big sound for a thin TV
The set doesn't just focus on picture quality either. A clever system of separated dome tweeters and rear-mounted woofers helps produce levels of audio power, range and clarity that most other thin TVs can only dream about.
I guess the 55PFL9955H's £4,000 asking price could get you a decent projector, screen and even, at a push, a cheap anamorphic lens attachment. But projectors simply don't suit every room environment, and in any case, no affordable projector even gets close to the intensity, dynamism, believability and uniquely engaging experience of watching the 55PFL9955H. Basically, despite its complexity and lack of Freeview HD tuner, this Philips TV is nothing short of a home cinema triumph.
HCC VERDICT
Highs: Design; 2D/3D pictures; excellent multimedia talents; internet browsing; image processing
Lows: Off-axis viewing; no Freeview HD tuner; no 2D-3D conversion
Performance: 5/5
Design: 5/5
Features: 4/5
Overall: 5/5
Specifications
3D: yes Active shutter with two sets of glasses supplied
HD Ready: yes including 1080p/24
Tuner: yes Freeview (not HD)
Component video: yes one input
HDMI: yes four, including v1.4 option
PC input: yes one D-Sub
Resolution: 2,560 x 1,080
Sound: 30W RMS
Brightness (claimed): 500cd/m2
Contrast ratio (claimed): 10,000,000:1
Dimensions (off stand): 1,459(w) x 668(H) x 71(d)mm
Weight: 26kg
Features: 400Hz; NetTV online service; USB media playback; direct LED lighting with local dimming; Perfect Pixel HD processing; DLNA support; Wi-Fi built in; MP3, WMA, AAC, JPEG, H264/MPEG-4 AVC, MPEG-1, MPEG-2, MPEG-4, WMV9/VC1, AVI, MKV media support

SPONSORED VIDEO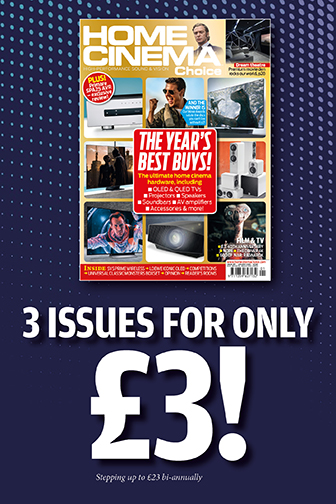 Home Cinema Choice #332

is on sale now, featuring: Samsung's 8K flagship; Anthem AVM 90 processor; B&W 800 Series Diamond; LG smart projector; Hollywood box office bombs; Hitchcock 4K; and more
Want to see your home cinema system featured in the pages of HCC? Click
here
for more info.