Philips 50PFL7956H review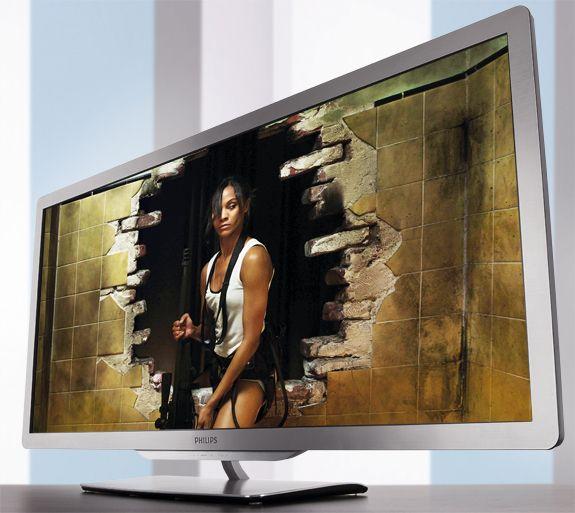 John Archer gets to grips with Philips' most affordable 21:9 3DTV to date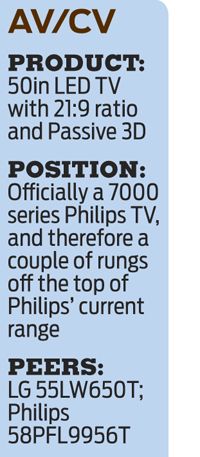 If there was any doubt that Philips is one of the most innovative TV brands at work today, it's been emphatically eradicated by the first two TVs we've seen from the brand's belated 2011/202 range. First there was the 46PFL9706T, which used its Moth-Eye filter to deliver class-leading black level response. And now we have the 50PFL7956H, otherwise known as the Cinema 21:9 Gold: the brand's first TV to combine its super-wide, film-friendly 21:9 aspect ratio with passive 3D technology.
It's also Philips' smallest and cheapest 21:9 ratio TV to date, with its £2,000 tag potentially opening the joys of 21:9 viewing to a whole new audience.
The joys I'm talking about, of course, are of being able to watch films made in 2.35:1/2.40:1 aspect ratios – still easily the film world's most common – without the usual black bars above and below the picture. Bars, of course, which appear when watching 2.35:1 ratio films on normal 16:9 widescreen TVs.
By permitting you to watch ultra-wide films with no bars, the 50PFL7956H makes the experience more immersive, as without the black bars in play you're somehow less aware of the technical process involved in making a picture appear on a screen.
Contributing further to the 50PFL7956H's experience are the way an ultra-wide screen fills your field of vision more naturally than a 16:9 one, and the 50PFL7956H's carriage of a 'stereo' version of Philips' unique Ambilight technology.
The only problem with Ambilight in the 50PFL7956H's context is that the screen's extra width makes the illuminating effect seem slightly less coherent than usual, as there's no Ambilight along the top edge to bond the side effects together. On the other hand, the slender silver bezel around the 50PFL7956H creates a very attractive presence in your living room.
Tucked away inside the 50PFL7956H's frame is a native pixel count of 2560 x 1080 – which is, of course, a native Full HD resolution in 21:9 terms. I should stress, though, that at the time of writing, no 21:9/2.35-2.40:1 content currently exists for the home market that could make full, pixel-for-pixel use of the 50PFL7956H's screen real estate. After all, when 2.35:1 films are put onto Blu-ray discs, the black bars are included as part of the image. So to remove them, the 50PFL7956H has to apply processing to 'magnify' the image's height without spoiling the image's proportions or causing hefty chunks to disappear off the TV's sides.
Normally, 'upscaling' processing such as this would scare the bejesus out of die-hard movie fans. But with the 50PFL7956H the pros of losing the black bars far outweigh the cons – especially when those cons of potential pixel interpolation 'mistakes' and higher noise levels are largely negated by the quality of the picture processing engine. And note that this processing system is actually Philips' 'step down' Pixel Precise HD engine rather than the top-of-the-range Perfect Pixel HD system sported by the brand's flagship 9000 Series.
Easy does it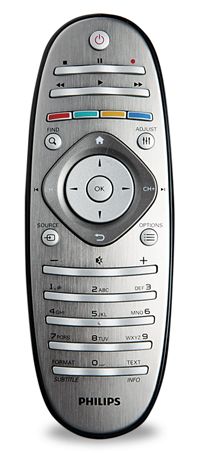 The 50PFL7956H's passive 3D (or Easy 3D, to use Philips' terminology) system is backed up by two pairs of supplied passive glasses. Subsequent pairs cost around £15 each. You can even get special gaming glasses that allow two console gamers to simultaneously enjoy fullscreen viewing by converting each part of the split-screen feed into one full-screen 'side' of a 3D signal, and then only letting one of these signal 'sides' through to each pair of spex.
As with all Philips TV, you should familiarise yourself with the reams of picture settings available in the 50PFL7956H's menus if you want to ensure you're always getting the best picture quality. But with this proviso, I have no problems in giving its pictures a wholehearted recommendation.
The passive 3D images are particularly startling. For a start, seeing 3D delivered in a 21:9 ratio screen makes everything even more appealing – this feels like 3D's natural home.
Nor does the 50PFL7956H's pictures suffer much from the visible horizontal line structure, and slight softness, that's characteristic of the passive 3D format, especially on larger screens. Colours look potent and believable, too, and the TV handles motion with excellent clarity.
The sense of depth is good without seeming forced, and the set's edge-LED lighting system delivers an excellent light output that helps 'sell' the 3D effect.
There's hardly any crosstalk either – provided, at least, that you don't watch from outside the set's +/-12 or 13 degree vertical viewing angle tolerance level. And, while the 3D images lack the detail and smoothness found on its active 3D stablemates, they are easy to watch over protracted periods of time.
The 50PFL7956H is also a great watch in 2D. Detail and clarity are there in abundance with HD material, and even standard-def pictures look super-clean and crisp, even after they've been upscaled more than usual to fit the 21:9 frame. Also key to the 50PFL7956H's 2D clarity is its superb motion handling, courtesy of both its native response time and, to a lesser extent, its motion processing systems.
The only issue I have with the 50PFL7956H's 2D images is that they're not as strong in the black level department as I'd hoped. Very dark scenes exhibit a noticeable greyness over parts that should look black. However, while this is disappointing versus the inky blacks achieved by the best plasma TVs and Philips' own Moth-eye set, it's not bad by edge LED standards.
One for movie fans
It's encouraging to see Philips not only persisting with, but also innovating around, its 21:9 screen format. The 50PFL7956H brings the ultra-wide shape down to a more affordable price point, and offers one of the most convincing arguments for passive 3D I've seen to date. Yes, it won't suit everyone, but if you're the sort of movie buff who cares about cinematic aspect ratios, then I recommend you give it a spin.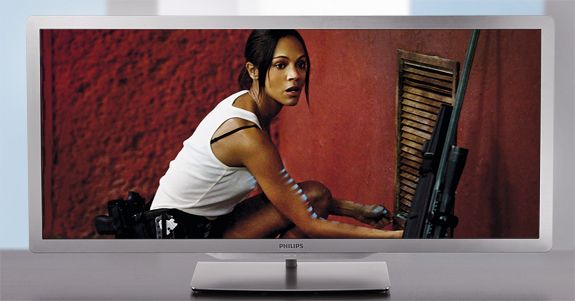 ---
HCC VERDICT
Philips 50PFL7956H
Price: £2,000 Approx
Highs: The 21:9 shape works brilliantly for films; 2D and 3D pictures are both mostly very good; features galore
Lows: Crosstalk when viewed off-axis; black levels could be better
Performance: 4/5
Design: 5/5
Features: 5/5
Overall: 4/5
---
Analysis
GUI: Menu icons can be called up as an overlay, and are quick to browse
Power consumption: During a spin of Tangled, the Philips used an average of 119W (with Ambilight on, of course)
Killer feature: The 21:9 aspect ratio makes this a unique offering – and the processing required to 'magnify' 16:9 material is up to scratch
---
Specifications
3D: yes Passive 'Easy 3D'
Full HD: yes 1,920 x 1,080
Tuner: yes Freeview HD, analogue
Smart TV: yes Net TV
Connections: 4 x HDMI; 1 x component; 1 x D-Sub PC input; 2 x USB; 1 x Scart; 1 x Ethernet; 1 x optical digital audio
Sound: 2 x 17W
Dimensions (off stand): 1,242(w) x 580(h) x 32(d)mm
Weight (off stand): 22kg
Features: 2560x1080 resolution; built-in wi-fi; USB multimedia playback and recording; edge LED backlight; 400Hz 'Perfect Motion' rate; Pixel Precise HD processing; Ambilight (two sides); 21:9 aspect ratio; Net TV online functionality; dual-screen gaming; 2 pairs of 3D glasses included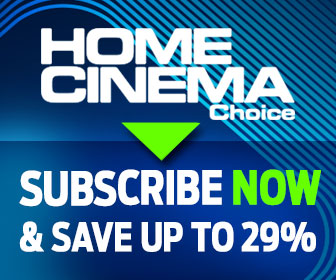 Home Cinema Choice #323

is on sale now, featuring: Panasonic JZ2000 4K OLED TV; LG SP11RA Dolby Atmos soundbar; Philips 806 OLED TV; Neill Blomkamp interview; hi-fi meets home cinema install; and more
Want to see your home cinema system featured in the pages of HCC? Click
here
for more info.