Philips 46PFL9707 review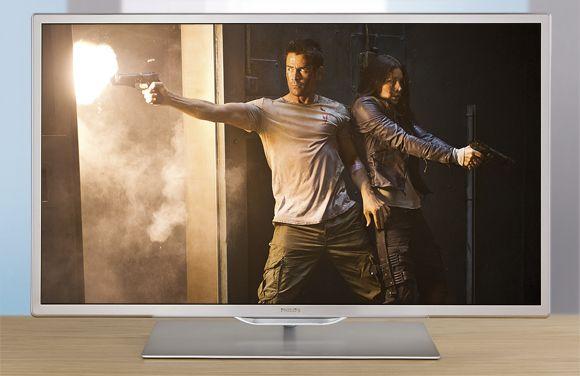 Philips second-generation Moth Eye TV dazzles with 2D HD material. But what about 3D?
Going back to nature usually means buying a rural homestead with 
a couple of cows and goats, establishing a vegetable patch and donning Hessian underpants. Yet with Philips, taking a cue from nature certainly does not mean abandoning technology. While the brand's new 46PFL9707 is inspired by a moth, 
it's about as cutting-edge as TVs get.
The moth connection is a filter applied to the screen with thousands of nodules on its surface, which apes the mechanism that moths' eyes use 
to prevent light reflection. This nodular filter massively reduces the screen's susceptibility to reflecting ambient light, resulting in deeper black levels and a much wider contrast range.
The Moth Eye filter on the 46PFL9707 isn't the first we've seen. Philips debuted it to dazzling effect on 2011's 46PFL9706. But 2012's version – which is only available on this 46in model – reduces reflections even more via an improved retarder film that minimises the 'in-panel reflections' usually generated between the various layers that go into an LCD screen.
The 46PFL9707 doesn't rely solely on its Moth Eye filter for picture quality, though. Just as important is its direct LED lighting system (where the LEDs are ranged behind the screen rather than around its edges) and local dimming, whereby clusters of the LEDs can have their light levels adjusted individually to improve contrast. These LCD weapons are increasingly ignored by manufacturers amidst the pursuit of ultra-thin screens.
The 46PFL9707 offers the latest version of Philips' Perfect Pixel HD video processing. This ultra-powerful system has proved divisive over the years, with some loving the potency with which it strives to improve every facet of TV picture quality, while others find it too heavy-handed. My personal take is that it takes serious effort to get its components working at their best, but that, if handled with care, it can produce stellar results.
Improvements to Perfect Pixel HD include NR systems aimed at low-quality streamed sources, and a new local contrast system.
The 46PFL9707's flagship status is further underlined by active 3D playback (with two pairs of glasses included), multimedia file support via three USB ports or networked DLNA hardware, and access to the internet via either a browser or Philips' ring-fenced new Smart TV service. Inevitably there's built-in Wi-Fi to support this network functionality.
Other connections include five HDMIs, while the set wears its flagship credentials on its sleeve courtesy of a gorgeous metallic finish, slim design and Ambilight Spectra XL system, which casts coloured light from the set's sides to make viewing more relaxing and immersive.
Philips' previous online service was off the pace. And, although it's improved a little and benefits from a full QWERTY keyboard on the remote's reverse side, it's still content-light versus the efforts of Sony, Samsung, LG and Panasonic. Video highlights at the time of review were restricted to BBC iPlayer, Blinkbox, YouTube, iConcerts and Viewster, with no LOVEFiLM 
or Netflix support.
Significant improvement
I was curious to see how the 46PFL9707 could improve significantly on the outstanding efforts of its predecessor. But it does. At least in 2D mode...
During a run-through of the new Blade Runner 30th Anniversary Blu-ray the most instant attraction is the incredible contrast on show. The film's written introduction, which uses white text on a black background, sees the writing jumping out from a flawless inky-black backdrop with potent punch. Even Panasonic's plasma sets don't impress me this much, as they don't go as bright as the Philips.
The climactic scene where Deckard fights Batty in a low-lit building also benefits from the TV's contrast performance, offering exceptional amounts of shadow detail and image depth. And during Ridley Scott's shots of the futuristic cityscape, the TV's contrast, brightness and processing enable it to craft colours of scintillating naturalism and intensity.
The 46PFL9707's detailing talents are immense. Blade Runner's seething streets look more real than the ones outside your window, while famously crisp Blu-ray transfers like Watchmen are blisteringly crisp and textured.
This sharpness remains largely intact when there's movement to handle, too. Without the set's motion processing activated there's a little motion blur, but call upon HD Natural Motion and it removes blur and judder to whatever degree you're comfortable with, depending on which 'strength' level you adopt.
The low-level settings also avoid the shimmering halo effect that blighted earlier versions of Philips' pixel-preening tech.
The 46PFL9707 largely avoids the light haloing effect that direct LED implementations can create around bright objects on dark backdrops – the problem only becomes visible if you view from an angle of more than around 35 degrees. Standard-def material, meanwhile, is given an impressive polish.
A sting in the tail
Now to the 46PFL9707's Achilles' heel: 3D. 
As soon as I clocked the menu screen of the Prometheus 3D Blu-ray, crosstalk ghosting was clearly visible, and it sadly remains an almost constant companion over objects in the mid and far distance throughout the film. This distracted me from the excellent other aspects of the 46PFL9707's 3D performance – high brightness levels, punchy, dynamic colours and solid sharpness and detail levels.
Moving on to other performance areas, with the Game picture preset active, and every bit of processing turned off, I measured under 40ms of input lag, which is low enough to leave your fragging skills pretty much unaffected. Secondly, the 46PFL9707's audio performance is outstanding, using two 20W speakers built into its stand to produce superb levels of volume and clarity.
If you're not bothered about 3D and you're feeling flush, then you can splash out on the 46PFL9707 safe in the knowledge that its 
2D performance is state-of-the-art. However, at HCC we love all forms of AV, so for all the 46PFL9707's 2D glories, it's hard for us to 
give such an expensive TV a totally unqualified recommendation when its 3D images are 
so flawed.
---
HCC VERDICT
Philips 46PFL9707
Price: £2,300 approx
www.philips.co.uk
Highs: Class-leading 2D pictures; gorgeous design with Ambilight; exceptional sound for a flatscreen TV
Lows: It's expensive; 3D suffers with crosstalk ghosting; needs care with processing settings; Smart portal feels second-rate
Performance: 4/5
Design: 5/5
Features: 4/5
Overall: 4/5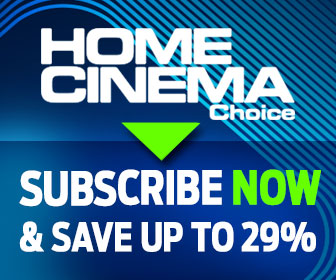 Home Cinema Choice #323

is on sale now, featuring: Panasonic JZ2000 4K OLED TV; LG SP11RA Dolby Atmos soundbar; Philips 806 OLED TV; Neill Blomkamp interview; hi-fi meets home cinema install; and more
Want to see your home cinema system featured in the pages of HCC? Click
here
for more info.