Philips 46PFL9706T review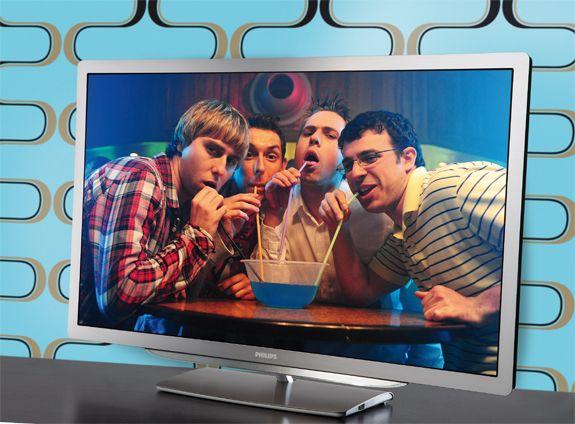 Moth-eyed magician
Philips has turned to the humble moth for inspiration with its latest TV, giving John Archer a new-found respect for our fluttery friends
Philips can usually be depended on to deliver a genuine innovation or two with every new range of TVs. But this year it's outdone itself by introducing the first commercially-released TV equipped with a Moth Eye filter. The TV in question is the 46PFL9706T. And so unique is it that not even the larger model from the same range, the 52PFL9706T, benefits from the same tech.
The bottom line is that it's a new filter capable of hugely reducing on-screen reflections; so much so that the 46PFL9706T claims a mind-boggling contrast ratio of 150,000,000:1.
Look but don't touch
The moment you get Philips' 46PFL9706T out of its box you know you're in for something different. There's a plastic cover stuck to it, with a label warning you in no uncertain terms to avoid direct skin contact with the screen. And this is very sound advice, for if you do touch the screen, you'll cause the filter to look streaky and lined. A situation only remedied via the special lotion Philips includes with the set.
Yet once you've got the 46PFL9706T set up and told your kids that there will be no more In The Night Garden if they prod your new TV's screen, it immediately becomes something to admire rather than fret over. It truly is handsome in its metallic silver bezel complete with rounded corners. And that's before you even switch it on and clock Philips' trademark Ambilight system, which casts immersive coloured light from three of the TV's edges.
While the Moth Eye filter might be its headline-grabbing trick, this set also benefits from the latest version of Philips' Perfect Pixel HD processing engine. This is roughly twice as powerful as last year's Perfect Pixel HD system, allowing it to deliver, for the first time, its advantages (including its motion clarity processing) in 3D as well as 2D.
The set's 3D capabilities are of the Full HD active shutter variety, and at the time of writing you get two pairs of 3D glasses free. Philips has also provided a 2D-to-3D conversion system, as well as a tool for adjusting the depth of 3D images.
Intriguingly, Philips uses the 46PFL9706T's 3D capability to let two console gamers enjoy full-screen playback of split-screen games by blowing up each player's half and delivering the resulting full-screen images via the separate 'eye streams' of the 3D signal. A button on the glasses switches them between 'normal' 3D and split-screen gaming mode.
Direct approach
There are two more areas where the 46PFL9706T does its damndest to justify its £2,300 price tag. First, its pictures are illuminated by direct LED lighting with local dimming via 224 separately controllable LED zones. My experience suggests this configuration should deliver a premium picture performance, especially where colour and contrast are concerned.
The final big feature of the well-specified 46PFL9706T is its multimedia capability. Built-in Wi-Fi means the TV can easily access files on a networked DLNA PC, or go online with Philips' Net TV service.
Net TV is a solid offering, thanks to its attractive interface and open web browser, complete with a practical text input system. It's good to see, too, that Philips has now got the BBC iPlayer among its services, with other key apps including CNBC Real Time, Box Office 365, The Cartoon Network, Twitter, Facebook, Viewster, and the Aupeo internet radio 'server'. Overall, though, I'm a little disappointed by how little Net TV has progressed from its 2010 iteration.
The 46PFL9706T houses two USB ports, through which you can play a good, if not definitive, set of multimedia file formats, or record from the Freeview HD tuner to USB HDDs. And yes, I did say Freeview HD; there's no repeat of the no-Freeview-HD debacle of the brand's previous TV range.
Unusually for a TV, the 46PFL9706T's speakers are built into its heavy-duty stand – a stand that doubles as a wall mount if you prefer. I'm surprised to say that this innovation results in a highly respectable soundstage, with plenty of dynamic range, an open mid-range, good treble detailing and even a bit of bass.
Pro-grade pictures
As is normal with a premium Philips TV, the 46PFL9706T lets you tweak almost every part of the powerful processing engine. What's more, for the first time Philips has secured the endorsement of the Imaging Science Foundation, proving to AV enthusiasts that its newest flatscreen has all the tools necessary to be professionally calibrated. It takes all of 10 seconds watching the 46PFL9706T to realise that the combination of the Moth Eye filter, direct LED lighting and extravagantly potent picture-processing help it produce what are, at times, the best pictures I've seen on an LCD TV.
The screen's contrast ability is nothing short of spectacular, with inky, deep yet natural blacks sitting side by side with phenomenally punchy, vibrant whites and colours. The black level response in particular even goes deeper than some of this year's plasma TVs. Given that this exceptional black level prowess is down to local dimming technology, there's always the chance that there won't be much shadow detail in pictures, and that bright objects will appear to have a cloudy halo around them when they appear against dark backgrounds.
But actually, so sophisticated is the TV's dimming engine that shadow detailing looks great, while the 'haloing' problem is so minor you scarcely ever notice it – unless you're sat off to the TV's sides, anyway.
Then there's the Moth Eye filter to consider. Thanks to this you can see practically no light reflected on the screen at all. This means all the light from the LEDs can burst into your room without any dilution – even in a brightly-lit room. Awesome.
The 46PFL9706T's pictures are further notable for their outstanding sharpness – HD pictures somehow feels even crisper than the set's Full HD pixel count should deliver.
And the new picture-processing engine is comfortably Philips' best to date. It delivers its bundle of improvements without generating as many unwanted side effects as earlier versions. This is particularly true with the Perfect Natural Motion system, which can eliminate judder and motion blur without – on its lowest-power setting – causing previously seen problems like areas of distortion around moving objects.
Meanwhile, those who want to avoid this processing altogether will be pleased to know that the 46PFL9706T's natural response time is pretty good, too.
With the 46PFL9706T's 2D performance raising hopes of spectacular 3D, I donned a pair of Philips' lightweight new glasses and felt a bit disappointed. The set's 3D pictures clearly suffer with – you guessed it – crosstalk noise.
This double ghosting is common with many active shutter 3D TVs, of course, but given that Philips claims to have really gone to town in trying to combat the problem – even making sure the screen benefits from standardised heat distribution – the amount of crosstalk on show was a bit of an unwelcome surprise.
There's a solution of sorts in the 'lower depth' 3D setting. But as this also massively reduces the image's sense of depth, you'll begin to wonder whether you should bother at all.
Making the crosstalk all the more unfortunate are substantial 3D strengths such as exceptional brightness and colour-richness for an active 3D picture, along with excellent Full HD detailing.
Flat-o-vision finesse
Looking back over my time with the 46PFL9706T, its crosstalk problems do make it a slightly problematic purchase if you're really into 3D.
If 2D is your main attraction, though, then you can part with your £2,300 safe in the knowledge that the 46PFL9706T's pictures are at times nothing short of revolutionary.
---
HCC VERDICT
Philips 46PFL9706T
Price: £2,300 Approx
Highs: Stunning 2D picture quality; lovely design; massive feature count; good sound quality
Lows: Costly for a 46in TV; crosstalk with 3D; take care with the screen
Performance: 4/5
Design: 5/5
Features: 5/5
Overall: 5/5
---
Specifications
3D: yes Active shutter
Full HD: yes 1,920 x 1,080
Tuner: yes Freeview HD; analogue; CI slot
Connections: 4 x HDMI; 1 x component; 1 x D-Sub PC input; 1 x
Scart; 2 x USB; 1 x SD card; 1 x optical digital audio; 1 x phono stereo audio; 1 x Ethernet
Sound: 2 x 20W
Brightness: 500cd/m2
Contrast ratio: 150,000,000:1
Dimensions (off stand): 1083(w) x 660(h) x 39(d)mm
Weight (off stand): 16kg
Features: Built-in wi-fi; USB multimedia playback and recording; direct LED backlight with local dimming; '1200Hz'-like system; Perfect Pixel HD processing; Ambilight (three sides); Moth-eye filter; Net TV online functionality; dual-screen gaming; two pairs of 3D glasses included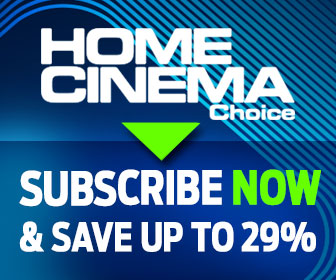 Home Cinema Choice #323

is on sale now, featuring: Panasonic JZ2000 4K OLED TV; LG SP11RA Dolby Atmos soundbar; Philips 806 OLED TV; Neill Blomkamp interview; hi-fi meets home cinema install; and more
Want to see your home cinema system featured in the pages of HCC? Click
here
for more info.