Panasonic TX-L55WT65 review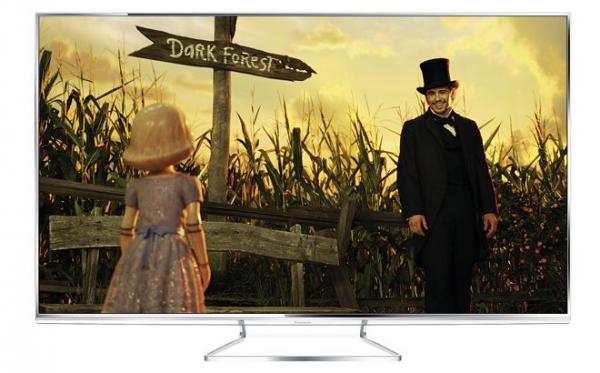 While this 55in flagship Panasonic LED is a real looker, it's not without some flaws
Even by the standards of a market full of unfeasibly attractive TVs, the L55WT65 is outstandingly pretty. Everything about it, from its slim frame to its metallic finish, glass-edge trim and imaginative metal-edged glass table-top stand, is designed to seduce.
The L55WT65's up-front appeal continues, moreover, when you switch it on and find yourself greeted by an exceptionally helpful onscreen guide – including spoken-word tutorials – and then presented with Panasonic's friendly My Home Screen Smart TV interface, complete with multiple themed preset content 'hub' screens and the facility to set up personalised hubs for different members of your household. Excellent.
Also excellent are some aspects of the L55WT65's connections. Three USBs, an SD card slot and onboard Wi-Fi-delivered DLNA provide ample options for playback of your multimedia files, plus you can share content on Android or iOS devices via Panasonic's Viera Remote 2 app. The set even manages to build a pop-up camera for Skyping and face recognition features into its slim form.
The L55WT65 only provides three HDMIs, however, and Panasonic's Viera Connect online platform isn't as packed with video content as some other Smart platforms. The only ones of real note are the inevitable BBC iPlayer and Netflix.
As befits its position as Panasonic's premium 55in TV, its picture engine is pretty uncompromising, including 16-segment local dimming control over its edge-LED lighting system; a mind-boggling '3,600Hz' motion processing system; enough calibration tools (including white balance fine-tuning and colour management) to secure the endorsement of the Imaging Science Foundation; and Passive 3D playback.
An illuminating problem
Despite its potent spec and gorgeous front-end the L55WT65 comes up a little short with its pictures with contrast letting the side down.
In The Dark Knight, the sequence where Batman tries to stop The Joker from kidnapping Harvey Dent from a police van looks rather grey and short of shadow detail and depth if you don't use the set's local dimming. But if you do call in local dimming, even the relatively high number of individual zones can't prevent irritating light blocking around any bright objects that appear against dark backdrops.
The L55WT65 delivers some terrific picture qualities in other areas. Images are immaculately sharp, for instance, combining great detail resolution with some of the cleanest motion handling in the LED world.
The set also exhibits a deft touch when it comes to upscaling standard-definition material, adding sharpness while stripping out source noise. This is a sure-fire sign of the qualities of the processing engine lurking within Panasonic's range-topping set.
Colours are intense but also subtle and natural (aside from the occasional 'slipped' tone during dark scenes), and the set supports a slightly wider viewing angle than most LED TVs you'll come across.
3D Blu-rays prove extremely watchable – bright, colourful, full of depth, and generally unhindered by ghosting provided you keep your vertical viewing angle under 15 degrees. Audio performance is equally solid. There's plenty of detail delivered here, and you can hit potent volume levels without the speakers distorting. Bass is a little weak, though.
Panasonic has worked wonders with its TV designs and Smart TV interface this year, and its LED pictures show signs of improvement. However, as mentioned above, the obvious contrast problems make it hard to give the L55WT65 an unreserved recommendation.
---
HCC VERDICT
Panasonic TX-L55WT65
Price: £2,500 Approx
www.panasonic.co.uk
Highs: Stunning looks; bright pictures can look exceptional
Lows: Some contrast/local dimming distractions; expensive; online platform needs more VOD
Performance: 3.5/5
Design: 5/5
Features: 4.5/5
Overall: 3.5/5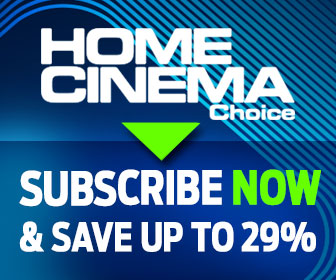 Home Cinema Choice #323

is on sale now, featuring: Panasonic JZ2000 4K OLED TV; LG SP11RA Dolby Atmos soundbar; Philips 806 OLED TV; Neill Blomkamp interview; hi-fi meets home cinema install; and more
Want to see your home cinema system featured in the pages of HCC? Click
here
for more info.