Panasonic TX-65CZ952B review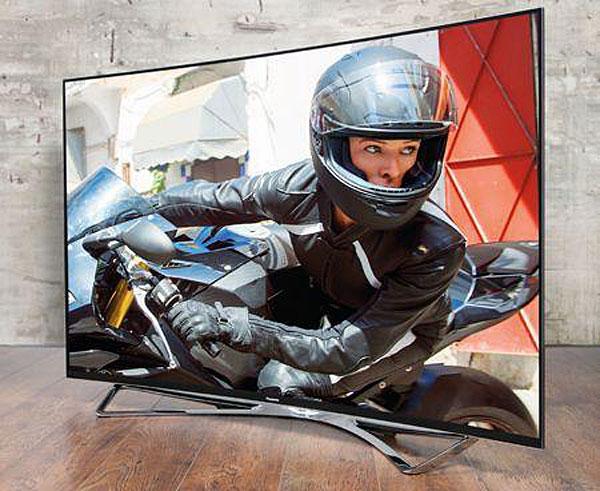 Panasonic's debut OLED carries a premium price tag. Is it worth it?

For many serious AV fans, OLED currently looks like the holy grail of TV technology, ready to usurp LED-lit LCD TV and light the way to a new era of home entertainment. If OLED doesn't excite you, then you may be reading the wrong website.
Why is OLED a big deal? Because its self-emissive approach to crafting pictures follows plasma's example of enabling each pixel to deliver its own light and colour independent of its immediate neighbours. This allows for levels of contrast and colour precision that not even the most expensive and precise of today's LCD TVs can rival.
Yet for all its potential magnificence, getting OLED perfection in the homes of film fans has been thwarted by a combination of ultra-expensive prices and a few sporadic performance issues. Here, however, in the shape of the 65in 4K Panasonic 65CZ952B, I'm happy to say I've found an OLED TV that at least fixes the picture quality hiccups. Just don't mention the price…
Twice as nice?
Except, I guess, we have to. So here goes: this Panasonic flagship sells for around £7,000. Oof. That makes it not far off twice as expensive as LG's latest 65in 4K OLED TVs – including the enticing (and flat) 65EF950V. It also makes it around four times as expensive as a pretty high-level 65in LCD set.
Search for justifications for the 65CZ952B's eye-watering price and you have to begin with its cutting-edge design. This combines an incredibly thin profile at its edges with a curved screen that makes flat TVs look, well, flat by comparison. The screen frame is remarkably narrow too, and it sits on a pedestal stand that leans artfully backwards so that you're barely aware it's there. The TV even sports a white Alcantara finish that covers much of its rear. How much value you get from this depends on how much time you spend looking at the back of your TV rather than the front.
A reasonably strong connections roster includes four HDMIs, three USBs and Wi-Fi and LAN network options, plus feeds for both the set's Freeview HD and Freesat HD tuners.
But exploring the multimedia options quickly makes you aware of a disappointment: there's no support here for Panasonic's 2015-era Firefox OS operating system. This seems pretty bizarre when you think that Firefox is found on sets far, far further down the pricing ladder, and apparently this can't be fixed by any future firmware update. There's still support for the 4K versions of Netflix and Amazon Instant, but I certainly missed the slick helpfulness of Firefox. Plus you've got to think that the number of apps likely to appear on this OLED screen will be more limited than the number heading to Panasonic's Firefox TVs.
Pro-grade processing
The 65CZ952B does its best to make you forget the lack of Firefox with its picture features. As well as using OLED screen technology, it employs Panasonic's highest '4K Pro' level of image processing plus some extra tricks the brand has developed expressly for its self-emissive debutante.
The 4K Pro side of things is there to control colour (using a professional-grade 3D Look Up Table to reference 8,000 different colour points), contrast and gradations – all with a focus on delivering pictures of total accuracy to established video standards. Or, as Panasonic likes to put it, delivering pictures that look exactly as the director intended.
There's something of a dichotomy at the heart of this idea, given that the 65CZ952B's panel is capable of going beyond the specs of the REC.709 mastering standard used by most of today's content – and the set provides a variety of 'remastering' engines designed to upconvert REC.709 fare to the screen's capabilities if you desire. And the wide colour and extreme contrast abilities should help it deliver HDR standards with some aplomb once a) they're finalised and b) Panasonic has rolled out the necessary firmware update.
With its multiple calibration tools and the endorsement of both the Imaging Science Foundation (ISF) for setup flexibility and THX for picture quality, the key thing about the 65CZ952B is that it's capable of delivering pictures that look more or less exactly as you want them to look, regardless of whether you favour accuracy or dynamism.
Regards the tools Panasonic has developed just for OLED, the key ones are a (superb) picture mode calibrated by Hollywood colourist Mike Sowa (whose work includes Insurgent and Oblivion), plus new techniques for tackling two issues that have been apparent on rival OLED TVs so far: reduced brightness at the screen's edge, and a tendency for OLED's usually stunning black level response to suddenly 'grey out' when the screen has to show light gradations just above absolute black. Whether these exclusive-to-Panasonic-picture features justify a cost that's twice as high as that of LG's same-sized OLED TVs is up for debate. What isn't in doubt is that this TV delivers the best picture quality I've ever seen.
Embrace the Dark Side
Black. Black, black, black. Blackety-black. There's no getting past it – the performance of OLED where black levels are concerned has become the technology's major talking point. So it make sense to start here. With the 65CZ952B dark scenes showcase black colours that look black. Not some shade of grey, blue or green. Not as if they've been injected with radioactive material, but just black. Or Absolute Black as Panasonic calls it.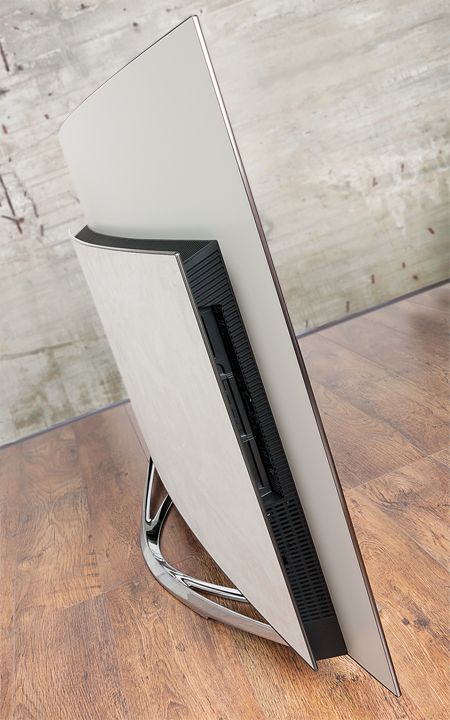 It's a mind-boggling (but not unexpected) trick and these pretty near immaculate blacks are delivered without clouding or ringing problems, or compromising the intensity of any bright elements elsewhere in the shot.
Interstellar proves a fine test. Its outer-space tapestries look incredible, with an abundance of stars twinkling against the darkness as if they're points of light punched through the screen. The rich colours of planets and galaxies lose none of their lustre in the middle of this vast blackness.
Less stark but still murky content like my reference Harry Potter... sequence (Voldemort's assault on Hogwarts from the final film) oozes fine detail, plus colour and greyscale nuances even in the darkest areas. And the pitch blacks on show aren't accompanied by the sudden infusion of greyness at just above black that can startle you on LG's OLED TVs.
With no cross-pixel light 'pollution', colours look consistently spectacular right across the spectrum. Panasonic's 4K Pro processing is astute and accurate; hues never stray into gaudy territory (except where the content demands it). I've previously witnessed a pink or blue 'blow out' marring OLED TVs. Not here.
Brightness is healthy – the screen injects plenty of punch into bright scenes. And Tom Cruise's largely white 'home' in Oblivion also reveals that Panasonic has successfully overcome the vignetting effect that's a clear issue on LG's OLED TVs.
Being able to enjoy the contrast and colour advantages of OLED without these vignetting and greying problems (although I noticed the faintest trace of vignetting with mid-brightness shots) really makes you feel like you're witnessing the pinnacle of home cinema TV. Especially when these skills are joined by a beautifully exploited (by Panasonic's impressive motion processing and 3D LUT colour system) native 4K screen resolution. Sharpness, of both 4K and Full HD source material, is exquisite.
Viewing angles are good, too – way better than those of an LCD panel. Yet the curved screen is something of a hindrance here. Sit too far off-axis and the distorted shape can begin to irritate.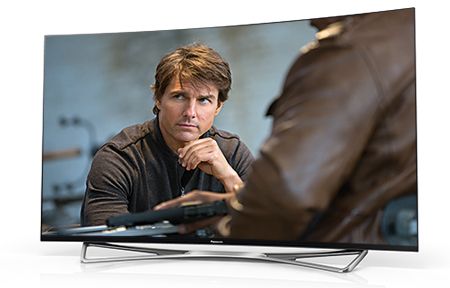 Perhaps surprisingly the 65CZ952B isn't a great advertisement for 3D. A run-through of Jurassic World found the dino reboot plagued by crosstalk ghosting noise, especially during dark scenes such as the final fight twixt Indominus Rex and his T-Rex and raptor challengers.
Images of all dimensions take a while to render, too – around 70ms at best – which isn't a great result for video gamers.
The TV is capable of pretty decent audio. There's neither enough bass extension nor raw power to match the very best sonic performers, but it's at least capable of achieving volume levels that don't feel out of scale with the 65in pictures, and always sounds clean and detailed.
A serious upgrade
The 65CZ952B doesn't reward your £8,000 with absolute TV perfection – that 3D disappointment puts pay to that, and the absence of the Firefox OS is a smart TV downer. Yet its picture quality is the all-round best that I've ever seen from a TV, albeit with HDR playback untested. If you're planning a big family holiday or car upgrade you might just want to reconsider...

SPONSORED VIDEO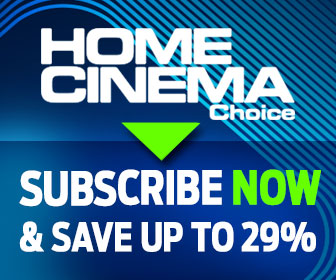 Home Cinema Choice #326

is on sale now, featuring: Sky Glass; Anthem AVM 70 processor; Sony XR-65X90J; BenQ gaming projector; Christmas gift guide; Hollywood franchises on Blu-ray; Fast 9 4K; and more
Want to see your home cinema system featured in the pages of HCC? Click
here
for more info.