Panasonic TX-55AX902 review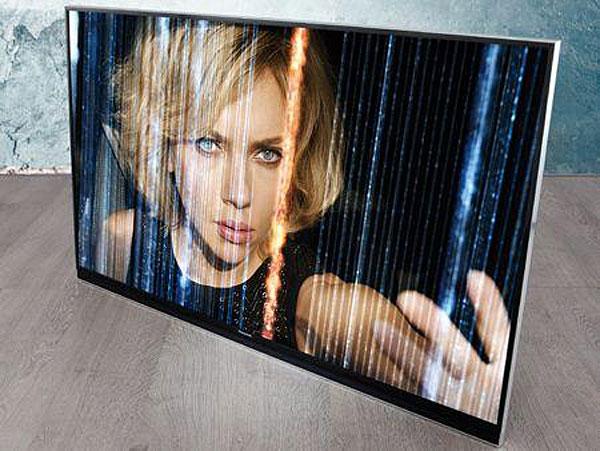 Flagship 4K/Ultra HD flatscreen combines intelligent picture processing with elegant design
The TX-55AX902 has a lot to live up to. First teased over a year ago, when Panasonic created headlines with the promise that it was working on an LED LCD able to exceed the picture performance of its plasma TVs, it bristles with advanced image wizardry, plus a full-array LED backlight with advanced local dimming. So can it lay claim to the high-end 4K market?
Cosmetically, the AX902 certainly features an uncompromising, premium design. Even this modestly sized panel (you can also buy it in larger 65in guise) comes in at a substantial 26kg. While it's far from wafer-thin, it sports a nicely bevelled metallic trim and utilises the brand's impossibly heavy rear counter-weight stand design, in an effort to convince us that the screen is delicately balancing on its slender frame. By way of a design flourish, there's a blue LED lighting effect which looks initially cool but quickly becomes irritating when you want to kick back and watch a movie. Thankfully, it can be turned off.
Connectivity is excellent. There's a quartet of HDMIs with HDCP 2.2 copy protection support, plus DisplayPort for 4K PC action, component and Scart via an adaptor, three USBs and an optical digital audio output.
Doing the dim sums
The set's full-array LED backlighting system features 128 zones of dimming. Panasonic dubs this Local Dimming Ultra. There are obvious benefits to having a full-array backlight. For one thing, screen uniformity is vastly improved. The familiar light pooling seen in the corners of edge-lit LED screens is absent, giving images great subjective solidity. When applied well, subtle nuances and gradations in the picture become more apparent. Overall dynamism can also be improved. Backlight control is adjusted on a block-by-block basis within the image.
Do note that this full-array backlight requires considerable cooling. Consequently, there's a low whirr evident from the onboard fans as soon as you power up.
There's also sophisticated area gamma control. The brightness level is analysed for both highlights and darkness, with the gradation optimised for each scene. Panasonic puts great store in its halo effect reduction technology, which analyses images vertically, horizontally, diagonally and back and forth. Performance, though, very much depends on your chosen viewing mode.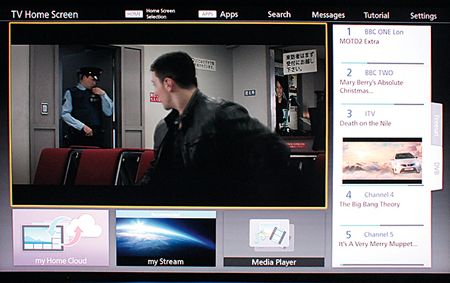 There's a multitude of image presets available on the AX902, which makes it all the more infuriating that there's not a single one which totally satisfies. The Normal setting offers the best brightness and colour reproduction, but suffers from horrible backlight haloing. When Michael Madsen sets about burying Uma Thurman in my reference Blu-ray copy of Kill Bill Vol. 2, his white Stetson has an unnatural white glow when it's picked out against the pitch-black night sky. This offending halo vanishes in the True Cinema, Cinema and THX modes, but all three are just too dull and dark to be reliably entertaining. This is a shame, as the TX-55AX902 is a bright IPS panel, rated at a huge 700 Nits. Such luminosity takes it well beyond the typical brightness of a regular LED or OLED, which tend to max out at around 500 Nits, and on the way to a low HDR specification.
The AX902 can actually handle the Kill Bill burial sequence well. THX Cinema, taken off the Warm 2 temp setting and given a whisper of extra brightness, looks nicely cinematic. The faint shadow detail in this very difficult scene is authentically rendered and, importantly, the panel doesn't try to auto turn-off.
Intelligent upscaling
Image definition is often breathtakingly good. Gareth Edwards' Godzilla (Blu-ray) exhibits awe-inspiring weight and texture. A Quad Core Pro5 processor provides the beating heart of the set's upscaler, analysing the resolution of source material and then applying texture analysis; the intention is to identify and process real image detail without unintentionally enhancing noise.
If you don't want the screen to guestimate detail, there's a '1080p by 4pixel' option which offers simple linear scaling, as well as a 1080p Pure Direct mode. Sharpness should be set no higher than 10, or it introduces ringing.
Black level performance is fine, given the common limitations of an IPS panel, particularly when viewed with some modicum of ambient light. When seen in a dark room, Godzilla's MUTOs venture across the Hawaiian island in a dark grey rampage. However, up the lights and perceived contrast improves. Certainly the shadowed action, illuminated by search lights, flares and sundry firefights, appears deliciously dynamic.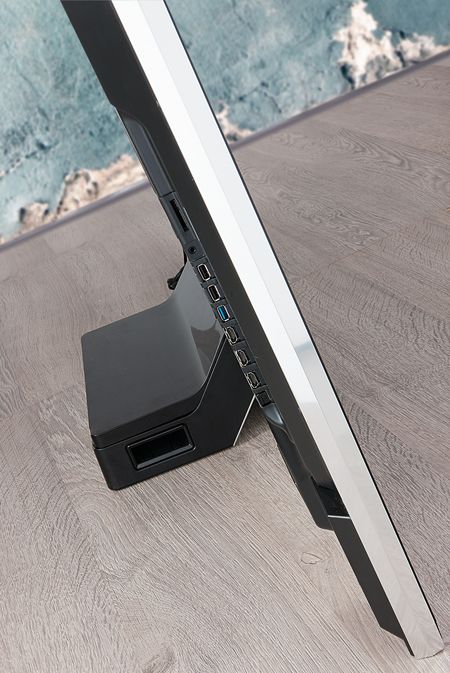 There are issues with the AX902's motion handling. It features aggressive image interpolation, warranting the highest 3000Hz BLS (Backlight Scanning) ranking amongst Panasonic screens, earning it the IFC Pro soubriquet. IFC interpolates frames before and after the original, effectively smoothing out motion. The resulting footage gives images an icy slipperiness. 4K 25p, for example, is reworked to 4K 100p.
The catch is that the process also creates image artefacts, seen as smudgy disturbances around certain moving objects. And I found that in all IFC modes (Min, Mid and Max) the set exhibits pronounced artefacting. Of course, if you like interpolation, the screen is supremely smooth, retaining detail particularly well on the Mid and Max settings. Yet even with IFC turned off, there are still artefacts to be seen.
Dig deep into the image menus (there are a lot of them), and you'll find some interesting refinements. There's standard support for Rec.709, the default colour space first coined in the era of the CRT. However, there's also an element of future-proofed colour fidelity, with a Rec.2020 Colour Remaster setting. This uses a 3D Look Up Table (LUT) to convert a BT.2020 colour signal into a colour space that can be displayed by this panel (it can't handle the Rec.2020 specification).
There's also a choice of four colour gamut modes: Native, Rec.709, SMPTE-C and EBU. Native can reveal a significant boost to colour richness, while Rec.709 reduces things to a slightly subdued state. By way of comparison, when Hit Girl readies herself for the assault on the mobster's goons in Kick-Ass (Blu-ray), having quickly dispatched the first contingent of bad guys in a whistling flurry of blood and lasso, her barnet is deep purple, her grenade a mustard yellow. Move the colour gamut from Rec.709 to Native and her hair takes on a much richer shade, and the grenade gains some lemon yellow. The ensuing violence looks hyper real, with ruby-red gore and deeply saturated blues. Red Mist's costume delivers a deep red that LCDs rarely manage.
As you might suspect, there's no visible speaker system. Instead the set offers twin down-firers, bolstered by a rear-firing woofer. The audio quality is fine for casual use, but there's no real appreciable stereo soundstage.
Attention to detail
There's no doubt that Panasonic has lavished inordinate attention on the TX-55AX902. It's a heavyweight 4K panel in every sense, capable of often gorgeous images. But given its premium price and the hype which has preceded it, it's not an entirely successful flagship. Excellent fine detail and Smart functionality are offset by often clumsy image presets and intrusive motion artefacts. Thanks to the full-array backlight, there's a wonderful uniformity to the image, a balance that really does recall the consistency of plasma. However, LCD traits are never too far from the surface. Close then, but no (plasma) cigar.
Specification
3D: Yes. Passive 3D
4K: Yes. 3,840 x 2,160
Tuner: Yes. Dual Freeview HD; dual Freesat HD
Connections: 4 x HDMI; 3 x USB; Scart and component/composite video via an adaptor; optical digital audio; Ethernet; built-in Wi-Fi; CI slot; SD card; headphone
Sound: 18W (4W + 4W + 10W)
Brightness: N/A
Contrast ratio: N/A
Dimensions (off stand): 1,238(w) x 741(h) x 59(d)mm
Weight (off stand): 26kg
Features: USB multimedia playback; SD card multimedia playback; DLNA streaming; full-array backlight; touchscreen remote with microphone; customisable My Home Screen Smart interface; 3000Hz BLS (Backlight Scanning) IFC Pro; Quad-Core Pro5 processing engine; Studio Master Drive

SPONSORED VIDEO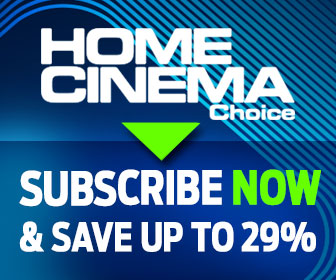 Home Cinema Choice #326

is on sale now, featuring: Sky Glass; Anthem AVM 70 processor; Sony XR-65X90J; BenQ gaming projector; Christmas gift guide; Hollywood franchises on Blu-ray; Fast 9 4K; and more
Want to see your home cinema system featured in the pages of HCC? Click
here
for more info.