Onkyo ES-HF300 review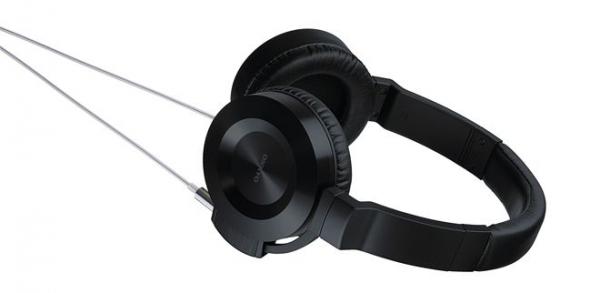 It appears that the Japanese AV corp's debut headphones were well worth the wait
Bucking the trend of much of the tech industry, the headphone market has seen a stellar rise in recent years and everyone wants a piece of the pie. No surprise, then, that AV receiver supremo Onkyo has joined the fray.
The ES-HF300s sit atop its range, but are keenly priced at £180. The design is clean and the styling modern, and the plastic construction makes for a lightweight, comfortable set with cushions that sit over, rather than on, the ear.
The 'phones come complete with an 'audiophile grade' oxygen-free copper cable, which is also detachable and usefully tangle-resistant – but the fact that there's no lengthy cable with phono adaptor indicates that Onkyo is aiming at the portable rather than movie market.
That's a shame as listening to the opening salvo of 2009's Star Trek on Blu-ray, the sound-stage is impressively expansive, convincingly conveying the majesty and the mayhem of space.
On the music front, with the HF300s Onkyo says it's aiming for a more accurate sound than the bass-swamped approach of the likes of Beats by Dr Dre headphones, and in that it certainly succeeds. The lines of McCartney's bass-playing on The Beatles' Rain can be picked out in all their intricacy, and the mid-range details in dense productions such as the track Behind the Mask from Michael Jackson's posthumous album are effectively retrieved.
The sound veers towards bright and clear and lacks the warmth you get from the similarly priced B&W P3s, but for me the Onkyo's detail retrieval and controlled bass is more impressive. The lack of smartphone in-line controls may put off some, but at the price, these come highly recommended.
---
HCC VERDICT
Onkyo ES-HF300
Price: £180 Approx
OVERALL: 4.5/5
Click

here

to see what's inside Home Cinema Choice 301.

Philips' 55OLED854 Ultra HD OLED TV; a sneak peek at a premium Steinway Lyngdorf home cinema install; demo-tastic Blu-rays you can't live without; and a whole lot more...
Want to see your home cinema system featured in the pages of HCC? Click
here
for more info.