A Nightmare on Elm Street named scariest movie ever...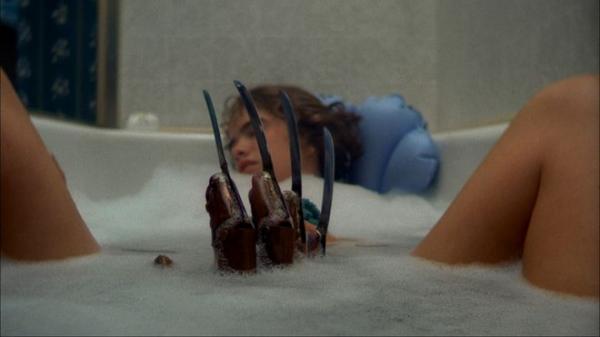 ...but Stanley Kubrick's The Shining gives it a run for its money
No Halloween is complete without a survey telling us what the scariest film of all time is, and this year online entertainment retailer Rakuten's Play.com has conducted its own research and announced Wes Craven's seminal 1984 horror A Nightmare on Elm Street (pictured) as the movie most likely to get your heart racing, pipping other films including The Shining and The Exorcist to the post.
The Blu-ray-punting website asked its users back in September to nominate their most hair-raising movies, and the 10,000 votes placed The Shining, The Exorcist and A Nightmare on Elm Street first, second and third respectively. Then, however, screenings of this terror trio were organised with the audience wired up to heart rate monitors, to see the impact blood, screams and jump-cuts have on pulse rates. Here, Freddy Krueger's screen debut came out on top, increasing audience members' heart rates by 26.8% on average throughout the movie.
The Exorcist claimed second place, with an average increase of 25.9%, while The Shining lagged behind at 23.3%. However, the Stephen King haunted hotel adaptation did grab first prize for scariest movie moment, with Jack Nicholson's OTT 'Here's Johnny!' resulting in an unbeaten, momentary 28.2% pulse-rate peak.
'It's interesting to see just how close the top three films,' scare ratings were, reckons Shingo Murakami, Managing Director of Rakuten's Play.com. 'It seems The Shining's extended periods of tension and soundtrack kept viewers' hearts racing throughout, but simply couldn't match the massive terror induced by Freddy Krueger's multiple gruesome murders or The Exorcist's explicit exorcism.'
So, what does this all mean? Well, the retailer says the heart rate levels achieved by kicking back with a good horror movie are similar to those occuring during light exercise. HCC would counter that the vast quantities of popcorn and M&Ms we stuffed down our gullets during our Saw movie marathon make it far more unhealthy...
Top 10 scariest films voted by Play.com users...
1. The Shining
2. The Exorcist
3. A Nightmare On Elm Street (1984)
4. Ring (aka Ringu)
5. Alien
6. The Silence of the Lambs
7. Poltergeist
8. Insidious
9. Halloween (1978)
10. Saw
...and the Top 10 scariest films voted by Team HCC*
1. Ring (aka Ringu)
2. The Innocents
3. The Shining
4. The Texas Chain Saw Massacre (1974)
5. The Haunting (1963)
6. Dead of Night (1959)
7. Martyrs
8. The Changeling
9. Ju-On
10. Don't Look Now
*Off the top of our heads

Click

here

to see what's inside Home Cinema Choice 306.

Reviews of Optoma and Epson 4K projectors, Philips' OLED934 TV, and Arendal's entry-level subwoofer; a roundup of classic movies on UHD Blu-ray; our annual gift guide; and a whole lot more...
Want to see your home cinema system featured in the pages of HCC? Click
here
for more info.