Monitor Audio Silver 500 5.1 review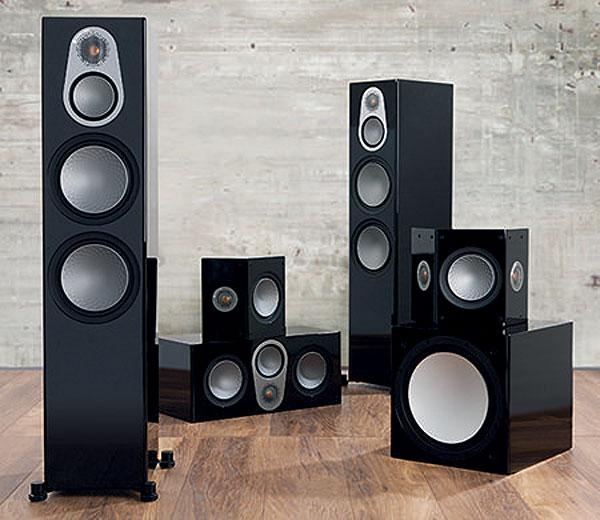 Brit brand's mid-tier speaker package hits all the right notes
There has long been considerable variation in what constitutes a 'home cinema' package of speakers. For some companies, the addition of a centre speaker into a range means that they are all set to contest for your hard-earned cash (and some of those 'centres' can look very like a standmount tipped on its side). Others will develop their own subwoofers. A select few will go the extra mile – like Monitor Audio.

The British manufacturer long been one of the good guys in this regard. As well as centre speakers (and, crucially, often more than one centre speaker per range), it has produced its own subwoofers and dedicated surround speakers for most of its product lines. Now we have an all-new Silver range to investigate and, as usual, Monitor Audio hasn't skimped on the AV bits. As well as two centre speakers, there's a dedicated sub – which is somewhat cleverer than it looks – and a purpose-built surround speaker. In terms of pecking order, the Silver series sits below Monitor Audio's Gold (natch), but also below the ultra-premium Platinum line. It ranks above – you guessed it – the entry-level Bronze.
Make mine a large
The Silver 500 package auditioned here is so called because it uses the largest of three floorstanders in the range, the Silver 500. And, it has to be said, this speaker is a bit of a whopper.

On its front are a pair of 8in bass drivers (the largest standmount in MA's lineup, the Silver 100, also features an 8in unit). This means that before you've even got around to turning the subwoofer on, you have a set of speakers that are apparently capable of hitting 30Hz, albeit with a -6dB roll off.
Joining these is a dedicated 4in midrange driver, making the Silver 500 (£1,500-per-pair) a three-way design. This unit in installed into a separate internal enclosure to the bass drivers. Cabinet design, aided by laser scanning research at the National Physical Laboratory in Teddington, promises an uncoloured sound performance with 'optimal' bracing.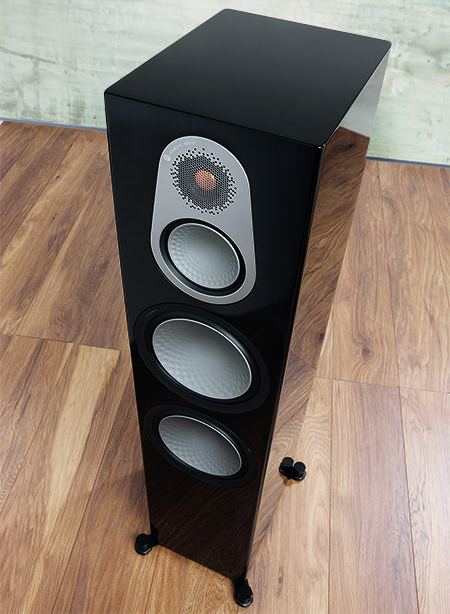 The drivers themselves are an ongoing evolution of a technology that Monitor Audio has been using for many years. Cooked up using C-CAM (Ceramic Coated Aluminium and Magnesium), the drivers rake the form of a continuous profile dish with increasingly deep dimples in the edges, which are there to increase the rigidity of the cone without increasing the weight. As the 8in versions in the Silver 500 would lead to a centre speaker that would be truly biblical in shape and size, the Silver 350C centre (£630 approx) uses the same midrange and tweeter arrangement but makes do with a pair of 6in drivers. Again, though, it's still a speaker that will require some installation consideration. Unlike the Silver 500s, which feature HiVe II ports on their rears, the centre enclosure is a sealed box.
This 6in driver is also used on the Silver FX surround speaker. Such models – designed specifically for surround/rear channel duties – are something of a rarity in this day and age, now that THX has largely left the home cinema building.
The half-a-hexagon form of the Silver FX is distinctive, and places its 6in six midbass at the front of the speaker with two 1in gold dome tweeters – used throughout the lineup – on either side at a 45-degree angle. Via a flick of a switch on the back panel, these can be set to work in phase (bipole) or out of phase (dipole) for a more diffuse sound. The thinking is that for 5.1 setups where the FX are mounted on a rear wall, they should run in bipole mode; switch to dipole operation for side positioning. Although Monitor Audio suggests experimenting with both to see which sound you prefer in your listening environment.
The brains of the operation
This is all very clever but Monitor Audio has been saving many of its best ideas for the Silver W-12 subwoofer. A serious piece of subwoofery in its own right (and available on its own for around £1,000), it packs a 12in C-CAM bass driver, powered by a 500W Class D amplifier. But there are brains here as well as brawn; the W-12 comes supplied with a microphone and can run an auto setup process to take into account room nodes and positioning (MA recommends taking three measurements). This data can then be used to alter the in-room performance of the sub via three modes, Music, Movie and Impact – the effects of which you can probably hazard a guess at. For people that don't run any EQ on the speakers themselves, being able to run it on the sub alone is rather handy.
Out of the box, the Silvers are big but Monitor Audio has worked hard to keep their bulk to a minimum. The Silver 500 manages to fit its 8in drivers into a cabinet that isn't significantly larger than rivals with smaller bass units, and the detailing (particularly the teardrop-styled tweeter/midrange housing) helps them avoid the 2001: A Space Odyssey convention vibe that nagged me with KEF's Q Series.
The build quality is also absolutely superb. The piano-black finish has been beautifully applied and these cabinets feel oh-so solid to the touch. I'm not wildly keen on some of the styling choices; the 'pixelated' tweeter cover looks a bit odd and the outrigger feet for the Silver 500 have a different fitting size to the speaker spikes so have to be used, which increases the footprint of this already large speaker even further. But on the whole, it feels like a lot of care has been lavished. Mounting a volume control and EQ selection button within the subwoofer's top plate is another example of smart thinking; plenty of woofers hide their buttonry around the back, where it can often be inaccessible.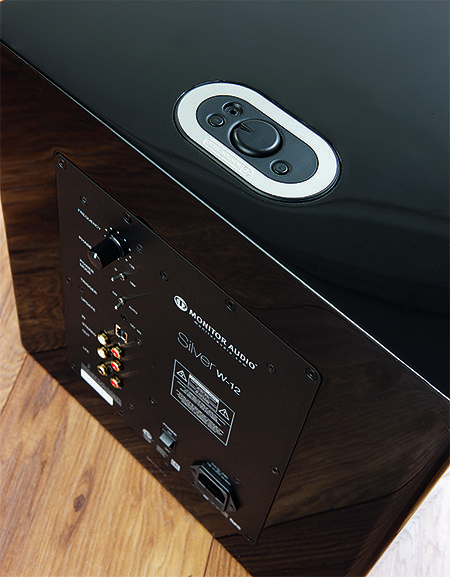 A little goes a long way
A key claim of this 5.1 package is impressive sensitivity. The front L/C/R speakers boast a 90dB figure (which MA says makes them 'amplifier friendly'), and it becomes apparent during listening that they are easy to drive. They need comparatively little power to hit enjoyable levels and are unlikely to prove too much of a challenge for any remotely price-comparable AV receiver.
This sensitivity works hand in hand with an overall sense of scale (and one that is apparent even at low listening levels). The duel between Peter Quill and Ego in Guardians of the Galaxy: Vol 2 (Blu-ray) is reproduced with spine-tingling impact and a sense of the cavernous space inside the planet.
Each cabinet on the front soundstage can generate meaningful low-end extension in its own right, which adds another layer of scale. In addition, the dispersion of higher frequencies from MA's dome tweeters is very wide, giving effects an enveloping nature.
This soundstage depth, width and believability is readily apparent during other sequences. Step into the calculator's office in period NASA drama Hidden Figures (Blu-ray), and the MA system creates an appreciable space, conveying the positioning between the desks and the nature of the room itself. They are no less effective when used for broadcast TV, and as long as the mastering of what you are watching (or indeed listening to) is pretty good, they're hard to provoke. Very edgy material can have them sounding a little forward, but it isn't too severe.
The good news is that within all this space and scale is an excellent level of detail retrieval, making the attempt to flee through Alexanderplatz in Atomic Blonde (Blu-ray) scintillatingly immersive. The MA package treats you to the varied sounds of the crowd as the escapees move through, and the cavalcade of umbrella clicks as the brollies go up is a perfect set of individual sounds rather than a single massive effect. The tonality here is also extremely good – anoraks like myself will delight in the clearly differentiated sounds of an Audi V8 and Porsche flat-six during Atomic Blonde's chase from Berlin Airport.
In some ways, the most impressive member of the set is also the most unobtrusive. The Silver W-12 sub never feels (or looks) like a piece of demolition equipment, even considering its healthy output. Nor does its 'Impact' setting turn it into a foundation-worrying monster.
The payoff, however, is that it's a device that can drop deep but remain in effortless control. Standard challenges for subs, like the pounding techno soundtrack of the Heroes Duty sequence in Wreck-it Ralph (Blu-ray), are handled with no bloat or overhang at any stage. After auto-calibration, the amount of correction the review sample applied from its front position in my listening room didn't appear huge, but I didn't doubt that MA's adjustment and onboard DSP was ensuring a tight grip on the system's LFE performance.
Much as the Silver 500 hides its mass relatively well, it needs plenty of space to reach its full potential. In my setup, this meant I ended up positioning the pair further into the room than I traditionally do for most home cinema speakers. Of course, you can set the Silver 500s to 'small' in your AVR's EQ and let the Silver W-12 efficiently handle the very lowest frequencies, removing the likelihood of a muddy bottom-end. With a larger space, the scale and sensitivity of the Silver 500s is going to come into its own and their native bass response is likely to be easier to control.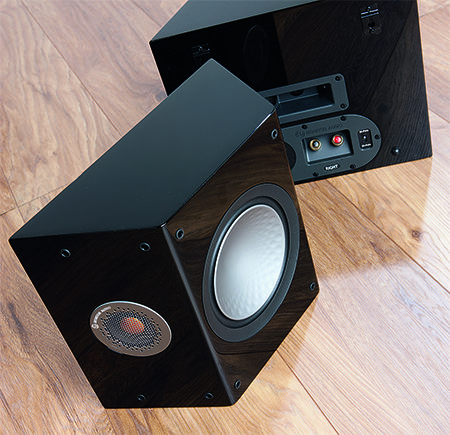 Shy FX...
A slight disappointment with the Silver package is that the Silver FX, while effective in its own right and offering seamless front-to-back integration with the front three speakers, doesn't truly deliver a knockout blow over a more conventional standmount speaker used in the same configuration. I didn't get the sense of a massive spread of sonic energy, and did wonder how MA's own Silver 100 standmounts might slot into the array, although like the rest of the pack the Silver FX is tonally accurate and has creditable low-end extension. Its discreet, wall-mountable nature is a huge draw, too.
And then there's the absence of any Atmos speaker in the Silver range, which, considering the plethora of 3D audio disc releases and the efforts of the competition – notably UK rival KEF – could be seen as a missed trick. Monitor Audio references its own in-ceiling units when discussing Atmos in the Silver brochure, but surely some buyers crave a simpler solution.
That aside, after time spent with the Monitor Audios, you won't want to see them leave. Their scale and nuanced handling of effects is first-rate, they're easy to drive, build quality is on the money, and they look the part, too. If you have the room – and especially desire a system where surround speakers can be installed surreptitiously – the Silver 500 pack will unquestionably deliver the goods.
Specification
Silver 500
Drive units: 2 x 8in C-CAM bass drivers; 1 x 4in C-CAM mid-range driver; 1 x 1in C-CAM gold dome tweeter Enclosure: Bass-reflex with rear HiVe ports Frequency response (claimed): 30Hz-35kHz (-6dB) Sensitivity (claimed): 90dB Power handling (claimed): 250W Dimensions: 230(w) x 1,050(h) x 300(d)mm (excluding outrigger feet) Weight: 22.8kg
Silver 350C
Drive units: 2 x 6in C-CAM bass drivers; 1 x 4in C-CAM mid-range driver; 1 x 1in C-CAM gold dome tweeter Enclosure: Sealed Frequency response (claimed): 40Hz-35kHz (-6dB) Sensitivity (claimed): 90dB Power handling (claimed): 200W Dimensions: 560(w) x 235(h) x 240(d)mm Weight: 14.9kg
Silver FX
Drive units: 1 x 6in C-CAM midbass driver; 2 x 1in C-CAM gold dome tweeters Enclosure: Sealed; selectable dipole/bipole operation Frequency response (claimed): 60Hz-35kHz (-6dB) Sensitivity (claimed): 87dB Power handling (claimed): 85W Dimensions: 310(w) x 250(h) x 130(d)mm Weight: 4.3kg
Silver W-12 (subwoofer)
Drive units: 1 x 12in C-CAM woofer (triple suspension, 3in long-throw voice coil) Enclosure: Sealed Frequency response (claimed): 20Hz-200Hz On board power (claimed): 500W Remote control: No Dimensions: 340(w) x 340(h) x 380(d)mm Weight: 20.1kg Features: Stereo line-level input/output; LFE input; mic-assisted auto calibration; Movie, Music and Impact EQ modes

SPONSORED VIDEO

SPONSORED VIDEO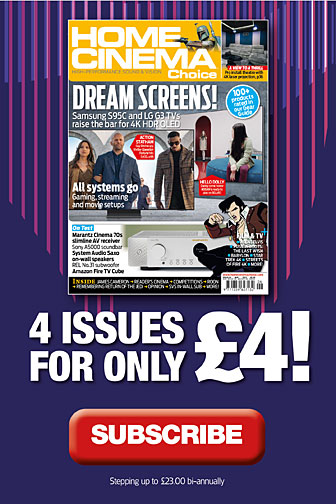 Home Cinema Choice #332

is on sale now, featuring: Samsung's 8K flagship; Anthem AVM 90 processor; B&W 800 Series Diamond; LG smart projector; Hollywood box office bombs; Hitchcock 4K; and more
Want to see your home cinema system featured in the pages of HCC? Click
here
for more info.