The mile-high film club
In-flight entertainment is getting better all the time - but AV quality still matters
I have just spent 10 hours watching four movies back to back. It started with serious violent action from The Sweeney and the sci-fi remake Total Recall, then a re-run of Skyfall just to cement my opinion that it is my least favourite Bond film of all time, even though I still enjoyed it. The marathon concluded by having my noodle well and truly baked by Cloud Atlas.
I wasn't in the home cinema, though. Nor at a commercial cinema. I was wearing a seatbelt, drinking wine by the micro-bottle and watching a 10in screen some 10 kilometres up in the air on a long-haul flight. A full-bore audio and hi-def visual fiesta this wasn't. The low-def screen was a bit fuzzy, contaminated with fingerprints, scratches and cheese sauce; the sound was supplied through ear-bud headphones. It might have been stereo or mono – it was hard to tell with the roar of the engines giving the sound all the dynamic range of an AM radio. Oh, and the pauses for announcements, the baby crying somewhere behind me and my neighbour passenger dribbling and snoring like an adenoidal truffle hound didn't help, either.
But here's the thing. It was the best time I have had for ages. Ten hours of me-time with nothing to do but immerse myself in great films. No emails, no household chores and no phone calls to disturb. Just a fabulous selection of current and classic flicks on the on-demand entertainment system, a darkened room and hot and cold running refreshments at the touch of the 'call' button. Of course, I missed a 120in HD image and the visceral impact of several kilowatts of power but, crucially, it did not detract from an enjoyable film-watching experience.
Therefore, at the end of a long night-flight across seven time zones, I began pondering the really deep and meaningful questions about life, such as 'is all this home cinema faff really necessary?' For what actually made the six mile-high event such a success was the content; four engaging and action-packed films that are right up my genre avenue. Gritty action thriller, science-fiction, spy drama and whatever barking-mad pigeonhole genre you can think of to put Cloud Atlas in. Tick, tick, tick and tick.
I was so engaged with the last of these movies that I realised my opinion on it evolved as the story progressed. By the halfway mark I had it pinned as a disjointed and narcissistic fiasco of a film. Yet as the final credits rolled I was captivated by its concept, scale, drama and Tom Hanks' absolutely outstanding acting across all six of his roles. If watching a movie on a 10in screen, wearing ear-buds for sound, can achieve that, then why would one need the complexity and expense of a home setup at all? Is it time to eBay all my hardware and live a frugal and existential lifestyle with nothing but a dinky screen and a pair of headphones for entertainment?
This just goes to prove what complete drivel you start thinking when chronically jet-lagged and sleep-deprived. After a good night's kip I realised I had only heard about 50 per cent of the dialogue in Cloud Atlas, lost the plot of Total Recall and thought The Sweeney's car chase looked like a Scalextric track running through a model village. Skyfall remained unimpressive, possibly because the last few scenes at the house are so dark that my little seat-back screen showed next to nothing.
I'm just going to have to buy these movies on BD, fire up the home cinema and get used to the fact that no one will be serving me sandwiches.
Have you ever taken your home cinema on the road?
Let us know: email [email protected]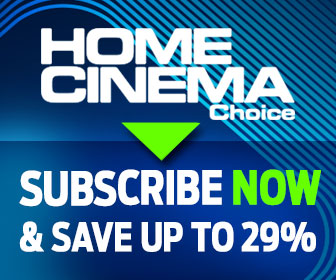 Home Cinema Choice #316 is on sale now

, featuring: Sony VPL-VW790ES 4K laser projector; B&W 600 S2 Series speakers; CEDIA home cinema awards; Humax Aura PVR; tech tips; disc reviews; opinion; and more.
Want to see your home cinema system featured in the pages of HCC? Click
here
for more info.